Borneo is the third largest island in the world, and its northern-most tip is the meeting point of two big oceans, South China Sea and Sulu Sea. The Tip of Borneo is located in Kudat district and one of the most popular attractions in Sabah. The scenery is delightful but you may not know where you stand was used to be a watch-point for pirate invasion hundreds of years ago. That's why the Tip of Borneo is also known as Tanjung Simpang Mengayau, which means the junction to the battle at the tip (in Rungus language).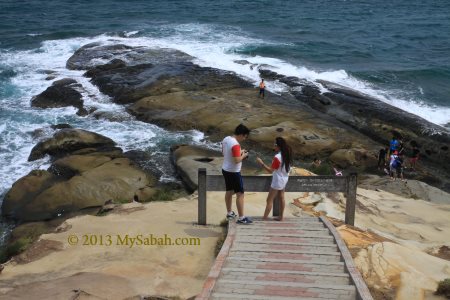 Pic: The Tip of Borneo
Though most tourists doesn't know the historical background here, they still love the scenic countryside, open sea and sandy beach at the Tip of Borneo. The best thing is – the entry is FREE. (Note: Tip of Borneo is closed for upgrade and renovation. No re-opening date is announced yet.)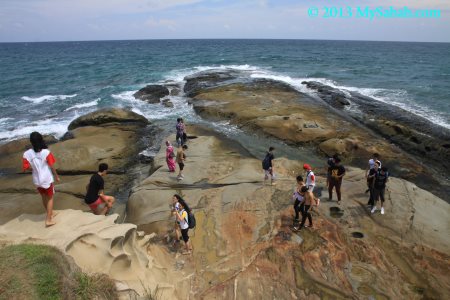 Albeit the warning sign, many can't resist to climb down the slope and walk to the tip for photo taking. It is not quite risky in normal day, but you must avoid standing at the tip during bad weather. Watch my video and you will know that the rough waves can wash you off the tip easily.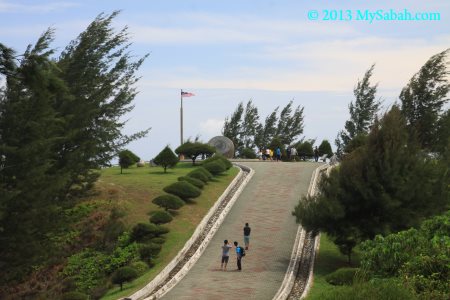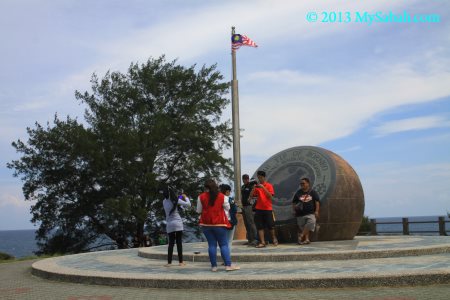 There are ample parking space at the entrance to the Tip. You only need to walk 3 minutes to a knoll which overlooks the Tip of Borneo. You will see the flagpole and globe monument near the end. Tourists like to take photos here.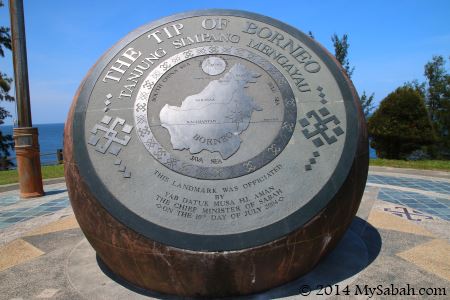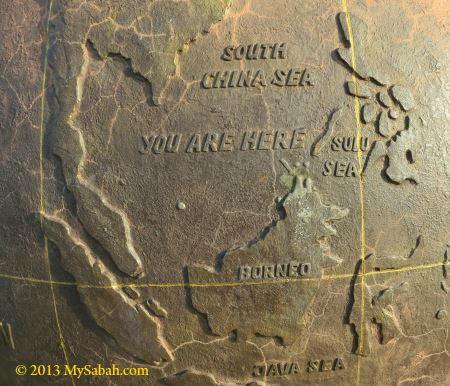 The globe marks the location of the Tip of Borneo so you know where you are.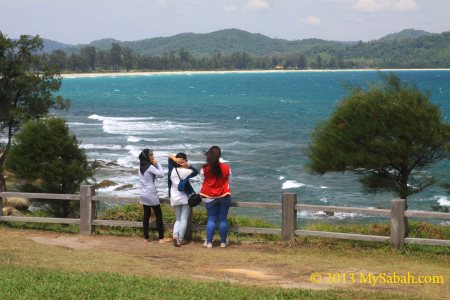 It's always windy at the Tip of Borneo. In fact, many Chinese trading vessels were sunk here during the era of China's Sung, Ming and Qing Dynasty, when they were on their way to Sulawesi, the Spice Island. Historians estimate that there might be twenty more undiscovered wrecks in the sea. Occasionally some lucky fishermen discover the ancient ship wrecks and sell the antique on the ships.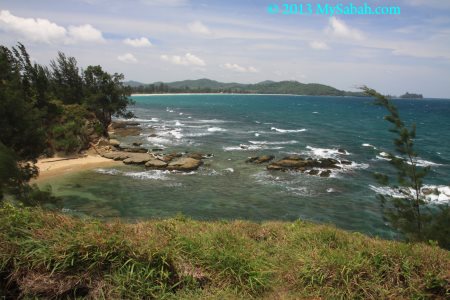 Pic: sea view at the Tip of Borneo
The fleet of Ferdinand Magellan, on its famous voyage to circumnavigate the globe, was said to have stopped here for 42 days to repair their ships. The Tip of Borneo was also the staging post of pirates and provisioning point for ships that needed water and fresh food.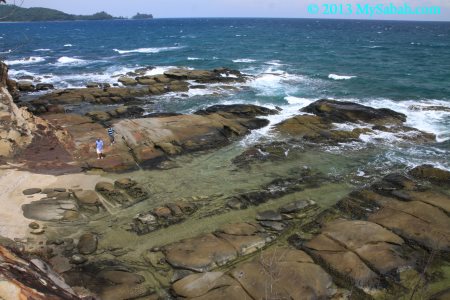 Pic: the rocky shore next to the Tip of Borneo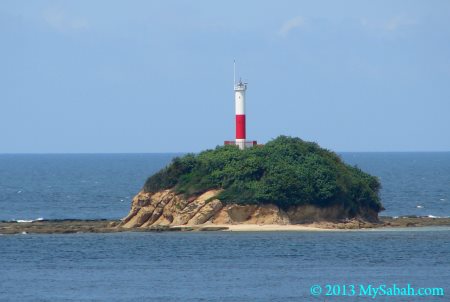 Local Chinese calls the Tip of Borneo as Den Foh Liew (灯火楼 in Hakka dialect), which refers to the lighthouse on Pulau Kalampunian Island, to the east of the Tip.


Pic: panoramic view of the Tip of Borneo
The following are the photos of some interesting rocks crafted by prolonged wind and wave erosion. You will find some small caves and deep crevasses if you explore around the edge of the Tip of Borneo. Do you see the "fish"?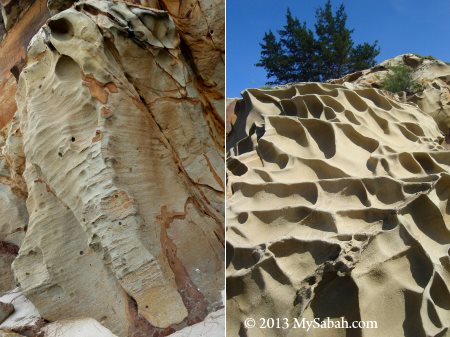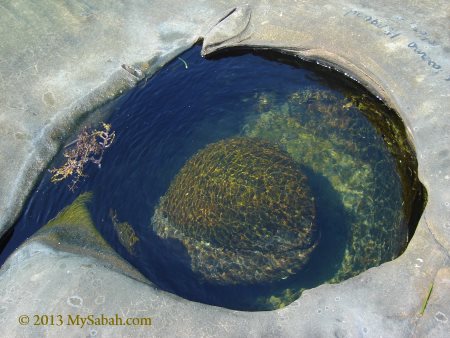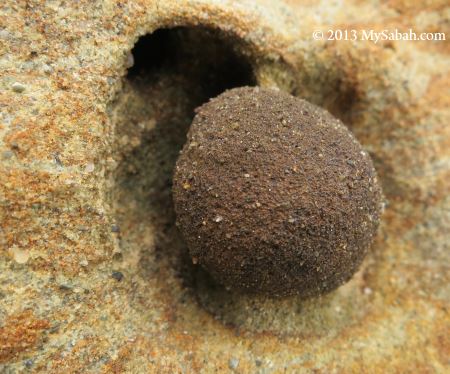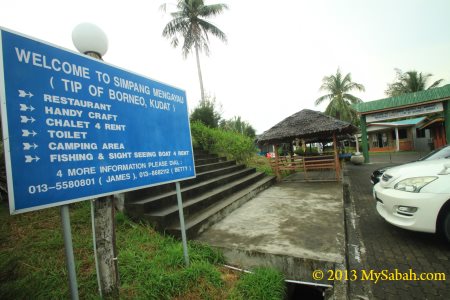 Pic: FYI, there are restaurant, parking lot, souvenir shop and toilet nearby for the convenience of visitors.
Beautiful Sunset
Don't rush back home when you come here. The Tip of Borneo reserves the most magnificent sunset for those who are keen to stay put.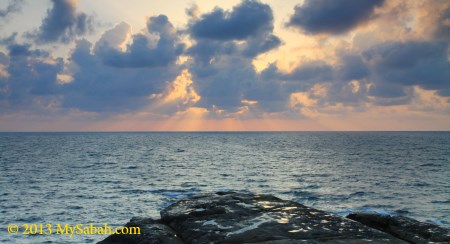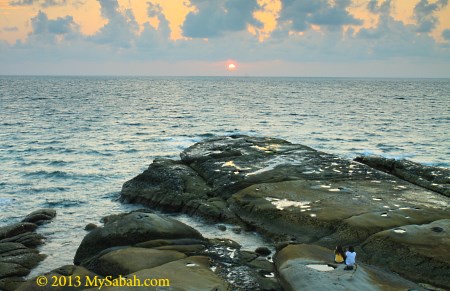 Pic: sunset over the meeting point of two oceans.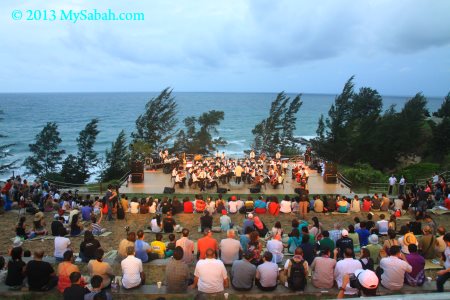 The sunset of the Tip is so beautiful that Sunset Music Fest is held here around June annually, to use sunset view as a backdrop. Some local and international artistes are invited to perform. The next one will be held on 20-21 June 2014. (Note: the Tip will be closed for the fest in the evening.) Do visit their website if you want to enjoy music in sunset, sea breeze and ocean view of Borneo.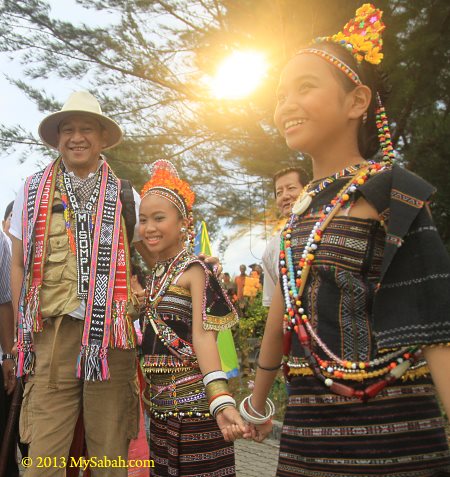 Pic: Minister of Tourism and Culture Malaysia, YB Dato' Seri Mohamed Nazri bin Abdul Aziz was the guest of honor in Sunset Music Fest 2013, and welcomed by Rungus girls dressed in traditional costumes.
If you come to Sunset Music Fest, you may check out Coconut Festival in Kudat town. Both events happen on the same date.
Kalampunian Beach
On the way to the Tip of Borneo, your eyes will be drawn to the wonderful Kalampunian Beach (Pantai Kalampunian) located next to the Tip.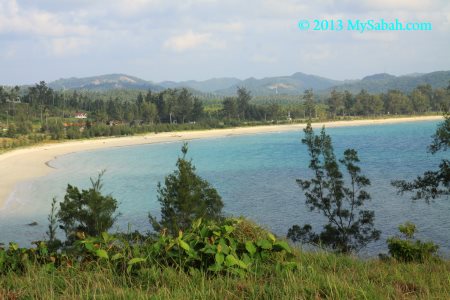 Pic: view of Kalampunian Beach from Tomanggong Kurantud, the highest point of the Tip (named after a brave Rungus warrior who led his people fought off pirate attack in 1880s)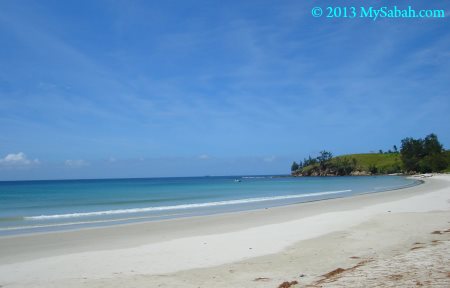 The white sandy beach of Kalampunian Beach stretches over 4 Kilometers to the Tip. Bring your swimwear, sunblock lotion and towel when you plan to visit the Tip of Borneo, as it is so tempting to jump into the warm and crystal clear sea water.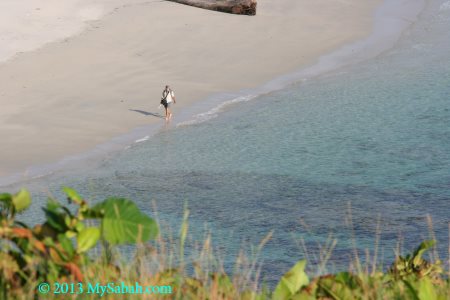 However, the sea wave there is quite strong. Don't let your kids swim too far. There is no lifeguard in this beach, so swim at your own risk.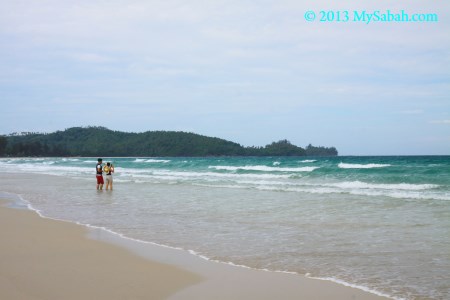 Sometimes sea turtles would come to this beach to lay their eggs. To protect the baby turtles, the resorts and lodges nearby have been taking care of their nests, which is a great thing.
Other Activities
If you are an outdoor person, you have the choice of leisure to extreme activity at the Tip of Borneo.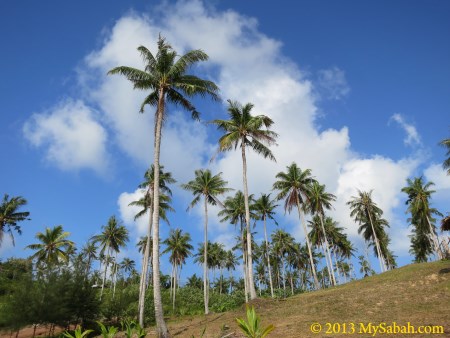 Do you know that Kudat is the Coconut Town of Sabah? When the ugly oil palm is quickly replacing other crops, the view of swaying coconut trees is getting rare in outskirt, but not Kudat.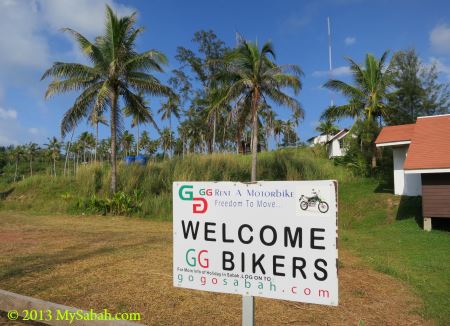 You can rent a bike or bicycle to have a relaxing ride near the Tip.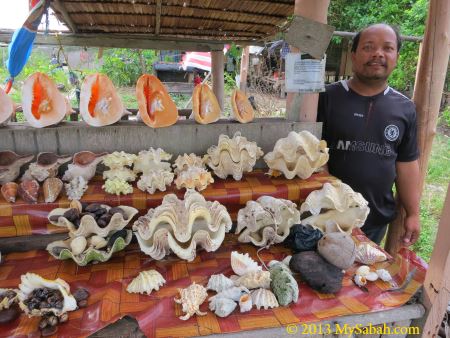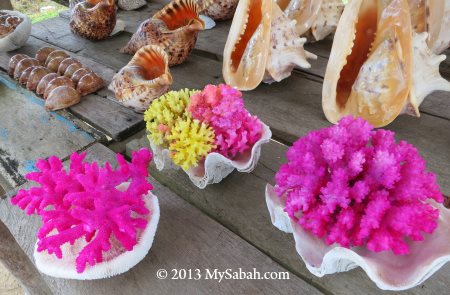 Around the Tip of Borneo, there are some villagers selling seashells at the roadside outside their wooden houses. A few of them even can post the seashell to your home country. But be informed that certain protected species such as giant clam might not be allowed to be shipped to your country.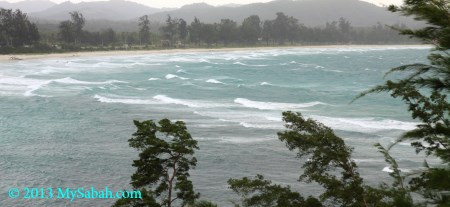 During monsoon season from Dec to Mar, the tides at Kalampunian Beach can turn really rough. Bad news to beach goers but exciting news to surfers. Tip of Borneo is now one of the hot spots for local and overseas surfers.
I was told that there is a good scuba diving spot near the lighthouse. You may try to dive there. Who knows you would find an ancient ship wreck full of treasures? I'm not kidding.. A shipwreck of a Chinese merchant vessel from Northern Song Dynasty (960-1127 A.D.) was discovered there, it's the earliest maritime trade ship discovered in Malaysia.
How to get there
The Tip of Borneo is about 215 KM north of Kota Kinabalu city (see location map). You need to drive about 2.5 to 3 hours on a paved road (with a few small sections of gravel road) to reach there (via Kota Kinabalu → Tuaran → Kota Belud main road). Or you can charter a taxi (can take 3 or 4 passengers) for a return trip for about RM240 (≈USD73).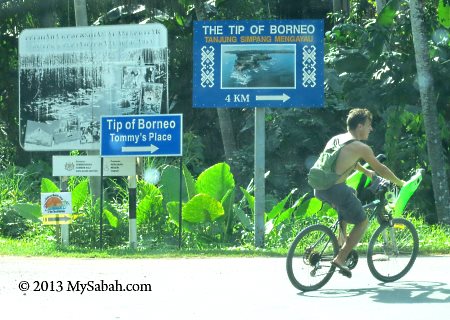 When you approach Kudat town, you will see many signage (note: some read "Tg. Simpang Mengayau" instead of "Tip of Borneo") lead you to the Tip of Borneo.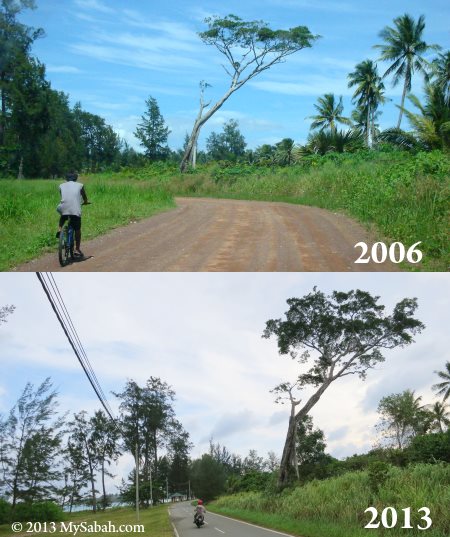 Pic: compare to some years back (note the same tree), the road condition to the Tip of Borneo has improved a lot, though I still like the countryside feel in the past.
Accommodation near the Tip of Borneo
There are a few basic accommodation around the Tip of Borneo. I list them below and you may contact them for latest info / rate. Note for caller: 60 is country code of Malaysia.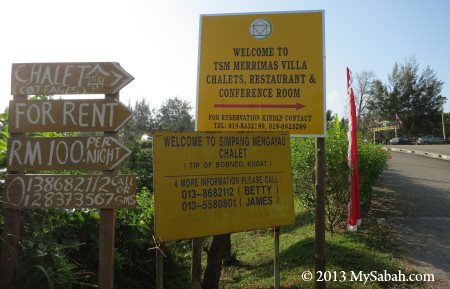 1. TSM Merrimas Villa
– Next to the Tip of Borneo, has over 10 chalets, for honeymooners and family. Wifi available. Room with air-conditioner, TV, hot water and attached bathroom.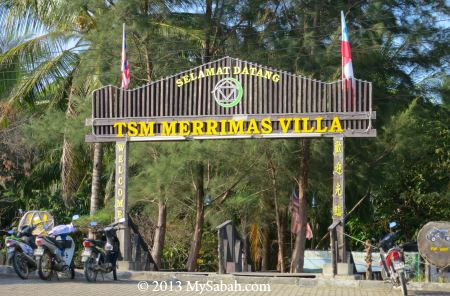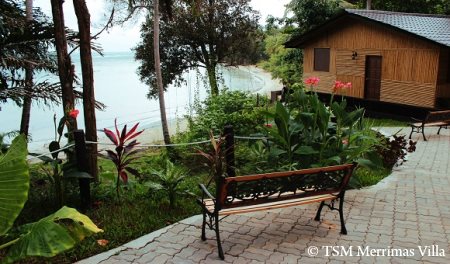 Rate: RM268 – RM568 (≈USD81 -172)
Tel: +60 19-8332199, +60 19-8923299
Website: www.merrimasvilla.com
Facebook: TSMmerrimasvilla
E-mail: reservations@merrimasvilla.com, webmaster@merrimasvilla.com
2. Simpang Mengayau Chalet
– Next to the Tip of Borneo, Chalets and rooms with fan and attached bathroom, Wifi available.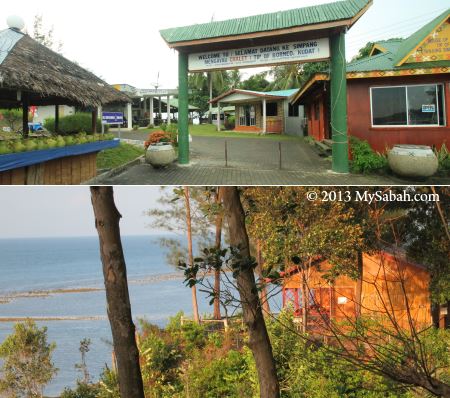 Rate: RM100-RM600 (≈USD30 – 181)
Tel: +60 13-8682112 (Betty), +60 13-5580801 (James), +60 11-19584515, +60 16-8273258, +60 17-3410237
E-mail: betty6763@gmail.com, simpangmengayauchalet@gmail.com
Facebook: SimpangMengayauChalet
Website: simpangmengayauchalet.blogspot.com
3. Tommy's Place (Tip of Borneo Resort)
– 15 minutes walk to the Tip of Borneo, near to Kalampunian Beach, backpacker lodge with many activities (e.g. surfing, diving, snorkeling), winner of TripAdvisor's Certificate of Excellence 2013, air-conditioned room. Wifi available. (Online Booking available)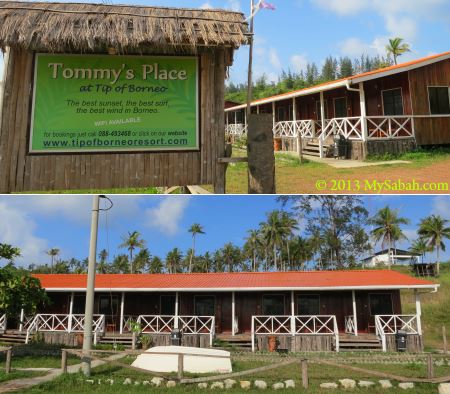 Rate: RM140 – RM240 (≈USD42 -73)
Tel: +60 88 493468, +60 13-811 2315, +60 16-8321466, +60 16-8321488
Website: www.tipofborneoresort.com
E-mail: tipofborneoresort@yahoo.com
Facebook: Tip-of-Borneo-Resort
4. BorneoTip Beach Lodge
– 15 minutes walk to the Tip of Borneo, near to Kalampunian Beach, air-conditioned room for standard traveller and family group, with attached bathroom. Wifi available.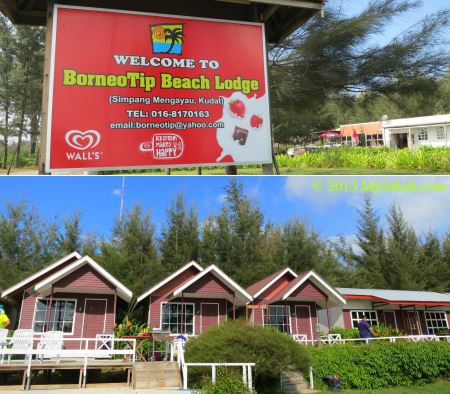 Rate: RM150 – RM300 (≈USD45 – 91)
Tel: +60 16 8170163
E-mail: borneotip@yahoo.com
Website: borneotipbeachlodge.blogspot.com
Facebook: borneotipbeachlodge.kudat
Below is a location map of the Tip of Borneo and the accommodation in its vicinity:

View My Sabah Map in a larger map
Personally I love the tranquility of this rural area and enjoy every peaceful moment of it. In city, every minute my brain works hard to process hundred of "noises" from TV, phone, road, computer, etc. In contrast, at Tip of Borneo, my body seems to enjoy the noises of sea wave, gentle breeze, rustling leaves, bird chirping… All these remind me that I'm a human being and part of the nature… The Internet and the latest technology have turned me into a half-cyborg LOL. Spending a day away from home is better than viewing and liking 1,000 photos on the Internet. "Get a life!"
Photos taken in Kudat, Sabah, Malaysia Borneo