If there is a Most Scenic Campsite award of Sabah, I'll not hesitate to present it to Tegudon Tourism Village (TTV) in Kota Belud, Sabah, Malaysia. TTV is a campground with countryside theme. Every morning campers are greeted by Mount Kinabalu, the highest mountain of Malaysia. In the afternoon, you can swim with the fishes in the cooling river nearby. And the sunset over lush paddy field is a sight to behold. At night, you can sleep under the Milky Way.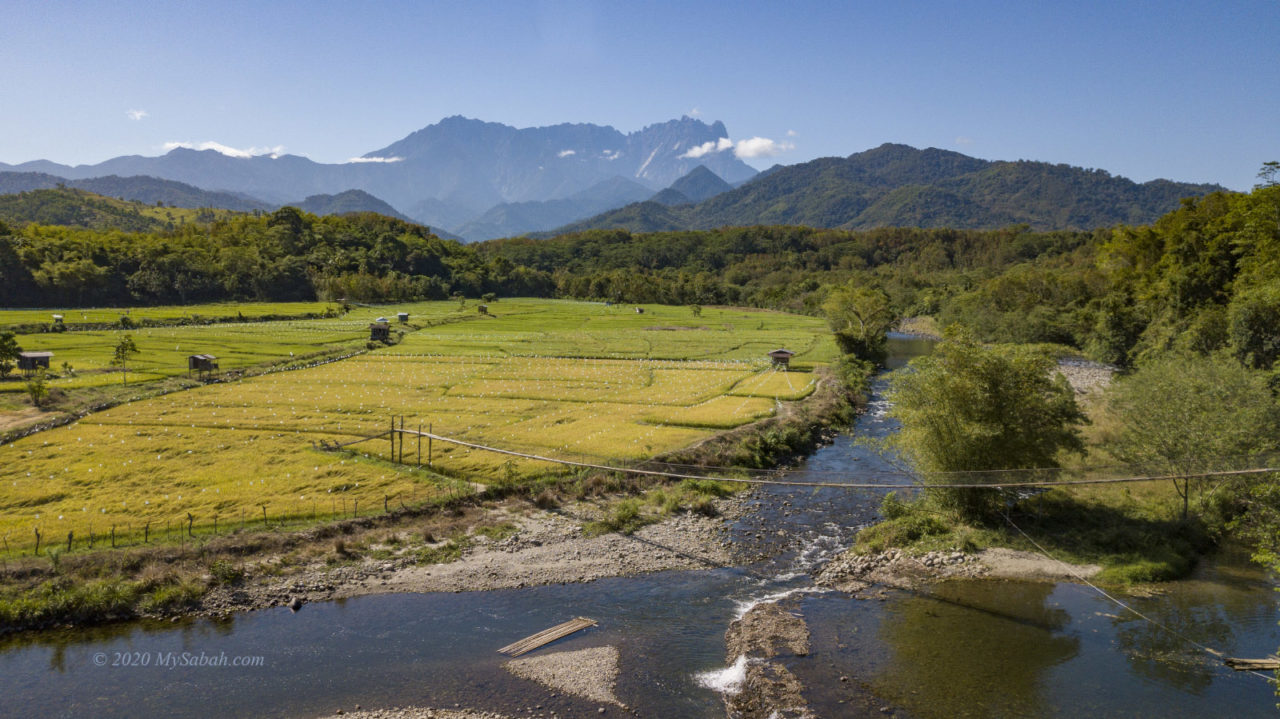 Countryside Theme
In native language (Dusun Tindal), Tegudon means snare trap. The super kampung (village) view of Tegudon Tourism Village consists of paddy field, mountain, hill, river, forest, waterfall, hanging bridge and starry night, the most complete features not found elsewhere.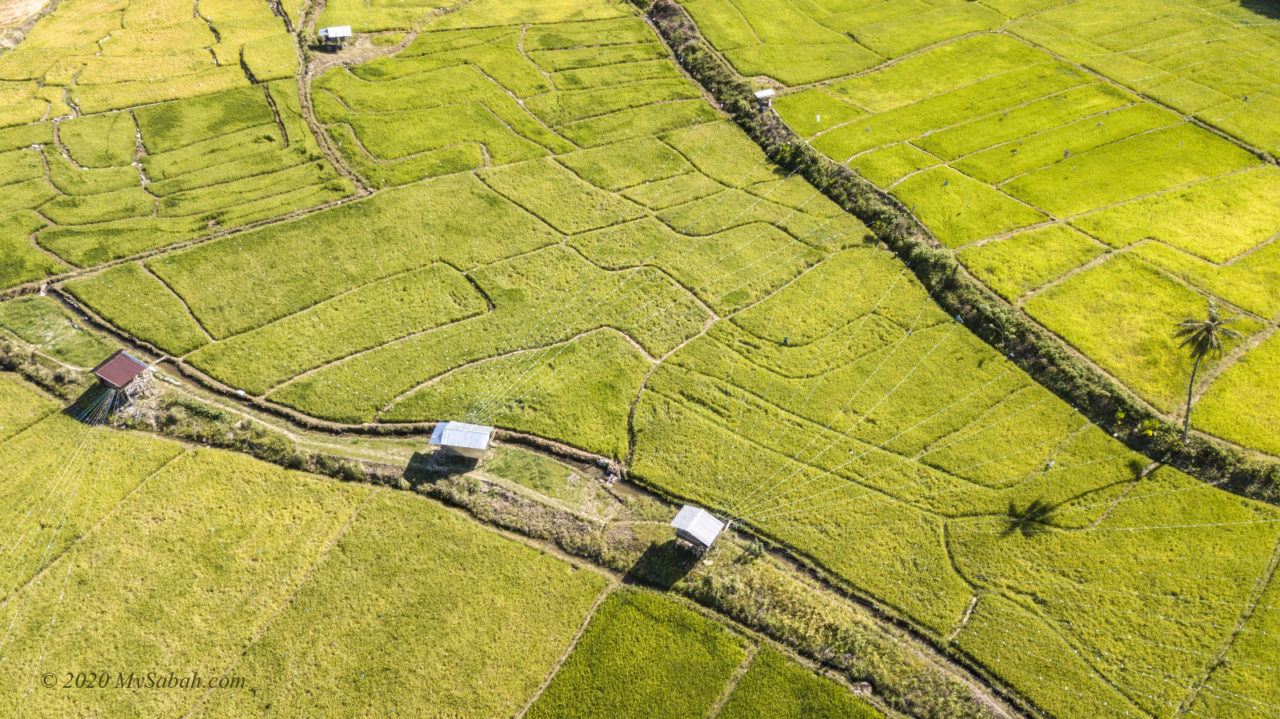 The "Village" is a riverside camping area with 9 wooden huts and a camping ground next to a river and paddy field, which is green in the months of January, February, August and September (subject to change), but still Insta-worthy when it is golden color in other time.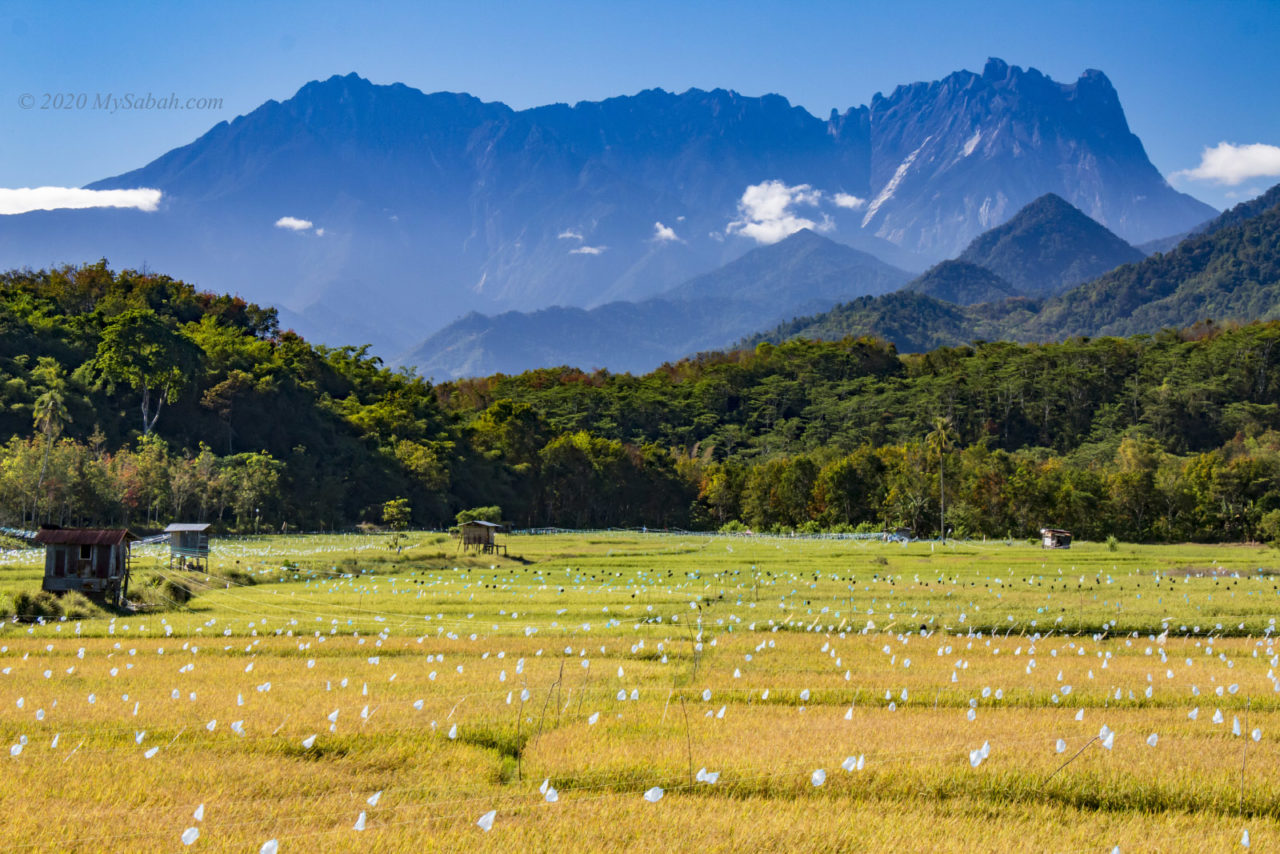 In the morning, you would see local farmers carry basket and walk on the 150-Meter-long wobbly hanging bridge to their paddy field. Sometimes cows and buffalo passby the village and chirping free-range chicken forage outside your camp. All these little things reminds you that you are in a village.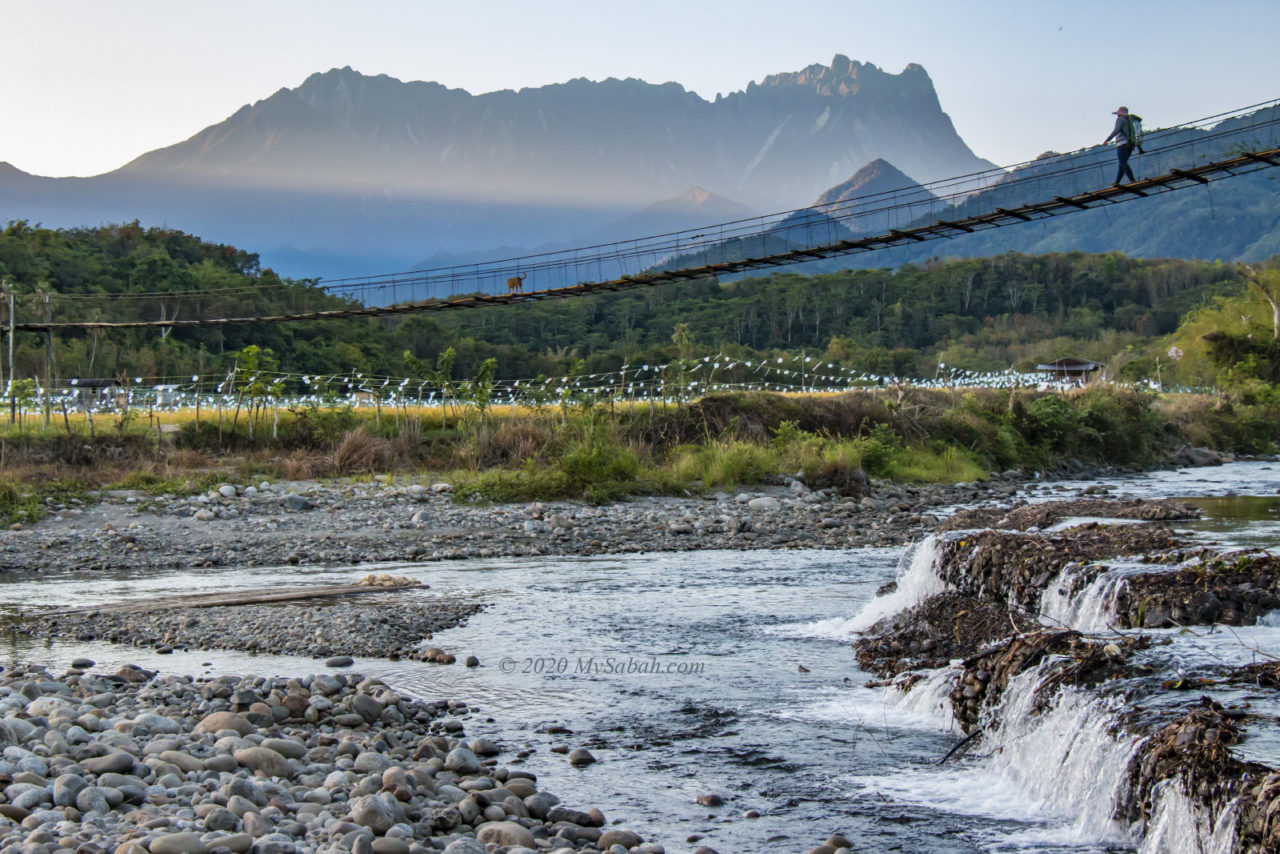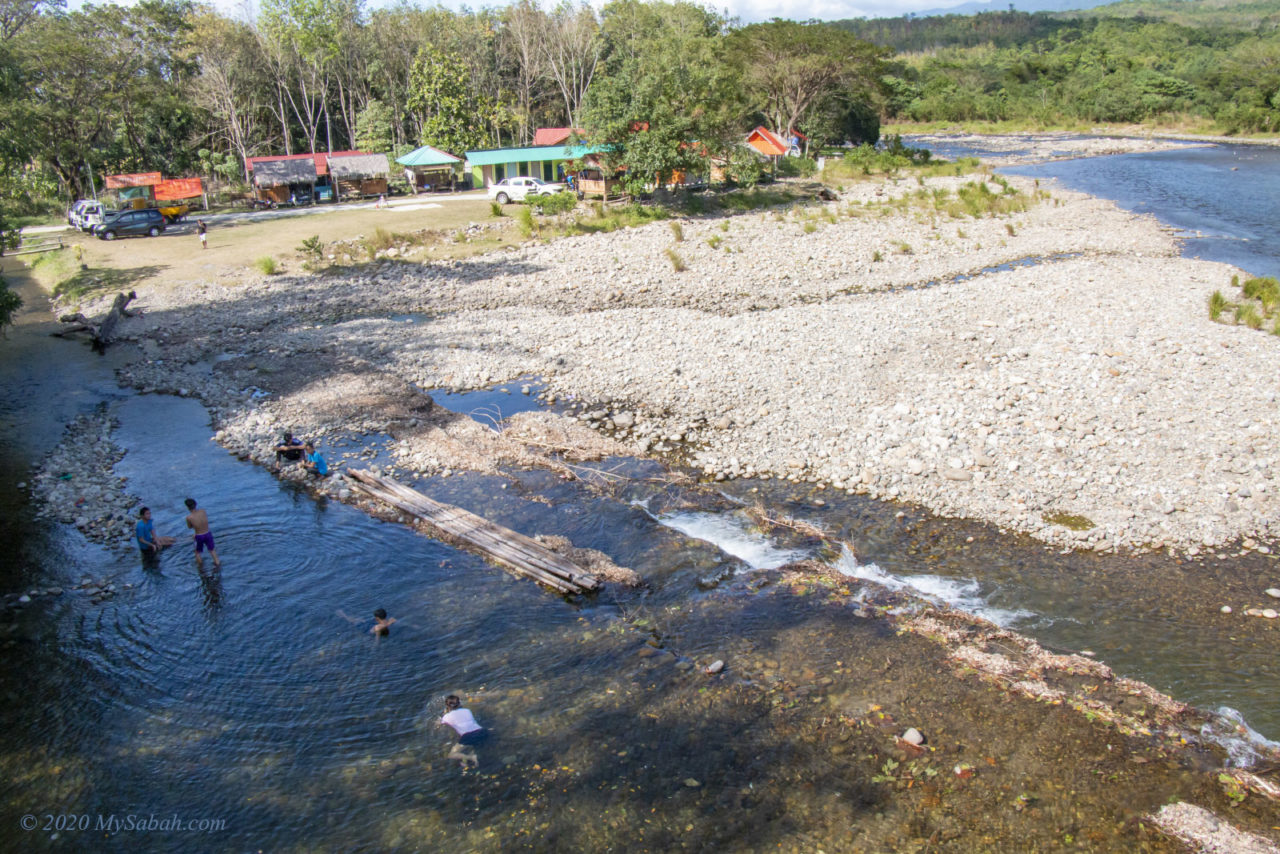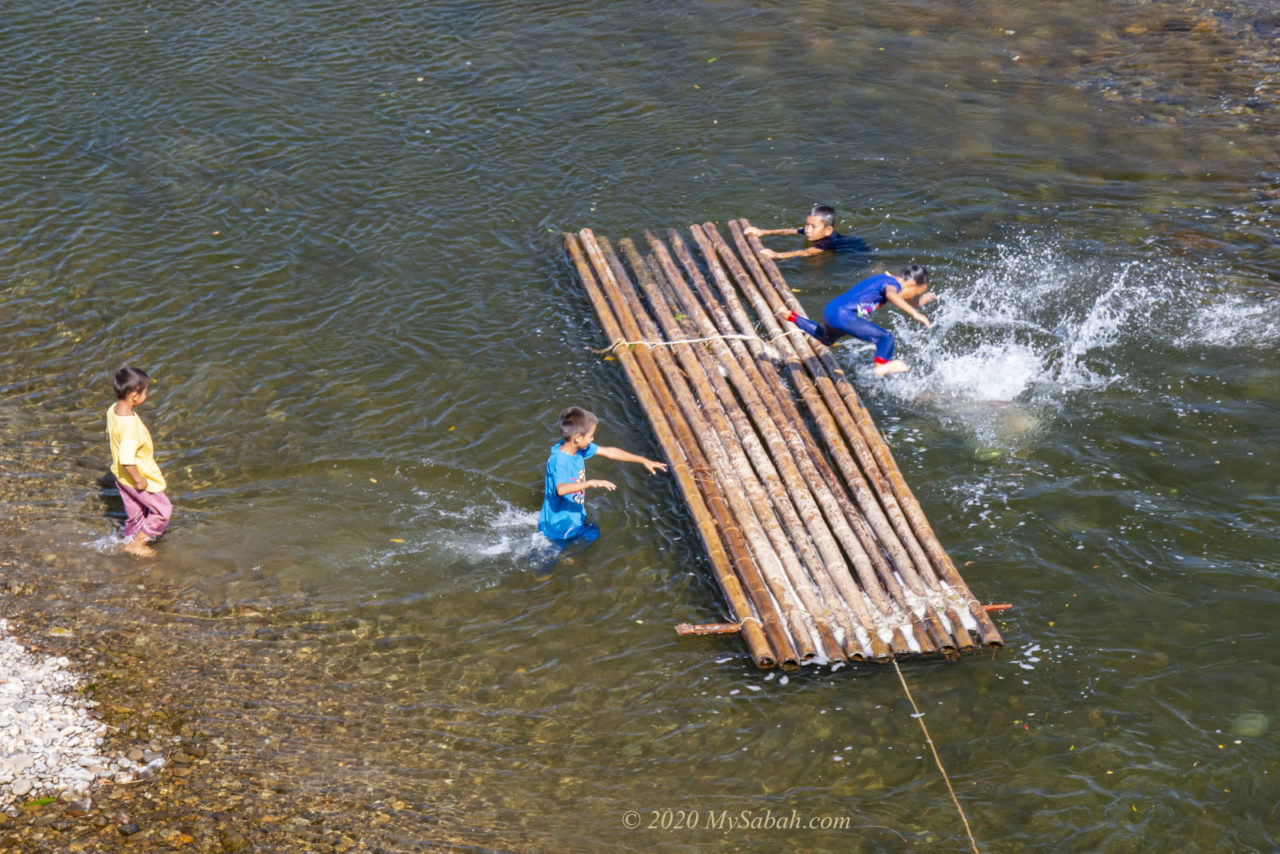 Though Sabah has warm climate, our river is always cooling, even in hot day. You don't need to worry about utility bill, just jump into the Tondidigon River there to enjoy the unlimited clean water. This river is a tagal (no fishing) zone to conserve native freshwater fish species such as Pelian. Fyi, you can rent a kayak (MYR20/Hour) or tube float for more fun.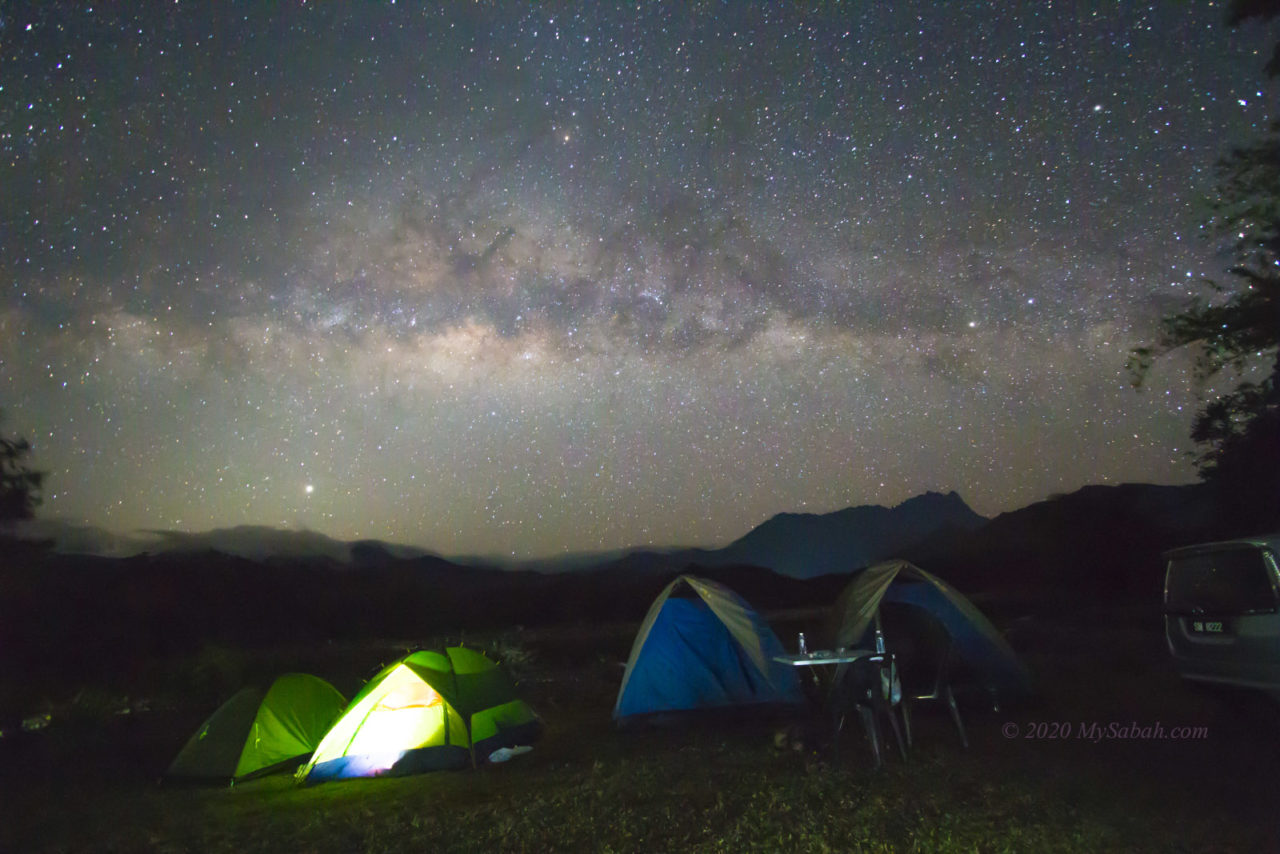 The 2-minute video below gives you an overview of Tegudon (my first 4K video!):

Bukit Bendera (Flag Hill)
Blue Mountain is famous in Australia. Our Mount Kinabalu is an enormous blue mountain too. Tegudon is one of the best spots to see Mt. Kinabalu up-close because Kota Belud is the ancient gateway to Mt. Kinabalu.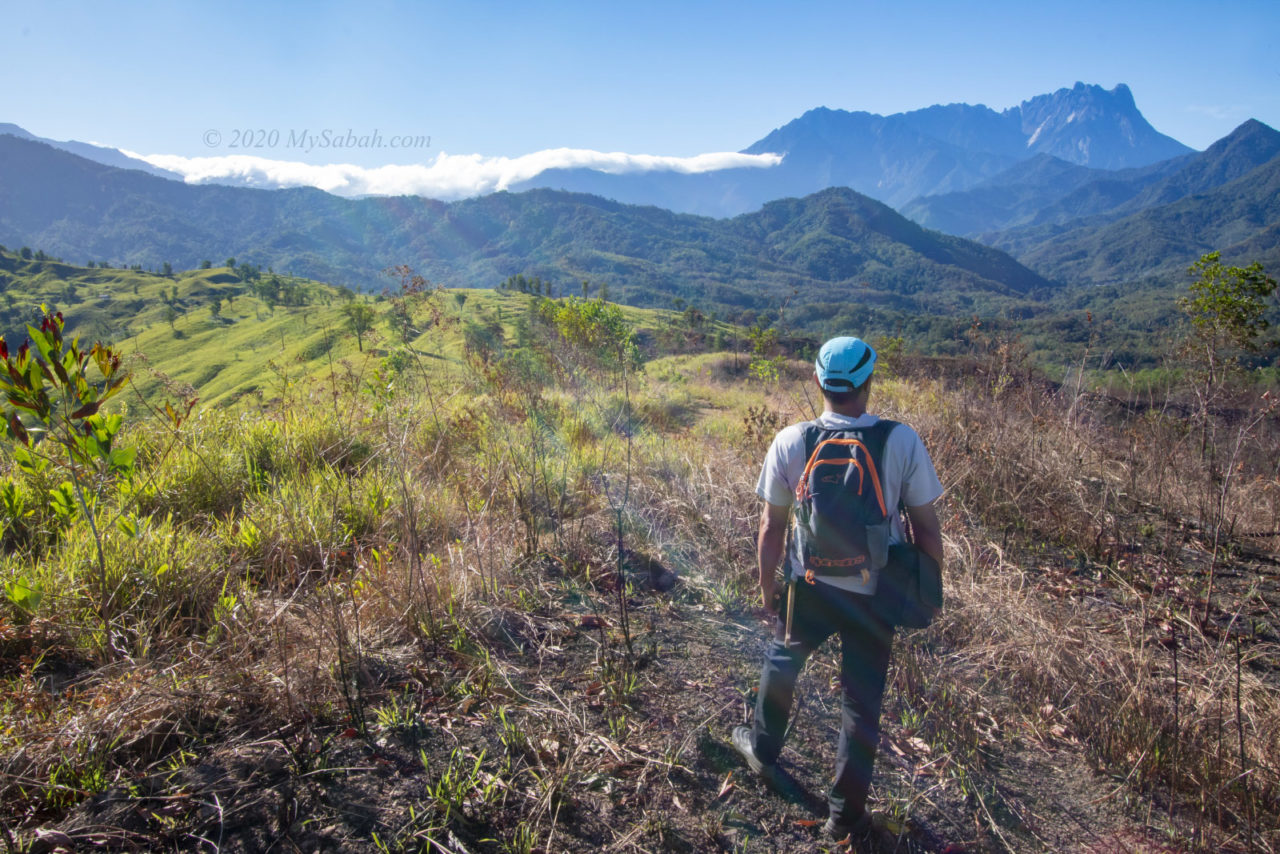 Mount Kinabalu is such a prominent landscape. Any photo with it as background will look great, so I want to photograph her in different spots for some fresh angles. From the photos online, I know the peak of Bukit Bendera (literally means Flag Hill) near Tegudon has one of the most beautiful but less-seen view of Mt. Kinabalu.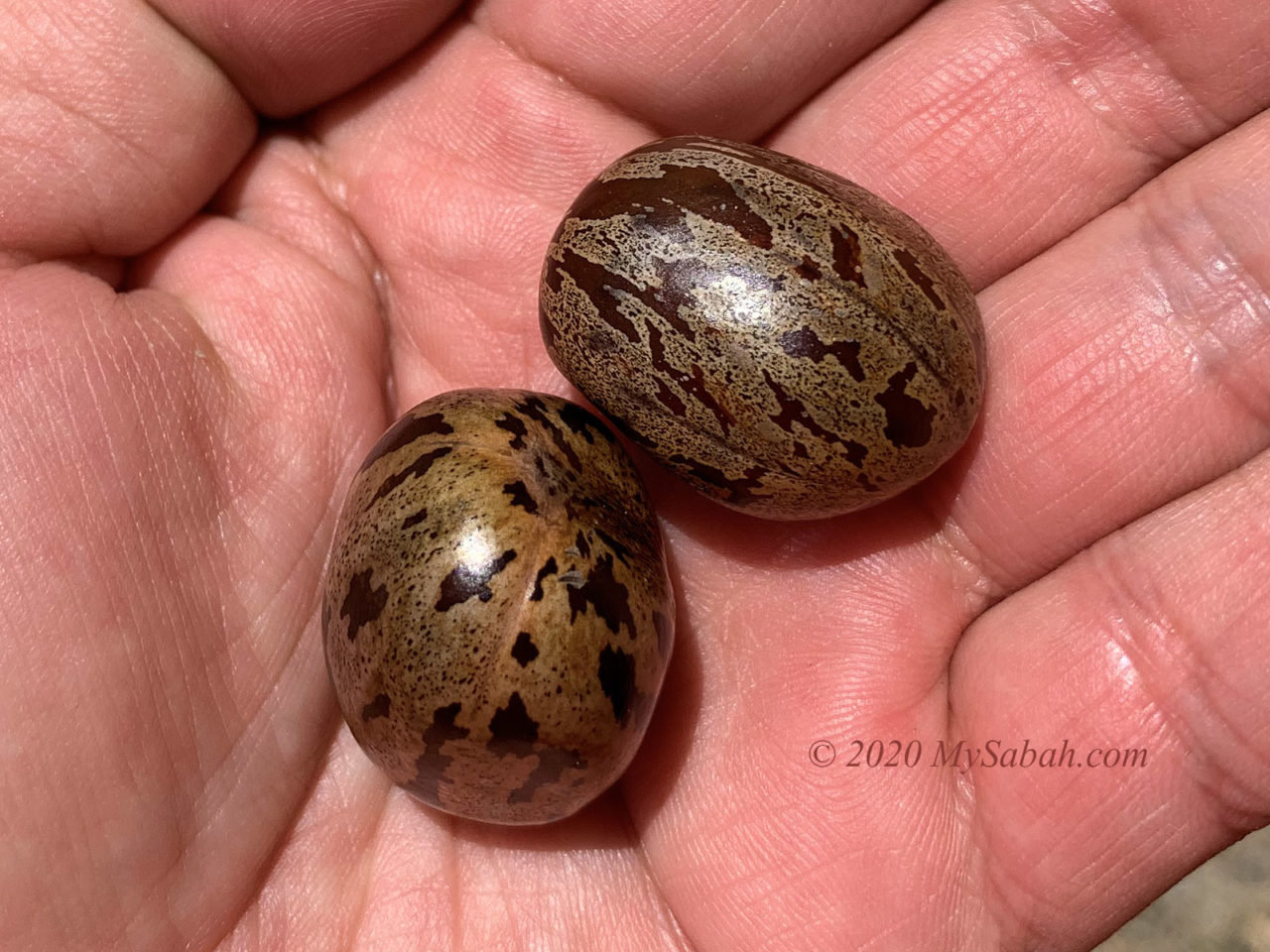 Normally the best time to see Mount Kinabalu is in early morning, before she is hidden in cloud after 8am, so I decided to start climbing as early as possible. Tegudon Tourism Village arranged a friendly guide, Matthew, to accompany me, because there is no signage or marker to show the way.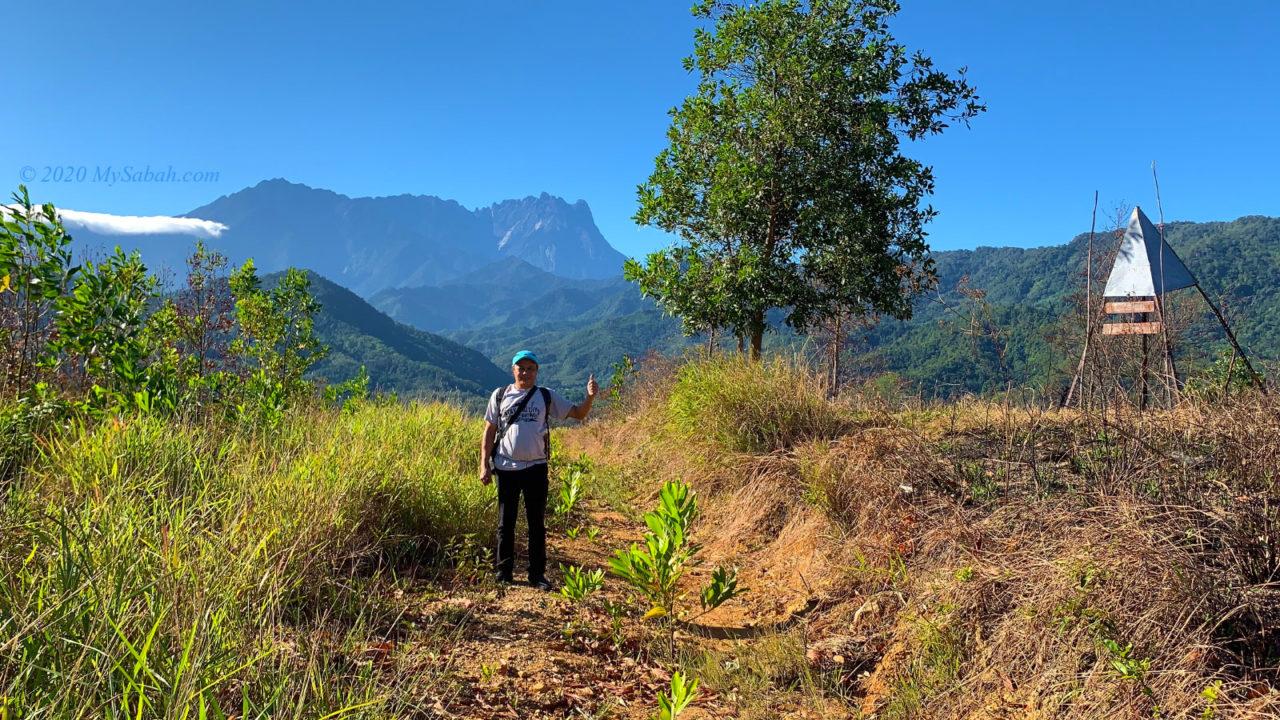 We started hiking at 6:30am, shortly after the sunrise. We passed through paddy field, forest, rubber plantation, and a few streams. In the beginning the trail is quite flat and under tree shade. They advise to start hiking before 8:30am to avoid the hot sun.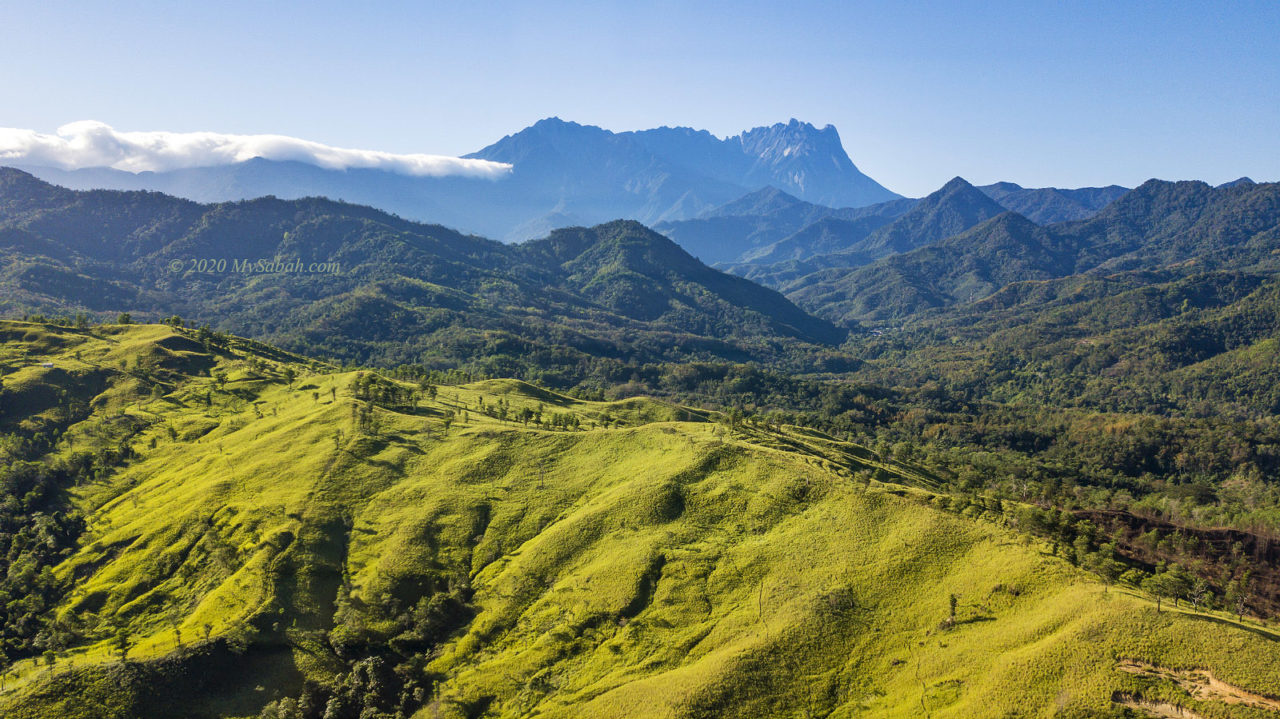 When we were getting near to the peak, we came to an open space with panoramic view of hills and grassland. The last 1 km is a few 25° inclination slopes and mostly gravel road dotted with rocks that have glittering silica grains on them.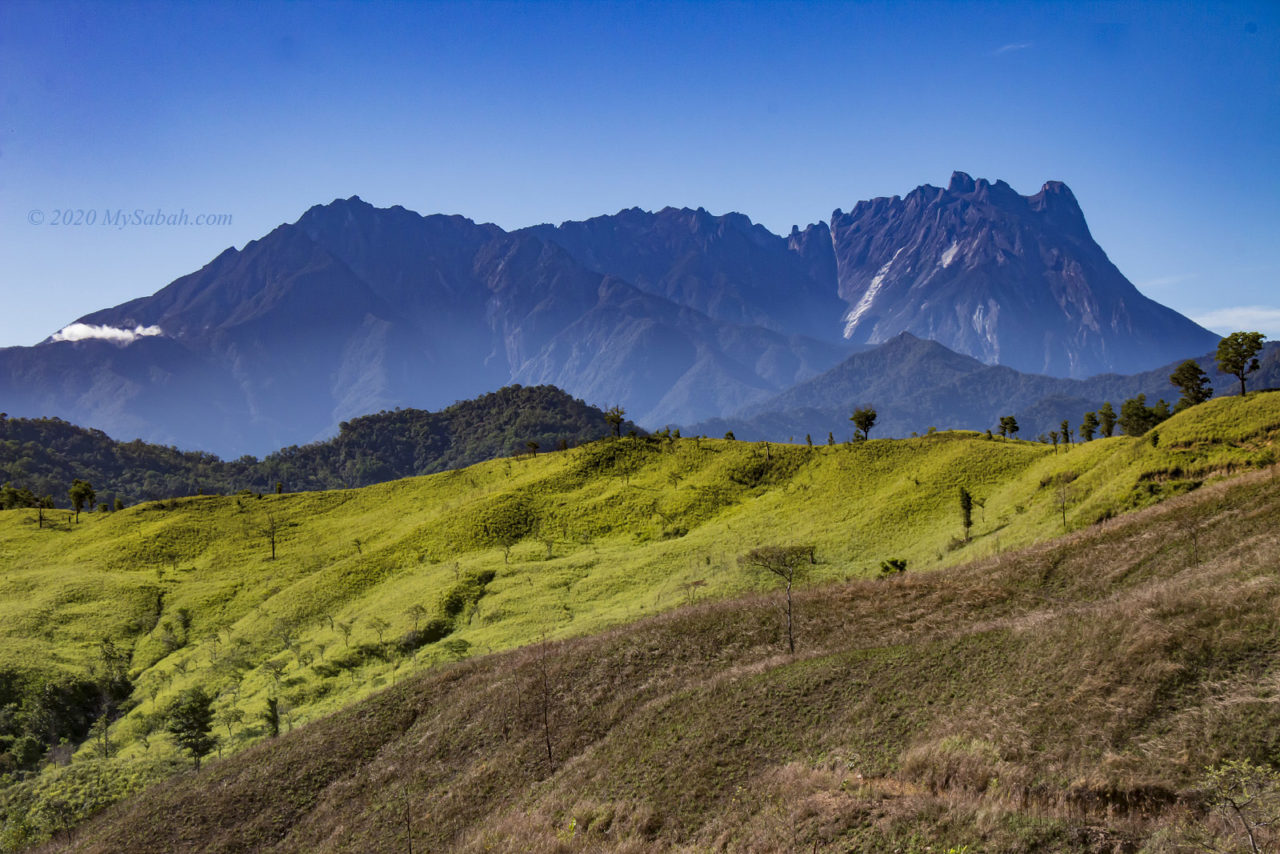 We reached the peak of Bukit Bendera by 7:48am. The height of Bukit Bendera is about 960 feet (293 Meters). It's not very challenging and no climbing is required. We were very lucky that day, the sky was so clear that Mt. Kinabalu could be seen clearly until 10am. The scenery of Mt. Kinabalu with rolling green hills in front is breathtaking. Matthew was apologetic for some burn marks on the hill caused by forest fire in drought. It's ok bro.
Wasai Waterfall
After taking some photos on Bukit Bendera, we continued to walk to Wasai Waterfall, which is only a Kilometre away and mostly descending route with a few steep sections that need rope support.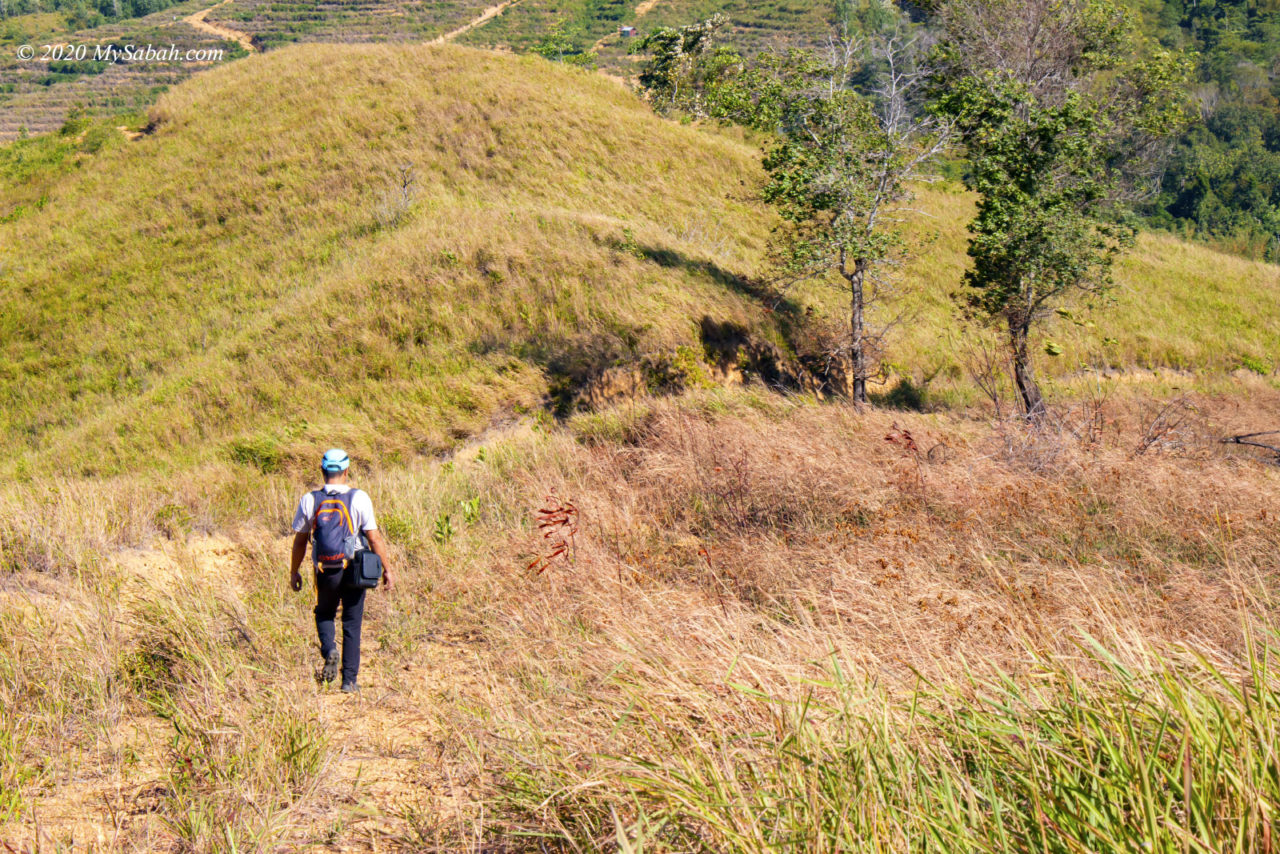 We arrived Wasai Waterfall after 45 minutes. Another group of visitors also joined us 20 minutes later. A few of them were wearing short and slippers, I'm trying to say the hike is not difficult.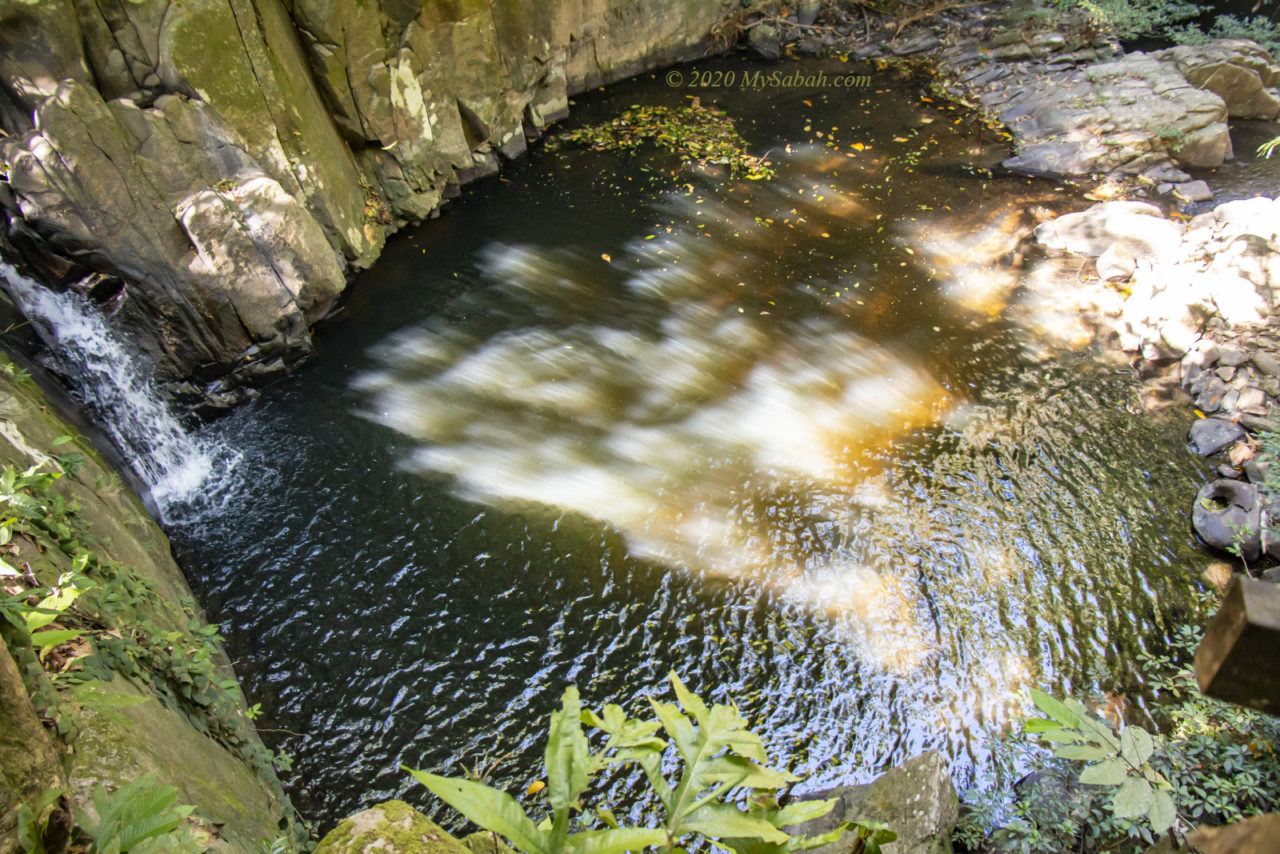 The deepest part of waterfall pond is about 7 to 8 feet deep. The water is clean and clear, safe for a swim. I sat on a rock, admiring the look of sun-ray beaming into the water. After some rest, we return to the camp before noon.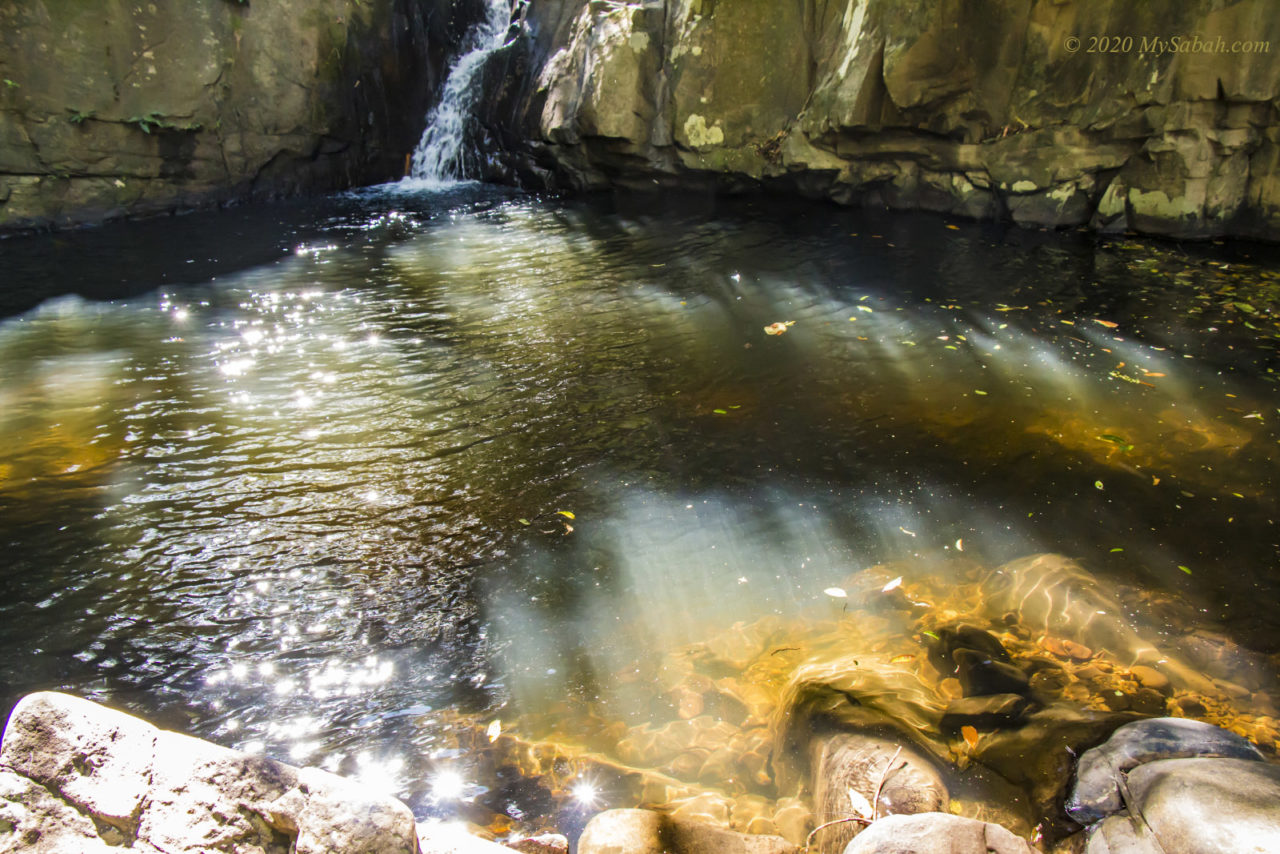 The guide fee is MYR50 for a 1 to 5 people group (Route: Tegudon Camp ? Bukit Bendera ? Wasai Waterfall ? Tegudon Camp). They say the loop trail is 12 Kilometres in distance. If you trust my experience, the round trip to Bukit Bendera and Wasai Waterfall is no more than 8 KM.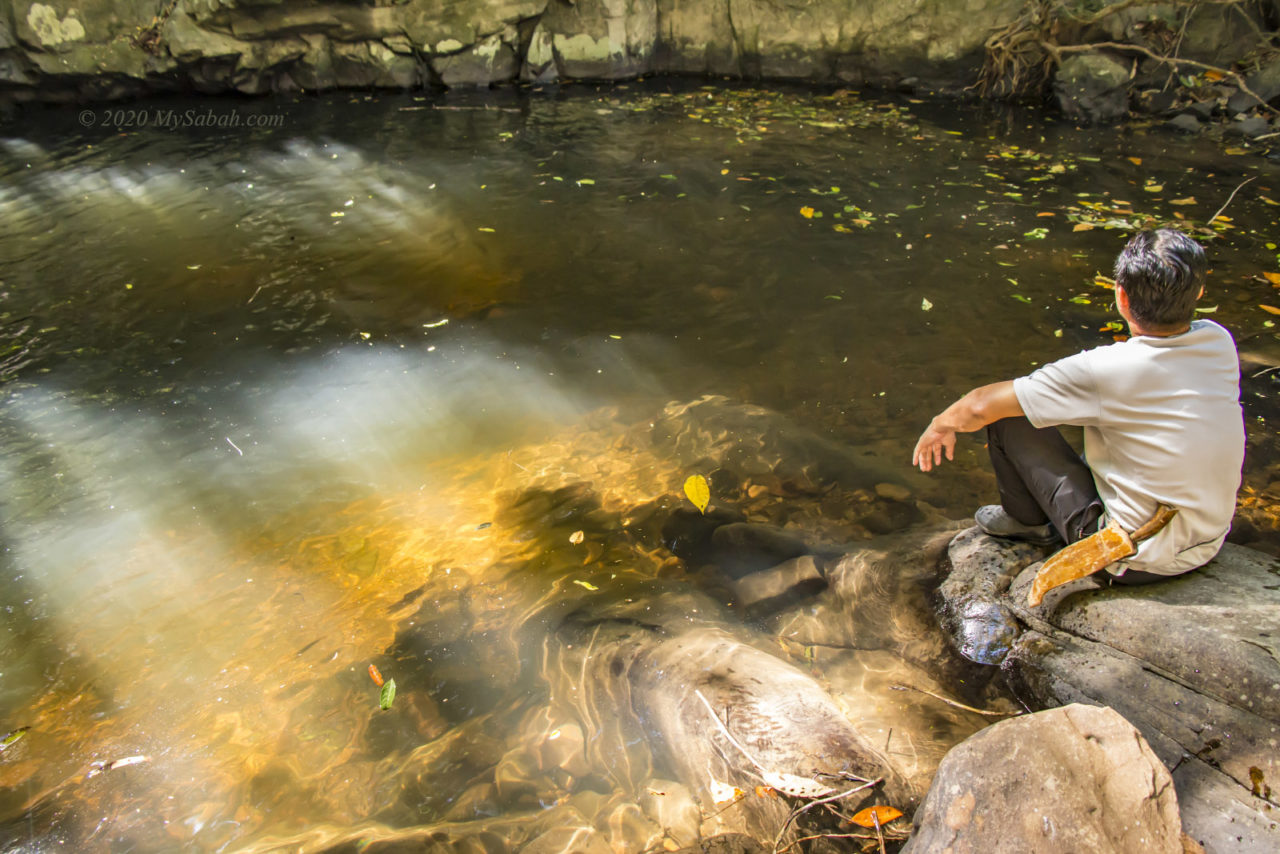 Camping & Hut
TTV can accommodate up to 100 campers at a time (fit 50 people comfortably). To camp in Tegudon Tourism Village, you can choose to stay in camping tent or wooden hut. The rental fee for hut is MYR15 per day, and the check-in/out time is 5:00pm. Currently 9 huts are available, and more are under construction.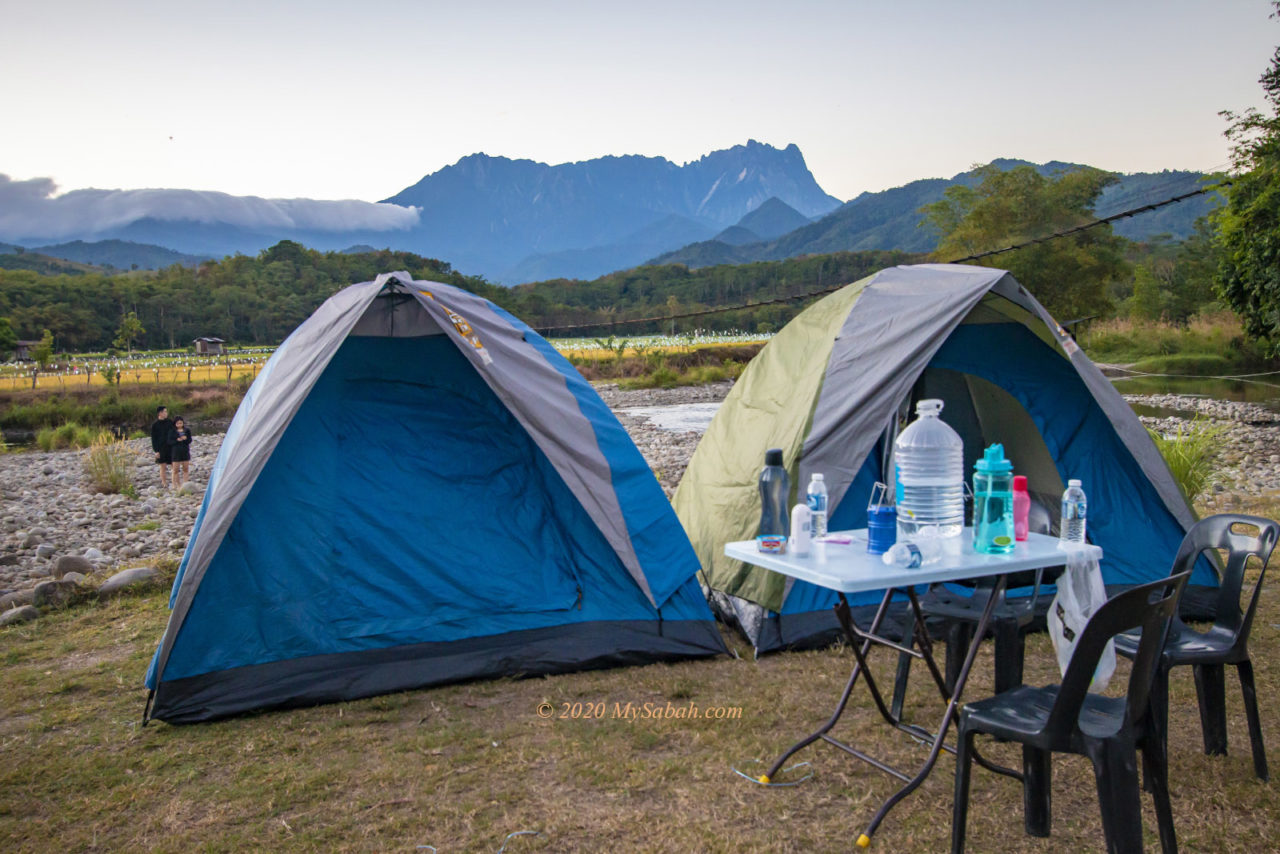 If you don't bring your own camping tent, you can rent one at TTV with the following size and rates:
2 people = MYR20
3 people = MYR30
4 people = MYR35
6 people = MYR40
The entrance fee is MYR3 (Malaysian Adult), MYR1 (Malaysian Kid (7-12 years)), MYR7 (Non-Malaysian Adult) or MYR3 (Non-Malaysian Kid) per person. Overnight camping fee is MYR7 (Malaysian Adult), MYR3 (Malaysian Kid (13-18 years)), MYR13 (Non-Malaysian Adult) or MYR7 (Non-Malaysian Kid (7-12 years)) per person. Please visit their Facebook for most updated and complete prices.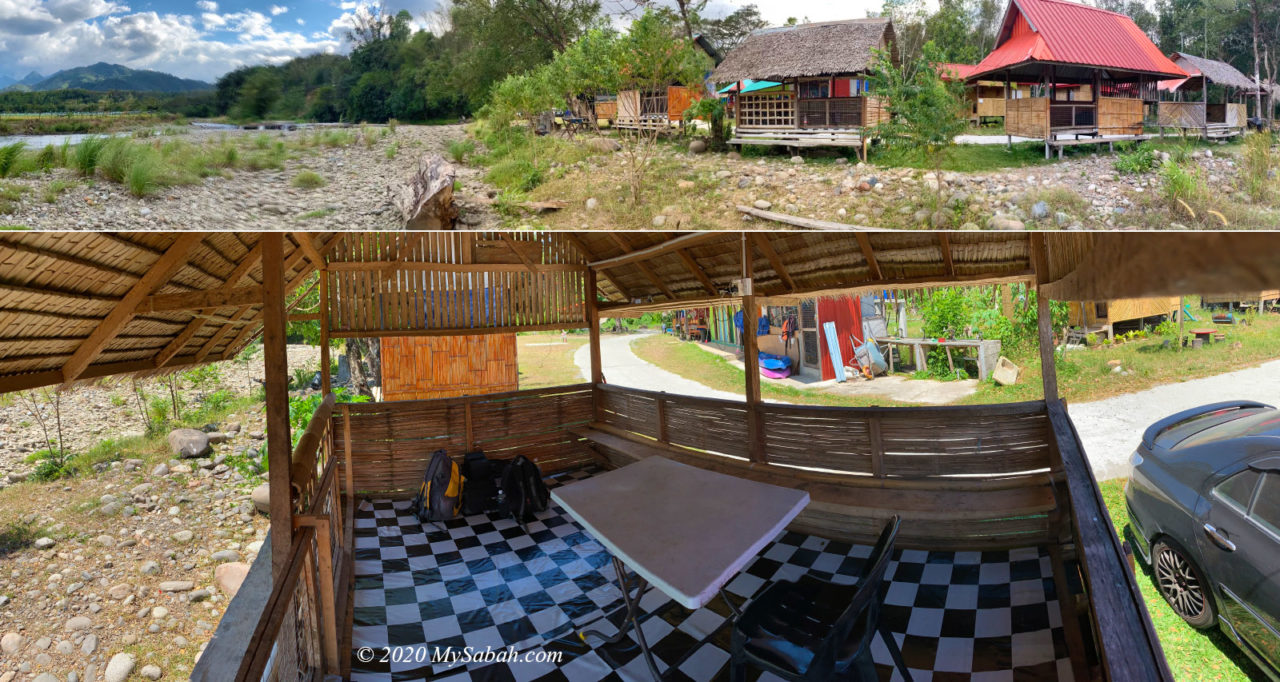 I prefer hut because I need a lot of space for photography equipment. And it is very tiring for me to keep crawling in and out small camping tent to take my camera. The floor of the hut is a bit dusty so you better bring a mat.
The hut is about 10×7 feet in space. It has a long bench (too narrow to sleep on), a fluorescent lamp and a power point to charge your phone and power bank. You can bring a multi-plug so you can charge more than one electronic device at a time.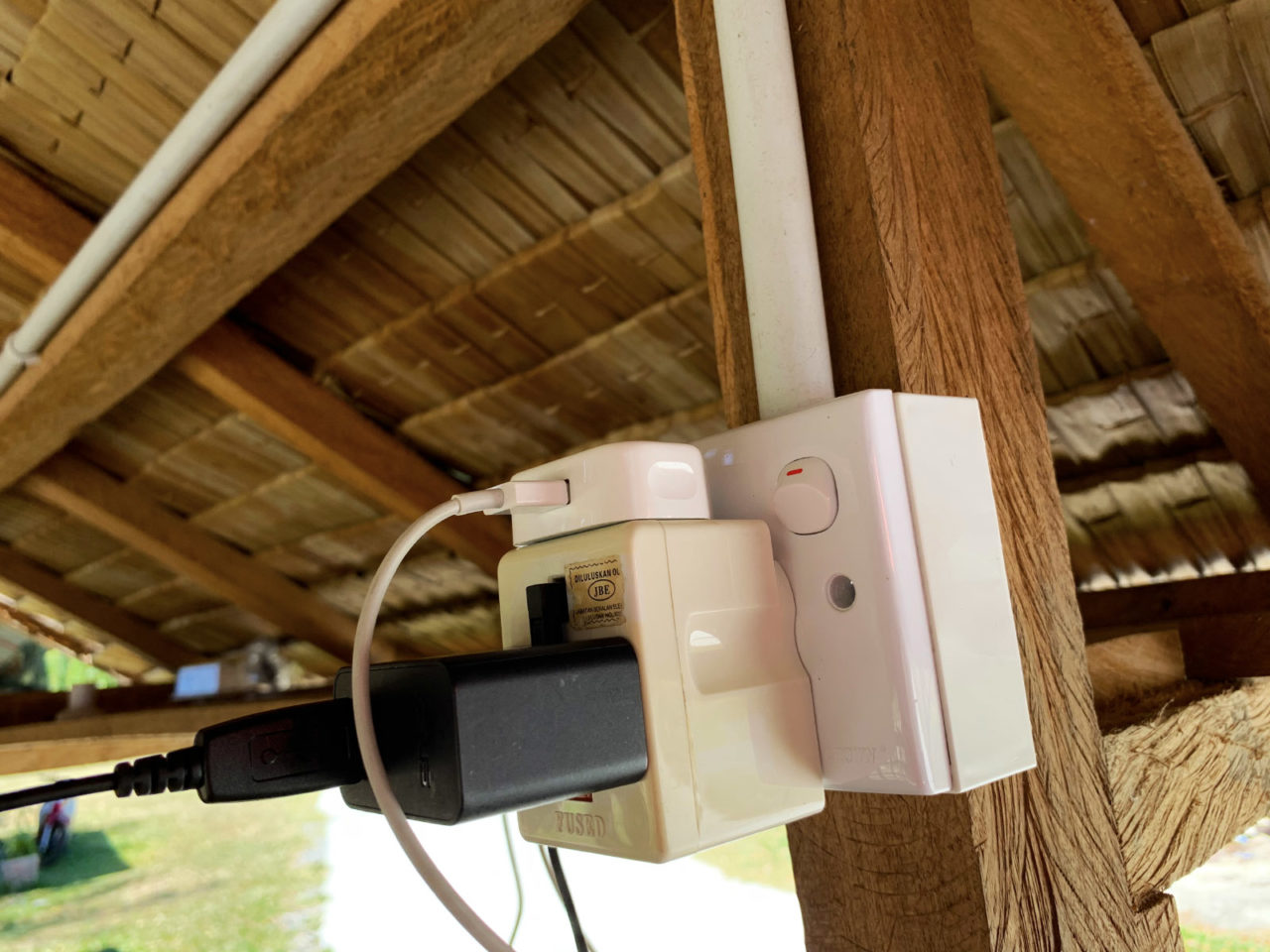 The hut is unfurnished, but they are kind to provide me a plastic chair and desk. There are staffs on duty between 8am to 5pm in the camp if you need anything. If you stay in hut, you better buy some mosquito coils (and lighter) from them before night, for a good sleep.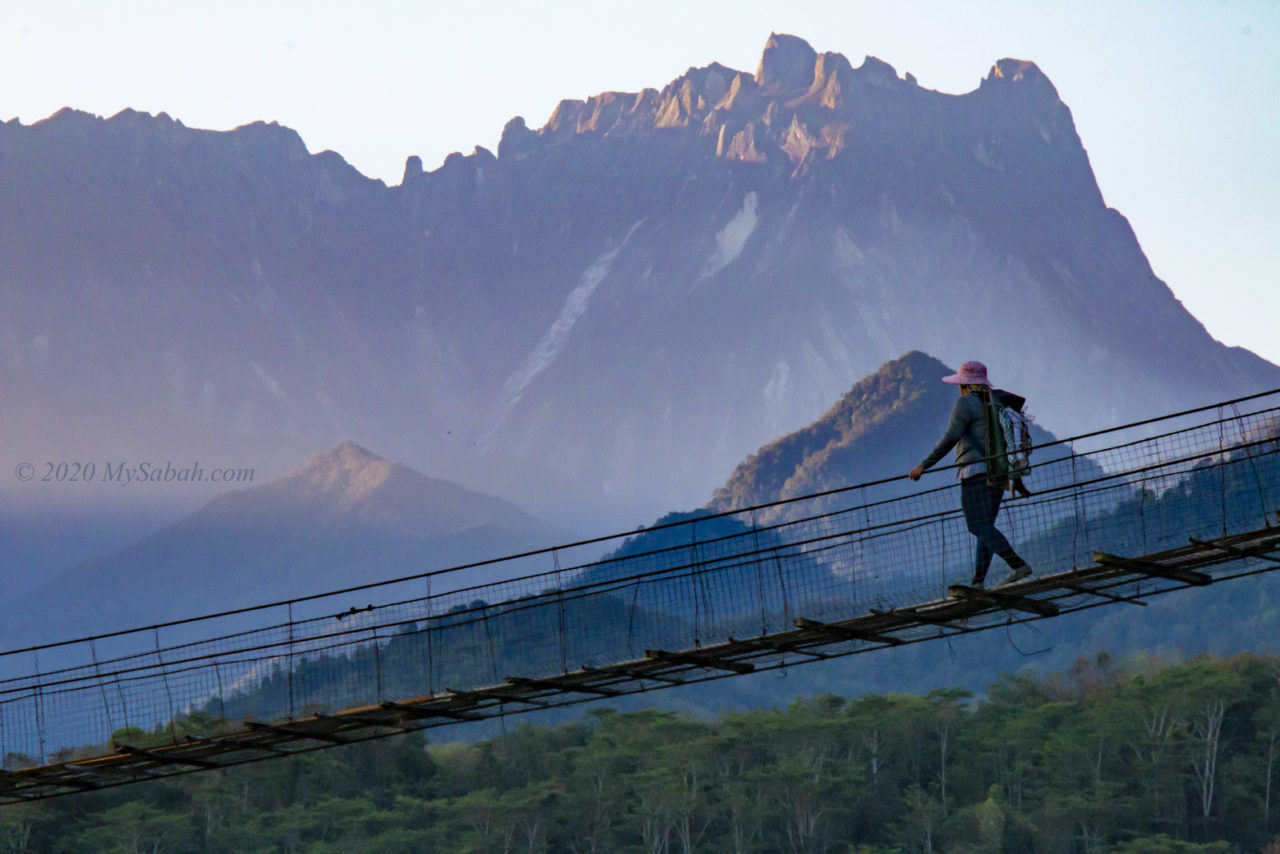 During my stay, it was very cooling and windy at night due to Northeast Monsoon. I couldn't believe I was shivering. Therefore, you better bring some warm clothing just in case. Anyway, my wooden hut was sturdy against strong wind, I didn't feel any shake.
Meals
If you don't want to cook and plan to BBQ, you can request TTV to provide food (need to book in advance). I must say their food is underrated, and I was so looking forward to every meal.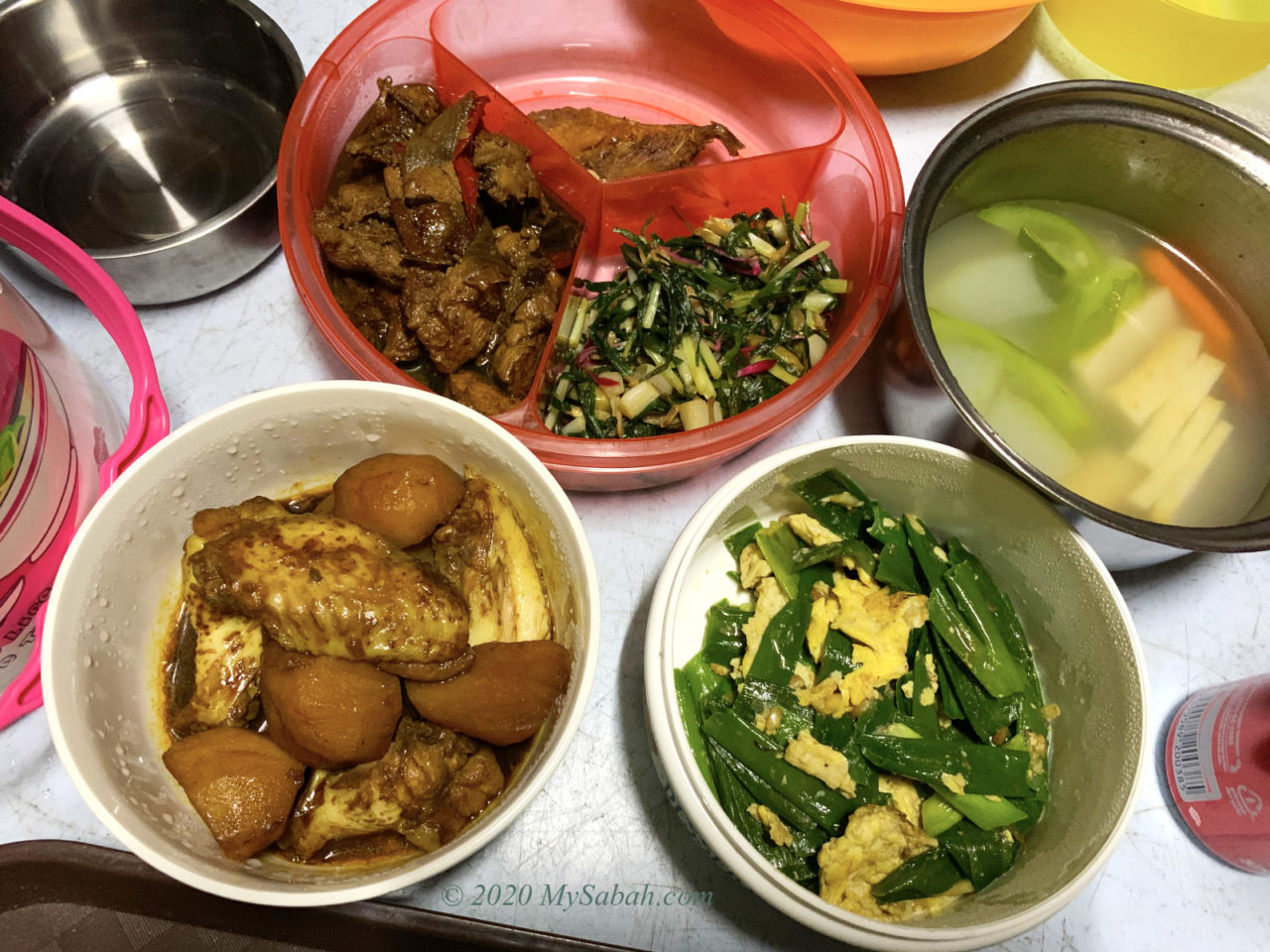 The menu may vary. Usually breakfast consists of fried noodle, boiled egg, Milo (chocolate hot drink), hot water in thermos flask and some snacks such as donuts and bun. For lunch and dinner, normally it's white rice, 2 vegetables, 1 meat/fish dish, soup, and a 500-ML bottle of drinking water. The serving is quite big portion.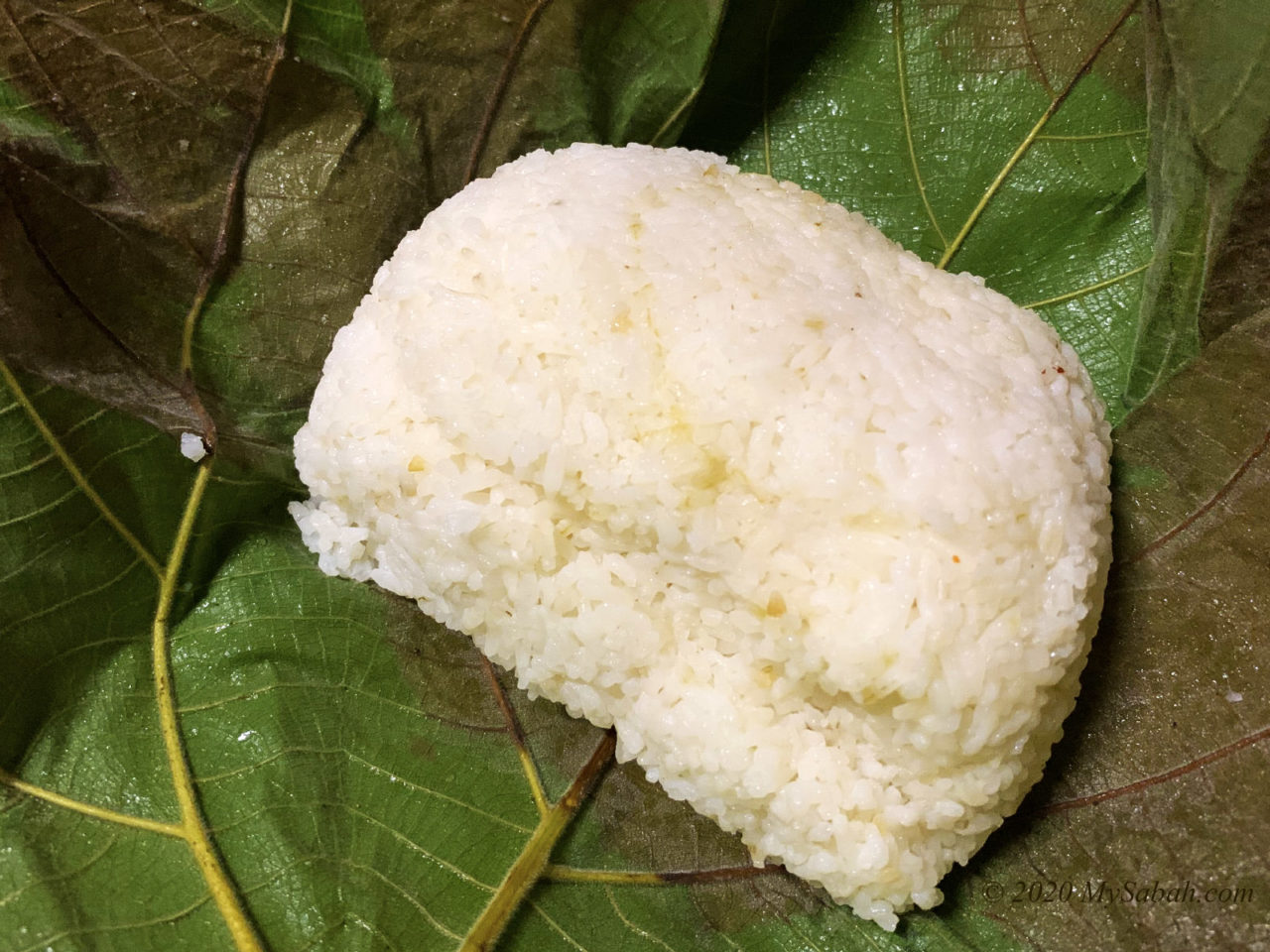 The dishes are same as what the locals eat, very balance diet. I'm happy to avoid high fat and sugar food. The white rice is SOooooo good! The cook says it is from that paddy field next door and would be more aromatic if it's freshly harvested. It's available for sale there too.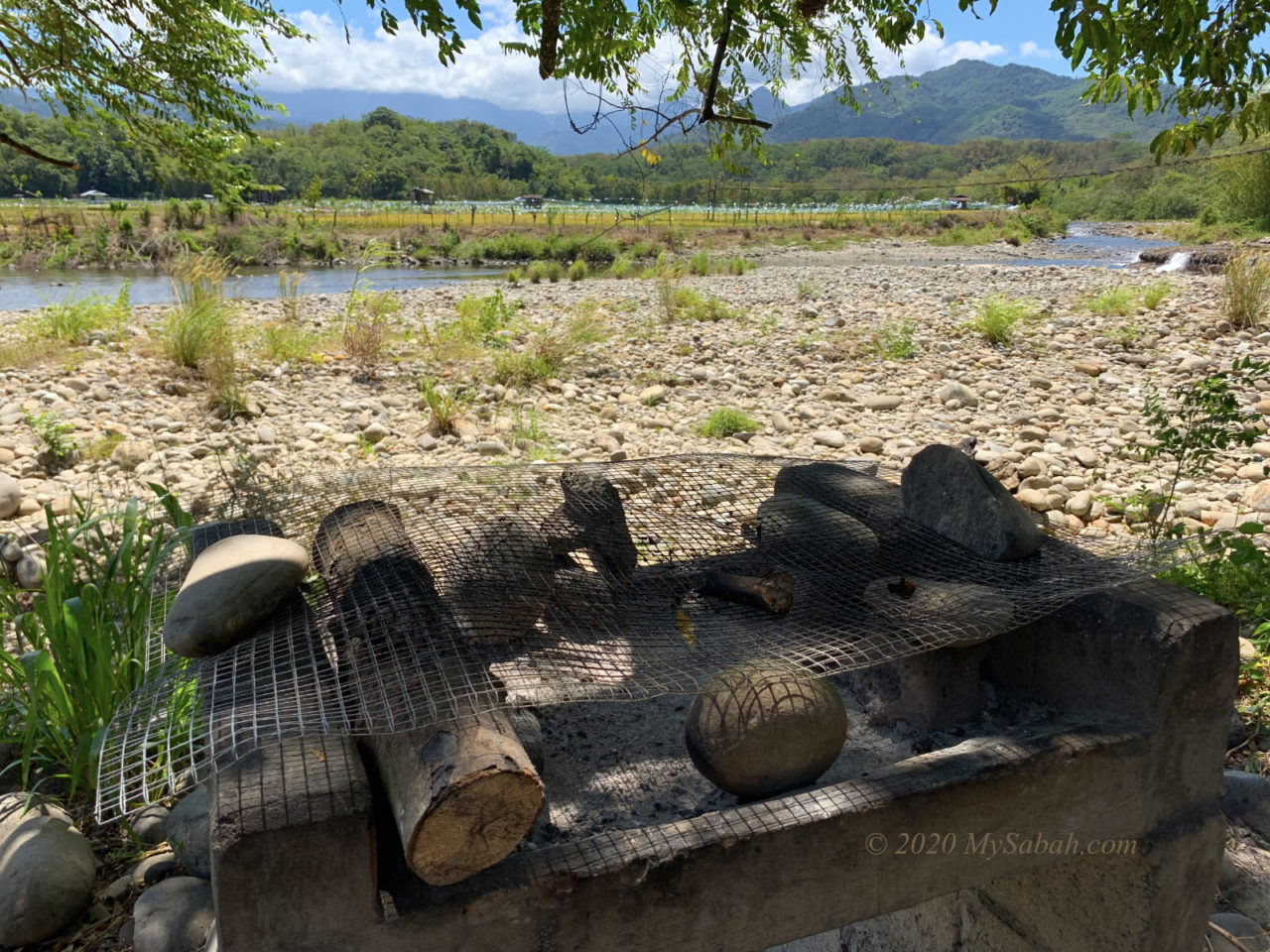 Below is the prices and meal times (rates as of Mar 2020):
Breakfast: MYR7 (6:45am)
Lunch: MYR12 (12:30pm)
Dinner: MYR12 (6:30pm)
Amenities
There are shared toilet and bathroom (with male / female sections) in campsite. Sorry no water heater. You would dance a bit if you are not used to cold shower.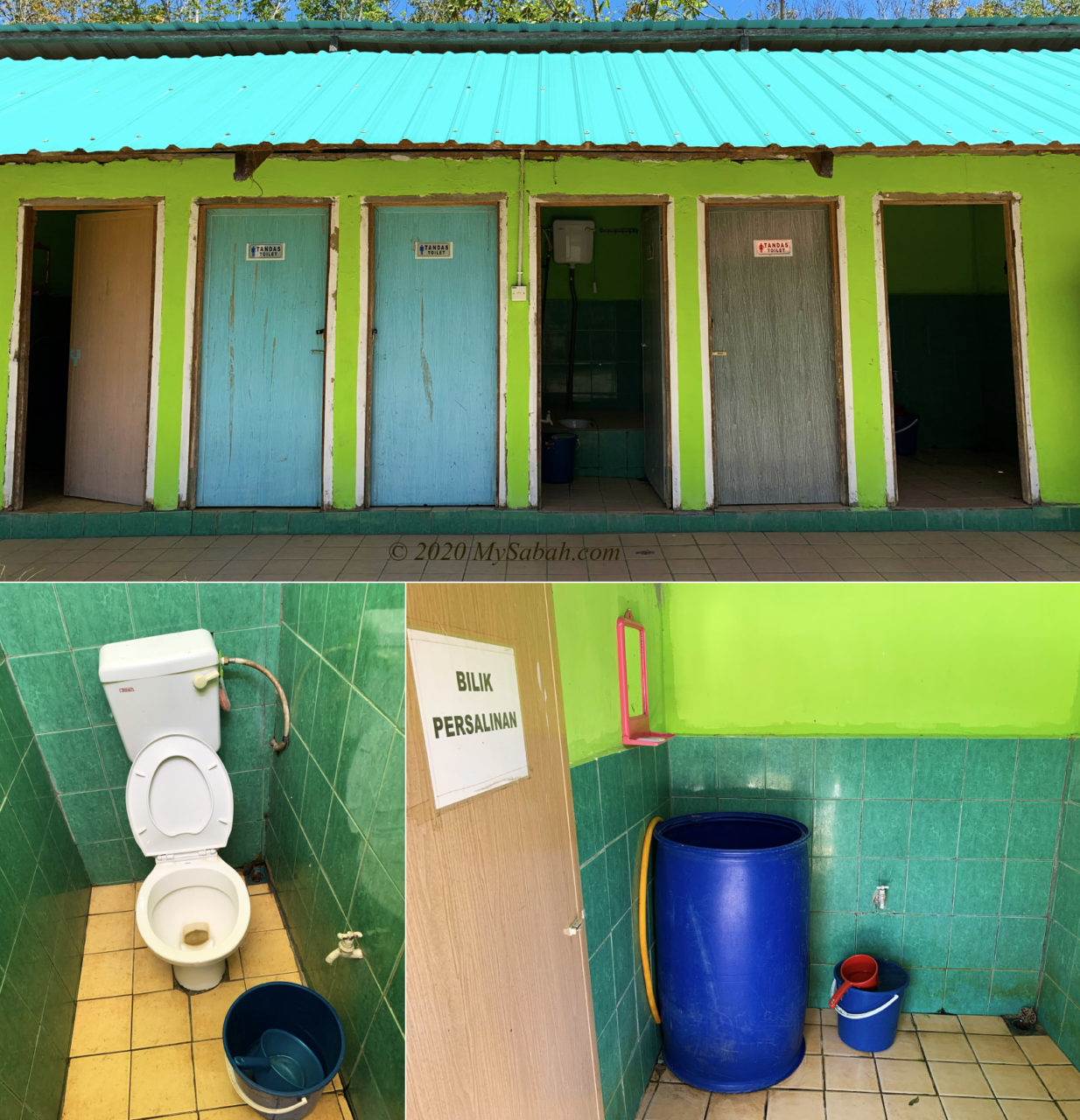 You can buy some common items in the sundry shop of TTV, for example, drinking water, cold carbonated drink, cookies, instant noodle, 3-in-1 instant drink, soap, detergent, tooth paste, cooking oil, tomato / soya sauce, and mosquito coil, at reasonable price. I can't find any beer though.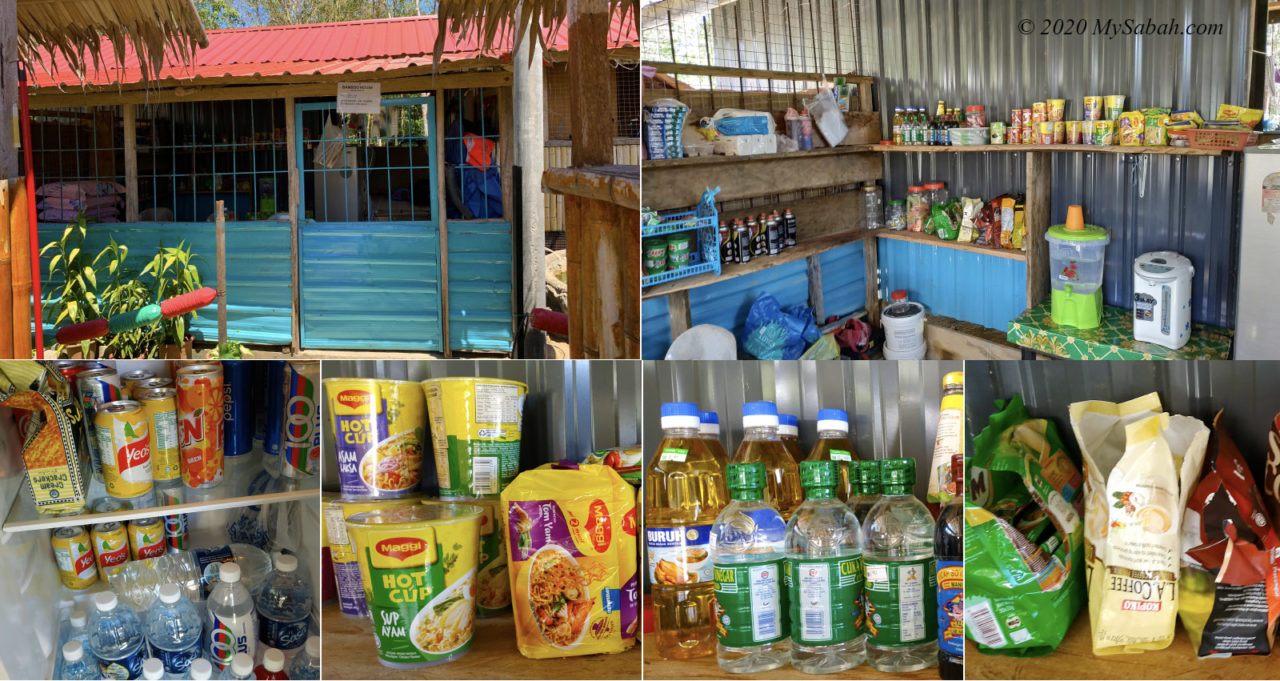 So basically you can just go to TTV without bringing anything except clothing, sleeping bag and some toiletries. You can buy and rent almost everything you need there, before the sundry shop there closes at 5pm.
How to Get there
You can book everything with them via Facebook Messenger. They usually can confirm within an hour. They can understand and reply in English. Below are their contact:
Facebook: tegudontourismvillage
Instagram: @tegudontourismvillage
Phone (Whatsapp): +60 13-6024089 (Liko), +60 11-16035532 (Mathew)
E-mail: barrazz_89@yahoo.com
GPS: 6.289767, 116.523219 (See Location Map)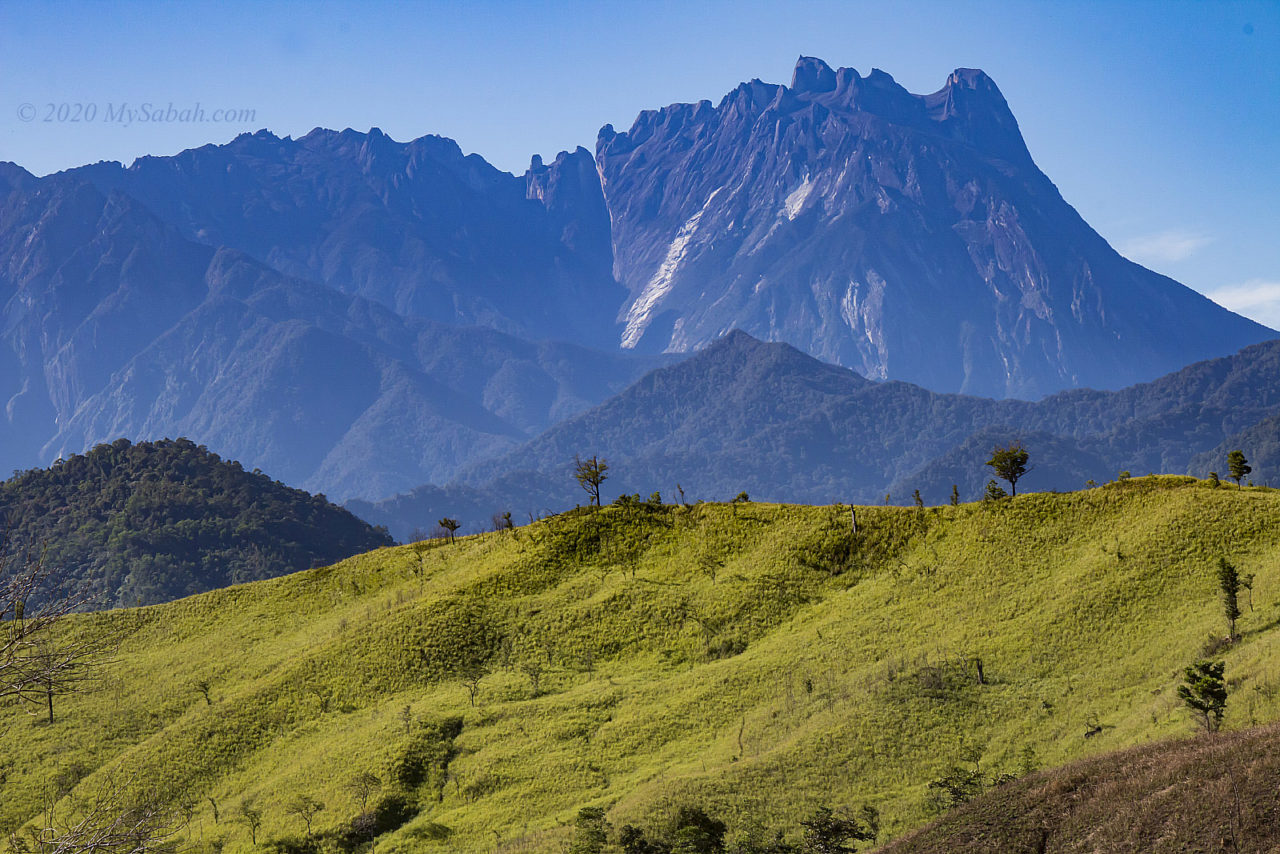 Driving to this campsite from Kota Kinabalu city takes about 2 hours (for 80 KM). You can get there easily by using mobile apps such as Waze or Google Map (search for Tegudon Tourism Village). The road is paved and in good condition. You also can park next to your camp / hut.
Things to Bring
Clothing
Sleeping bag
Swim wear
Jacket
Towel
Toiletries: soap, tooth brush, tooth paste, tissue paper / toilet roll
Drinking water
Flashlight
Sunblock lotion
Insect repellent
Mosquito coin and lighter
Sandal / Slipper
Raincoat / Umbrella
Power bank and Charger
Optional:
Dry Bag
Multi-plug
Food
Snacks and Energy Bars
Spoon, Fork, Lunch Box, Cup
Pen & notepad
Photos taken in Kota Belud, Sabah, Malaysia Borneo