Sabah does not have many natural lakes. The 20-Acre Impian Lake (Tasik Impian) in Kunak is a very special one because it was a volcano crater about 20,000 to 30,000 years ago.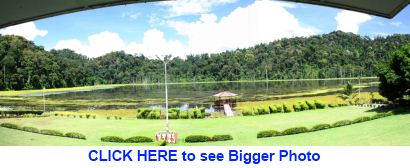 Even though the volcano had long extinguished, the underground thermal activity is still carried on. There is a hot spring just behind the mountain.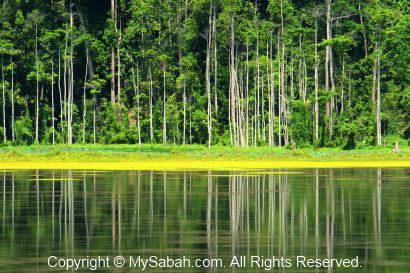 Impian means "Dream" in Malaysia language. It is indeed a beautiful lake. The lake view is just not so "Sabah". Most lakes I saw around Sabah are small, murky and covered with green algae (due to pollution).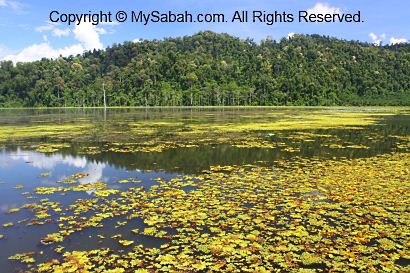 Impian Lake also plays a part in shaping the human history of Sabah. If I heard the guide correctly, this lake was used to be a river, but later its exit point was blocked and it became a lake. The water stopped flowing to a very important archeological site of Sabah, i.e. Tingkayu, one of the most advanced civilizations during that time. The Tingkayu Lake dried up, so the people was forced to move to Madai.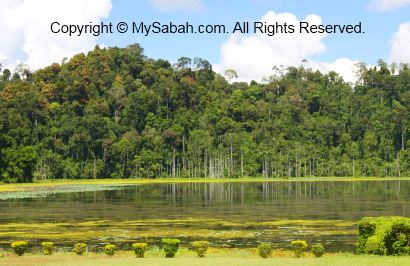 Impian Lake is inside the Mostyn Oil Palm Plantation, a private land under Sime Darby. The company turns this area into a golf course and builds a resthouse (Lake View Resthouse) for the members. They do a great job to maintain the area.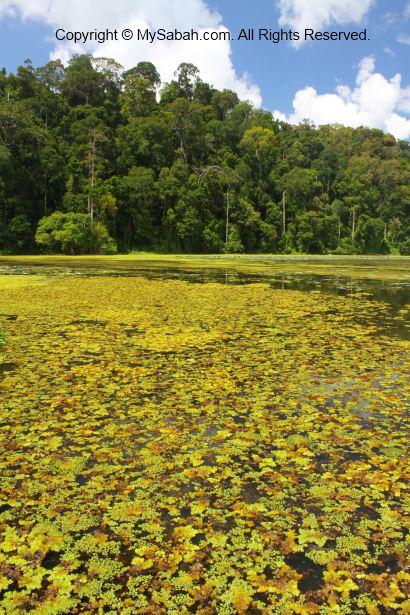 The yellow floating plant is Salvinia molesta from South America. It looks pretty but it's an invasive water weed that spells disaster to the lake ecology, because it can deplete the oxygen of the lake water, threatening the fishes and aqua-animals in the water. They are trying to remove it.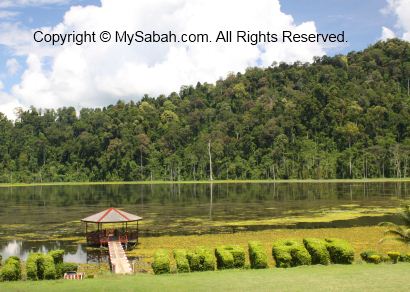 Thanks to Sime Darby for keeping this lake and didn't destroy it for development.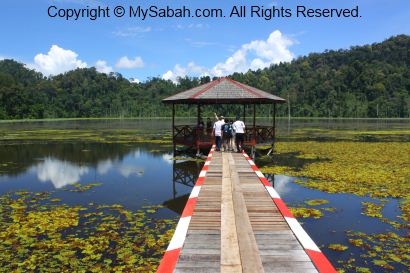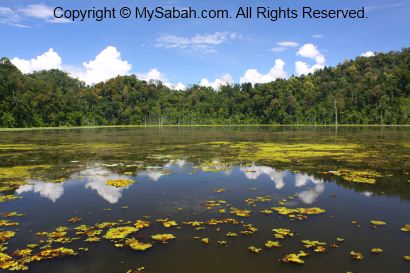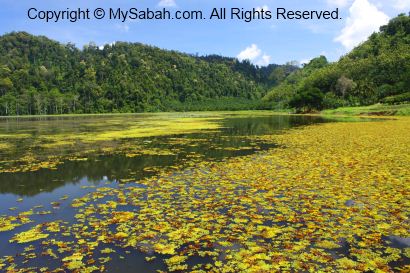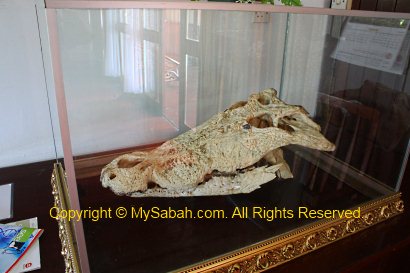 You would see a big crocodile skull inside the Lake View Resthouse. It is facing the Impian Lake, where it was belong to. The older generation still remember that in 1966, a white man jogged around Impian Lake and saw a white crocodile. He took out his rifle and shot it. After the white crocodile died, it rained so heavily that this area was flooded for 2 days. The people of Borneo believe that white crocodile is the avatar of the supernatural force and they should not harm the white crocodile (or they will be punished by natural disaster).
Photos taken in Kunak, Sabah Malaysia