My blog about the White Water Rafting in Padas River is very long, so I decide to split it into 3 parts. I will publish one article each day. Some tourism sites have posted article about Padas River with a few documentary photos. But they don't really show you how the Padas River looked like up-close. I hope I can show you more here.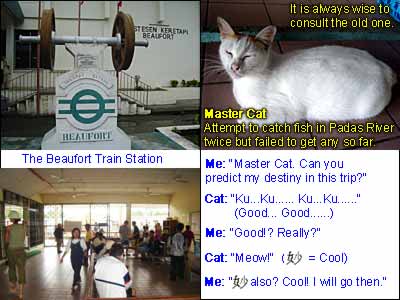 The story started when my aunty from New Zealand, and also a water-sport lover, would like to do kayaking at our islands during her long holiday in Sabah. I thought, "She is an experienced kayaker so she must have seen the world-class beautiful sea view in New Zealand. She comes here to see sh*t kah?" That's why I proposed to go white water rafting. She was quite pleased with the idea, so we headed to Padas River yesterday.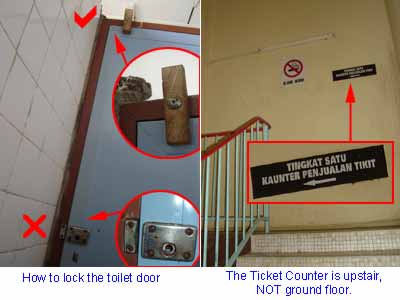 Chinese says, "You can bully the mountain, but never mess with the water." I don't know why I had such a crazy idea coz I don't even know how to swim (a old drought duck, hehe…). Padas River actually means "Spicy River" (Pedas). From the name itself you already can imagine that it is not a "mild temper" river. This Grade III and IV river, during the rainy season now, can easily capsize your boat and drown you. This activity is very challenging and always listed as one of the top 10 things you must die do in Sabah. The full day trip costs about RM150 – RM180 for locals, and that includes two-way transport (by train, van), use of rafting equipments, briefing and BBQ lunch.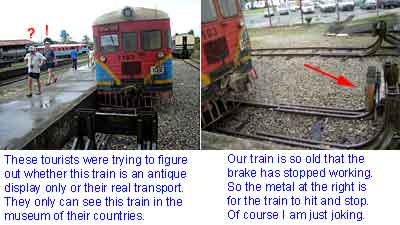 A few notes about rafting at Padas:
1. You do not need to bring drinking water. You WILL drink a lot of river water, which is full of minerals. It is quite impossible that you do not fall out of the boat. Be ready to enjoy the feeling of drowning. You will survive anyway.
2. You don't need to know how to swim to join this activity. In fact, in its high speed rapids, swimming skill is also no use.
3. Try to have heavy breakfast before you go. The so-called refreshment provided by the tour operator are only watermelon and water. Lunch time is at 2 PM, after the end of rafting.
4. Cut short all your fingernails and toenails. You will not wear any shoe on the boat. I almost broke my toenail during rafting. Very painful…
5. If the survivors say they hit by 4 and 6 feet high waves, they are not joking. I personally experienced it…
6. Even though this sport carries risk, it is quite safe. But it is a bit dangerous if you get panic easily in water. I heard someone died bcoz his leg was trapped by the rock under the river.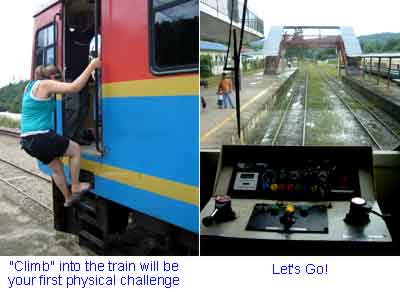 In the morning, the travel agent transferred us to the train station in Beaufort. There were 7 tourists in our group. They are from Czech and Estonia (East Europe). After 90 minutes, we arrived the train station. While waiting for the train to arrive, we walked around. To be frank, the train station looked odd to me. The ticketing counter is on 1st floor, not the ground floor. I remember a Taiwan TV channel was documenting the Padas River trip and their actor also could not find the counter. Note the sign is not written in English. The malfunction toilet door-lock… the old trains that look more like big piece of scrap metals at junkyard… Come on lah, maintain these things a bit lah ok…
The train arrived around 10 AM. We all got on the train to begin the journey.