Nearly 300 photos, this is the BIGGEST photo album that MySabah.com has ever made. 16 finalists of Miss Sabah 2007 competed in 3 rounds, i.e., (1) Casual Dress + Introduction, (2) Swimwear, and (3) Evening Gown. After 3 rounds, top 5 contestants will be selected to enter the Final round, to answer some questions for testing of IQ. Besides, 6 subsidiary titles (Miss Photogenic, Best Swimwear, Miss Talent, Miss Congeniality, Most Popular Online, Best Evening Gown) will be awarded.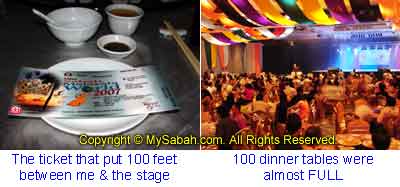 Click Here to see more photos of Miss Sabah 2007 >>
With thousands pair of eyes watching, all the finalists were very nervous. I also felt stressed when I sensed their fear in their shivering speech, which they had practised probably a hundred time. Fortunately, none of them got serious stage fright that made them forgot what they wanted to say. Height is quite an important factor coz the winner will compete again in national level (Miss World Malaysia) later, and even international level if lucky. Personally, I supported Madelyne and Jacqueline as they are tall and have the look of a queen.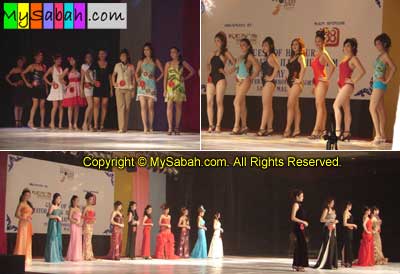 Click Here to see more photos of Miss Sabah 2007 >>
Hmm… quite disappointed with the swimwear round coz it was too brief. Instead of walking out slowly one by one, they do the swimwear round in group and moved very fast. "Huh! Over lah???" was my response coz I thought this was the most anticipated round.
Five girls, namely, Madelyne, Jacqueline, Emily, Cyndi and Cathress entered the final round. Each of them was asked the similar questions like "If you become Miss Sabah, how would you motivate the women / promote our country / serve the community…" Probably too nervous, Jacqueline paused after saying 2 sentences, luckily a big applause of encouragement from the crowd brings her confidence back, so she managed to finish quite nicely. Phew.. I really sweated for her. Madelyne had sour throat that night, though nervous, she did well.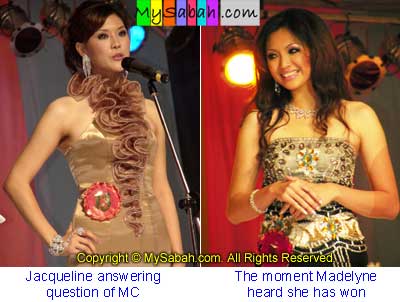 Click Here to see more photos of Miss Sabah 2007 >>
At last, the announcment of Miss Sabah 2007 winner, my heart was screaming, "Madelyne, Madelyne, Madelyne…" and yes she won. Jacqueline won 2nd-runner up and Best Evening Gown too. So glad for them… Below is the final result:
Miss Sabah 2007: Madelyne M. Nandu (No. 7)
1st Runner-Up + Most Popular Online: Cathress Gielbert (No. 12)
2nd Runner-Up + Best Evening Gown: Jacqueline Lo Ker Jack (No. 13)
Miss Photogenic: Emily @ Ng Ying Ying (No. 1)
Best Swimwear: Cyndi Chong Suk Fei ( No. 8 )
Miss Talent: Amanda Gilbert Mojinun (No. 4)
Miss Congeniality: Stephanie Stella Lai Set Li (No. 3)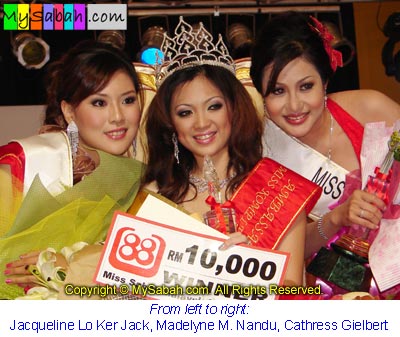 Click Here to see more photos of Miss Sabah 2007 >>
I salute the beauties for their contribution on fundraising for aiding Society for Sabah Heart Fund & Flood Victims. They also visited the unfortunate children at Seri Mengasih Centre, brought joy to the city with motorcade in Visit Malaysia Year 2007… No matter they win or not, they are all beautiful because of their kindness. All the best to them.
WARNING: All the photos here are copyrighted. You may make a copy and display these photos in your blog or web site for non-profit purpose and non-offensive use, as long as you do NOT remove the MySabah.com copyright stamp. Thank You.
Related post:
Miss Sabah Motorcade 2007
Miss Sabah 2007 Appreciation Dinner
Miss Sabah 2007 – Preview
Newspaper Clips
Daily Express (May 7, 2007)
See Hua Daily News (May 6, 2007)
Photos taken in Kota Kinabalu, Sabah, Malaysia Borneo