Every start should have an end. After months of exhausting work, at last everyone (finalists, sponsors, organisers, partners) could have a relaxing moment to truly enjoy a dinner at Tai Thong Restaurant in D-Junction, on May 11. Madelyne (Miss Sabah 2007), Cathress (1st Runner-Up + Miss Popular Online) and Stella didn't show up coz they were not in KK. But the presence of 13 Miss Sabah 2007 pretty finalists were already more than enough to generate some excitement among the customers in the restaurant.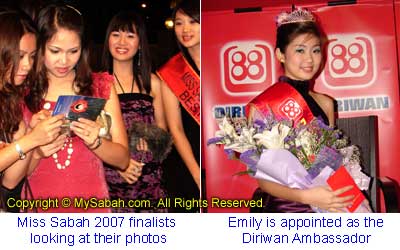 Click Here to see more photos of Miss Sabah 2007 Dinner >>
Emily (Ng Yin Yin), the Miss Photogenic of Miss Sabah 2007, is crowned as the Diriwan (Lotto88) Ambassador that evening, to promote the charity activity. FYI, Madelyne (Miss Sabah 2007) was also appointed as Miss KAC (Kompleks Asia City) on May 6. Wah… why nobody choose me as an Ambassador for something too, I ask for RM10,000 per month only, haha… Nevermind lah, at least MySabah.com could get some exclusive photos. I was surprised that they found their photos in my blog so soon, which I posted only 30 hours before the dinner. They also felt 'hurt' that some blog made fun of them (not me ah).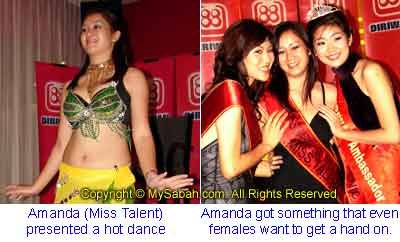 Click Here to see more photos of Miss Sabah 2007 Dinner >>
Every beauty received souvenir, CD, poster and gift from the sponsor. What interest me was the 16 individual posters, which were especially designed and printed for each finalist, only 1 copy in Sabah.
BTW, not only me, many were wondering what talent Amanda (Miss Talent) got. The guests were so happy to see the answer shaked and danced in front of them. I got the photos in the photo album. Enjoy, but don't lick the monitor please.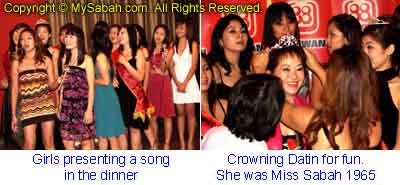 Click Here to see more photos of Miss Sabah 2007 Dinner >>
Being released from heavy stress, these girls were in good mood, started to have fun and act more youthful and playful. All of them was wearing the most beautiful make-up (i.e. lovely and natural smiles). According to them, this is really a once of a lifetime experience, and the first time they were made like a superstar. After the dinner, the next day their life will be back to normal, like the ordinary one you and I live. No matter how others view this event, but undoubtedly, it had created an unforgettable memory to the beauties, the city and the people of Sabah.
"Good Bye!" photo from Miss Sabah 2007 finalists: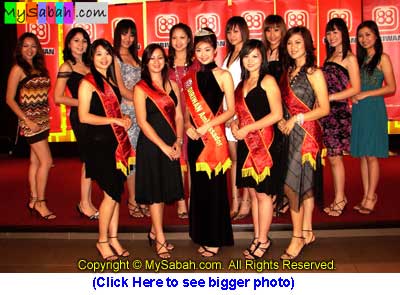 Related posts:
Miss Sabah 2007 Final
Miss Sabah 2007 Motorcade
Miss Sabah 2007 – Preview
Newspaper Clip
Overseas Chinese Daily News (May 13, 2007)
Photos taken in Kota Kinabalu, Sabah, Malaysia Borneo