I don't know what happened to May coz there were so many beauty pageants going on. I don't want the readers got bored of my too-much-blogging on liang moi (pretty girls). My hormone level went wrong that evening, so I went to see the Ratu Kaamatan (Kaamatan Beauty Queen) 2007 Semi-Final at Razz Ma Tazz on May 23, as if there is a devil living inside me…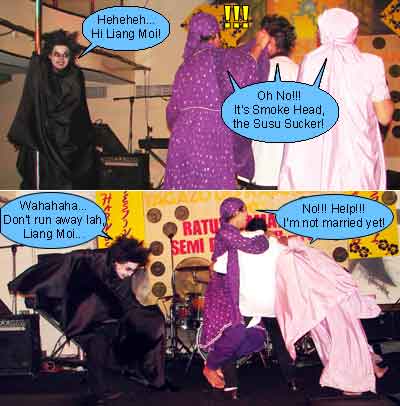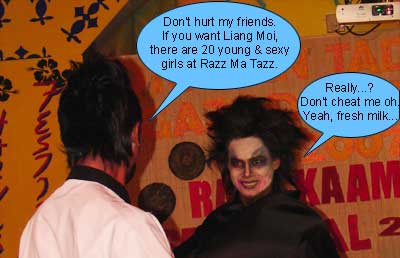 Just joking lah. Anyway, enjoy lah now, who knows next time I would not take such photos. Compared to Ratu Kaamatan 2006, there are more (and better) contestants this year. They have 20 contestants, but No. 5, 6 and 8 absent that night. I also looked at their preview at Asia City Complex last week. The "mixture" of their look is good. You can find mature, sexy, cute, slim, juicy, sporty, etc. types of girl among them.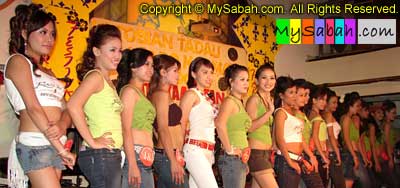 Click Here to see more photos of Ratu Kaamatan >>
All girls competed in 3 rounds, namely, (1) Casual wear and introduction, (2) Evening dress, and (3) Swimwear (Oh Yeah~!) + Hot dance. In swimwear round, the girl could either dance alone, or she can choose a male audience to dance with her. Therefore, some "unlucky" male audiences were "forced" by their friends (sigh~ why nobody forced me leh?) to go on stage dancing with the sexy contestants. WOW… sometimes the lady danced so hot and daring that her male partner also cannot "tahan", became shy and stepped aside.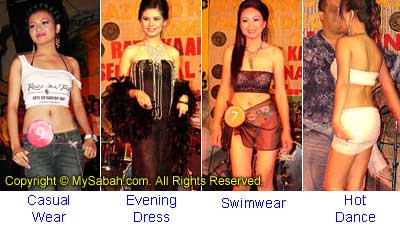 Click Here to see more photos of Ratu Kaamatan >>
My personal favourites are No.9 (Wiwi), No.16 (Joanne) and No.20 (Emily). No.7 (Anne) is the sexiest among them, making my nose bleeding. No.19 (Aine) received the most votes and became Miss Popular. At the end, the organiser was so happy with the girls that ALL of them will enter the Final tonight (June 1). I wonder what the judges were doing there. Nevermind lah, everyone is happy about it.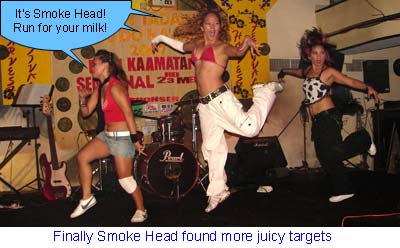 Click Here to see more photos of Ratu Kaamatan >>
Related post:
Miss Kaamatan Beauty Queen 2006
Photos taken in Kota Kinabalu, Sabah, Malaysia Borneo