This never happened in Sabah before. Miss Sabah 2006 and 16 beautiful finalists of Miss Sabah 2007, together with Police, 4-Wheel Drive, Sabah Big Bikers Club, Diriwan (Lotto88), Vintage Cars and SM Shao Tao School Brass Band, formed the Miss Sabah Motorcade, a long line of over 30 cars and bikes. We gathered near the tennis court of Sutera Harbour around 5pm. It has been a rainy day for past few days. Luckily the weather turned good after a heavy rain at 3pm.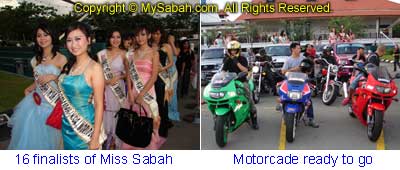 Click Here to see more photos of Miss Sabah Motorcade 2007 >>
Don't worry if the photos here look blur to you. You can see all the high quality version in the photo album. After the flag-off ceremony by Kota Kinabalu city Mayor at 6pm, the motorcade started to move slowly and passed through major KK city roads / landmark such as Wisma MUIS, State Mosque, Sadong Jaya, Asia City, Gaya Street, Wisma Merdeka, Central Market, Centre Point Sabah and stopped at BED, Waterfront.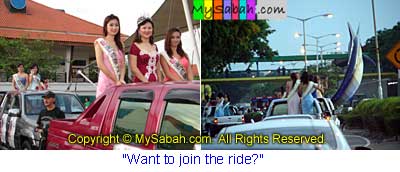 Click Here to see more photos of Miss Sabah Motorcade 2007 >>
All the beauties, 2 of them on each 4-wheel drive, waved their hands to thousand of excited crowd along the roadside. This year the publicity and exposure of Miss Sabah must make these finalists feel like a superstar. By 6:30pm, we reached BED of Waterfront. The timing is good coz the sky turned dark shortly. Worrying about the rain, the motorcade didn't stop at stage near Marina Court and Promenade Hotel, as planned initially.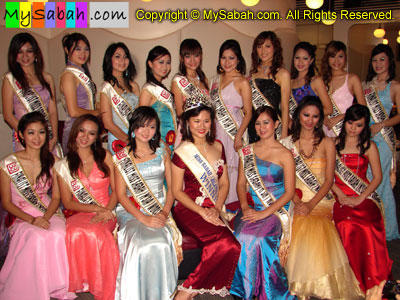 Click Here to see more photos of Miss Sabah Motorcade 2007 >>
Later at 10pm, the Miss Sabah 2007 finalists catwalk on the stage. Their evening gown, which made them looked so gorgeous, was designed by SIA. I took a lot of pictures. With that big collection of photos in my photo album, by now you should be able to see them closely and tell whom you like the most. I still stick with my choice (Madelyne, Jacqueline, Stella) mentioned in my previous blog. But Emily also caught my attention that time as she has a "star" face.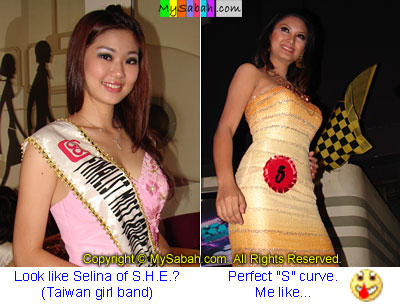 Click Here to see more photos of Miss Sabah Motorcade 2007 >>
Related posts:
Miss Sabah 2007 Final (May 5)
Miss Sabah 2007 Appreciation Dinner
Miss Sabah – Preview
Newspaper Clips
Borneo Post (May 3, 2007)
See Hua Daily News (May 3, 2007)
Overseas Chinese Daily News (May 3, 2007)
Photos taken in Kota Kinabalu, Sabah, Malaysia Borneo