Locally known as Sang Nyuk Mee (生肉面 in Chinese), Pork Noodle is an icon food of Sabah. Malaysians from other states think Sang Nyuk Mee is same as Mixed Pork Noodle, but Sang Nyuk Mee is totally Sabah style. The meat slices are fresh, smooth and tender. Sang Nyuk Mee literally means Raw Pork Noodle. Don't worry, the pork is not eaten raw. It actually means the meat is made of fresh raw meat.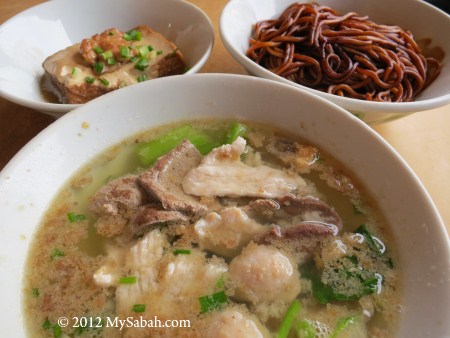 Pic: Sang Nyuk Mee is the favorite lunch of Sabah people.
Sabahans are so attached with Sang Nyuk Mee that this noodle is always highlighted in popular videos of Sabah.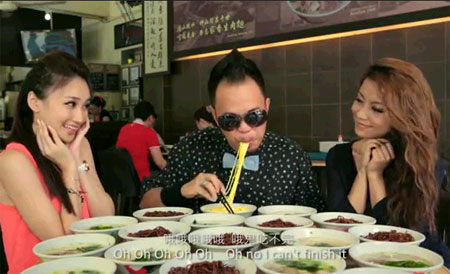 Pic: Sang Nyuk Mee makes its appearance in Sabah Hakka Style video.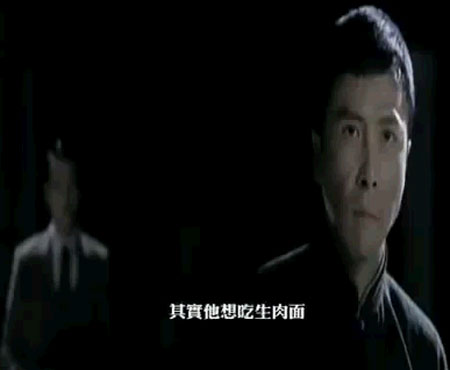 Pic: Sabah's Ip Man video, a character being made to mock government, wants to eat Sang Nyuk Mee, LOL (which implies we want to run government the Sabahan way).
Sang Nyuk Mee is "invented" in Tawau in 1979, and now it becomes so popular that you can find it everywhere in Sabah. One of the best Sang Nyuk Mee is sold at Kedai Kopi Jia Siang (家香生肉面 in Chinese), a Chinese coffee shop in Lintas Plaza, Kota Kinabalu.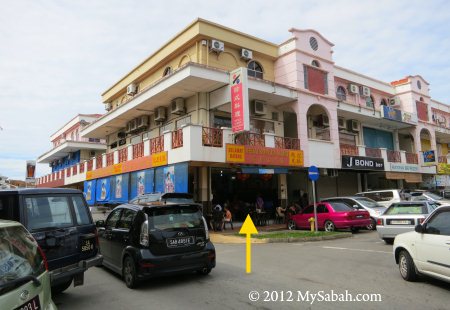 Pic: the location of Jia Siang Coffee Shop (See Location Map).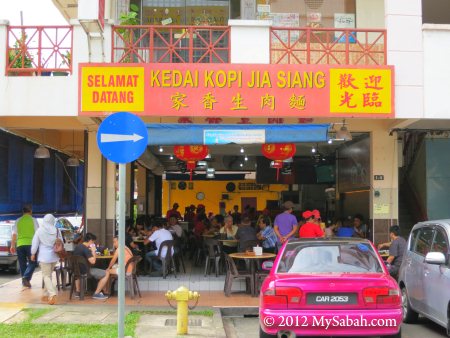 Pic: Kedai Kopi Jia Siang is full of people even during non-peak hours.
You can have Sang Nyuk Mee in two styles, (1) Noodle Soup or (2) Kon Lau Mee (干捞 in Chinese) style. In Kon Lau Mee style, noodles are served in separate bowl and mixed in aromatic dark soy sauce and pork oil, together with another bowl of tasty pork broth with pork slices, meatballs and internal organs (e.g. liver, intestines).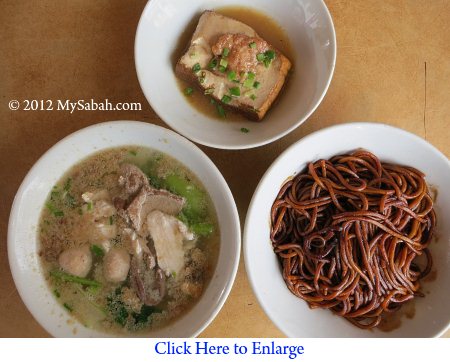 Kon Lau Mee is the standard style, so I order one (as shown in photo above). You may choose Mee Hong (rice noodle, which is white and thinner) if you think yellow noodle is too heavy.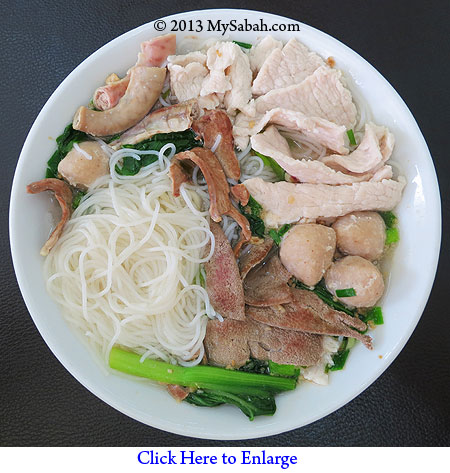 Pic: Sang Nyuk Mee in Noodle Soup style (photo taken in other restaurant)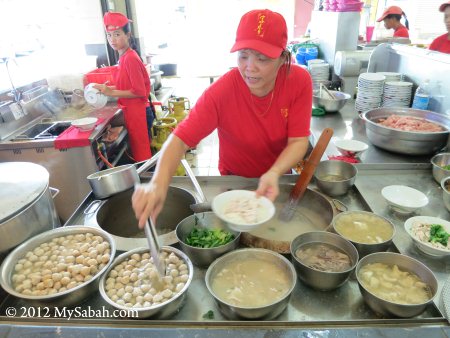 Pic: staff busy preparing Sang Nyuk Mee. My order arrived in minutes.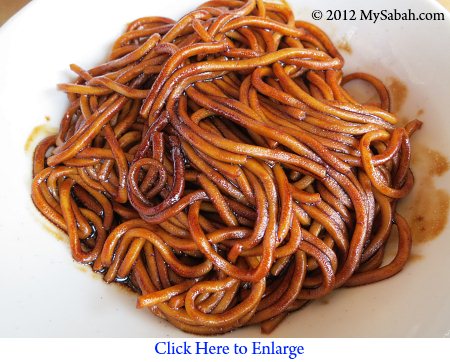 Pic: the noodle looks shiny with pork oil and dark soy sauce.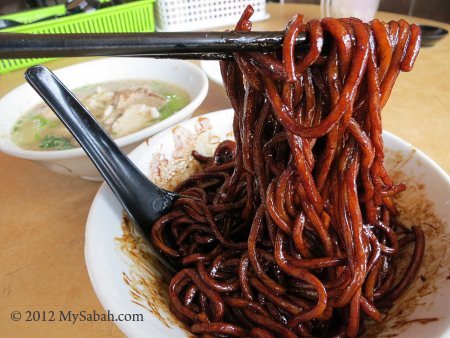 You need to stir the noodle so it mixes evenly with the dark sauce at bottom.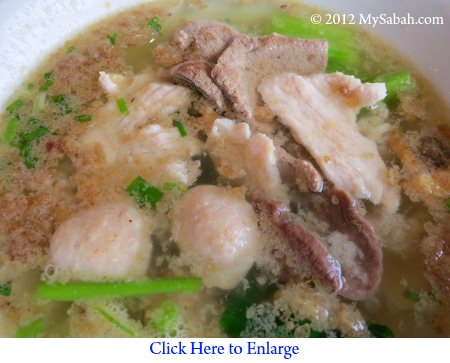 The Pork soup is the best part. The taste is deep and satisfying. Pork slices, meatballs and livers are given in soup by default. If you are not used to internal organ, you can ask for meat-only soup. They season the meat with tapioca powder & meat tenderizer, to give it extra smoothness and softness. Usually they use the slim meat at the rib section on the back of boar. The floating minced and crispy pork fat enhances the taste too.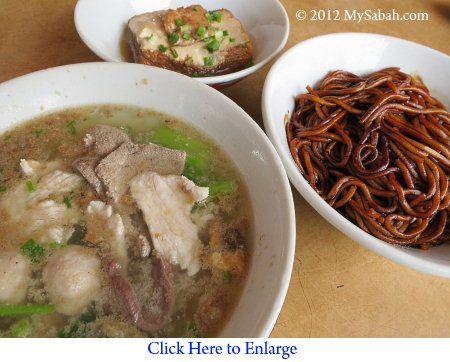 Pic: Pork Noodle (Kon Lau style)
Sang Nyuk Mee is quite oily so it's great as a delicious stomach filler for your breakfast or lunch. For chili lover, you can add the homemade blended chili of the coffee shop for spicy flavor.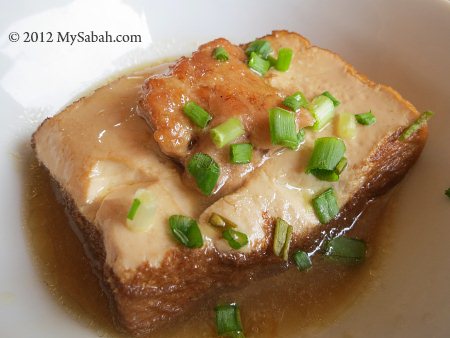 Pic: Tofu with minced pork stuffing, RM1.20 (≈USD0.40) per piece, is a nice side order to complement Sang Nyuk Mee.

The standard Sang Nyuk Mee is RM7.50 (≈USD2.15). You may click the food menu above to see other variety and side dishes.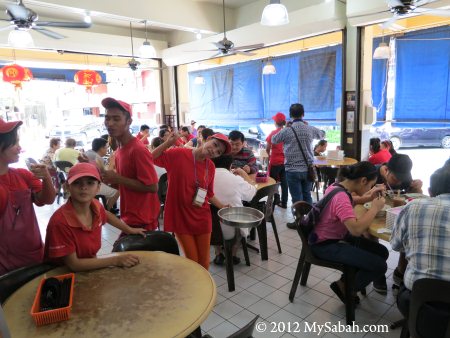 Pic: happy staffs who serve good noodle that makes customers happy.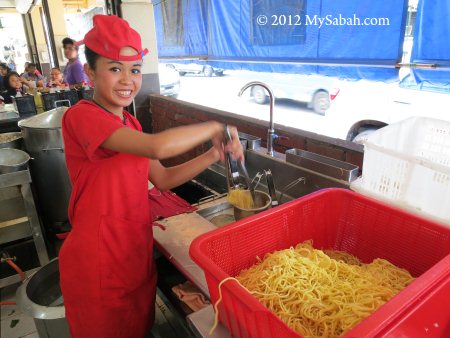 Below is the contact of the coffee shop if you want to try their pork noodle:
Coffee Shop: Kedai Kopi Jia Siang (家香生肉面)
Address: Lot 1-0, Ground Floor, Lorong 3, Lintas Plaza Ring Road, 88300 Kota Kinabalu, Sabah, Malaysia. (See Location Map)
Facebook: @JiaSiangSangNyukMee
Mobile Phone: +60198435636
Opening Hours: 8:30am-2:00am daily (only close on Hari Raya holiday)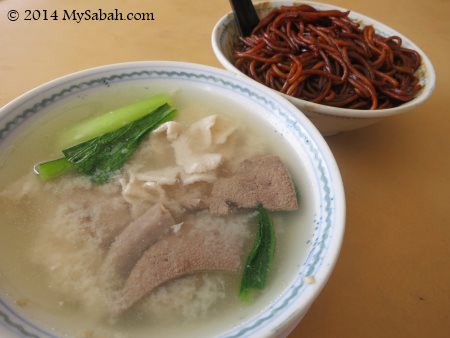 Pic: Pork Noodle of Sinsuran Sang Nyuk Mee
Sinsuran Sang Nyuk Mee (Chinese Name: 新苏兰生肉面), just two blocks away from Kedai Kopi Jia Siang, also serves excellent pork noodle. Below is their info & contact:
Address: Lot 19-0, Lintas Plaza 1, Lintas Plaza, Kota Kinabalu, Sabah, Malaysia (see Location Map)
Tel: +60 16 832-5656 (Mr. Ng)
Opening Hours: 6:30am – 4:30pm daily
Do you love Sang Nyuk Mee as much as I do? 🙂 Please tell me your favorite coffee shop for Sang Nyuk Mee in Comment section.
Photos taken in Kota Kinabalu, Sabah, Malaysia Borneo