I had a One-night-stand at Shenaningan of Hyatt Hotel. I mean I stand there for the whole night to take photos of Miss Borneo beauty pageant. Borneo is the 3rd largest island in the world, and it includes Sabah, Sarawak, Brunei and Kalimantan. But the furthest contestant was from Tawau. Probably others live too far away and couldn't make it. They started with a number of 34 contestants, and only 12 of them entered the grand final on Aug 15.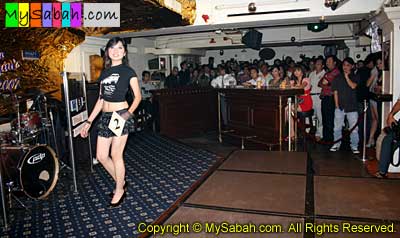 Click Here to see more photos of Miss Borneo >>
There were 3 rounds for the contest, i.e. (1) Casual Wear and Introduction, (2) Beach Wear, and (3) Q&A. At first I thought they wanted to select a Miss WWF, coz many questions and conerns were related to environment conservation and protection. It is a good idea too, as it is easier to let liang moi (pretty girl) to stop the men from doing bad things to the nature.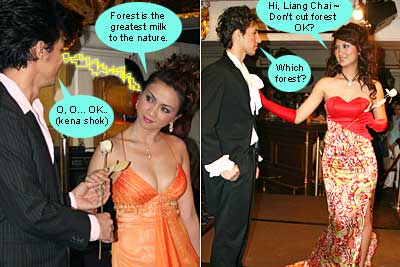 Click Here to see more photos of Miss Borneo >>
Shenaningan is a small place to run a beauty pageant, but it turned out quite ok coz I could move closer to the stage for photo-shooting. The only problem was – there were a few overexcited drunken cats tried to be funny, kept on shouting, which interrupted the ladies to answer questions. The MC was annoyed and had to ask them shut up and zip their mouth.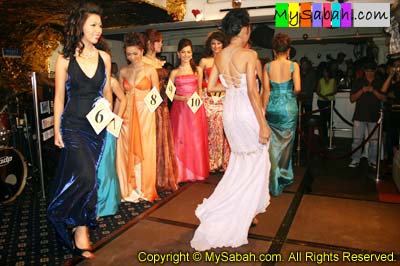 Click Here to see more photos of Miss Borneo >>
The contest was from 10PM to 1AM, and it was on Wednesday. At first I was reluctant to go, coz I needed to work on next day. Anyway, my vision is to make MySabah.com got the most complete collection of all beauty pageants in Sabah. So here you are. The new one keeps on coming so it is like a never-ending mission. I am very curious what other beauty contests that I never heard of (please let me know). There are more than 40 beauty pageants in Sabah every year (Check out my blog on Pretty Girls category if you don't believe me). If every contest offers 3 prizes, there are 120 prizes for the winners to grab. Sabah is really a place that has lot of great opportunities to the beauties. If you care to join, who knows you might earn a Miss something title.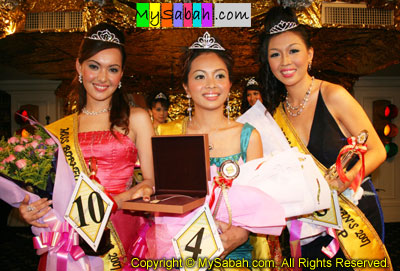 Click Here to see more photos of Miss Borneo >>
The Result
Miss Borneo Shenaningan (middle): Contestant No. 4. Rit (Tuaran)
1st Runner-Up (left): Contestant No. 10. Nina (Kudat)
2nd Runner-Up (right): Contestant No. 6. Mimi (Penampang)
Miss Personality: Contestant No. 8. Emelda (Kota Kinabalu)
Miss Photogenic: Contestant No. 11. Lulue (Kota Belud)
Miss Averine: Contestant No. 1. Joanna (Tawau)
News Clips
– Overseas Chinese Daily News (Jul 18, 2007): Miss Borneo Beauty Pageant
– Daily Express (Aug 4, 2007): 12 finalists for Miss Borneo Shenanigan title
– Daily Express (Aug 18, 2007): Miss Borneo Shenanigan
Photos taken in Kota Kinabalu, Sabah, Malaysia Borneo