"The rating of the rapids now is grade III to IV*. River depth is medium. You may face waves that are 4 to 6 feet high," the tour guide announced. Wow, wave of 6 feet high? I hardly believed that. There were 8 rapids in this course, and all of them have a name. You may look at the map at the left. The Cobra and Washing Machine sound really nasty, and YES, they are. According to the guide, these two rapids are the toughest and scariest. I also curious why they named one of the rapids as "Scooby Doo". They only know that it was named by an Australian back in 1982. For what funny reason, don't know…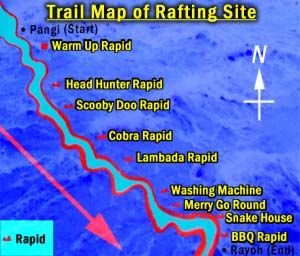 By 11:10 AM, we arrived Pangi, the starting point of rafting. The sky was cloudy but no rain. The rafting camp is just a few meters away. We were invited to go inside a big "cage", where we had some watermelon and water as light refreshment. Sound like everything here today have something to do with Water, only the rafting was not "sub-sub water" lah (easy).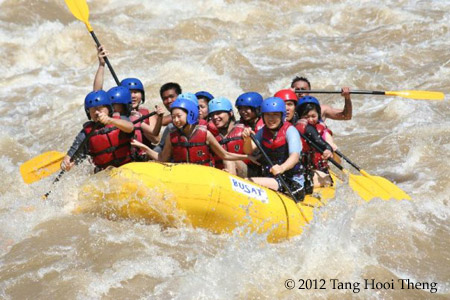 After 15 minutes, we gathered for a safety briefing. There were 30 people went for rafting. We were split into three groups (boats). After we wore our life jackets and helmets, the tour guide gave us a 10-minute safety briefing. Mostly about how we rescue ourselves and others from the water, and how to raft safely. For example, to pull someone out of water, you must not pull their finger hand, this would hurt their wrist if the stream is strong. The right way is to pull their life jacket. And also the tip to avoid being eaten by crocodile. Just kidding, there is no crocodile here. Probably they don't find water-sport interesting.

Then we started to raft at 12 PM something. BTW, since I couldn't afford to soak my Sony digital camera in the river, I got a new friend with me. It was a RM38 Kodak one-time-use camera that could take up to 27 pictures (ISO 800). It is rugged, waterproof and shock resistant, so very suitable for outdoor and underwater use. I just tied it on my life jacket.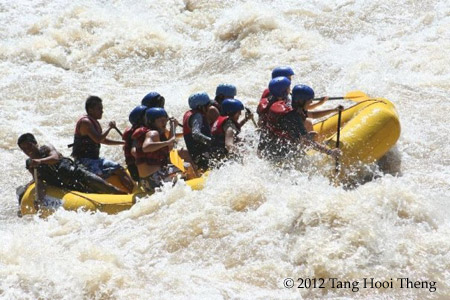 For the first 1 KM, it was a easy rafting on the flat and calm river, as a warm up. Everyone was asked to jump into the river to do "Body Rafting" (let the body floats and moves with the stream), then swam back to the inflated boat. I don't know how to swim. The deep and yellowish water made my mind struggled but I did it anyway. Haha… not bad. I even took a photo of my feet. Next time you see these feet, you will know this is Smoke Head. But when I tried to "swim" back to the boat, others have gotten on the boat quickly, only me still kept swimming on the same spot. Quite embarrassing… 😛

We managed to conquer the "easiest" Warm-Up Rapid, where I almost broke my toenail. Sssss… very painful. The nail was not broken but became a bit curly. Then we moved into Head Hunter Rapid. Aahh… we were attacked by 3-feet waves and got wet all over. The cold river splashed right on my face a few times and I was not thirsty anymore. When we looked behind, there were already 3 persons from other 2 boats fell out. No worry. They were rescued shortly. For extra safety, we had 3 boats (from 2 different companies) to do the rafting together as a team. There were also two safety kayak followed at the back. The life jacket can float object up to 150 KG.

The Cobra Rapid was really frightening. It is a big and long rapid. We were hit by many 4-feet waves from ALL direction. Sometimes we even got "surprise" attack from behind. If you didn't stay highly alert, the next second you would be in the water. We had to paddle hard enough to ran over the big wave, otherwise the wave would flip and capsize our boat. More team members fell like big potato this time. After the Lambada Rapid, we took a break at the shore. I was so glad I made it…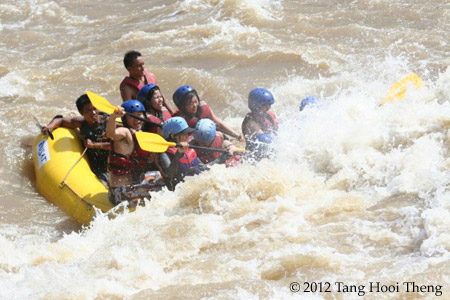 After 10 minutes rest, we continued to raft again. They said Washing Machine Rapid was the second most difficult rapid. They were very very wrong. We were slapped by more aggressive waves, which were more unpredictable. The rapid was so strong as if a fierce monster was hitting really hard non-stop at the bottom of the boat, trying to knock you out. We were so busy paddling to leave this horrible place. Suddenly the guide shouted, "EVERYONE LEAN FORWARD NOW!!!! LEAN FORWARD!!!!!!!" When I looked at the front, OH SHIT!!!! I WAS TERRIFIED. A 6-feet wave was on its way to hit our boat face to face at fullest momentum. It was lightning fast and BANG! our boat was like hitting a solid wall and we were swallowed by the wave.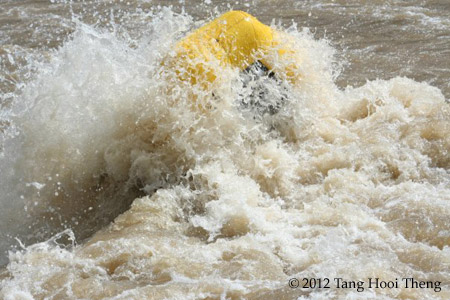 When I opened my eyes, I was already in the water. I tried to stay calm and floated slowly to the surface after 3 or 4 seconds (like a century long to me). Once I got my face out of the water, I opened my mouth widely to take a big breath. When I did that, the spiral pulled me down into the water again and I sucked a lot of river water. It went on and on… I was spinned in circle (like in washing machine) in the river and totally lost control already, until the guide pulled me onto the boat. One guy was choked really bad (probably he breathed with nose in the water) and coughed for minutes. 7 out of 10 persons (except the 3 guides) were thrown into the river just now. I will never forget that moment in my life.
Hey, got something really funny here. After I developed the film, I found one blur photo below. I tried to recall but I don't think I took any picture like this. It took me quite a long time to figure out that it was me in the water. I think when I fell into the river, the impact was so big that my camera was triggered. Too bad it is blur. You can imagine how fierce was the force.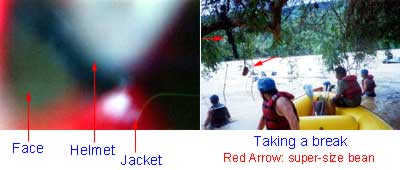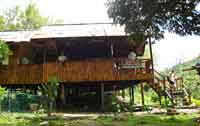 Finally, we reached the ending point in one piece around 1:30 PM. We took our personal belonging and changed our cloth. After that, lunch time at a lodge nearby! Got fried rice, mee, sausages, chicken wings, lamb… At 2:20 PM, we took the train back to Beaufort. Everyone was really exhausted, as you can see in the photos below:

It is such an unforgettable and thrilling experience. I will do it again in the future. My New Zealand aunty still could not stop talking about it excitedly even until today. I personally highly recommend it if your company wants to organise a team building activity. The BEST part will be throwing your fucking boss into the river and let him drown (don't forget to throw stones at him). OK lah, this shall conclude my blog on this trip. Hope you enjoy reading it. And thanks for bearing with my poor English. I have tried my best to describe…

*River Rapid Rating System
Internationally graded standards are applied to judge the River Rafting in Scale of I to VI:
Grade I: Easy float
Grade II: Medium with clear passages
Grade III: Difficult waves, narrow passages
Grade IV: Very difficult, long, boiling rapids
Grade V: Extremely difficult, big violent drops
Grade VI: Unrunnable!

Related Post:
Kiulu White Water Rafting (Grade 1-2)