For those who want to spend their holiday on Pulau Tiga, this article will give you a basic idea on what kind of accommodation and amenities you can find there. The two most important places are the tourist-friendly Pulau Tiga Resort and government's Sabah Parks Base Camp. From the layout map below, you can see both sites is a stone's throw away to each other. To know what is so fun about Pulau Tiga, please Click Here for Things to Do.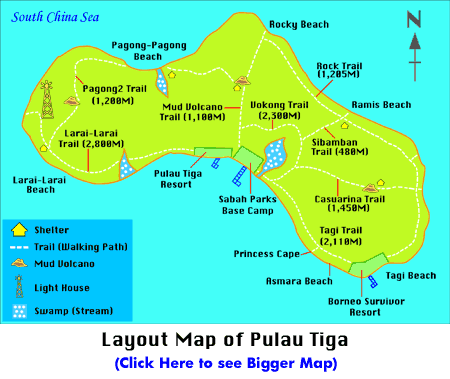 The following are their locations on Google map:

View My Sabah Map in a larger map
Pulau Tiga Resort
If you plan to stay on Pulau Tiga, Pulau Tiga Resort will be your first choice. You can book the tour online at their website at www.pulautiga.com.my, where all the packages and information are listed. You can even ask them to pick you up at Kota Kinabalu city (KK). It's so easy. They also have an office on 11th floor of Wisma Sabah in KK city center to book your tour. Just call their hotline at +60 10-947 8888 (phone, Whatsapp, WeChat) or visit their website (Online Booking available) for any enquiry.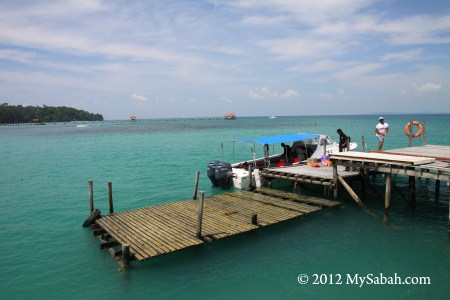 Pic: jetty of Pulau Tiga Resort
Normally tourists stay there for 2 or 3 days. After you check-in, you don't need to worry about food and activities, as the resort will prepare everything for you. There will be guide and staff to answer all your needs.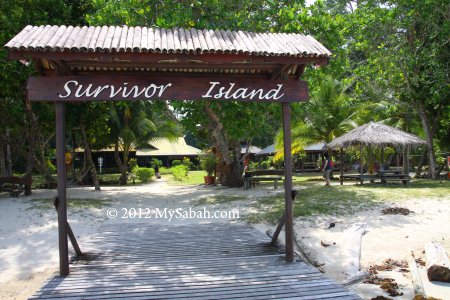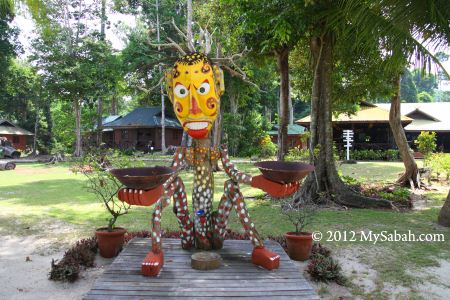 Once you enter the island, they will brief you so you will have a comfortable stay there. Btw, mobile phone coverage is good there, but I'll turn off my phone anyway, hehe..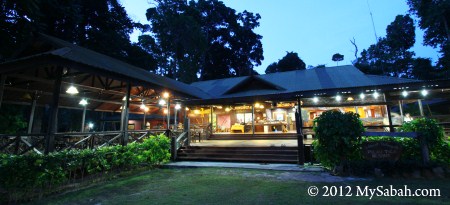 Pic: the Activity and Dining Hall of Pulau Tiga Resort
You will have your 3 meals and afternoon tea break in this hall. Free Wifi is available there.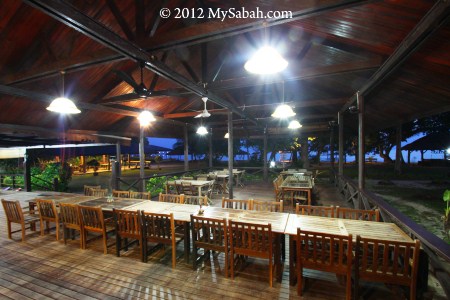 Food will be served in buffet style if there are many guests. The meals are usually a mix of Asian and Western food, just to name some, white bread, fried rice, noodle, fruit (watermelon, pineapple, papaya, etc.), vegetables (salad, cucumber, eggplant, etc.), hot dog, omelet, fish, squid, soy sauce chicken, french fries, lamb, mushroom soup. And free flow of coffee and water.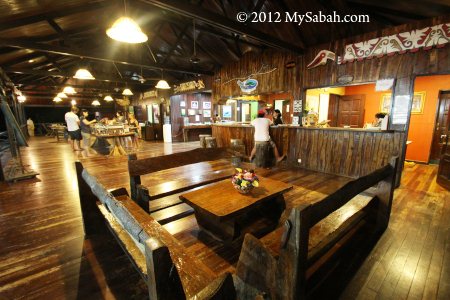 Pic: Survivor Bar in the dining hall, for you to get cold beer and carbonated drink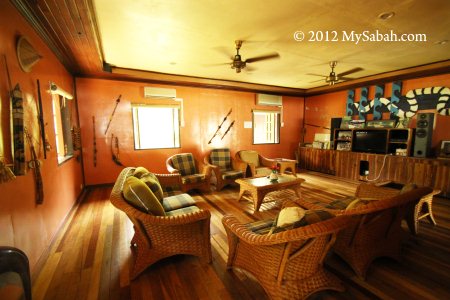 Pic: Sukau Room
You can watch TV (ASTRO satellite TV) in Sukau Room. Karaoke is open from 8pm to 11pm in Sipadan Room at other side. You also can play pool there (RM5.50 per game).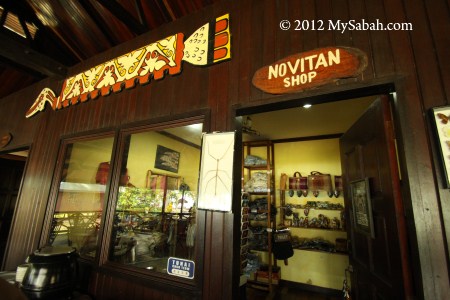 Pic: souvenir shop next to Survivor Bar in dining hall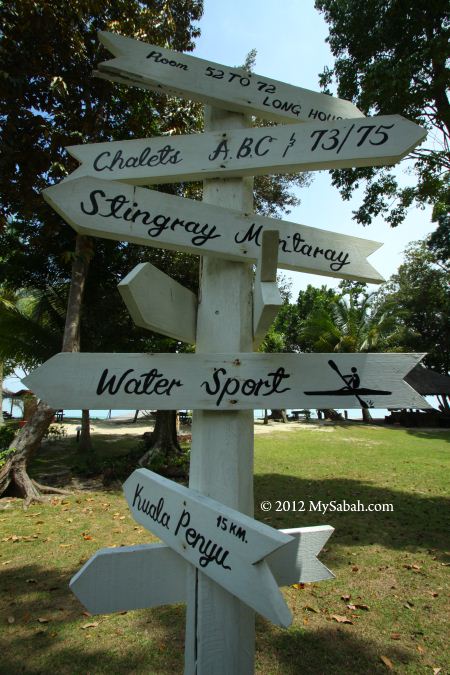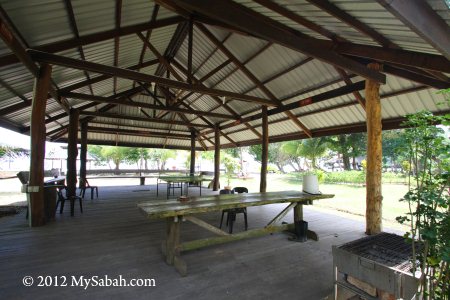 Pic: you can have BBQ or play Ping-Pong here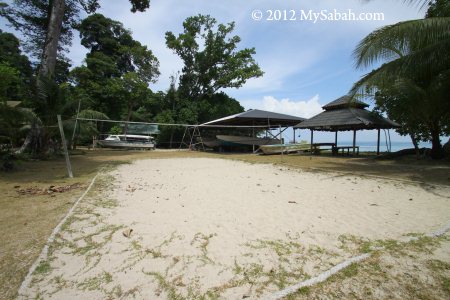 Pic: Beach Volley Ball field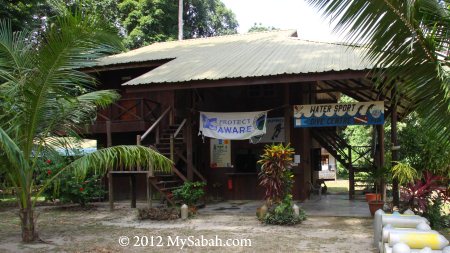 Pic: Watersport and Dive Center is nearby if you want to do kayaking, snorkeling and scuba-diving.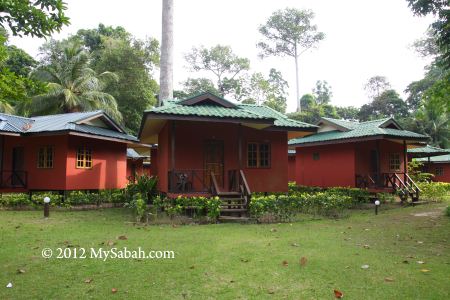 Pic: Survivor Lodge of Pulau Tiga Resort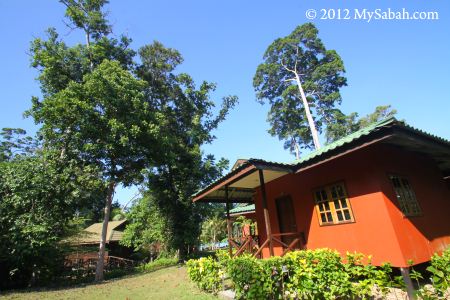 Pic: the chalets are near to beach area
In brief, the Survivor Lodge of Pulau Tiga Resort has 20 standard rooms and 10 superior rooms (2 are family rooms). The resort can accommodate a maximum 70 people at a time.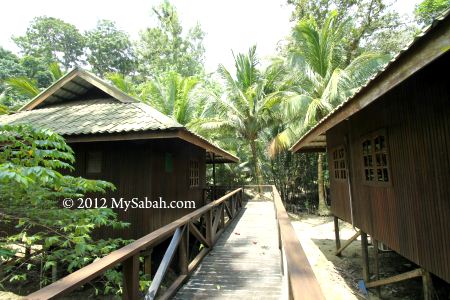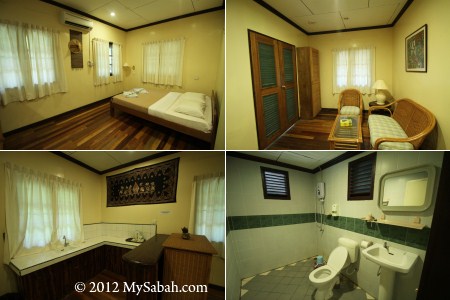 Pic: the superior room in which I stayed
The room is well-furnished and gets everything I need. e.g. attached bathroom with hot shower, ceiling fan, air-conditioner, bed. The structure is a bit old but it's clean and neat. Good job by their house-keeping service.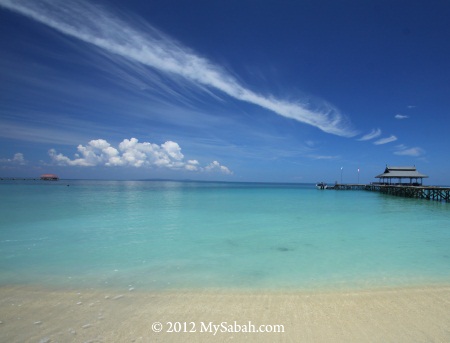 Pic: jetties of Pulau Tiga Resort (right) and Sabah Parks (left)
For latest promotion and updated info, you may stay connected with Facebook of Pulau Tiga Resort.
Sabah Parks Base Camp
Sabah Parks is a government agency under the Ministry of Environment. Their main role is to conserve and manage Pulau Tiga national park and they have no commercial interest on the island, though their rest house and hostel are open for public. I'm trying to hint… you should not expect to be pampered like a tourist, though their staffs are friendly.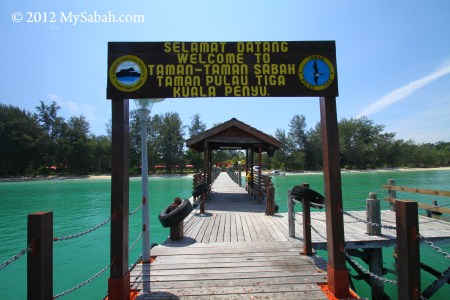 Pic: jetty of Sabah Parks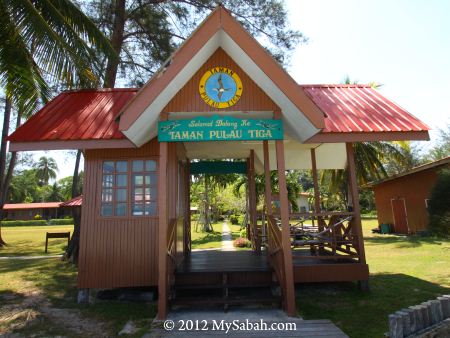 Pic: you need to buy ticket (Conservation Levy) here to enter the island. It's only RM10 (≈USD3) for non-Malaysian adult.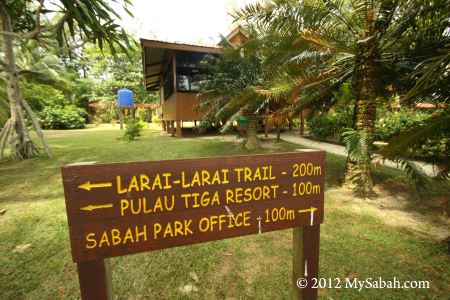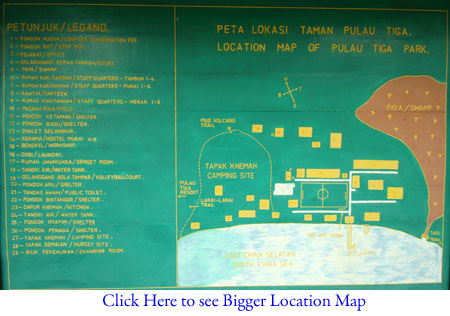 Actually Sabah Parks has good facilities. You may check out the layout map above for detail.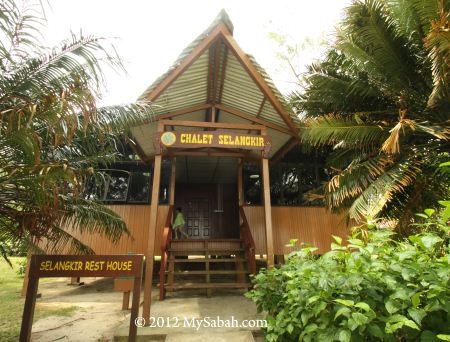 Pic: The chalet of Sabah Parks can accommodate 4 guests and is equipped with kitchen, bathroom and furniture.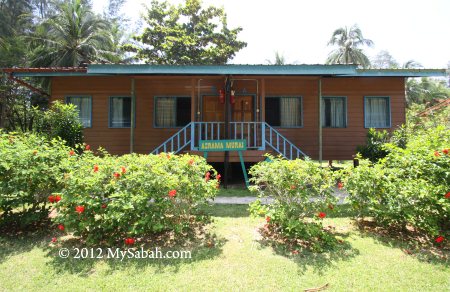 Pic: The cabin of Sabah Parks has kitchen, one bathroom and two bedrooms, each with bunk beds and can accommodate 8 people.
The chalet and cabins of Sabah Parks are open for public. You can book a bed as cheap as RM30 (≈USD9) per night, so it is an alternative accommodation on Pulau Tiga. However, they don't provide boat transfer and food. You have to hire a boat to come here and cook/bring your own food. Other than accommodation, you won't get any other service.
If you still insist to stay there, you may call Kuala Penyu office of Sabah Parks (Tel: +60 87-884695) to book a bed / room. To charter a boat, call Mr. Faizal at +60 13-8702021. The cost per charter boat (can take a maximum of 12 passengers) is about RM700 (≈USD212) for return-trip. To save money on boat transfer, you should go in big group to share the fee. The boat man will still charge you RM700 per boat, even if there are only two people going.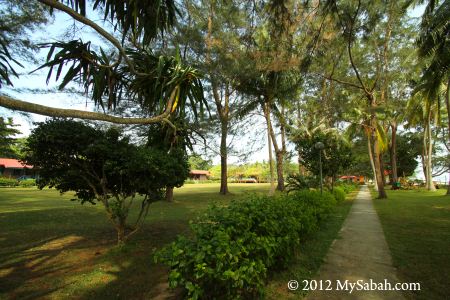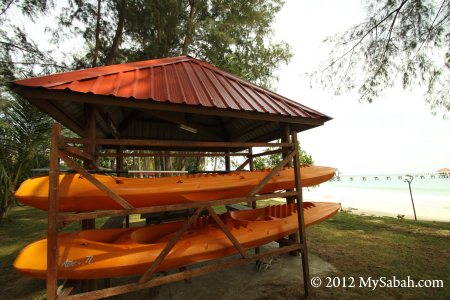 You also can camp at Sabah Parks for a small fee (about RM5≈USD1.50 per adult)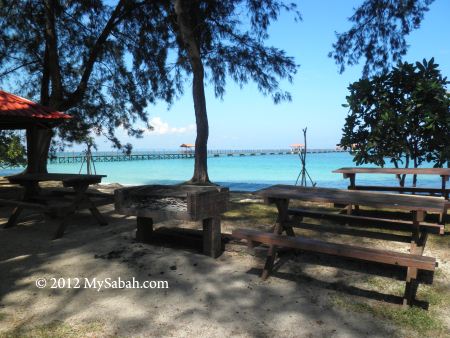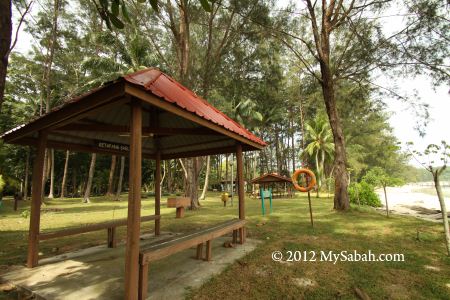 Pic: BBQ area and shelter near the beach of Sabah Parks station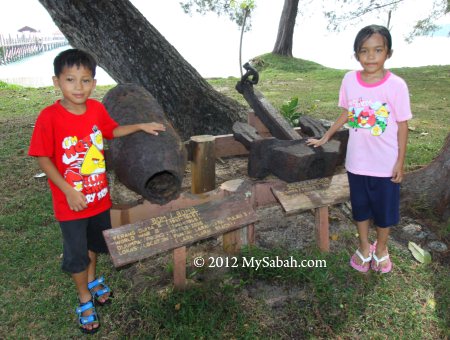 Pic: World War 2 relic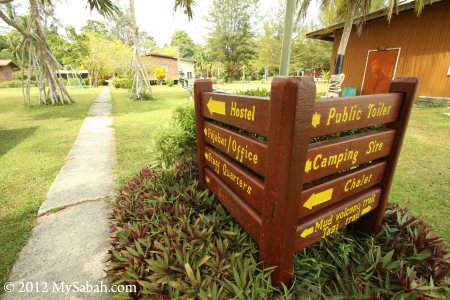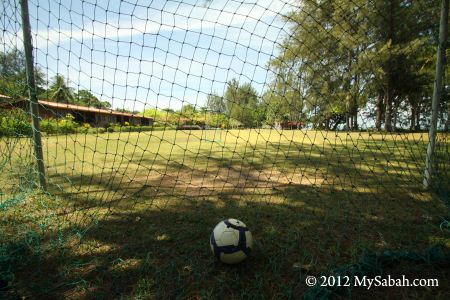 Pic: soccer field
The Sabah Parks base camp is more "student-friendly", I think.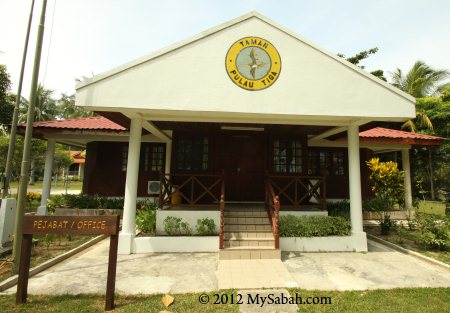 Pic: administrative office of Sabah Parks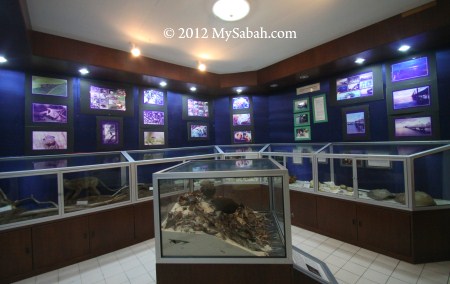 Pic: you can check out the Mini-Exhibition in administrative office between 9am to 4pm (open daily). The entrance is free. You can learn about flora and fauna in Pulau Tiga Park, but the photographs and specimens are very old. To learn more about Sabah Parks, you may visit their website at: www.sabahparks.org.my.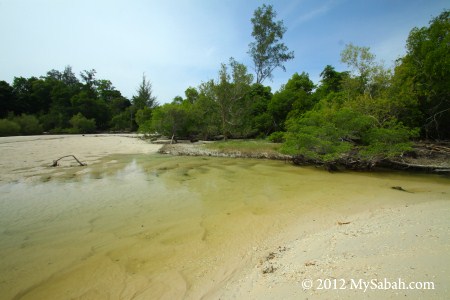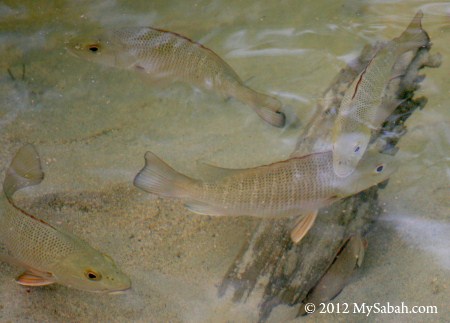 Pic: there is a tidal swamp near Sabah Parks office, with beautiful mangrove and small lagoon. You can see many fishes trapped in the lagoon during low tide.
FYI, there is another island accommodation named "Borneo Survivor Resort" at east side of the Pulau Tiga island. Currently it is closed and taken over by new management from YTL. I saw them busy doing construction at the site. You can expect a new resort opens in near future.
More Photos
You may check out my photo album on Pulau Tiga Island if you would like to see more nice pictures: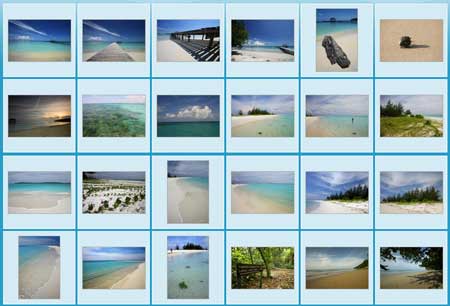 Related Posts
Pulau Tiga, the Survivor Island
Snake Island of Pulau Tiga Park
Sands Spit Island
Photos taken in Kuala Penyu, Sabah, Malaysia Borneo