Tun Fuad Stephens Park never stops to amaze me. After finding Tarantula spider, giant forest ants, and ant-mimic bugs there, I decided to have a "night safari" in the park last week.
Probably it was near to year end. The day turned totally dark very soon, and all the joggers have left. I was waiting for another 30 minutes on the hill top alone, so the place was cooling enough for the nocturnal animals to come out. Slowly I walked along the trail with the aid of torch light. Then I noticed something long crawling on the ground.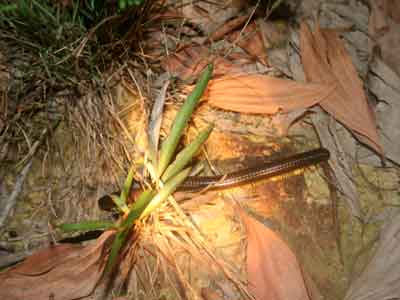 Carefully I moved closer to check it out coz I was not sure if it was a snake. It was a big tractor millipede more than 6-inches (15 cm) long. I know some millipedes can be quite big but I never expect to meet it in city region. It is very different from the small and red millipedes that are commonly seen in our garden. Its body is brown in color, and its legs and tentacle are yellow color. I know the ladies won't agree with me, but I think it is cute.

Tractor Millipede got many common names. Chinese calls them "Ma Luk" (Hakka), train bug, hundred-leg, incense oil bug… Tractor Millipede usually has 70 to 300 legs, but that doesn't help them to run fast. To protect themselves from the attack, they will roll their bodies then secrete something really stink.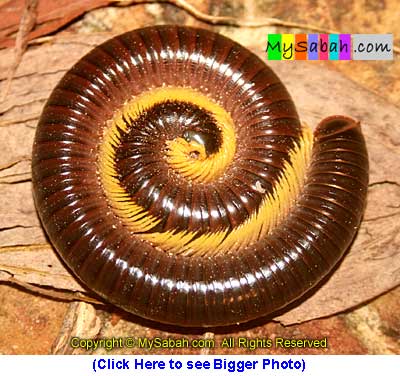 Their smell is really really terrible. I remember the first time I sniff this bug, the stink was so strong that I jumped up and down and nearly puked. From there on, I didn't eat dried shrimp for many years coz it looks like a disgusting millipede. Til now, I don't dare to touch millipede.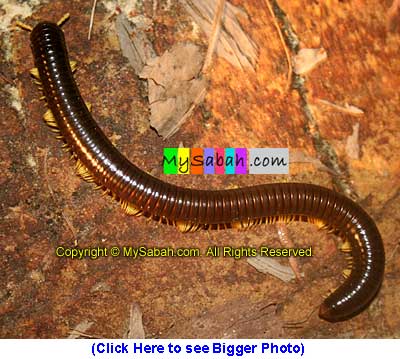 To give you an idea how big this millipede is, I post two photos of two different millipedes, side by side below.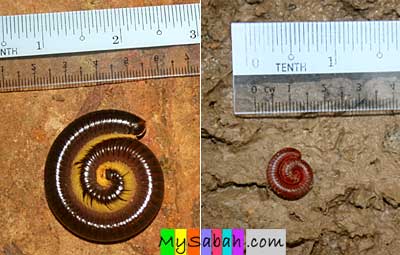 If you think it is really big, then you haven't seen the 1-feet millipede in Kinabalu Park. I will post the photo of that giant millipede if I see one in the future.
Photos taken in Tun Fuad Stephens Park, Sabah, Malaysia Borneo