This creature is commonly mistaken as a crocodile when it is fully grown to 3 Metres long. Local Chinese calls them "4-leg" snake and Malay calls them Biawak. In Sabah, we can see Monitor Lizard (species name: Varanus salvator) everywhere, mangrove forest, wetlands, rivers, forest, sea and even longkang (drain) in the city.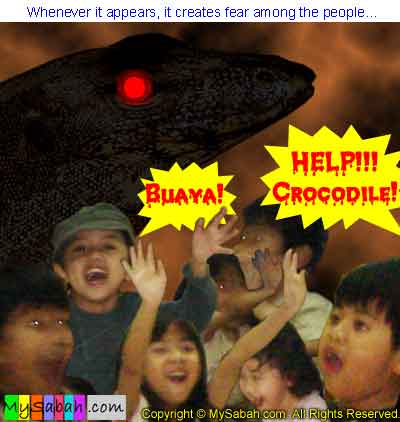 They are good swimmer, climber and runner. Monitor Lizard is so alert and timid that they run before we have a chance to look at them clearly (many tourists thought they saw a croc). I spot them everytime I went to the mangrove forest. I consider the two photos below are something really need some luck to get.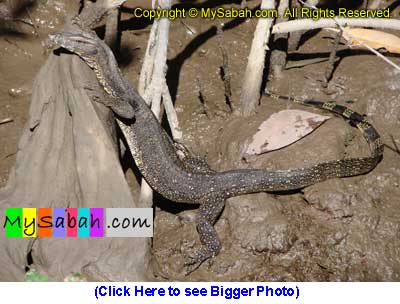 This 6-feet lizard was less than 10 feet away from me, in an open space and under sunlight. The body, curved claws, skin texture are so clear. It was so cooperative that I doubt it was posing for my camera.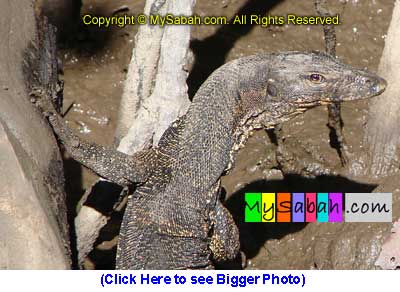 The juvenile Monitor Lizard has small and bright yellow spots all over its body, like the photo shown below. These beautiful spots will disappear once they grow up, and their skin will turn to grey or dark brown colors. They seem to eat anything, so they can live happily in urban area and become a city scavenger. Such strong adaptability makes them hard to enter the list of extinction.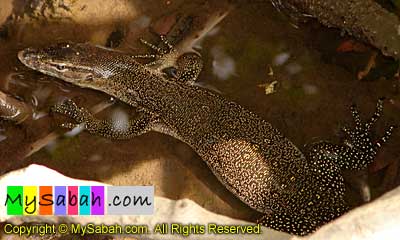 In wetlands, they are the second predator next to crocodiles. They are luckier than the nearly-extinct crocodiles, maybe most people do not appreciate their meat. Yes, monitor lizard is edible. I tried the "lizard soup" once but never learn to love it, though it didn't taste bad at all. I once had a neighbour who liked to eat lizard so much. At that time, to "fish" a monitor lizard was so easy. Just use fresh chicken intestines as bait on fishing hooks, put it on a styrofoam (so the fishes and crabs can't reach it) and let it floats on the water, very soon a lizard soup will be served on your table.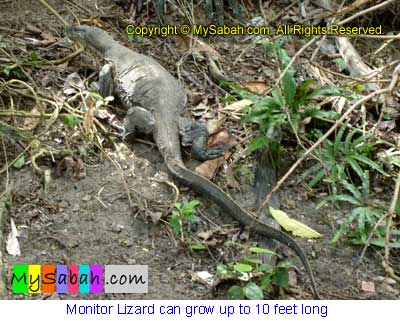 Monitor Lizard never attacks human unless threaten. Once caught by fishing hook, it will become very fierce, hiss loudly like a giant snake. The big one can reach 25kg in weight, so you have to use the strongest fishing line and be prepared to wrestle with it for a while. Its teeth are also very sharp. Some lost their fingers while catching them. If you lock it in a normal chicken cage, it would bite a big hole and run away. Probably that's why I haven't seen anyone keeps monitor lizard as a pet.
Biawak is not a Buaya lah.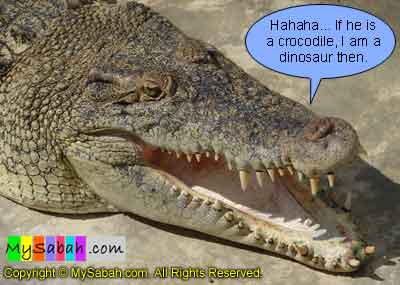 Many are still confused…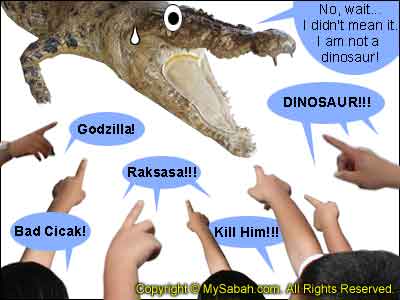 Photos taken in Kota Kinabalu Wetland Centre, Sabah, Malaysia Borneo