If you visit Sabah and have a local friend from Kota Kinabalu City (KK) as your tour guide, he or she would ask, "Hey, do you want to go pulau (island)?", which means, "Do you want to have a day trip on the islands of Tunku Abdul Rahman Park?" Tunku Abdul Rahman Park (TARP) is a protected marine park consists of five beautiful islands, namely, Sapi, Manukan, Mamutik, Gaya and Sulug. KK folks just call this national park pulau instead of the long official name.

Thanks to the conservation and protected status since 1974, nearly 50 square Kilometres (4,929 hectares) of sea and forest in TARP is well-preserved and become the most popular nature destinations of KK. In 2019, TARP received over half a million tourists. TARP is also home to 573 species of fishes and 148 hard coral species, and part of the Coral Triangle (a.k.a. Amazon of the Seas).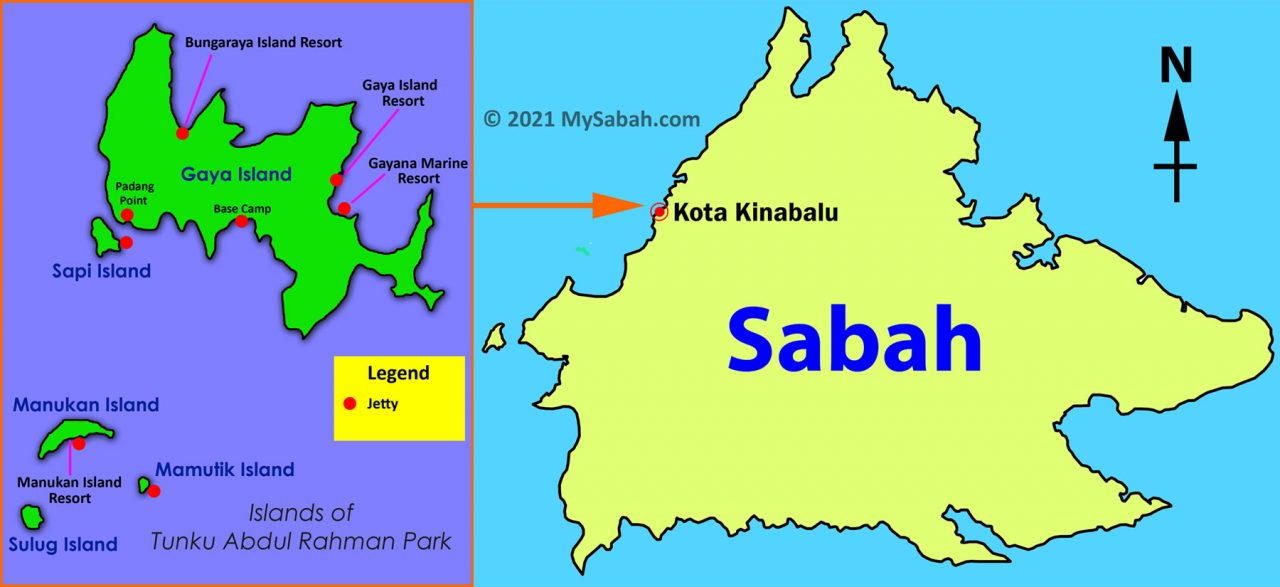 The best part is – TARP is less than 15 minutes away by boat ride from KK. If you unsure which island to visit, my short answer is, you can't go wrong with Manukan or Sapi Island, and you can do island hopping to cover two or more islands too. The following is a summary of the features of each island.
As the second largest island, Manukan has long sandy beach with shallow water, so it's suitable for family with kids. The sea is calm and swimmers can rest in the shade of Casuarina pine trees along the beach. Manukan is the most developed island with the best public facilities, for example, toilet, bathroom, cafe & restaurants, small shops, and chalets (Manukan Island Resort).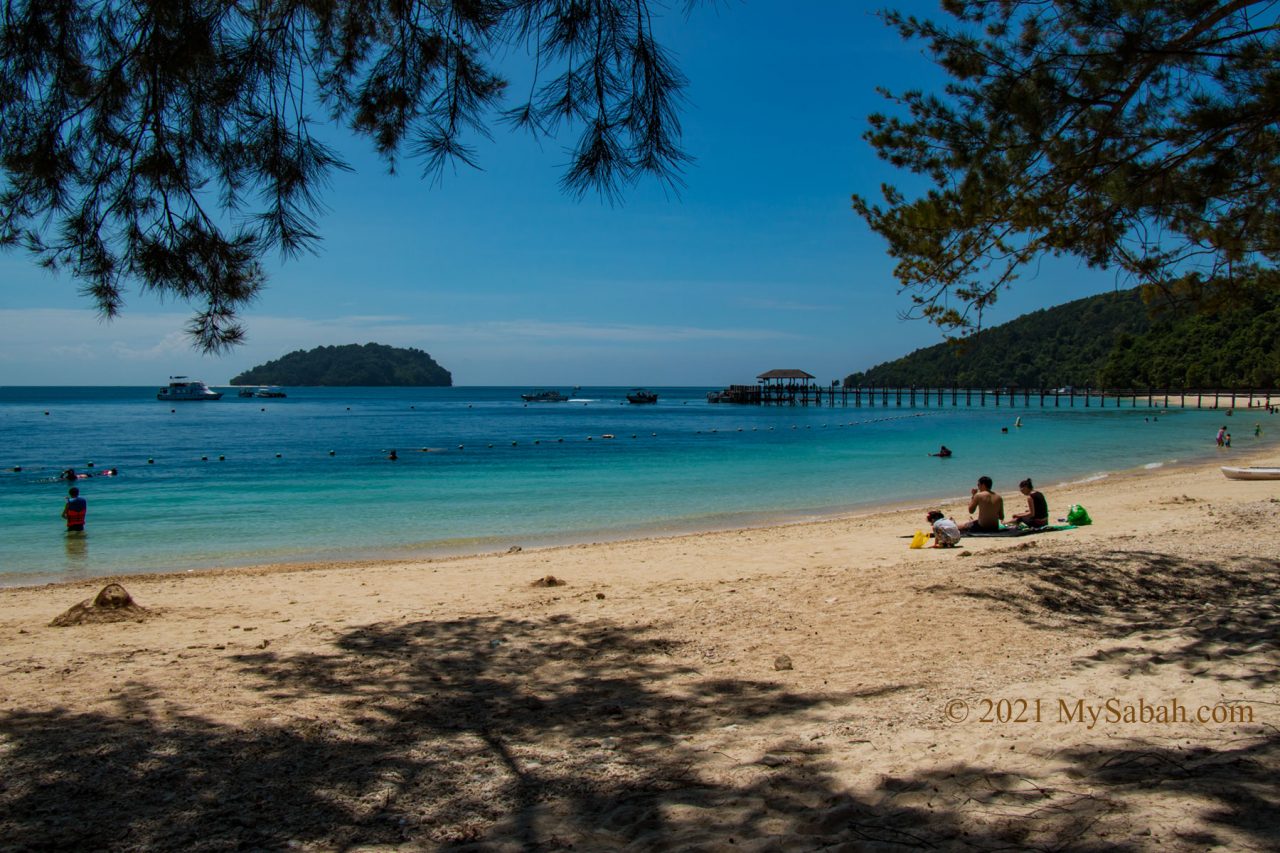 Sapi Island is considered the most beautiful island and it has more fishes. However, you can reach deep water only a bit further away from the shore, so non-swimmers need to watch their steps. The beach is quite crowded during weekends. Roaming monitor lizards is a common sight around picnic tables (safe to ignore them). For some adrenaline rush, you can try the Coral Flyer zipline there.

Mamutik Island is the best choice for those who want a less crowded beach for more privacy. Due to stronger waves, and the beach is full of corals pieces, which is uncomfortable to walk on, Mamutik has fewer visitors. Nevertheless, its scenery is nice.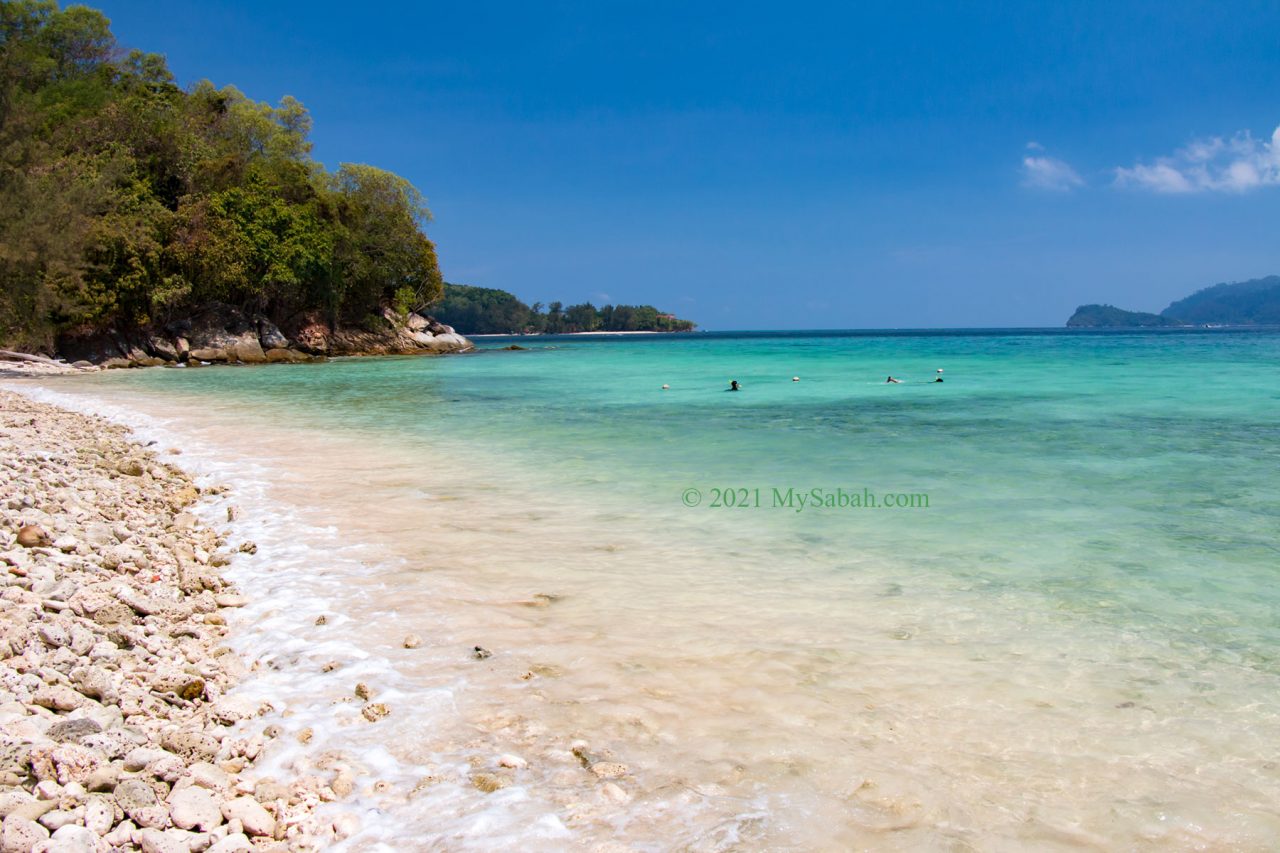 4. Gaya Island (Pulau Gaya)
Pulau Gaya is the largest island of TARP. Visitors do one or more of the following three things around Gaya Island.
1) Staycation in 5-star resort (Bunga Raya Resort, Gayana Marine Resort, Gaya Island Resort)
2) Scuba diving with Downbelow, a 5 star PADI dive center
3) Hiking: Gaya is the most hilly and forested island of TARP, with 20 KM of marked trails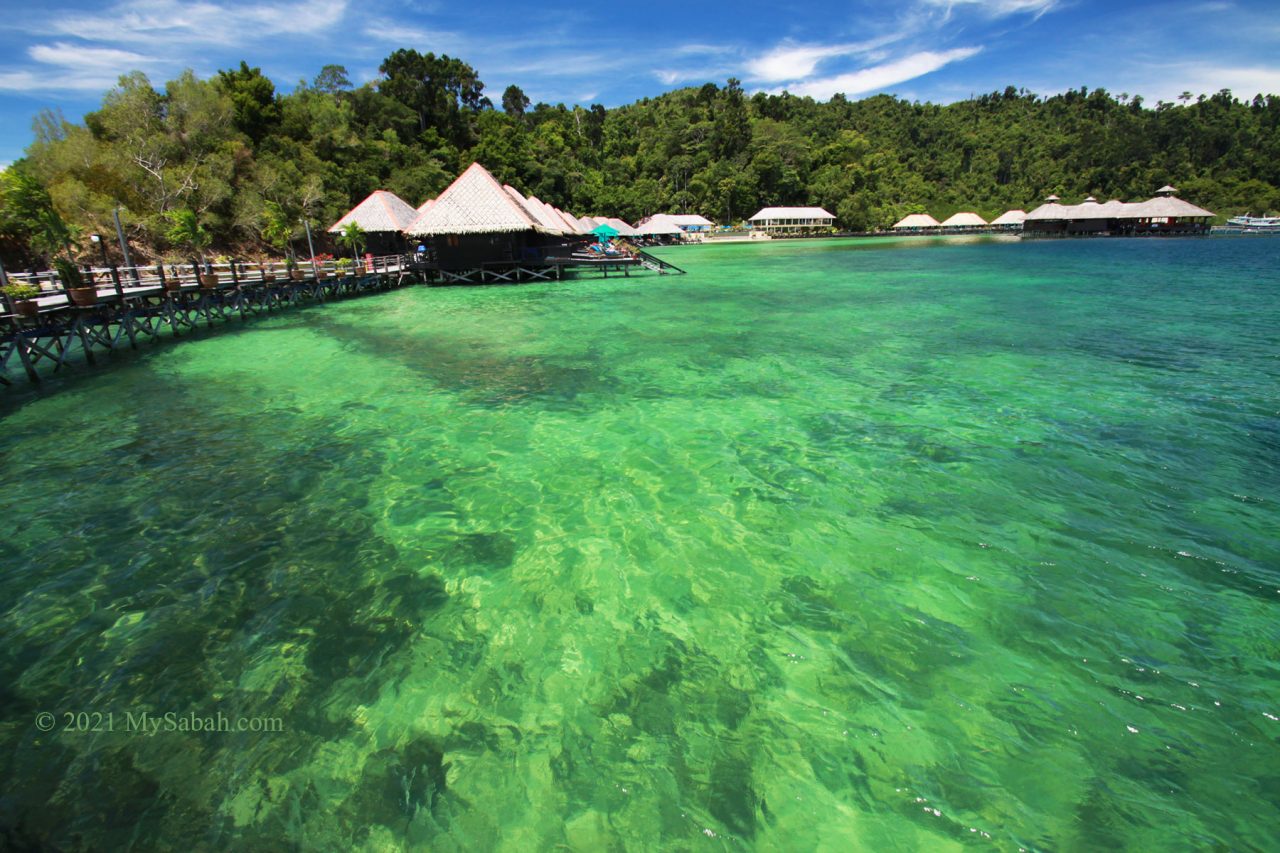 Sulug Island is an isolated and uninhabited island that has the least visitors because it has no basic amenities such as toilet. However, for the same reason, its long sand spit is the most pristine beach in TARP, covered with tons of seashells and coral fragments. Occasionally, some tourists land here by charter boat so they can have the whole beach for themselves.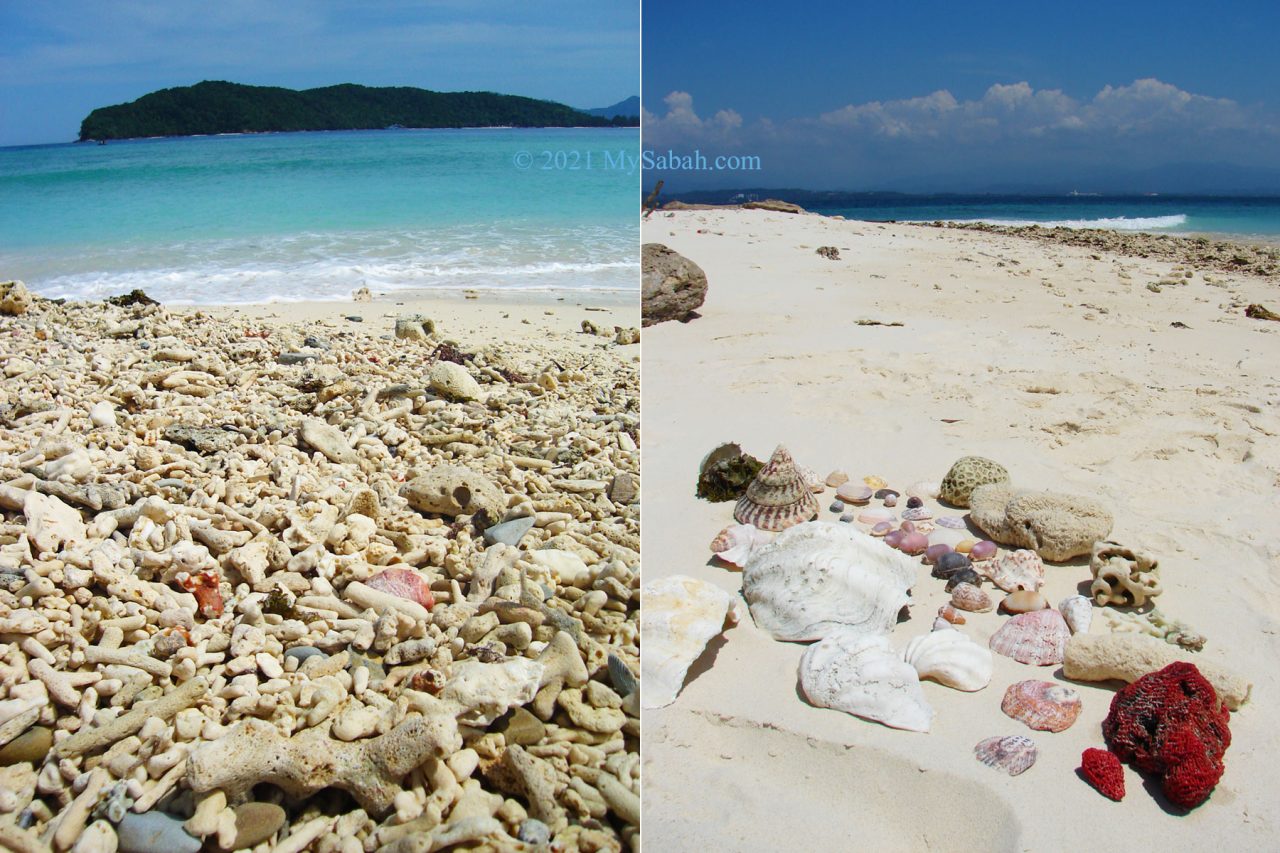 Things to Do in Tunku Abdul Rahman Park
Besides picnic, swimming and building sand castle, there are many other fun activities you can do at TARP.
1. Snorkelling
Two thirds of TARP is protected sea area. You would know why if you snorkel and see the fascinating underwater garden teeming with hundreds of fishes in various colours and sizes. You will see more than one type of Nemo (clown fish). The east and south sides of Sapi, and the sea to the west of Manukan jetty are excellent spots to see the thriving shallow reefs.

With a length of 235 Metres, the Coral Flyer zipline between Sapi and Gaya Islands is one of the longest island-to-island zipline (or flying fox). It's a thrill to fly at a speed of 55 KM/H to cross the crystal blue sea between islands. Don't forget to selfie while you do it.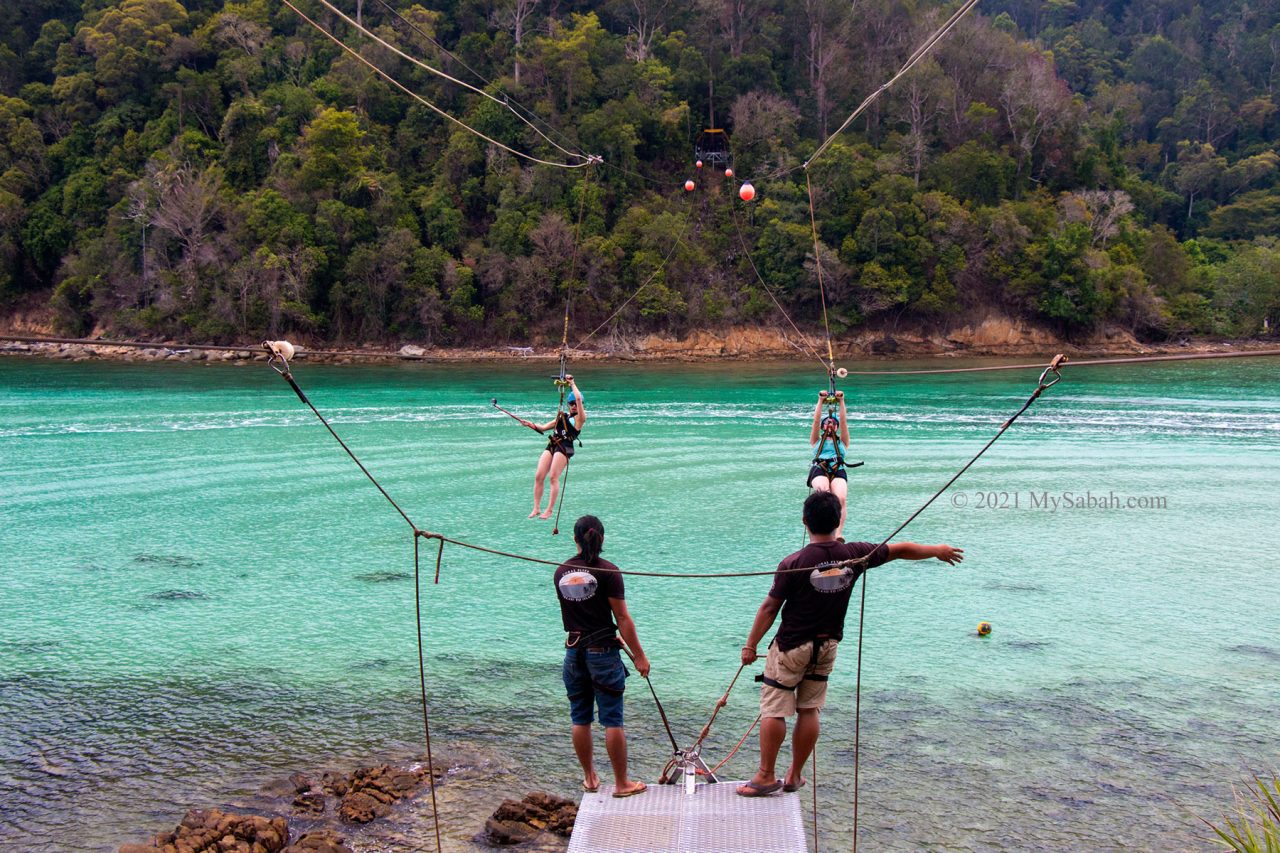 3. Watersports
On the islands, you can find the booth that offer watersports. They will show you a picture book with listed prices for playing parasailing, flyfish, banana boat, Jet ski, etc. Pssst… you can ask for a discount. If you prefer to stay dry, you can rent a kayak and paddle around.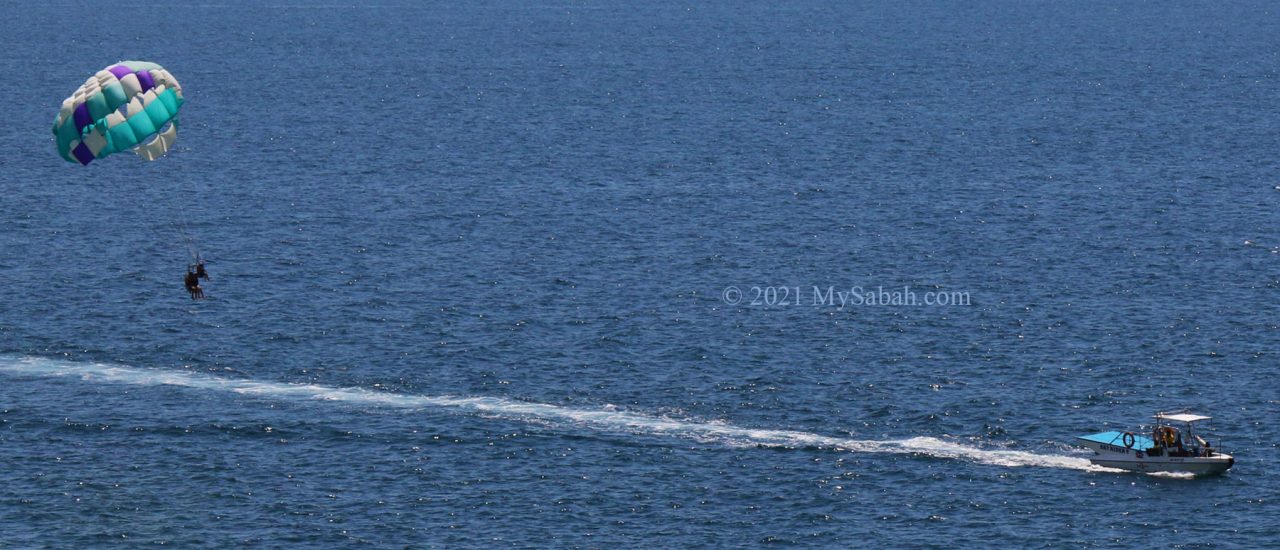 With over 30 dive sites, TARP is the most accessible scuba diving location in Sabah. Even experienced divers are impressed by the amazing variety of marine life such as turtle, scorpion fish, marble ray, black salmon, nurse sharks, frogfish, nudibranch (many!) and barracuda. Some favourite dive sites of local divers include Adik Reef, Kuraman ship wreck, and North Sulug. Whale shark sighting is possible from February to April. No diving license? No problem, you can try Discovery Scuba Diving.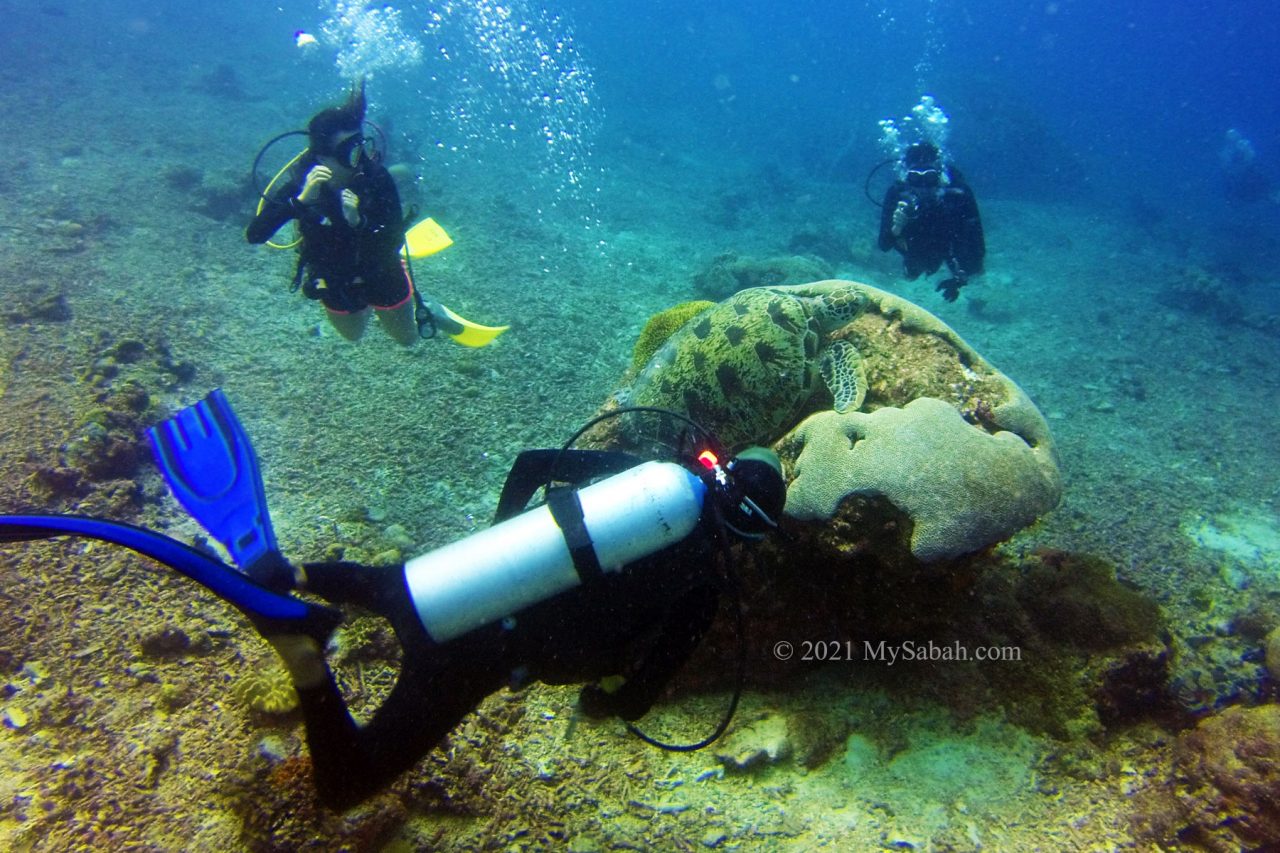 5. Sea Walking or Scubazoo
You can walk or ride an underwater scooter to explore the sea world. Participants will hear a special glass helmet connected to air supply, so they can breathe normally in the water and enjoy the view. A group of divers will look after you so it's safe.

6. Island Stay
The guests of resorts can overnight on the islands. There are four 5-star island resorts on Gaya and Manukan, namely, Gayana Marine Resort, Bunga Raya Resort, Gaya Island Resort and Manukan Island Resort. They provide the facilities and services for honeymooners and holiday makers who want the best staycation and a VIP experience on an island. Camping is also allowed on Sapi Island and Padang Point (Gaya Island).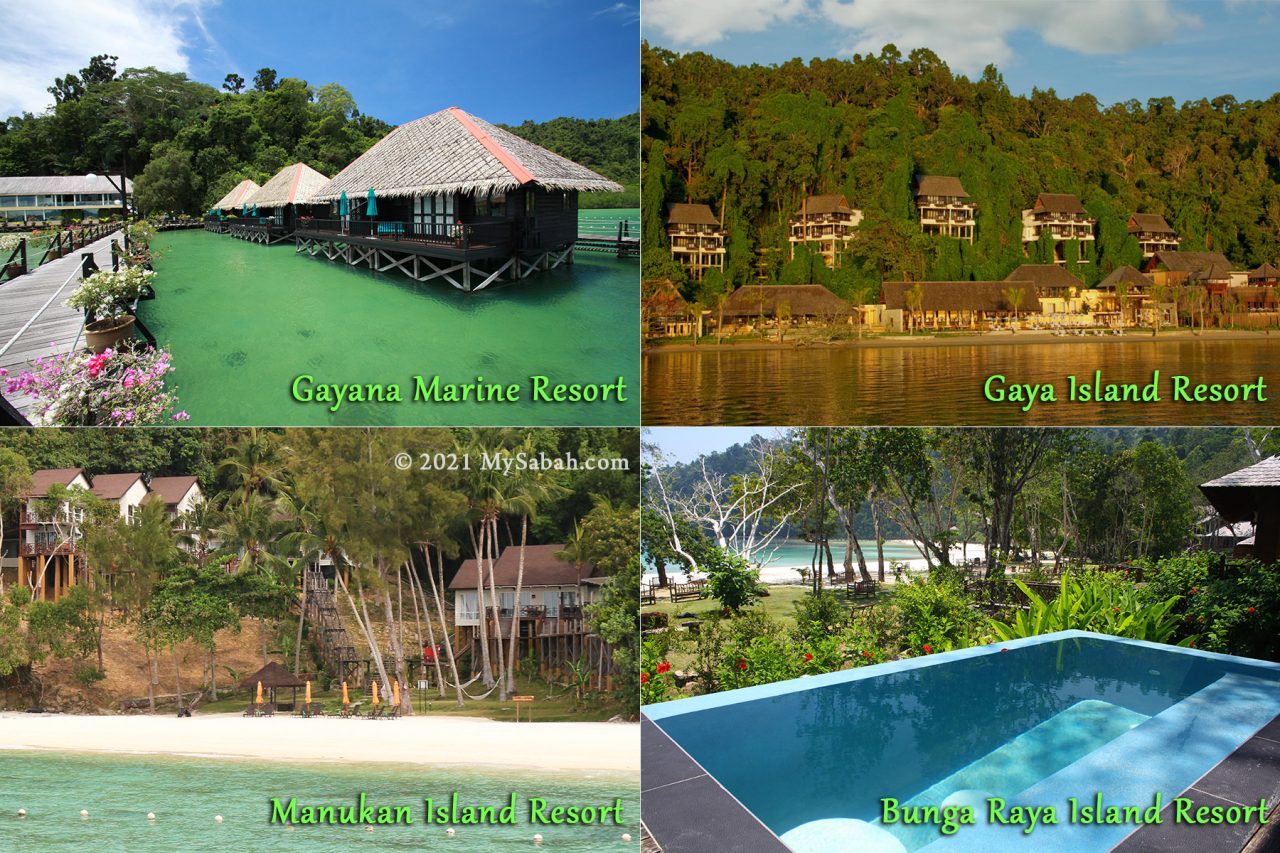 Sabah has one of the most stunning sunset in the world. Nothing can beat watching sunset on a luxury yacht that cruises around the splendid islands of Tunku Abdul Rahman Park, and what's more, delicious dinner, live band performance and karaoke onboard.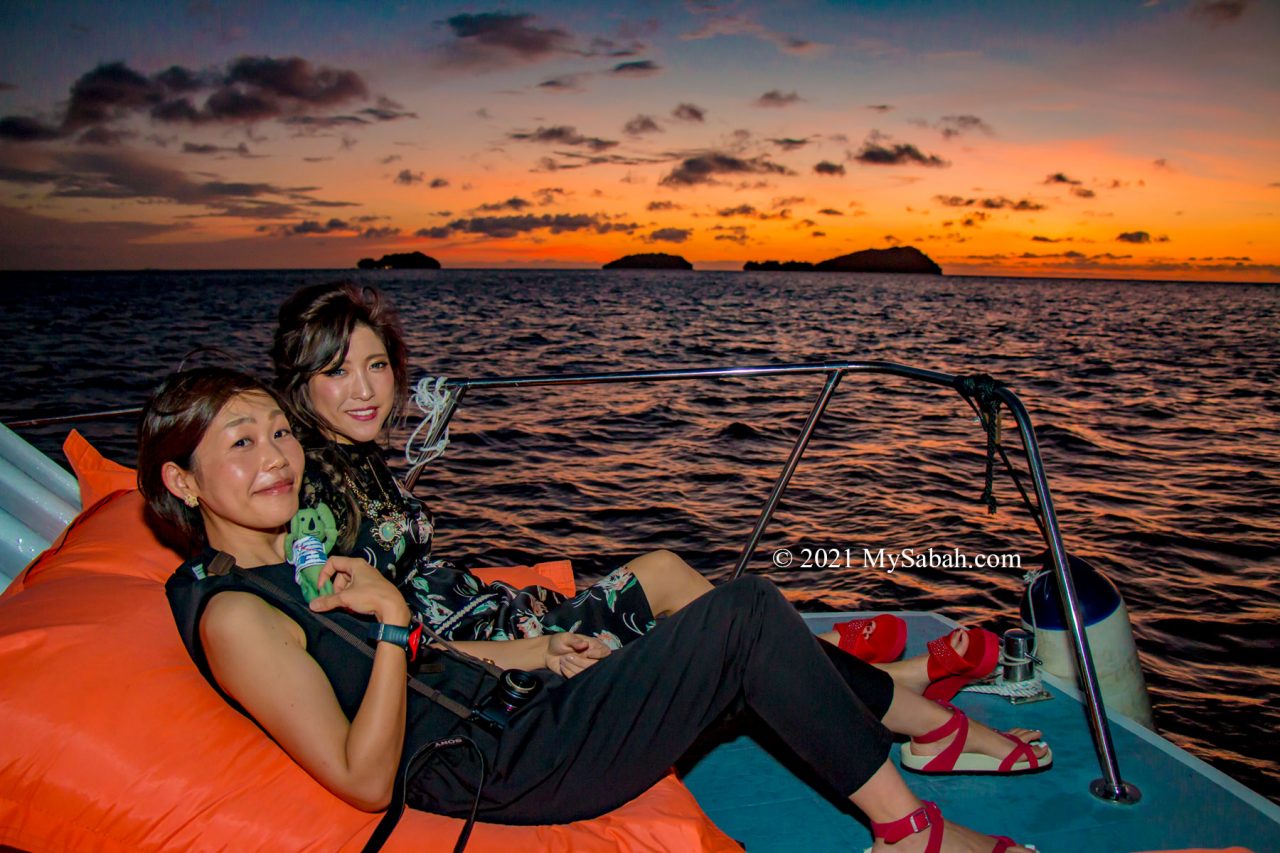 8. Hiking
Most beachgoers don't care about the jungle there. If you do, you must be a veteran hiker who loves to check out the trees and wildlife in the coastal dipterocarp forest of Borneo. There are 20 KM of marked trails on Gaya Island, with possible sighting of wild boar, Philippines Megapod, monkey and hornbill, and the most famous trail starts from Base Camp and ends at Padang Point (1.95 KM one way). You can hike in the small forest of Sapi, Manukan and Mamutik too.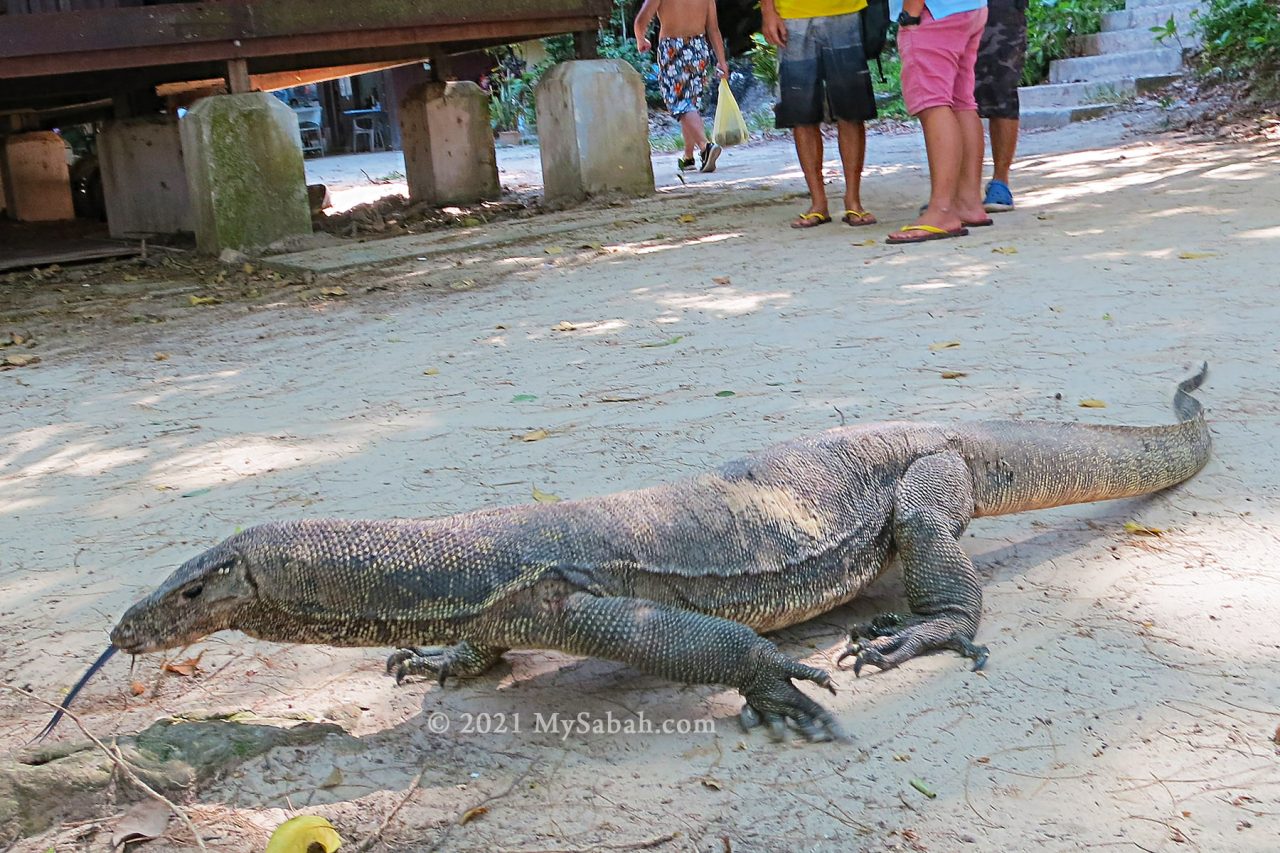 How to get there
Tunku Abdul Rahman Park is a public park, so you can go there yourself without booking any tour. It's easier than taking a bus. To go to Sapi, Manukan, Mamutik or Gaya Island, you can take a boat from Jesselton Point Ferry Terminal, Sutera Harbour, or STAR Marina. Just walk-in to their counter to buy the ticket. Island-hopping is a popular choice. However, to go to Sulug Island, you need to charter a boat. Majority of tourists depart from Jesselton Point because it's near to KK city centre and the fee is cheaper.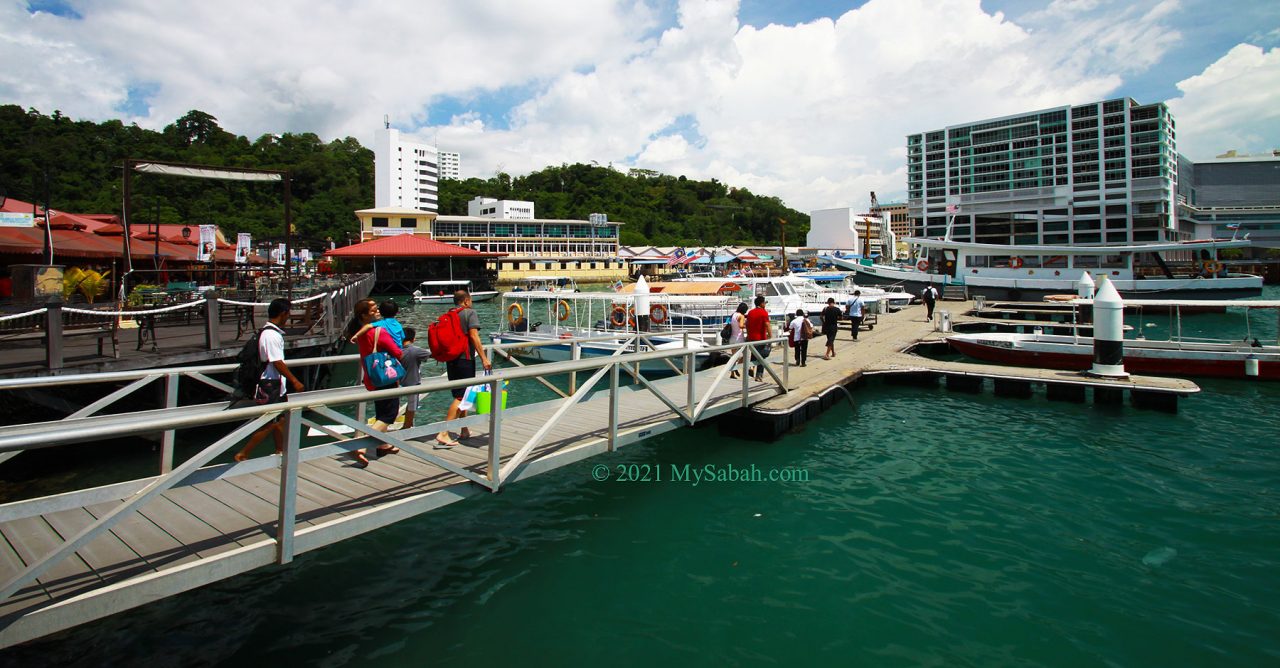 The boat transfer operates between 8am and 4pm (departs every 30 or 60 minutes). The speedboat takes less than 15 minutes to reach the island, and they will pick you up at the time you set. The boatmen of Jesselton Point like to speed so the ride is very bumpy. Go for other terminals if there are old people in your tour. If you have booked an island stay or diving trip, you will go with their private boats.

NEVER, EVER hire the unlicensed boat from other places such as KK Central Market and Tanjung Aru Water Village. In one case, a group of tourists were robbed and abandoned on an island. Luckily they were rescued and unharmed.
Entrance Fee (Conservation Fee) per Person
You need to pay a conservation fee to enter the island of TARP. The following table are the rates (updated in Jan 2023) in Malaysian Ringgit:
Nationality
Adult
Below 18
Below 6
60 & above
Malaysian
RM8
RM5
Free
Free
Non-Malaysian
RM25
RM20
RM10
RM20
Rates with effect from 1 Jan 2023. The entry is free for visitor with disability.
Tip: You are required to buy only ONE ticket to enter all five islands of TARP on the same day.

What to Bring
Below is a list of suggested items to bring for a day trip on tropical islands of Sabah:
Cash (in Malaysian currency)
Drinking Water
Sunscreen
Sun Hat
Sunglasses
Swimsuit / Beach Wear and Cover-up
Flip Flops / Sandals
Extra cloth for changing
Towel
Waterproof Dry Bag / Beach Bag
Toilet Paper
Insect Repellent
Beach Mat
Soap & Shampoo
Packed Lunch
Snacks and Soft Drink
Seasick Pills
Hand Sanitizer / Wet Wipe
Phone and Portable Charger
Camera and Waterproof Case
Book?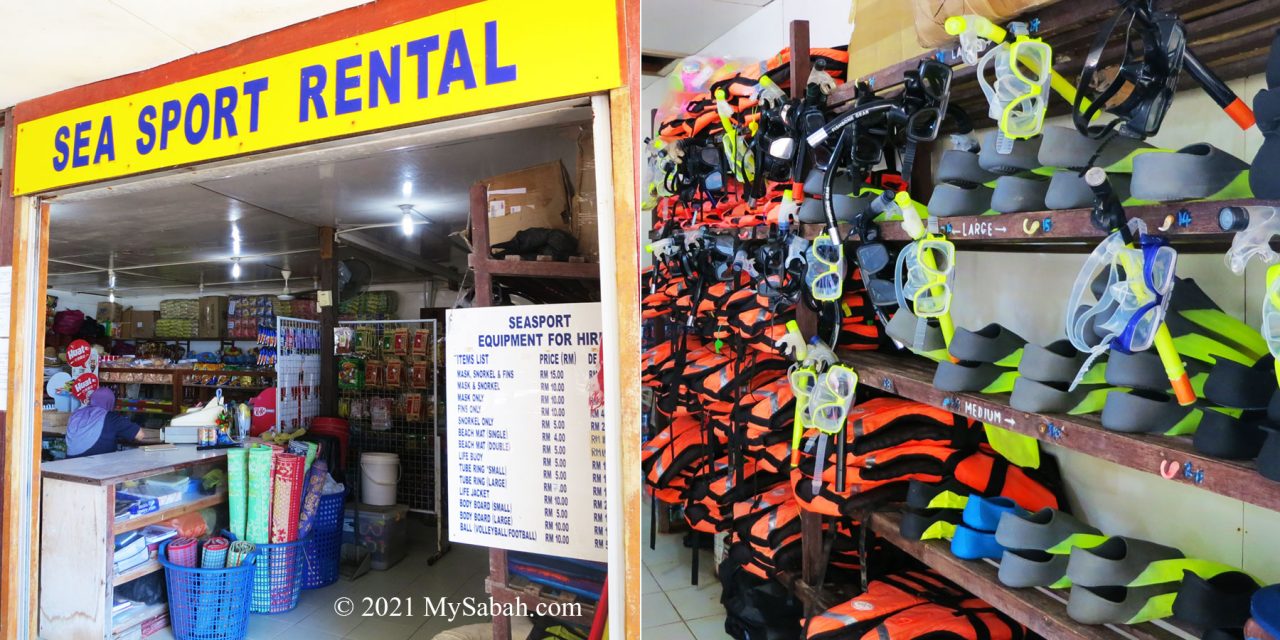 Notes:
Snorkelling gears (mask + snorkel, fins and life jacket) are available for rent on the island or ferry terminals in city. You would need to pay a refundable deposit (about RM100), so bring more cash.
Some common items are available for purchase or rent in island shops (but more expensive). e.g. soft drink, snacks, beach mat, sunscreens
Bring hiking shoes if you plan to explore the island forest.
You can have your lunch at the cafe or buffet booth on the islands, but the choices are limited.
Locker is available for rent.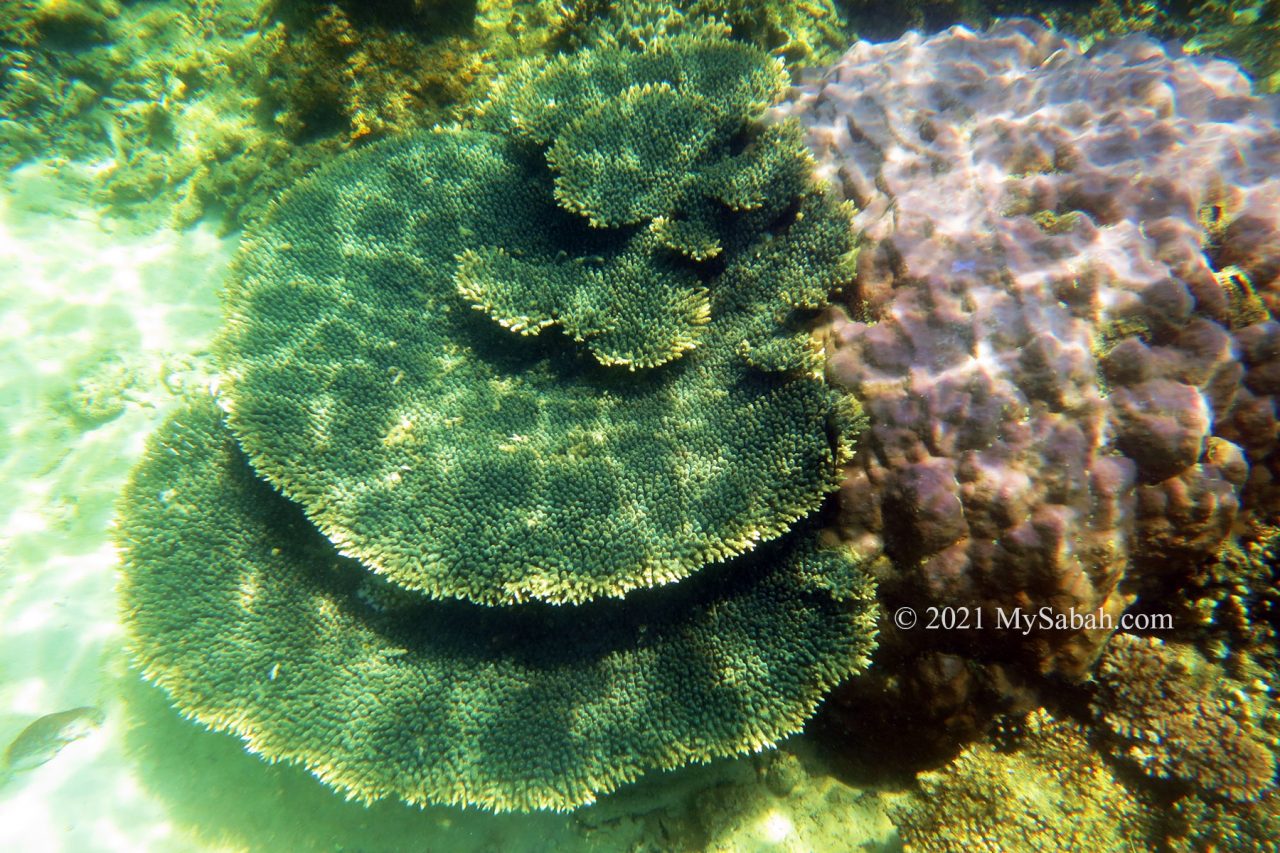 Safety
Someone may have warned you about the abduction around Sabah islands. Security is not a problem in TARP.
Box jellyfish may present in the sea sometimes and pose more threat to children. Wearing wetsuit or rash guard can block the stings.
Watch out for sea urchin in the sea floor.
Stay away from trigger fish during snorkelling. It might bite people who enter its territory.
Though there are life guards at the beaches, always keep an eye on your child.
Monitor lizards are not interested in you, unless you provoke it.
There is no big shark so don't worry.
For ladies, if there is any "friendly" stranger offers to be your snorkelling guide, just shoo him away, as he would molest you in the water.
When you trek in island forest, be careful of pit viper (snake) and hornet nest.
Don't touch or step on the corals, some species are venomous.

Forbidden Activities and Behaviors in the Park
No nude or topless (lady) sunbathing
No fish feeding
No fishing
No BBQ allowed, except the restaurants and tour companies that sell food
Do not fly any drone without a permit
Do not take anything. e.g. seashells, corals
No littering

If you read until here and follow all the rules, you will have an enjoyable vacation.
Photos taken in Kota Kinabalu, Sabah, Malaysia Borneo