After trying out the White Water Rafting at Padas River, the next thing-to-do on our list is to try parasailing (parachute sailing) at Sapi Island. Can't believe my New Zealand aunty is over 50 years old, the age where most Malaysians start complaining that they are old, got back pain, leg pain, here pain, there pain…. retire for everything and too lazy for anything new.
The fee to play parasailing is RM100 (USD25) for solo, RM170 (USD42) for tandem flight (2 persons). After negotiation, they agreed to offer it at RM120 for tandem flight. We can enjoy the view high above the sea for 15 minutes. Actually I never tried parasailing, so I didn't know what to expect. Should it be a pleasure experience, or another scary stuff? I was wondering and getting uneasy.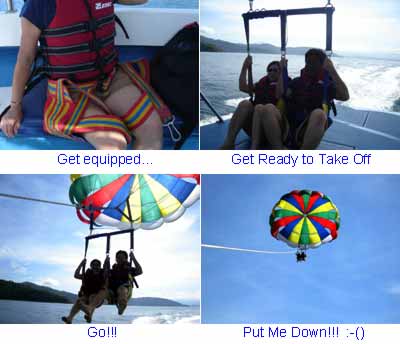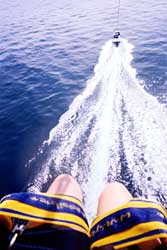 Very soon we got on a speed boat, wore the life jacket. While the boat was speeding on the ocean, they helped us to put on the belt, brief us a bit, hooked us to the parachute, then released us to the air. Shortly we were 50 feet above the ocean. Look at the picture, the boat looks so small now. I got a waterproof camera with me so I managed to take a few pictures in the air. Their staffs also helped us to take some pictures from the boat. So you can really see how it feels in the sky, from top and bottom. πŸ™'

You would say, "Ceh! Only like a flying kite in the sky, nothing to fear about." For my case, they lower the parachute twice and dip our feet into the sea water. Just imagine you are flying at super high speed, a few feet above the sea water and seeing you would slap into the sea anytime. When our feet dip in the water, we should bend our knee and point our toes to the back so we can "ski" beautifully on the water. Too bad we didn't do it correctly, so end up all the sea water splashed to our faces.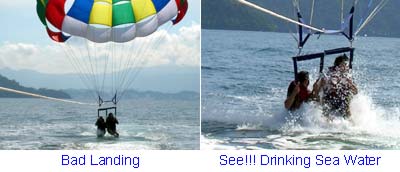 The photo below is a good take. See the Mount Kinabalu in the background?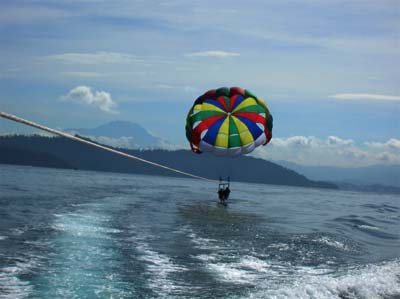 There were more… The boat purposely stop-run, stop-run continuously… creating a repeating on-off dragging force to swing us violently. They will also make some quick and sharp turns to swing your parachute to the side with high speed. Scary but exciting.