Tun Fuad Stephens Park (Bukit Padang) is closed for two years (10 Dec 2022 to 18 Sep 2024) for an upgrade to Tun Fuad Stephens Botanical Garden.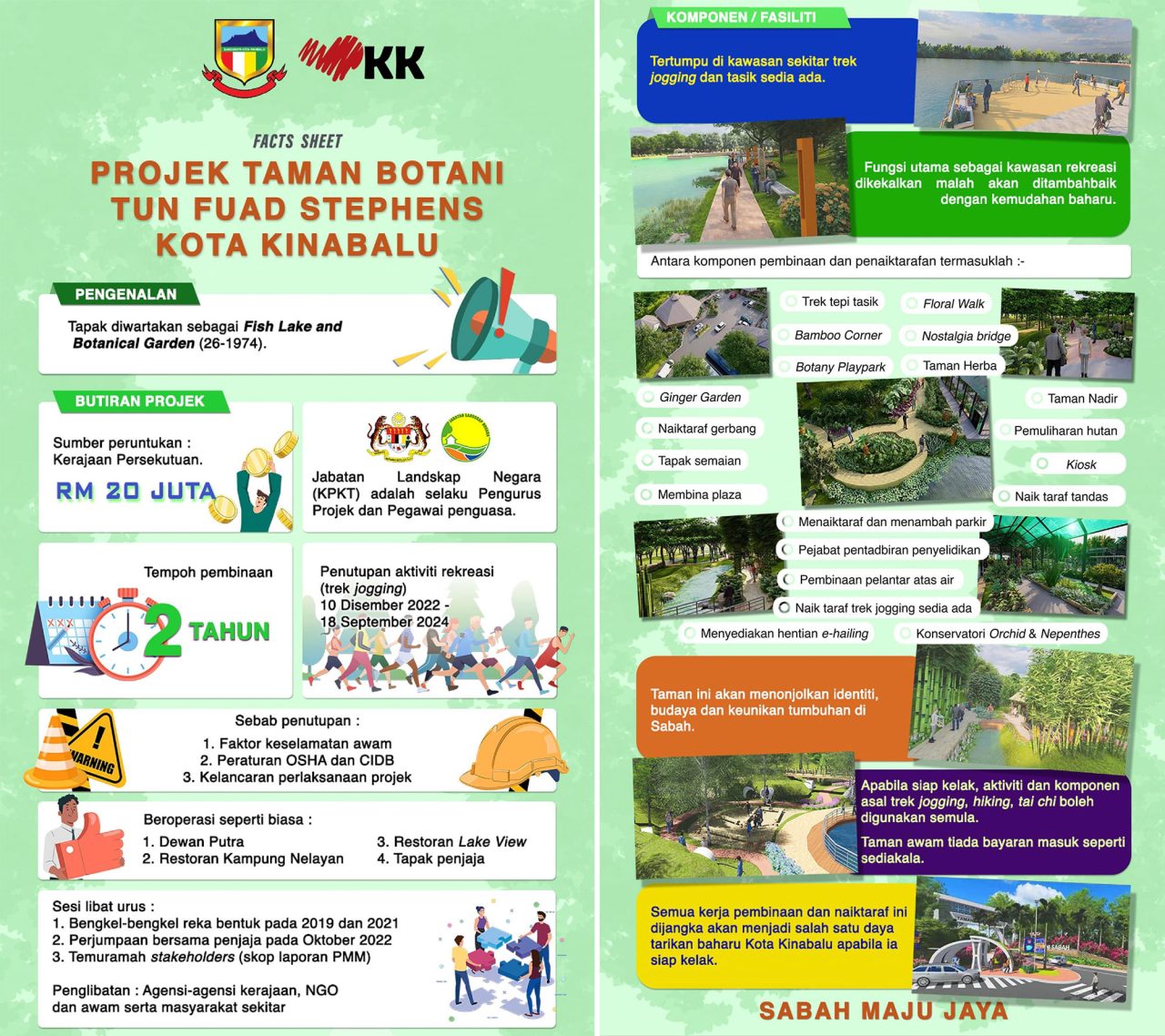 Summary of the Upgrade Project:
The lake will be maintained and added with other facilities such as floating platforms, tracks around the lake, lighting
New gardens such as Ginger Garden, Orchid and Nepenthes Conservatory, Nadir Park, Herb Garden, Bamboo Corner and Botany Playpark.
Forest restoration by planting local trees
Upgrading and increasing the amount of parking, build an e-hailing vehicle stop
Upgrade of the main gate (main entry board, guard house, plaza and kiosk)
Other New Facilities / Upgrades: overwater platform, administrative, research and maintenance offices, nursery building, public toilet, existing jogging track, lights, stairs, park chairs, CCTV
Tun Fuad is the most popular jogging site in Kota Kinabalu city. During weekend and Sunday, there are so many joggers that very likely you would see your friend or familiar faces. Personally, I think Tun Fuad is far more better than Likas Sport Complex. If compared, the jogging trail of Likas Sport Complex is about 0.6 KM (correct me if I am wrong) and the path is flat. The jogging path at Tun Fuad is nearly 1 KM, with many up and down trails. And Tun Fuad has more nice-figured liang moi (pretty girls), heheh… Ok, seriously, below are the features that make me like it.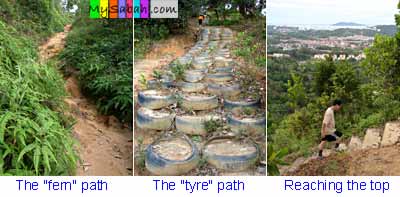 Click Here to see more photos of Tun Fuad Stephens Park >>
Feature 1. Superb KK City View
Besides the jogging trail, there are some hiking trails that lead you to the top of the hill. Normally, it took me about half an hour to walk up there. The last part is the "tyre" trail (should be renamed as "tired trail") that I fear the most, extremely tiring… But soon you will forget all the pain, when you are washed by the windy fresh air and see the view of KK city under you. You can see most of the KK landmark building from here.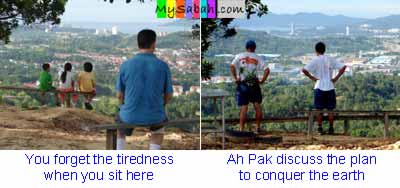 Click Here to see more photos of Tun Fuad Stephens Park >>
Feature 2. Jogging + Hiking
BTW, if you would like to experience how it feels to climb Mount Kinabalu, just walk up and down the hill non-stop for 6 hours. This place was once my training ground before the summit trip. Jogging is a monotonous and boring exercise to me, so a 2-in-1 activity (jogging + hiking) works well for me. Tun Fuad Park is surrounded by forest, so the air is fresher and you can spot small wild animals and insects on the way. At the end, I think jogging + hiking is not enough, so I bring my camera along for photo-shooting.
Tun Fuad Park gets more fern plant and spiders than any other places in KK. There are so many types of spiders, so I am not surprised if you find a new species there. Most of them are very small. Next time I will try to get a macro len for photographing smaller insects. See the "jade" spider below? It is like a jewellery. You can give it to your grandma as a birthday present, if you have no money to buy precious stone. Here you also can find one of the biggest ant in the world (see picture below). In the evening, these forest ants are everywhere on the forest floor of Tun Fuad park. Be careful while exploring area outside the trail, wasps are common, and they love to build nest under the leaf. Sometimes you can see snake but it is not common.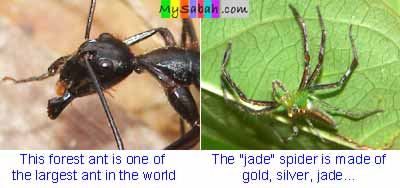 Click Here to see more photos of Tun Fuad Stephens Park >>
Feature 3. Magnificent Sunset View
Tanjung Aru Beach is NOT the best spot to view sunset. To truly appreciate the beauty of sunset, the hill top of Tun Fuad Park won't disappoint you, but you need some luck. I shoot the "Sea of Cloud" photo below in a cloudy day. Haha… in case you wonder how the photo was taken, just turn the picture below upside down, or look at the original photo here. Both look equally good. You can see more Tun Fuad sunset photos here.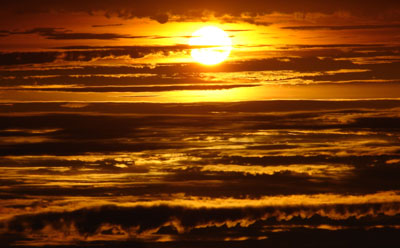 Click Here to see more photos of Tun Fuad Stephens Park >>
The road will be very dark after the sunset. Do bring a torch light with you, if you plan to stay longer on the hill.
Photos taken in Tun Fuad Stephens Park of Kota Kinabalu, Sabah, Malaysia Borneo