This is my second time go to the Farmers, Breeders, and Fishermen's Day exhibition at Tamu KPD (of Tanjung Lipat). In city, there is not many chance you can see those fresh fruits and vegetables, livestock, fishes, food, wooden handicraft, flowers, and other agricultural products being displayed on large scale. The site was already very crowded early in the morning.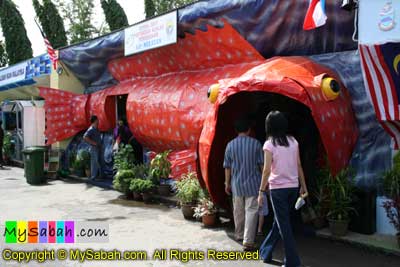 Aquarium is one of the my favourite stuffs. I tested my new Canon 400D by taking the pictures of fishes in fish tank. The result was outstanding. It is a big deal to me coz it is impossible to take such good pictures with my old camera, as the fishes were moving fast, under dark condition.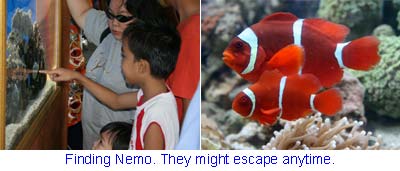 The eel below is so beautiful and attracted a lot of poeple. Most of the time it hides under the rock. When it comes out, it will attack any fish it sees on the way. Eel has slim and long body looks like snake, but their look is more aggressive and fierce than snake.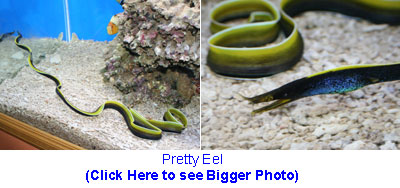 Some parents also brought their kids to the exhibition and teach them something new. It is something that we should strongly encourage. The children were very excited about the colourful fishes, one of them asked the parent:
Kid (pointing at the eel): "Mom… what is this?"
Mom: "Hmmm…. It is a snake."
Kid: "But mom.. how come this snake has no tooth?"
Mom: "It is snake lah. Can't you see meh, it got long body."
Kid: "What food it eats ah?"
Mom: "It will eat you if you are naughty!"
OK, maybe we should leave the education to the professional… Just kidding. I made up the story, but I did hear "educational" talk similar to that.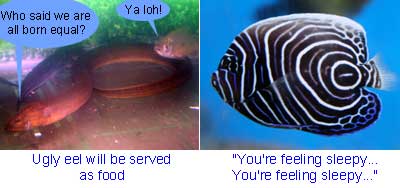 Photos taken in Kota Kinabalu, Sabah, Malaysia Borneo