Chicks are adorable. But someone think they are not fashionable enough, so they decide to colourize them with blue, green, pink, red, etc. I came across those funny bozo chicks the first time in Farmers, Breeders, and Fishermen's Day last Saturday. My first response was "Ah meh… what happen ah?" According to the owner, they inject dye into the eggs, 2 weeks before they are hatched.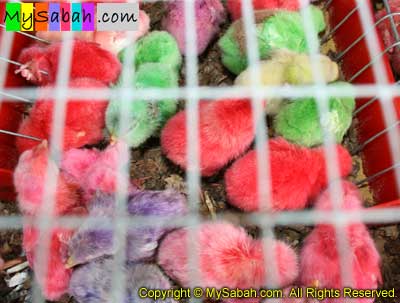 The visitors have mixed opinions about such invention. Some think that it's cool, while some think that it's grostesque. Anyway, the chicks will lose their colours after their feather moult. Since it is not permanent and they don't mess with the gene, I don't oppose the idea of promoting these chicks as pet, instead of food. If I buy it, the only reason is to make me laugh everytime I look at it. FYI, it is RM1.50 each.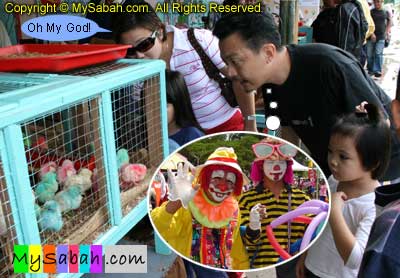 No matter what they think, this booth has become a hot spot of the curious visitors, and the children were very excited to see these "live" toys and wanting their parents to buy it. I'm afraid one day they will be heart-broken to see their pet become a dish on the table. That happened to me before. Oh, my painful childhood memory…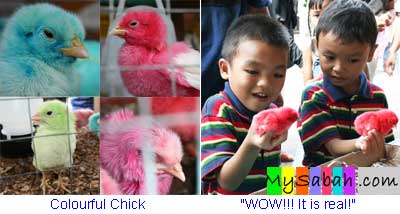 The booth also showed a few chicks that have 3rd leg growing on their butt. Besides using the extra leg to scracth their balls, I can't think of other possible use.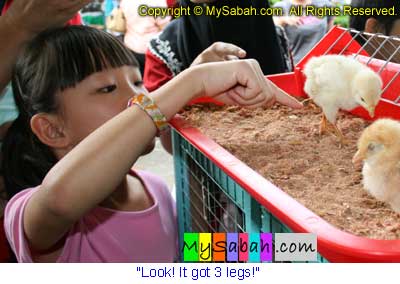 Such accident is natural-cause and is not uncommon among the chicken. Next time when you eat the chicken, don't be surprised if you find one extra drumstick.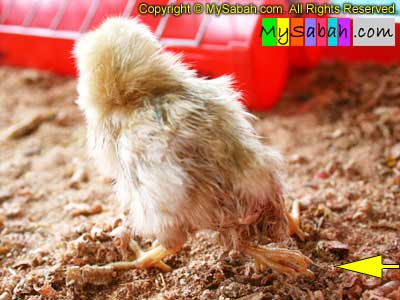 The extra leg also grows with the chicken. Luckily the extra leg does not have a mind of its own (but mine got), and the chick still can grow healthily.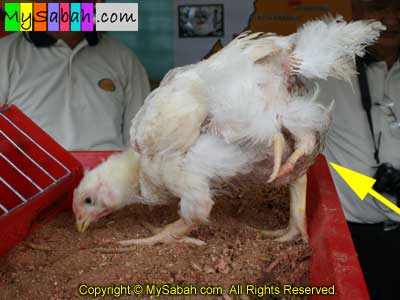 Photos taken in Kota Kinabalu, Sabah, Malaysia Borneo