Malaysians are so fond of making the LONGEST in Book of Records. For example, longest hours of speech, longest hours of gong hitting, longest hours of dancing… If you look at our addresses, their length make great records too. Very often, you would see Malaysia addresses similar to below:
Mr. Beng Long Long
1st Floor, Lot 4, Block C,
Fook Yu Apartment, Phase 5,
Lorong Binatang 3A,
6 KM, Jalan Ling Kun,
89743 Inanam,
Kota Kinabalu,
Sabah, Malaysia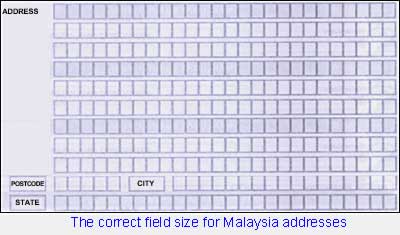 Besides house number, you need to specify the name of taman, jalan, lorong, distance… Many years ago, our government introduced POSTCODE system (which is practically useless), to add more junk to the old lengthy address. Then I forgot who was the smartass who proposed the use of "fancy" state names such as Kedah Darul Aman, Perak Darul Ridzuan, Kelantan Darul Naim, Pahang Darul Makmur… Again it lengthen the already-very-long-address and makes more school kids fails Malaysia geography, and do nothing else… Probably that's why sending letters from Sabah to Peninsular takes 10 days or more. FYI, in USA, no matter from what state to what state, it takes maximum 3 days.
Amazingly, despite the overly excessive details, I bet many of you still experience the difficulty of locating your friend's house, if s/he didn't give you a map or some direction hints such as landmark. I think POS Malaysia is so screwed up that until today, they don't dare to offer next-day-delivery service to ALL addresses. To complicate matter, you also cannot use English or BM address interchangeably (see picture below).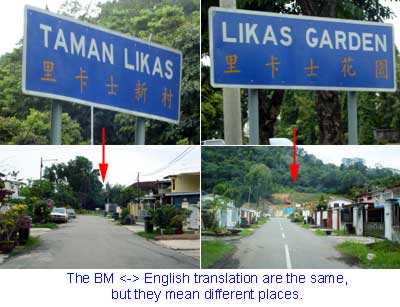 Pizza Hut is one of the victims too. For me, it was an annoying experience to order pizza delivery. It takes them more than 40 minutes to deliver the pizza to my house. And EVERYTIME they would lost and called me for "step-by-step" direction. By right, if they can't deliver the pizza within 30 minutes, we can get it FREE. We are so generous not to be so mean. But please lah, build a address info database or something, don't call me everytime to repeat the same instruction, whenever I place an order. Sigh… Malaysians…
Our address is so long that my university overseas has problem to store my complete Malaysia address record into their database, coz their local addresses were only 2 or 3 lines, for example:
UK Address
26A Randolph Avenue
London W9 1BL
United Kingdom
USA Address
175 East 96th St
Apt # 21K, New York,
NY 10128 USA
BTW, their land are MANY TIMES bigger than Malaysia. Please learn from others… Anyway, we do make another record, the SLOWEST mail delivery service in the world.