This may have happened before, but it was my first time seeing the dog fashion show in Sabah. I went to the Dog Fashion Show in Asia City Complex last Sunday and thought I would see the similar dog show like last time. Gee… it ended up I could not stop taking pictures when I saw all the dogs dressed in cute costumes. They were so cute and funny.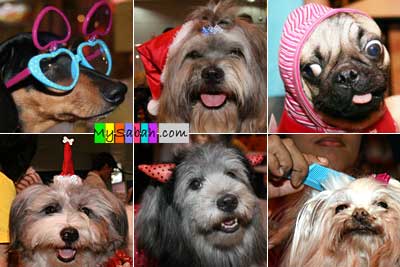 Click Here to see more photos of Dog Fashion Show >>
The dogs seemed to enjoy being dressed up by their masters. I tried to put some hat and T-shirt on my dogs before, but they were annoyed and tore the dress into pieces. To take their pictures was not easy though. They don't like the strong light emitted by the flash, so they would turn their heads away from the camera. Even their masters also said that's hard to get a good shoot of their pet. They tried to help me by standing behind me to make their dogs looked at my direction. It was still tough. But without their cooperation, I doubt if I could get any good photo.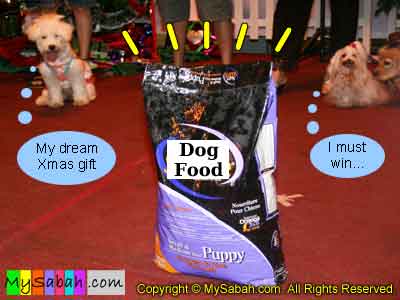 Click Here to see more photos of Dog Fashion Show >>
There were 16 dogs CATwalk on the stage. You could vote for 3 titles (based on photos), namely, Best Fashion, Best Funny, and Best Groomming. You can check out the photo album for the result. Later they will announce the result of the final competition on the local newspapers.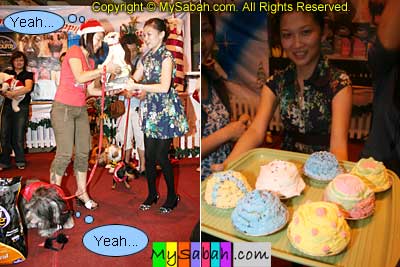 Click Here to see more photos of Dog Fashion Show >>
The best part came after the fashion show. Someone sponsored cakes for every dog. The cakes looked so yummy (I wish to try too). The dogs loved it so much and got cream all over their mouth. At the end, everyone, including dogs, were happy. Such a joyful event. My new external flash added extra weight to my camera. My fingers were so painful after 3 hours of photo-shooting.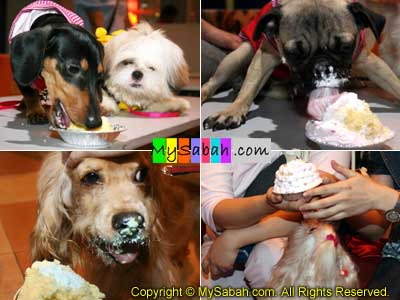 Click Here to see more photos of Dog Fashion Show >>
Related Post
Dog Talent Show
Photos taken in Asia City Complex, Sabah, Malaysia Borneo