Hello! Long time no see. You would think that I was death. I am doing ok. Just busy on my new job, quite stressed… So here you go, the photos of FIRST KK Bloggers Gathering at Pirates of Borneo, Jesselton Point, Kota Kinabalu, on July 6. I am glad to be part of this great happening. There were about 50 bloggers coming. Very good response. And thanks to organisers, Gallivanter and Jacq for the wonderful free BBQ buffet, lucky draw and cruise. You have done an excellent job. I am looking forward to the second gathering. We should make it a "Sabah" bloggers gathering next time, not just KK.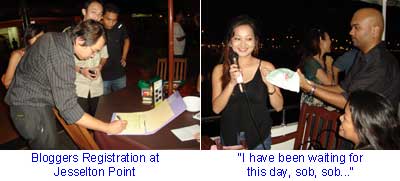 | | |
| --- | --- |
| | Since many bloggers have blogged about this event, I would not repeat saying the same thing. When I arrived the gathering spot that evening, a few bloggers were already there. Actually we all agreed that we had strange feeling about it at first. Coz we have the common interest (blogging loh), very soon we started to enjoy ourselves. As you know, I am low profile and "hide" my identity in the past. I have to say that I am really happy to know you all. |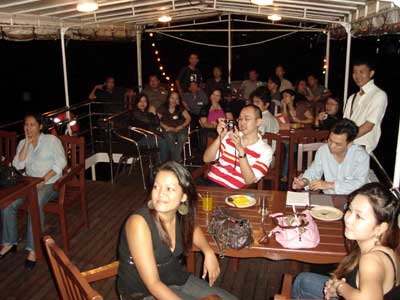 This time I didn't take many photos. My "wife" was on MC (Sony Cybershot DSC-H1), and I knew my spare Sony Cybershot DSC-S40 would did very terrible job in taking pictures at night. But how can I miss this "historical moment." I brought it anyway, just to take a few snapshots. Seemed like every blogger also brought a camera with them. Haha, another common thing among bloggers.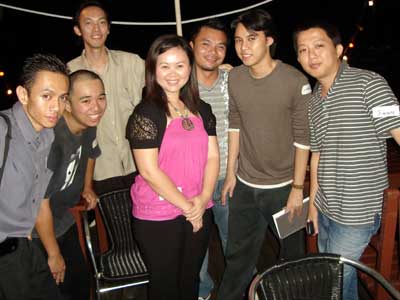 Photo (from left to right): Zie, Julian, Jefferi C, Kupi, Ned, Lionel, and Jimmy
If I got your photo, I will send to you later. Be patient ah. BTW, anyone can send me the group photo? Thank you first. I had to work on the following day (Saturday!). Otherwise I would want to join Gallivanter for the white water rafting… I had a good time with the dinner, evening cruise and gathering. The only thing I want to complain is I didn't win any lucky draw!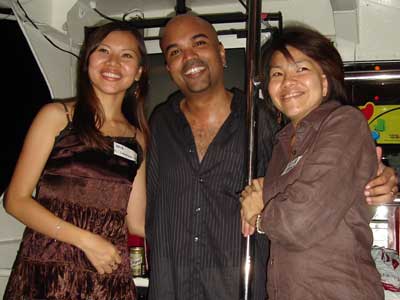 Photo (from left to right): Jacq, Daniel (Gallivanter), and Jewelle
OKlah, back to work (blogging lah) now. The unpublished photos and blog like shit pile up in my intestines. It is a pain not to "release" them. Really busy with my job (daytime one) nowadays. But like my friend LHS said, Time is like Nine Nine, You got it if you Squeeze it. Now is 2AM, very hungry oh…
Photos taken in Kota Kinabalu, Sabah, Malaysia Borneo