DBKK organised a photography competition named "The Beauty and Lifestyle of KK City" last year and I submitted a few of my photos to join. The photo exhibition and prize presentation were held on Feb 2 (KK City Day) in Palm Square, Centre Point Sabah. I won a consolation prize that came with a trophy, certificate and a small Ang Pow. FYI, the award structure is like this; Gold Medal x 1, Silver Medal x 2, Bronze Medal x 2, Consolation x 10.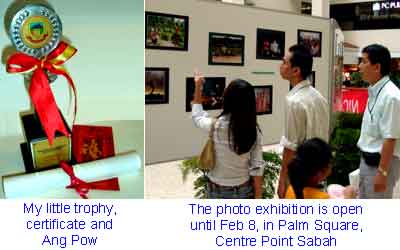 Actually I was a bit surprised that the photo, which I least expected to win, won a consolation prize. I didn't highly expect I would win anything coz I am not a professional photographer. Luck was a big helper to me. In fact, I also feel a bit "shy" seeing my photos being exhibited together with others' professional artworks. Hehe… lack of self-confidence but still happy lah anyway. I will improve my skill and join again this year.
During the exhibition, I was introduced to some of the famous local photographers. They are very friendly and all the contestants seem like already knowing one another very well. Probably that's why they were curious to find out "Who is this new guy?" They do a lot of photography outing in Sabah. When they talked about taking pictures, their eyes were sparkling.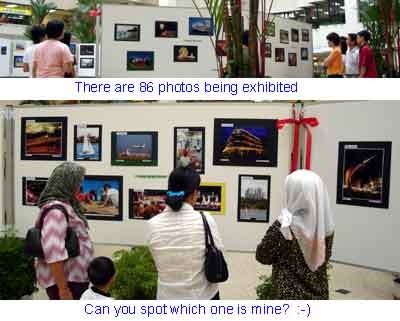 Before I started to love photography last year, I was an amateur graphic and web designer so photo-shooting naturally became a nice complement to my hobby. I also find that many art design concepts also can apply to photography. Maybe both are art. Scientists say the born left-hander is usually a born artist or someone more creative. According to mom, I was a left-hander, then she whacked and forced me to become a right-hander when I was 5. Fortunately, that did not bury my creativity, haha… yeah I am right..