"What is the Nunuk Ragang function about?", my Ranau friends asked and waited for me to satisfy their curiosity. Actually I was the one who started this question, then ended up I answered it myself. Based on what I knew (which was not much), I only could tell them that according to the legend, Nunuk Ragang was the place where KadazanDusun civilization began. Every year they will visit Nunuk Ragang as a remembrance of their origin and ancestors.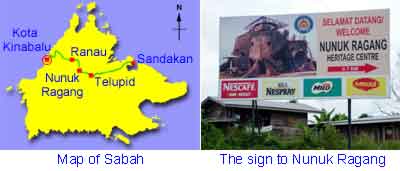 Click Here to see 96 photos of Nunuk Ragang >>
Nunuk Ragang is about one-hour drive from Ranau, through the Ranau-Telupid-Sandakan highway. After you reach KM 54, you will cross a 100 Meters long Liwogu Bridge. Shortly you will see a big Nunuk Ragang sign board at your left, follow the sign to turn right, moving on a gravel road for 0.7 KM. Some told me I would see a beautiful BIG TREE when I reached there, some said BIG HOUSE. I was confused, Tree or House?… until I saw the 3-floor-high Nunuk Ragang Heritage Building.

The Nunuk Ragang Ceremony is fixed on the first weekend of July every year. I was there on Friday (Jun 30), so there were only a few workers busy preparing the site. The Nunuk Ragang Heritage Building looked like a building made from a super-big tree. I must say this is one of the most creative and interesting building in Sabah. You can see more photos of it in the photo gallery.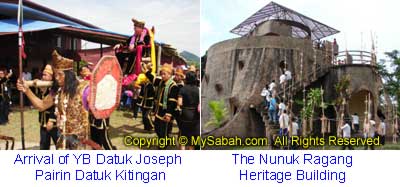 Click Here to see 96 photos of Nunuk Ragang >>
Nunuk Ragang is also a famous fishing spot among the locals. The surrounding view of Nunuk Ragang is magnificient. From there, you can see the confluence of two rivers, namely Kogibangan (left) and Kawananan (right), to form a greater river, Liwogu River. A long time ago, this place was a fertile land covered with paddy field.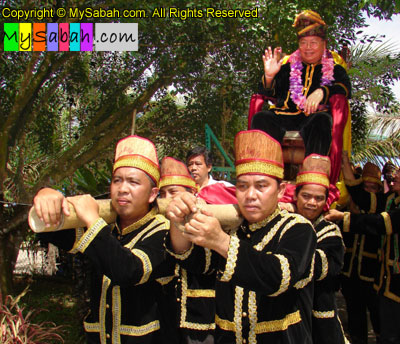 Click Here to see 96 photos of Nunuk Ragang >>
The highlight was on second day, Jul 1. Besides the 11th Annual Visit by KDCA, that day was also the installation of Huguan Siou, the Paramount Leader of the Kadazandusuns. FYI, YB Datuk Seri Panglima Joseph Pairin Datuk Kitingan is the Huguan Siou. He arrived Nunuk Ragang around 10:30AM, then he was escorted to the Heritage Building, for a 1-hour installation and blessing ceremony, which was performed by the Bobolians (traditional priests / priestesses). After the ceremony, there were a series of cultural performances and merry making activities.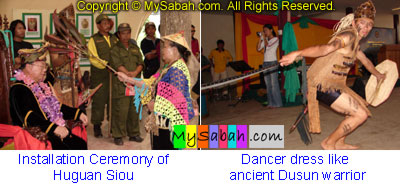 Click Here to see 96 photos of Nunuk Ragang >>
This was a comfortable mission coz the weather in Ranau and Nunuk Ragang was cooling and refreshing. Ya, forgot to tell you the meaning of Nunuk Ragang. Based on the documentary from KDCA, Nunuk Ragang means "Red Banyan Tree" in English (Ragang = Red). This was the name of a very HUGE tree which grew next to Liwogu River in the past. Many people loved to rest on / under this tree. So from a far distance, the tree looked like in red color. Another version is – this tree produced a reddish latex which could cure skin diseases. That's why the heritage building got a tree shape design.