Yes, guys, I know it is "out" already to talk about the fun fair thing. Guess many of you had tried it. I only went there on Thursday (ya, the same day I got food poisoning), coz I wanted to avoid the long queue.

Undoubtedly, I am a serious guy so I was looking for serious fun. So I "shopped" around…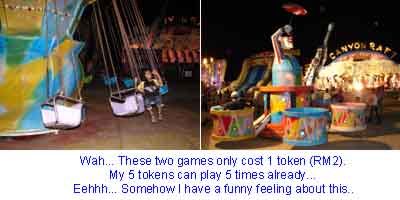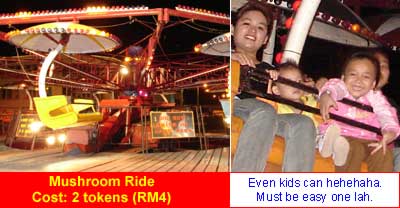 The Mushroom Ride looks just like a Merry-Go-Around. I played it in Canada before and felt really stupid riding on it. NEXT!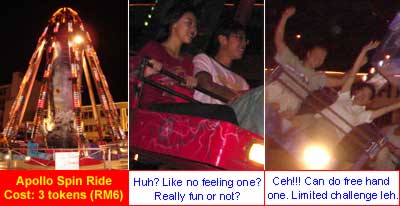 The Apollo looks cool but everyone is so relaxing on it. I guess it is hardly thrilling unless you got height phobia. NEXT!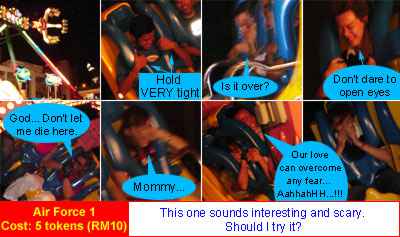 Finally, the Air Force 1. I heard many friends highly recommended it. From the scream volume of those people, could judge that the ride was a horrifying experience. But very expensive lah, RM10… Until I see…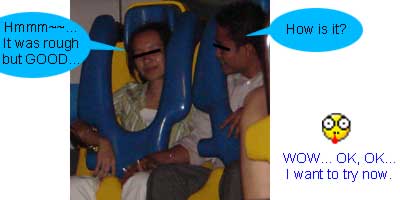 So I decided to try. Actually, I looked down its scary level coz it just swinged up and down in low height. I was death wrong. The momentum and G force were so strong that I had a near-to-death feeling. Under the high speed, all my internal organs were like turning upside down in my body. I didn't shout but I was really terrified. Goodness… I will never forget that feeling. The friend sat next to me said, "I feel great to be alive." Ya… I also felt great not shitting in my pant, consider I got diarrhea earlier that day. When it was over, I could not stand still already. I also got serious air-sick that made me wanted to throw out. BTW, the fun fair opens until Feb 4, if you haven't been there. To have an orgasm romantic time with your love one, don't forget to try Air Force 1.