I didn't know that Brunei was claiming Limbang (of Sarawak) as part of their territory, until I read the news last week. I have gone to Brunei multiple times coz of some IT projects of my ex-companies. However, I was only given 14 days of visitor pass upon arrival to Brunei. This posed a problem coz my assignment needed 3 weeks to complete. To apply for extended stay from Brunei immigration is very troublesome, you need to go to their office in city and have a local to be your guarantor.

The fastest way is leaving Brunei and go to nearest immigration gate of Sawarak (Malaysia border), then enters Brunei again to get a new pass (for another 14 days). It sounds funny but it works well and many Malaysians do that. Hey, many Bruneians also go to Limbang to buy beer (no tax if buy 1 dozen only). In my case last time, Limbang is the nearest gate, which is only an hour drive away from Brunei city. So I left Brunei via its immigration gate in Kuala Lurah, took a short walk to Limbang to enter Sarawak, then entered Brunei from Limbang again. The whole process took less than 30 minutes and I got 4 chop on my passport, i.e. Brunei(out)->Sarawak(in)->Sarawak(out)->Brunei(in). The photo above is the area between Sarawak (right side) and Brunei (left side). If Brunei people go to Kota Kinabalu (6 hours drive passing through Brunei, Sarawak and Sabah), they may get 10 chop!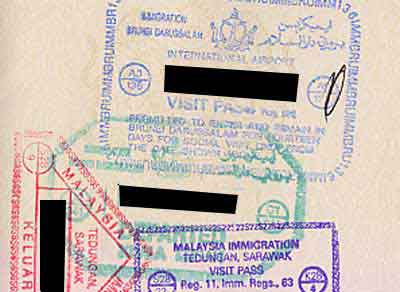 Brunei is a country in many ways similar to Malaysia, but also very different. For example, I hardly saw a Proton or Perodua car on the road, needless to say, a land without Sang Kancil. If any, the car is from Malaysia then. Their petrol is about 50% cheaper than Malaysia, and imported cars are 30 to 50% cheaper than ours. Probably that's why there is no bus there, since everyone can afford a car. The road is so good that I feel safe digging my nose while driving over 100KM per hour, and can skip seat belt like most of the Bruneians. And Brunei people don't know what is income tax. They live a very relaxing life, with lot of money. The Bruneians I met were gentle and not so demanding as Malaysian customers. It is a peaceful place where a small crime can make a news headline.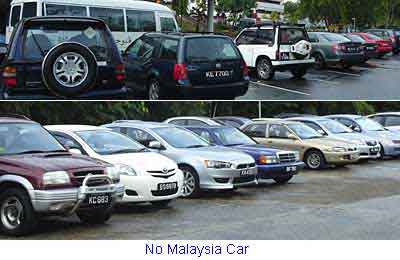 Brunei is so near to Sabah that the KK flight can reach there before our seats are warmed. The value of Brunei currency doubles Malaysia Ringgit. I guess most Sabahans know that we can use Singapore dollar like Brunei dollar with 1 to 1 exchange rate in Brunei. At first, due to lack of confidence, I always asked at the check-out counters, if them accepted Singapore money. The cashier just took the money from my hand without saying anything. I looked so silly to ask.
With all the factors sum up above, Brunei is a nice place to work and stay. Hey, working there 1 year you get salary equivalent to 2 years of Malaysia's. But the moment I stepped in Brunei, I missed Sabah. I believe most Malaysians, who work in Brunei, would agree. Last time my client provided free meals for me. I ate halal food for so many days that I feel there is a songko (muslim) hat on my head already. Even though the food tasted good, the protein from fishes and beef couldn't satisfy me, I started to crave for pork. I missed Cha Sao (叉烧) and Sao Yu (烧肉) so much.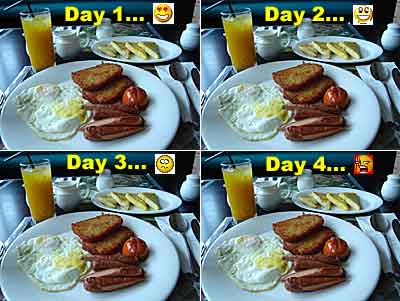 Pork… I want Pork…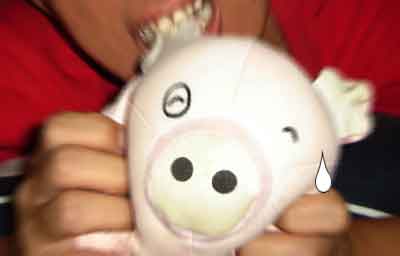 Pork… Pork… Pork…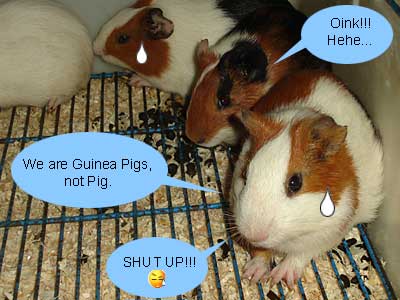 Chinese restaurants in Brunei (muslim country) do serve pork, but they do not display Cha Sao and Sao Yu so openly, like in Malaysia. Luckily it is not too hard to locate a Chinese restaurant around, and finally I found what I wanted. The thing surpises me was they think running a restaurant is a lower-class job in Brunei, so most of the restaurants are opened by Malaysians.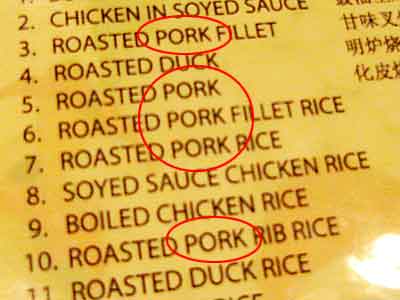 Pork is very important ingredient in Chinese food. That's why the Malaysia mooncake nowadays tastes like shit, after the manufacturers decided to go halal by replacing the pork oil with something else. Same as the hotel food. Many friends come to Sabah simply say NO to hotel food. The hotels have many attempts to make Chinese food tastes like real Chinese food. Well, it is still very different from what I am used to. No offense to Muslim friends, it is just one man poison is one man meat.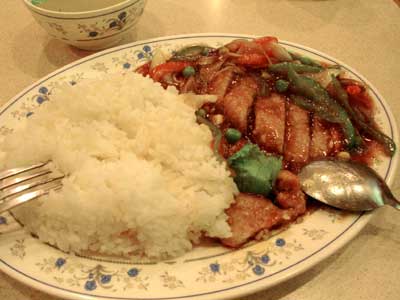 Many also subscribe to Astro TV in Brunei. I am not sure if their version is a bit different, coz I noticed some sexy scenes disappeared from the movie that I had seen in Sabah before. This also applies to their movies. I am already quite unhappy that a Malaysian so-called 18SX movie is actually a so heavily censored version, but I didn't even see a kissing scene in Brunei TV and movie. They are so "clean". Well, these are their lifestyle in the eyes of Sabahans. Brunei is a great place anyway, bye bye!