Many years ago, I went to "pulau" (island) a lot with my father who owned a boat that time. I can tell you that Sapi and Manukan Islands today are NOTHING compared to their past. There were so many (and dense) beautiful corals that I could even see them from the beach. After more and more tourists flow in, now the corals don't stand a chance to grow near the shore when so many people step on them every day.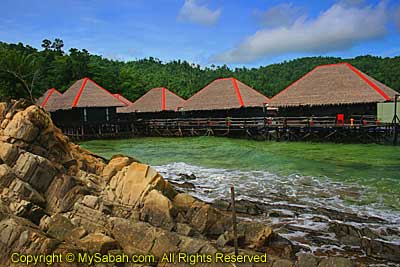 That's why I like what Gayana Resort (of Gaya Island) is doing now. Not only their restaurant has removed shark fin from their seafood menu, they also put a lot of efforts on conservation and being environmental friendly, so their business won't impact the surrounding environment negatively. When they take, they also give – what we call responsible tourism. Besides recycling the waste, this eco-resort also replants the corals at Gaya Island.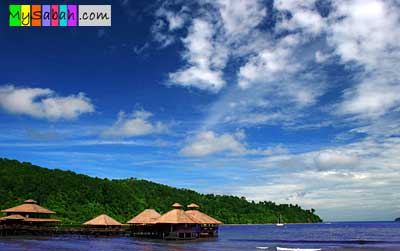 Their Marine Ecology Research Centre (MERC) is an education and aquarium centre worth checking out. It has some display of live hard and soft corals and giant clams, which they also try to cultivate and release to the sea. Their staffs are also very knowledgeable and introduce us the cuttlefish that can change colors, pretty bamboo sharks and other interesting sea life.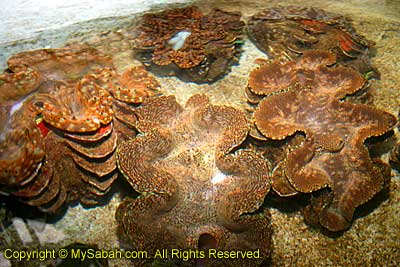 The centre claims to have 7 out of 8 species of giant clams in the world. Giant clam is very sensitive to pollution and grows very slow. Even after 10 years, its size still can be smaller than a fist. Their population is declining fast and listed as protected species, though many fishermen don't care and still eating them.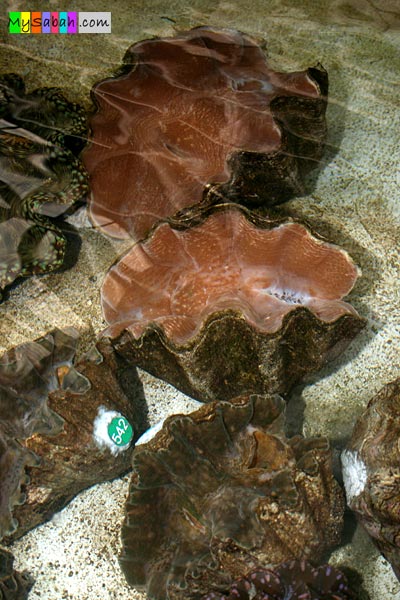 They label each coral and clam with number, for their coral and clam restoration programme, so the tourists, who release them, can come back and visit their "baby" years later. Last time I had very bad impression about MERC coz the previous management seemed like never cleaned the fish tanks. They improve a lot after the new management took over.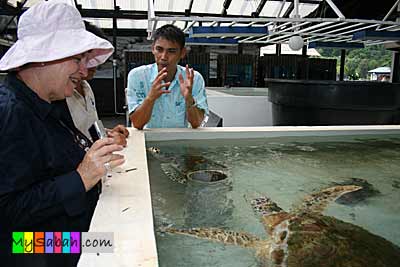 There is a tank with two turtles. They were excited to see people and came to us. I am not sure if they want to play with me or bite me. Below is a photo of hawsbill turtle at the front and green turtle behind, both are endangered species. This hawksbill turtle was sick and was rescued from the hands of children who played with it on the beach. It is doing well and looks healthy after treatment by UMS (University Malaysia Sabah).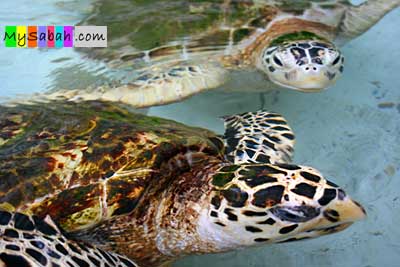 Below is a photo of green turtle that "smiled" at my camera. Many of them are killed by swallowing plastic bags that look like tasty jelly fish to them. And also a lot of them are trapped and died inside the net of fishing boats every day.
The government sector needs to work harder. Fish bombing still happens even in marine park as close as Sapi. Many scuba divers will tell you that they hear it and there are less and less fish species in Tunku Abdul Rahman Park. I also hear a lot of stories about the corrupted marine police (at east coast) who disregard fish bombing and more interested in constantly harassing the fishermen by taking away their caught. Turtle eggs are still readily available at the market if you know how to signal that you want to buy.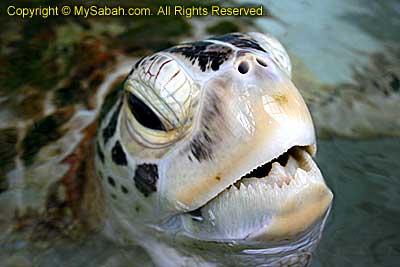 Sorry that I don't have a lot of photos to show coz I stayed there only for a short while. BTW, Gayana Resort has RM68++ dim sum buffet promotion (include transfer to/from Gaya Island and free visit to MERC) during Chinese New Year (Jan 26,27 and 31 if I am not mistaken). FYI only, I don't work for them. I let you know coz I think it is better than buying the RM100 BBQ lunch package of other island trip (I read the reviews that their food taste like sh*t for that price).
Photos taken in Gaya Island, Sabah, Malaysia Borneo