Sorry for not updating the blog for nearly 2 weeks. And thanks for all the comments you post. I will try to post the reply ASAP. There are hundreds of new photos that I would like to upload. Be patient ye. My line is not totally fixed yet.
Here you go, the photos of Best Model Competition Semi-Final (a.k.a. Female Model Search) at Waterfront's BED on April 17 (last Monday night). Before that, there was a photography session with all the male and female models on April 16 at Tanjung Aru Beach. That day I was still in Semporna so I could not make it. Too bad…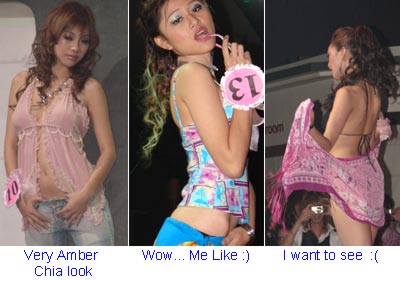 Click Here to see the photo gallery of Best Model Competition >>
BED was really crowded that night. I could hardly move in the crowd. All the seats were reserved and I was pushed to stand at the side of the stage lah. This was one of my worst photoshooting experience. Many photos turned up blur or dark. Really hate the Sony Cybershot, very very very slow in focusing and flash recharge. Well, don't have $ to invest in better camera, what to do?
There were 3 sessions in the competition for 22 female models, namely, casual wear, beachwear, and gown. The models were supposed to do catwalk. However, a few of them were like scared birds and walked very fast (so shy, then why want to become a model???). So… I missed some shots. At the end, 10 models would be selected as the finalists for another competition again on other day.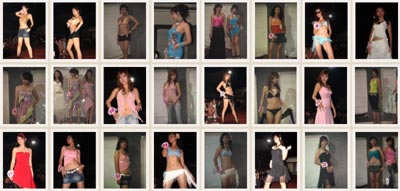 Click Here to see the photo gallery of Best Model Competition >>
Overall, all the models are quite good looking and have good figures. If you ask me whom I like the most, I would say No. 10. She got the look, figure and style. And also… See the last photo in the photo gallery, then you will understand loh. Haha…