My last destination was the regatta lepa (Bajau's colorful boat) + water festival in Semporna from April 14 to 16. I was really pissed off. It was supposed to be a comfortable and exciting trip.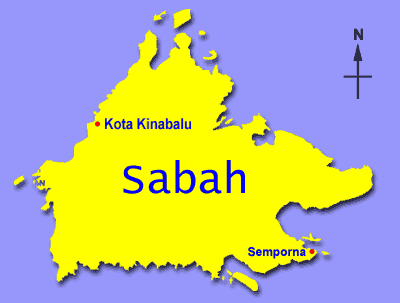 I had booked a room in Semporna one month before the event, but when I got there, the hotel told me, "No, there was no room reserved for you. And our room was all full."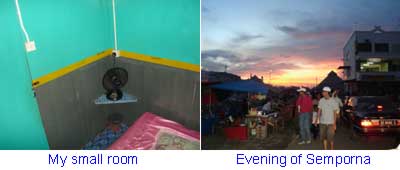 I was very very very angry. I had left my phone number to them earlier. If they need deposit, why they never called me?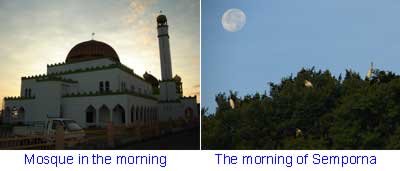 I knew I was in deep shit already. The Semporna Water Festival was the peak season, the accommodation might be fully booked. I really wanted to go so I decided to take the risk. The worst scenario was to ask a local if I could stay in his house. After nearly 9 hours of traveling by bus from Kota Kinabalu to Semporna, I arrived Semporna around 5 PM. Of course the first thing I did was to get a room for overnight. I went to over 10 hotels, inn, resorts… and got the same answer, "All room was full until April 16." The sky was getting dark. At last I came to a lodging house. The owner also said the same thing, full. Then I said, "Really? I could take storeroom. Got or not?" (You see. So hopeless already. I even won't mind to take haunted room) He looked at me and replied, "I still got a room but it was very small. You wanted to take it?" Well, guess I had no choice then. It was really small (and smelly), enough to fit in one bed and a small fan only. All for RM20 but for one night only. The following night I slept on the chair in that lodging house (RM0. FREE!). Basically, the whole night I hugged my camera like teddy bear, worrying that they got stolen. Practically only half of my brain slept, other half was in alert state. Terrible…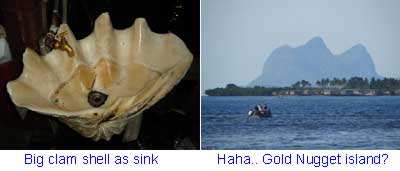 Well, I only can tell you that all my photos is full of blood and sweat. For the Lepa Festival alone, I was exposed under the sunlight for 2 days. I am very patient. I could stay at a site for whole day to make sure I won't miss anything. Very stressful to my body coz I didn't sleep well. If possible, I will blog and upload the photos of Lepa Lepa (Bajau's colorful boat) tomorrow.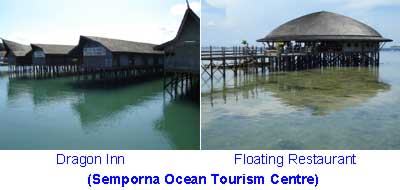 Semporna is a town near to the sea. Just like other small towns, the locals are actually quite friendly. I think the main tourist attraction is the Semporna Ocean Tourism Centre. They got "floating" restuarant, inn, etc. The concept is quite similar to Gayana Resort. The whole structure is built on the sea, so you can see corals, seaweed and ocean life from the walkway. On Sunday, there are hundreds of locals gathering and hanging around there. Semporna is famous for 3 things, (1) Lepa Lepa Festival, (2) Seafood, and (3) Diving at Sipadan Mabul Islands. I will talk about lepa lepa tomorrow. Hmmm… I wonder if there is any poker room around for me to pass my time.