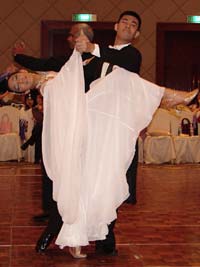 According to the calendar of tourism side, this competition was on Dec 10. Luckily I called the organiser earlier to order ticket, so I found out the event was on Dec 3 at Magellan Sutera Hotel. The ticket costed RM100. It is worthy, consider it is an international event which has over 100 couples from Asia Pacific region (Japan, Australia, Taiwan, Hong Kong…) participated. The ticket included a dinner and it was a full day event. I was hanging there from 1 PM until 11 PM.
Another reason – got pretty liang moi perform hot dances, so no reason to miss it. Just kidding. Actually I joined ballroom dancing many years ago, so I have the interest. Last time I didn't have a permanent dance partner so I quit. It is tough if you keep on changing partner coz both sides need to re-learn how to interact with each other in order to dance well.
Ballroom Dancing is a very vigorous exercise. It is very very tiring. And the dancers have to maintain a smiling face during the contest. Not easy man. It is a serious sport. If I shake and twist like them, it would hurt me so bad that I have to crawl for week.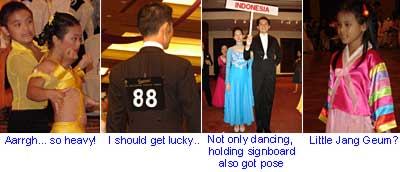 During the event, I took so many pictures that their committee suspected I was doing video recording, which is not permitted. I hope it is ok if I post 180+ of their photos online. 😛 You could see classic ballroom dances (Waltz, Tango, Quickstep, Foxtrot) as well as sexy + hot Latin dances (Cha Cha Cha, Rumba, Samba, Jive). You also see kids, juvenile, adult and seniors on the dance floor. I like to watch Rumba. It is a very romantic and expressive dance, but not too naughty. This year they also got hip-hop dance competition, a good news to our local hip hop dancers.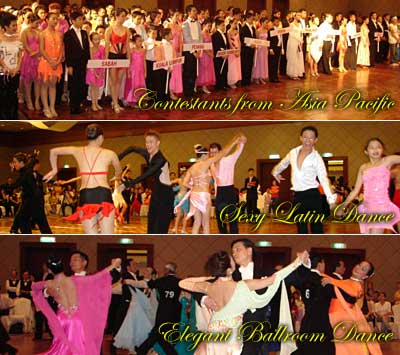 Phew… it has been a long time I didn't post that many photos. And taking their photos was so tough coz their move is fast and hard to predict. In fact, I used up more than 10 batteries coz I was there for 10 hours. The Sony Cybershot DSC-H1 is hungry for power. If the battery is slightly weak, it will refuse to take it. But these "weak" batteries got a 3/4 full bar in my old DSC-S40 camera. Sigh… it ended up more than 70% of the photos were taken by this old cam, which has weak flash and no stabilizer…
Ok lah, Click Here to see all the photos >>.
Photos taken in Kota Kinabalu, Sabah, Malaysia Borneo