The Female Model Search comes back again this year. To check out the quality of the girls, I went to their 1st Heat (May 7) and 2nd Heat (May 21) in BED Waterfront. They only showed 10 models in each heat, so I had to go to both 1st and 2nd heat to see all 20 models. Some girls will amaze you, some will impress you, and some will even make you laug… hmm… smile. There were 3 rounds: (1) Casual wear, (2) Beach wear / Sport wear, and (3) Jean wear. In 3rd round, they needed to pose with a chair on the stage.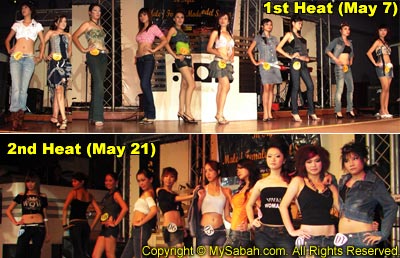 Click Here to see more photos of Female Model Search >>
Looking at all the comments posted at my previous blog – Female Model Search Semi-Final 2006, it seems like many people have a wrong idea why these beauties go on stage. This is not really a beauty pageant. The girls don't go there to show off their pretty faces and sexy figures. Good look is important, but this contest is more about style, fashion, modeling and even creativity. Most of the contestants are part-time or full-time models. Participating in such contest is a natural and sensible choice, as they need better profile and exposure to advance their modeling career. Unlike overseas models who can charge $ by minute, modeling job is not a gold rice bowl in Sabah, so they have to grab any opportunity.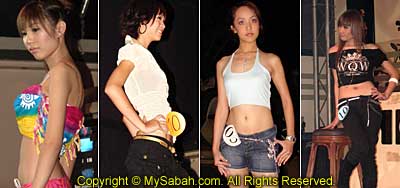 Click Here to see more photos of Female Model Search >>
Shannel, Miss Oriental Malaysia 2006, was also there as a guest in 1st Heat of Female Model Search. She took part in this competition last year. In an interview with Yobe magazine, she mentioned that other Miss Oriental Malaysia contestants sneezed at her, saying something like "What the heck, Sabah is so shang-ba (kampung), where got beauty one?" I am glad that finally she won the queen title and made us proud.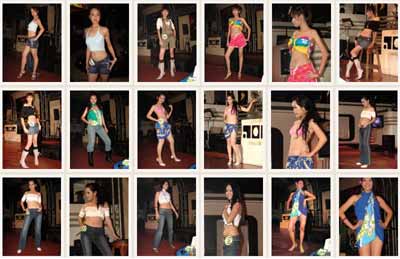 Click Here to see more photos of Female Model Search >>
Compared to last year, this year I think I took better photos. However, the inherited slow flash re-charge (5-6 second waiting before next shoot) of non-professional camera remains a hardware barrier that can't be overcome by skill. When SLR photographers can shoot 5 or more pictures in 10 seconds, I can shoot only 2. Anyway, still enough photos to show you what was going on.
Related post:
Female Model Search Semi-Final 2006
Photos taken in Kota Kinabalu, Sabah, Malaysia Borneo