1Borneo soft opening on 8 Jun 2008? Oh dear, I am blogging old stuffs again. Since so many have blogged about it, at first I wanted to skip this one, well… it is a waste to leave all the photos buried forever in my hard disk. OK… whole Sabah knows that 1Borneo has opened. Known as the largest hypermall in East Malaysia, though its size is nothing if compared to other shopping malls in our neighbouring countries such as Thailand, Indonesia and Philippines. Personally I am a bit disappointed for not seeing any BIG bookstore (e.g. MPH, Kinokuniya, Borders) in the mall. Hope they will open one soon.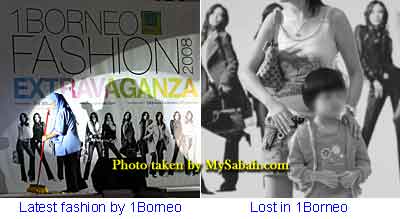 Click Here to see more photos of 1Borneo Soft Opening >>
Overall, the opening was a success as it attracted a lot of people (someone even left her daughter behind). I didn't have money to shop, so I went there only for the fashion show and Hong Kong celebrities. In fact, I had lost my heart on blogging events coz now Ahmad, Ali, Ah Kao… are doing the same thing. The reason I started MySabah.com is to show special and unique photos about Sabah. 2 Years ago, not many doing that. Nowadays, whenever I went to an event, I would see fleet of bloggers and photographers shooting the same pictures, from the same angle. Hmmm… as it is no longer unique, I better do something else… But I will still do it if I am free.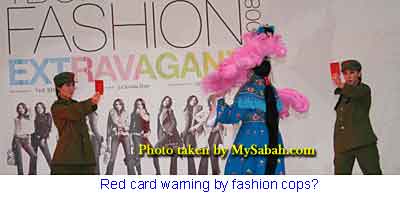 Click Here to see more photos of 1Borneo Soft Opening >>
Fashion show is used to be one of my favourite photography subject. However, I can never be a good fashion photography coz my len always focuses on the pretty faces and sexy figures, not the merchandises, haha… In its pure concept, fashion is a good thing coz people always pursue perfection in appearance and lifestyle. However, today it turns into something heavily commercialised and carry an equal sign with luxury. I can't see the logic of buying a thousands dollar handbag, made of death animal skin, and proudly think that we have something very "trendy" to store a few items. Ya, men will never understand how come such "low-tech" products can be more expensive than their high-end gadgets such as computer, iPod, DSLR, which are far more advanced and can do a lot more. In Asia, a person doesn't need to be creative, just follow what thousands others wearing, then it is FASHION, no matter if it can look really ugly on him/her, but if only 1 person wearing it, it will be a joke.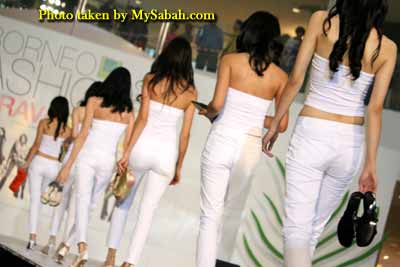 Click Here to see more photos of 1Borneo Soft Opening >>
Many thousand years ago, the king in China also lived like a normal citizen. They used wooden chopstick and rice bowl, ate what their people ate daily. One day… the king said, "Hey, I want a pair of ivory chopstick." When he got his ivory chopstick, then he thought, "Isn't it funny to use ivory chopstick with a lousy wooden bowl?" So he got a gold bowl, later he bought more and more expensive items to match his luxury meal tools. He then started to tax citizens heavily and got forced labour to build him a huge palace. At last the people overthrew this kingdom bcoz the king had became so greedy, corrupted and wasteful.
So it is the same story to guys. Don't think that it is over, when you finally spend one month worth of salary to buy a branded expensive handbag to your beloved wife. Very soon she would be unhappy about the dress, the shoes, the make-up… that she bought from pasar malam. Greed is a black hole… Many have ended up becoming credit card slaves.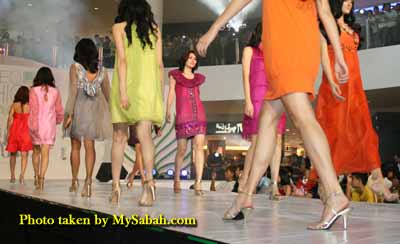 Click Here to see more photos of 1Borneo Soft Opening >>
No company is stupid enough to invent a light bulb that is so durable and can be used for life, coz the customers will only buy from them ONCE. Same to dress and accessories, to encourage consumers waste more money on them, they invented something called fashion to "expire" these items though they are still usable (and NEW!).
Why I talk east talk west today? Probably didn't blog for too long. Hey, there was a model that looked like Amber Chia. See photos below and see if you can differentiate them? May be very easy for you lah, but hard for me, who seldom read fashion magazines. She is the same model I saw in Warisan Square launching? Probably Amber Chia got a sister called Diamond Chia or Golden Chia, I don't know lah..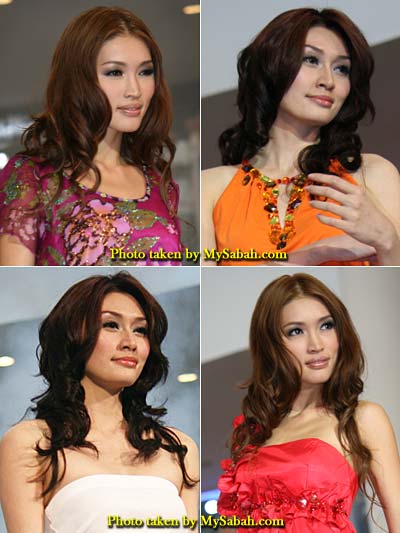 Click Here to see more photos of 1Borneo Soft Opening >>
The mall was so crowded. I went for lunch at 3pm, and it was a long queue in front of every restaurants. After watching Kung Fu Panda, I checked out the next highlight at 7pm — performance by 6 Hong Kong celebrities (i.e. Bobby AuYong, Ella Koon, Akina Hong, Michael Tong, William So and Angela Tong). Judging from the responses from the crowd, Angela Tong and Bobby AuYong got the most fans. At first I worried that the stars would be unhappy about our "cold" response (you know lah, the hungry Sabahan audiences who always want to eat and no strength to clap hand one). I worried too much then. Not only that, the audiences at the back also quarrel among themselves when the audiences in the seating zone stood, blocking the views of people behind. Never know that Ella Koon is also a Hakka moi. When she spoke Hakka to us, I thought she had practiced it beforehand. There were thousands of people there. And I was standing in the no-seat zone, about 50 feet away from the stage, very hard to take photos as many people in front blocking me. But still have a few good collection in my gallery.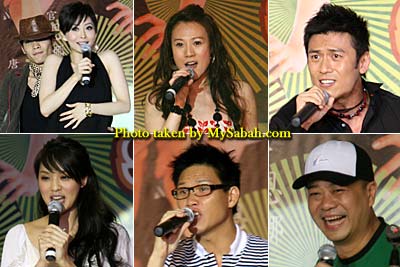 Click Here to see more photos of 1Borneo Soft Opening >>
Photos taken in 1Borneo, Sabah, Malaysia Borneo