Tanjung Aru Beach has one of the most beautiful sunset views in the world, and it is also the most photographed beach of Sabah. Situated between Shangri-La's Tanjung Aru Resort & Spa and Kota Kinabalu International Airport (KKIA), this 2.3-Kilometre-long beach is divided into first, second and third beach. First Beach is the favourite spot where locals and tourists hang around for the wonderful sunset view and a walk on the sandy beach.

8 Cool Things about Tanjung Aru Beach
Allow me to share with you 8 special things about Tanjung Aru Beach, even some locals don't know.
1. World-Class Sunset
Before 2014, locals assumed all sunset looks the same in other parts of the world, until a popular blog listed Kota Kinabalu City (KK) as one of the world's best place to watch sunset. Then this quiet beach is frequented by hundred of tourists, mainly from China and Korea every day. Their exciting reactions confirm that our sunset is truly spectacular.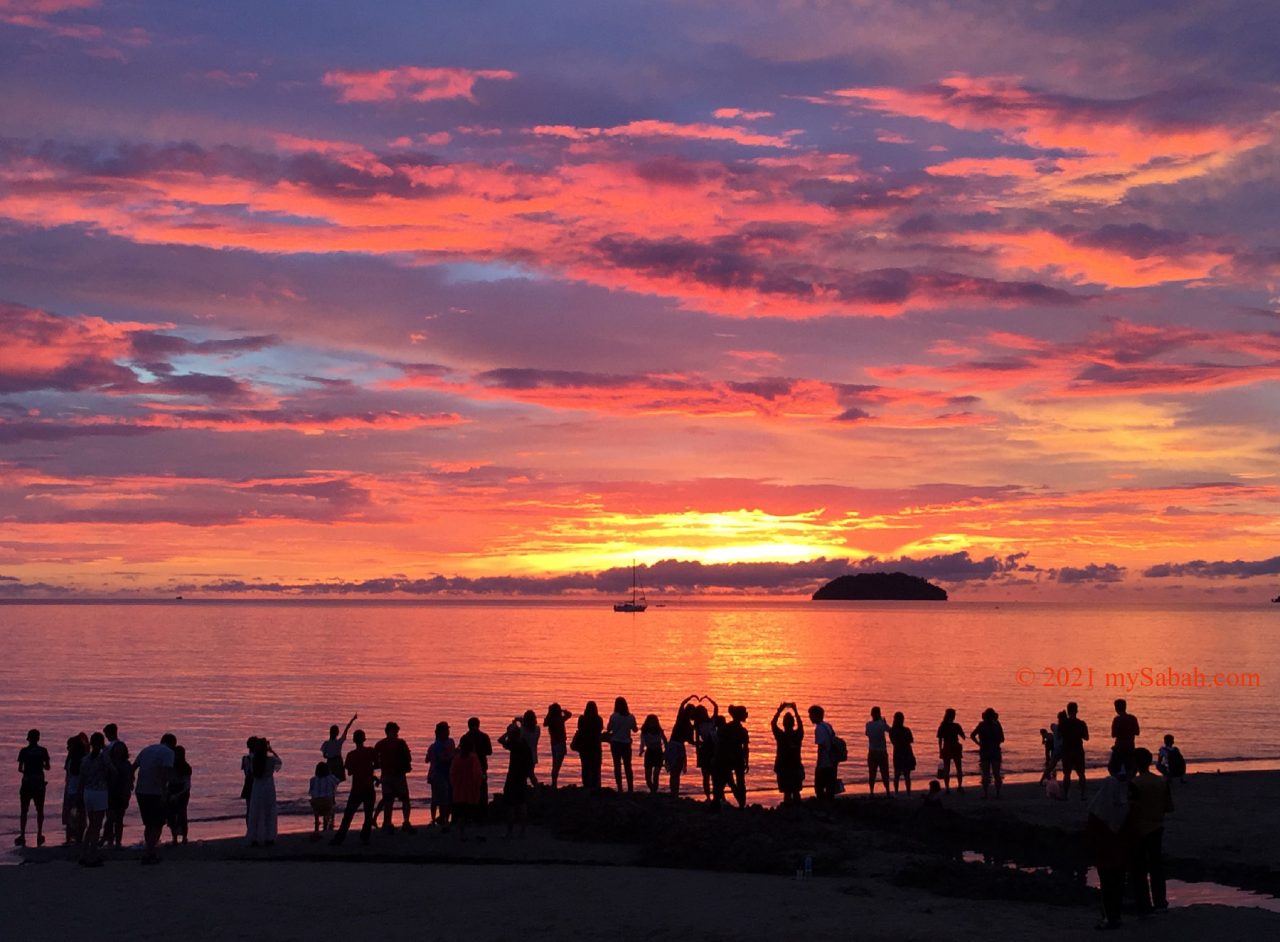 Probably KK is located near equator, which receives the most sunlight, and our air is high in humidity but not polluted. Such conditions create fire or flaming cloud during sunset, which is what Tanjung Aru Beach most famous for. The sky, sea and cloud are illuminated by vibrant shades of red, yellow, pink, purple and orange light.

Tips for Hunting the Best Sunset
First, you really need some luck, because you have less than 20% chance of seeing a fire cloud sunset. It's totally up to the weather. Most of the time you would be disappointed by cloudy or rainy days. Even if the weather is good, sunset with golden or orange hue is more common, but still, they are glorious.

Usually a sunny and cloudless day produces boring sunset. For a colourful sunset, based on my observation, it is more likely to happen after a rain that fills the air with more moisture and clean up the dust in air. This rain must stop before 4pm and its cloud thin out and disperses to 30% to 50% of cloud cover. If there is no dense cloud at the horizon that blocks the sunlight to project to the cloud during sunset, the cloud and humid air will act as the canvas to paint a magnificent flaming sunset.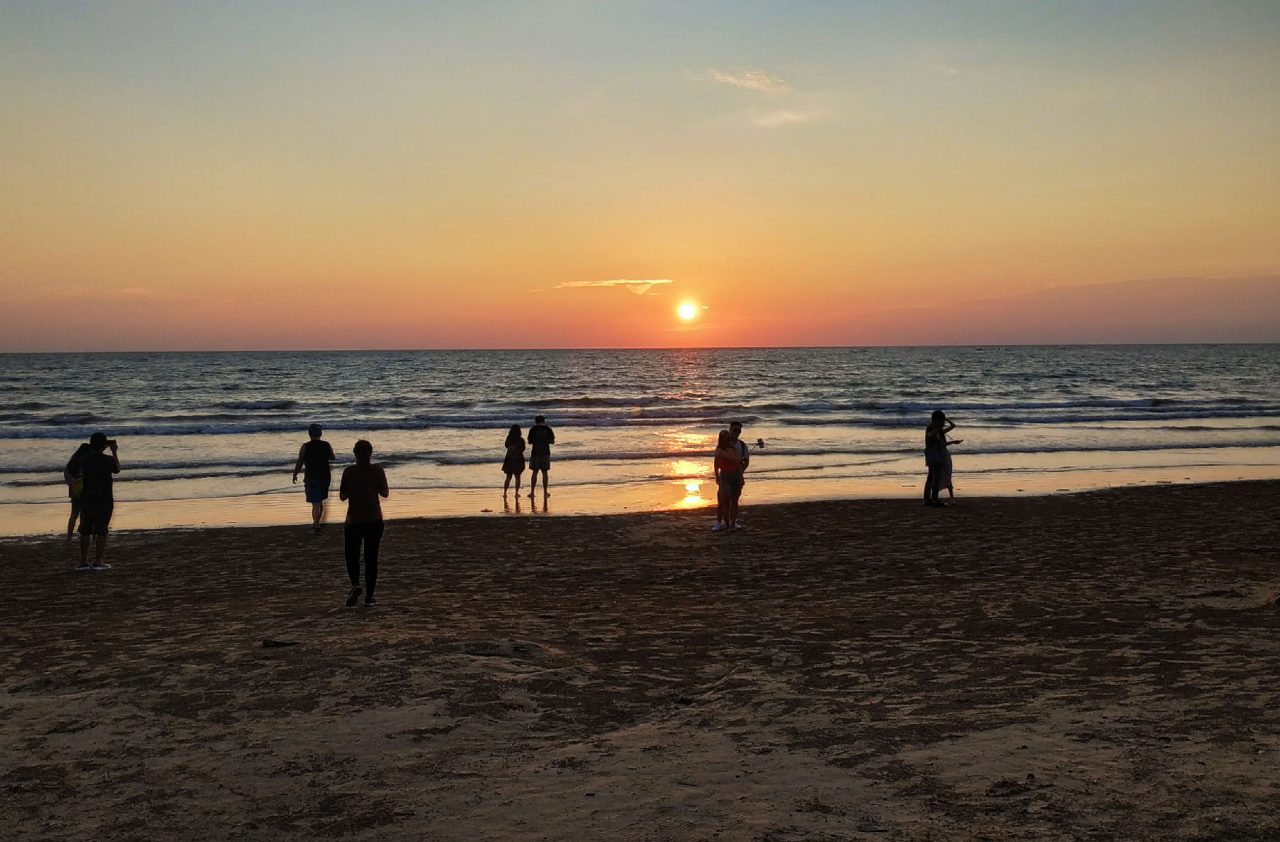 Depend on the day of the year, sunset of KK occurs between 5:56pm to 6:34pm (check sunset time here). This is common sense to locals. But in other countries, for example, sunset of England can start as early as 4pm. Just be there before 5:30pm so you won't miss anything. It takes time to find parking space there during weekends.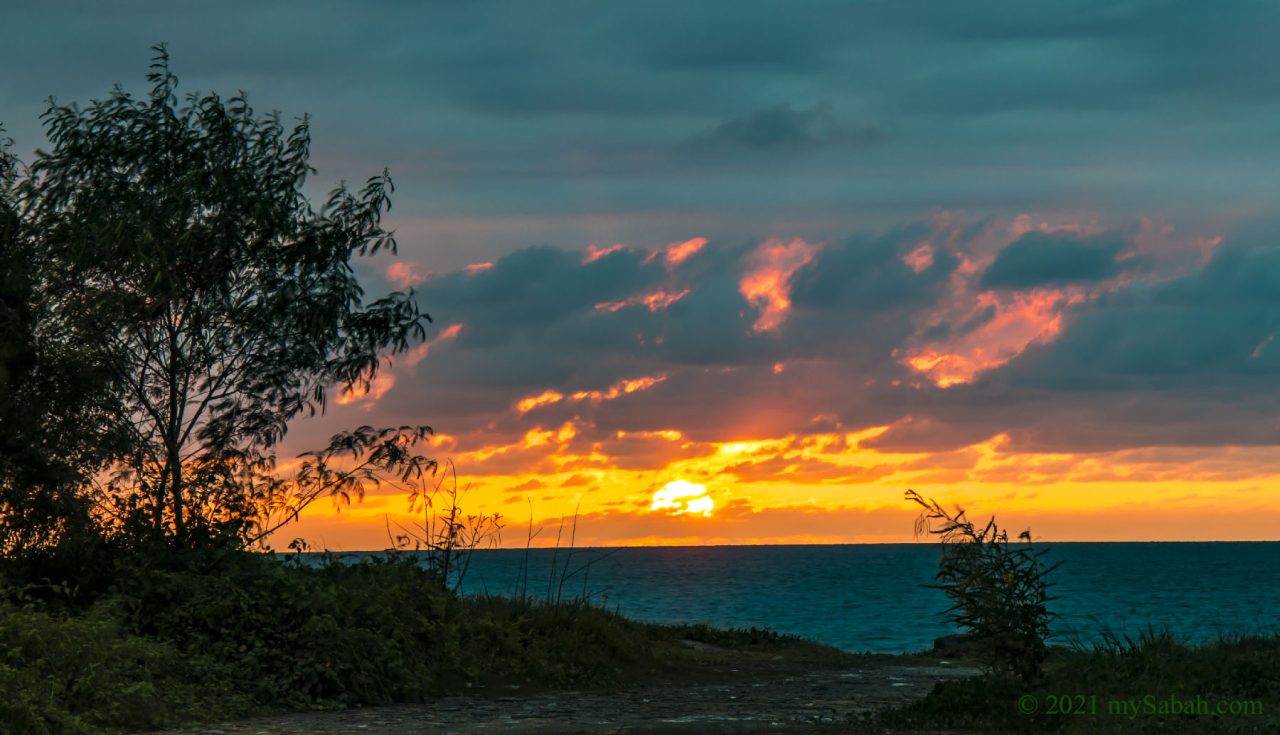 Don't leave right after the sun sinks below the horizon. Within minutes, another magic moment called afterglow will appear, it's a broad arch of reddish or pinkish sunlight in the sky that is scattered by fine particulates suspended in the atmosphere. The colors can be very intense.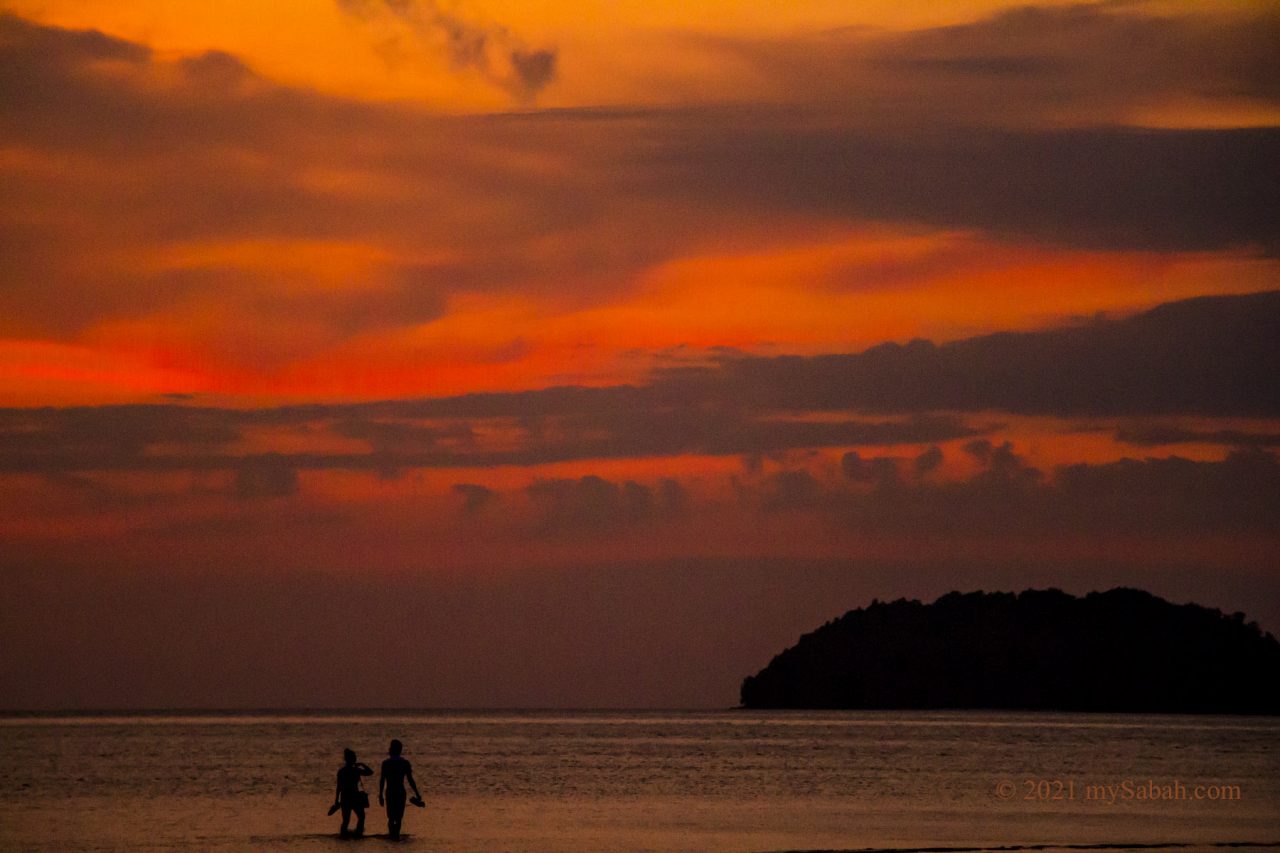 Want to have a drink or cocktail while watching sunset? You can drop by the Sunset Bar at Shangri-La's Tanjung Aru Resort & Spa. You need to go earlier for the best seat.
2. A Valentine's Beach
Ask anyone in KK, both young and old generations, I bet 99% of them had a date at Tanjung Aru Beach before. The sandy beach, pleasing sea breeze, soothing sea waves, rustling pine trees, and the nice view of islands compose a sentimental love song played in your heads. Then a stunning sunset will further fuel the fire in your hearts. Thousands of love stories may have started at this beach.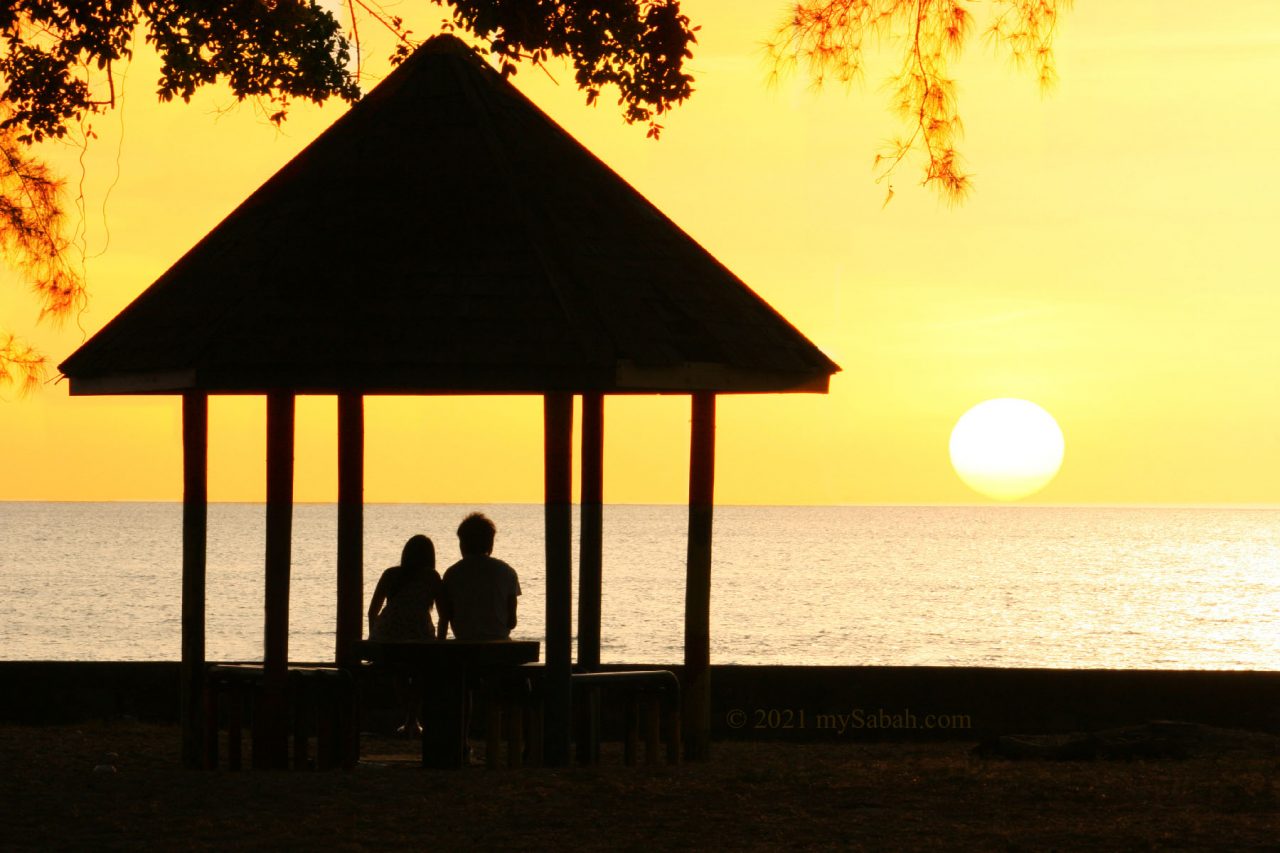 After sharing the romantic moment, the couples could continue their business in the car. Just kidding, but people do see shaking cars at 3rd beach after dark sometimes. Tanjung Aru Beach is also a renowned location for taking wedding photos. The married couples would bring their children to this beach for a family picnic.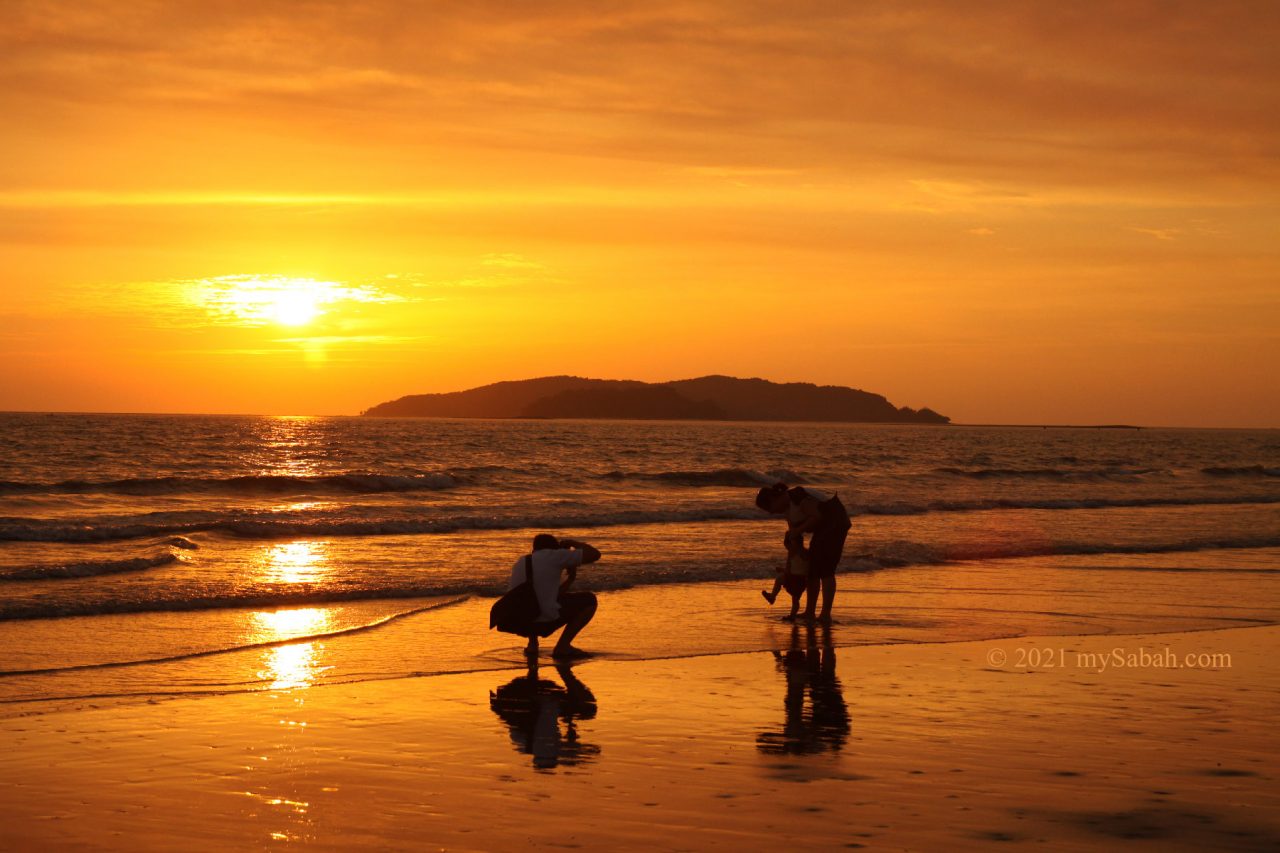 3. Prince Philip Park
Prince Philip, who is also known as the Duke of Edinburgh and the husband of Queen Elizabeth II, visited Jesselton (now KK) in 1959. The Prince Philip Park at Tanjung Aru First Beach is named after him to commemorate his first visit to Borneo.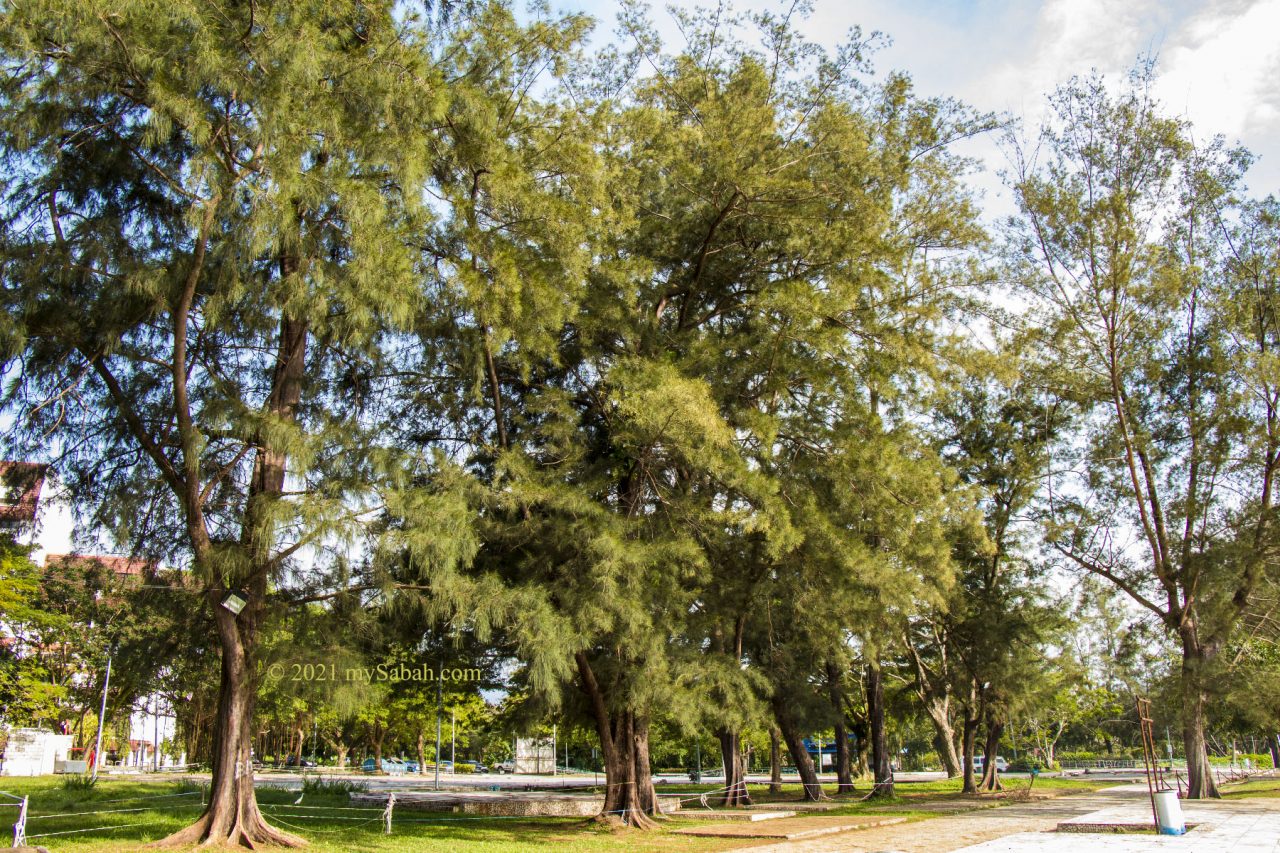 Did you know that Tanjung Aru is named after the casuarina trees (species: Casuarina equisetifolia) there? In Malay language, Tanjung means Cape and Aru means casuarina tree. The seashore of Tanjung Aru Beach is lined with a belt of shady casuarina trees, some are over half a century old. The common names of casuarina tree include beach casuarina, beach oak, beach pine, whistling tree, horsetail tree, and Australian pine.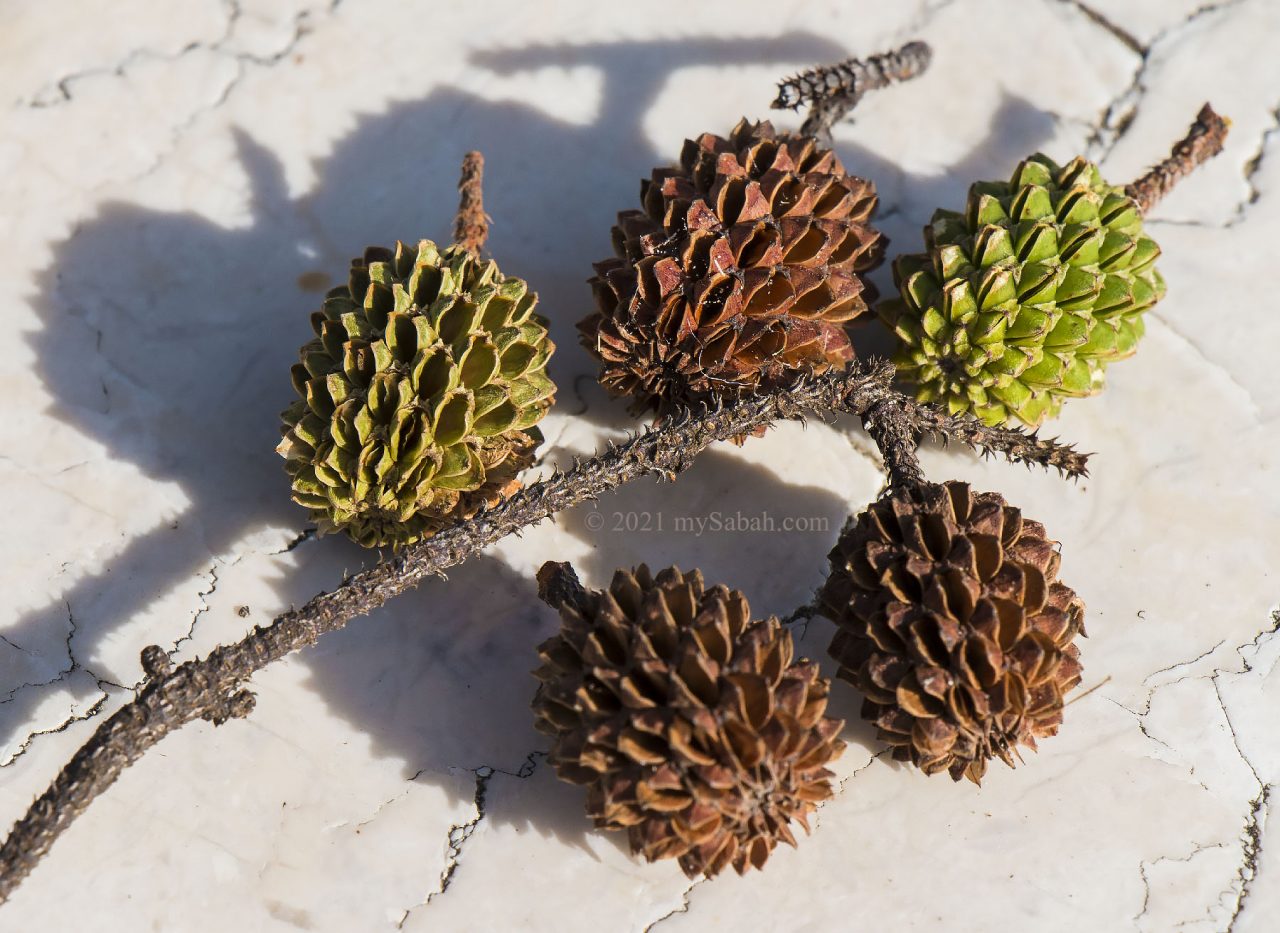 Casuarina tree is the most common tree in Prince Philip Park. It has needle-like twigs and distinctive cones, and is often planted as a wind break and erosion control in the poor sandy soil along coastline. The wood of casuarina tree can be used for roof shingles, fencing, and it is considered the best firewood in the world.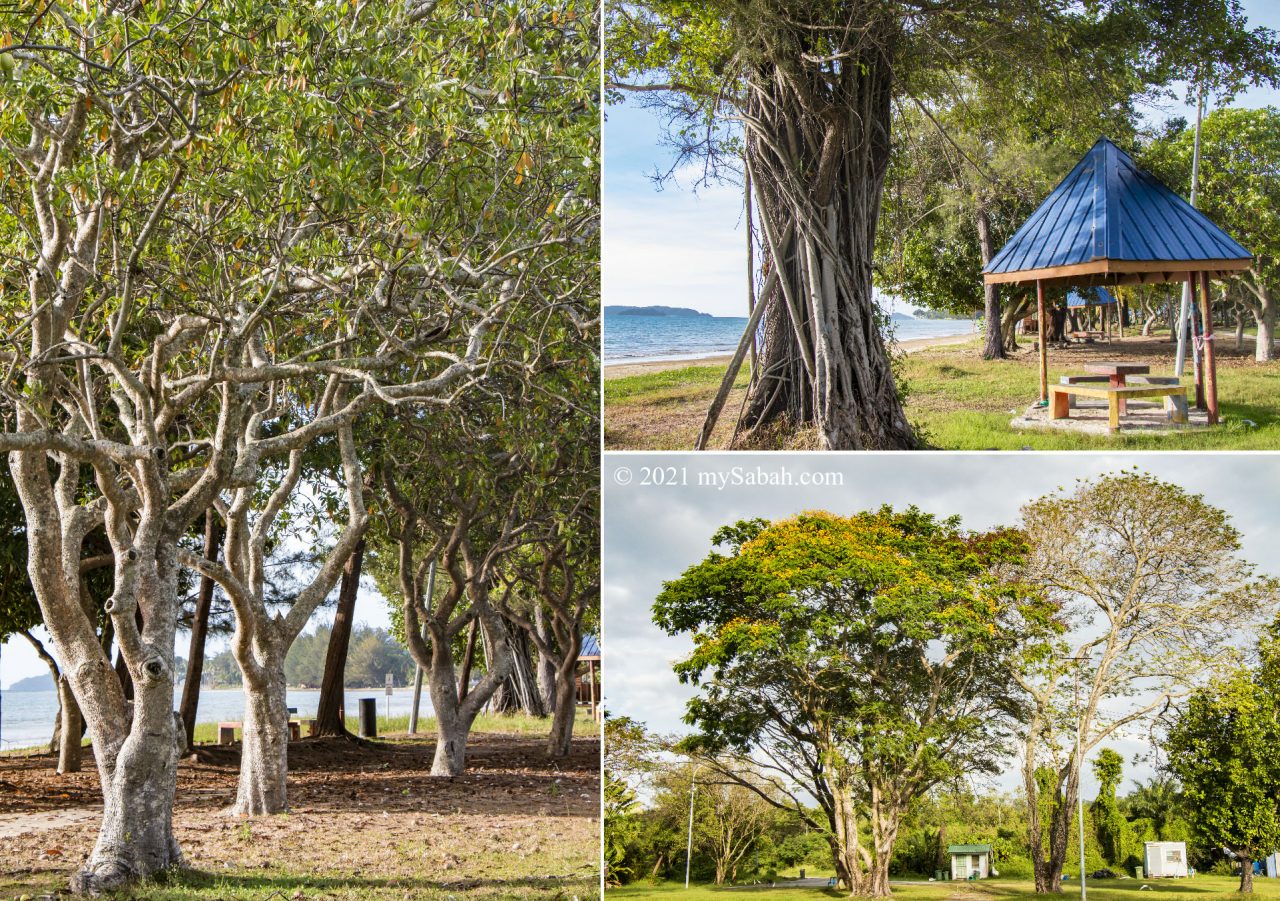 You can find many other types of coastal trees in Prince Philip Park. Though this park is under minimal maintenance, tree huggers will be pleased to spot some special trees, for example, fig trees such as Ficus microcarpa, Ficus caulocarpa and Ficus caulocarpa. A Ficus racemosa tree, or Red River Fig (Local name: Tangkol), same species as the Nunuk Ragang tree, the birth tree of Kadazandusun races in legend, grows in the car park of the Shangri-La's Tanjung Aru Resort & Spa. Fig tree can fruit throughout the year, so it's a stable food source for birds and wildlife. To know more, you may visit borneoficus.info (The magnificent fig trees of Tanjung Aru beach).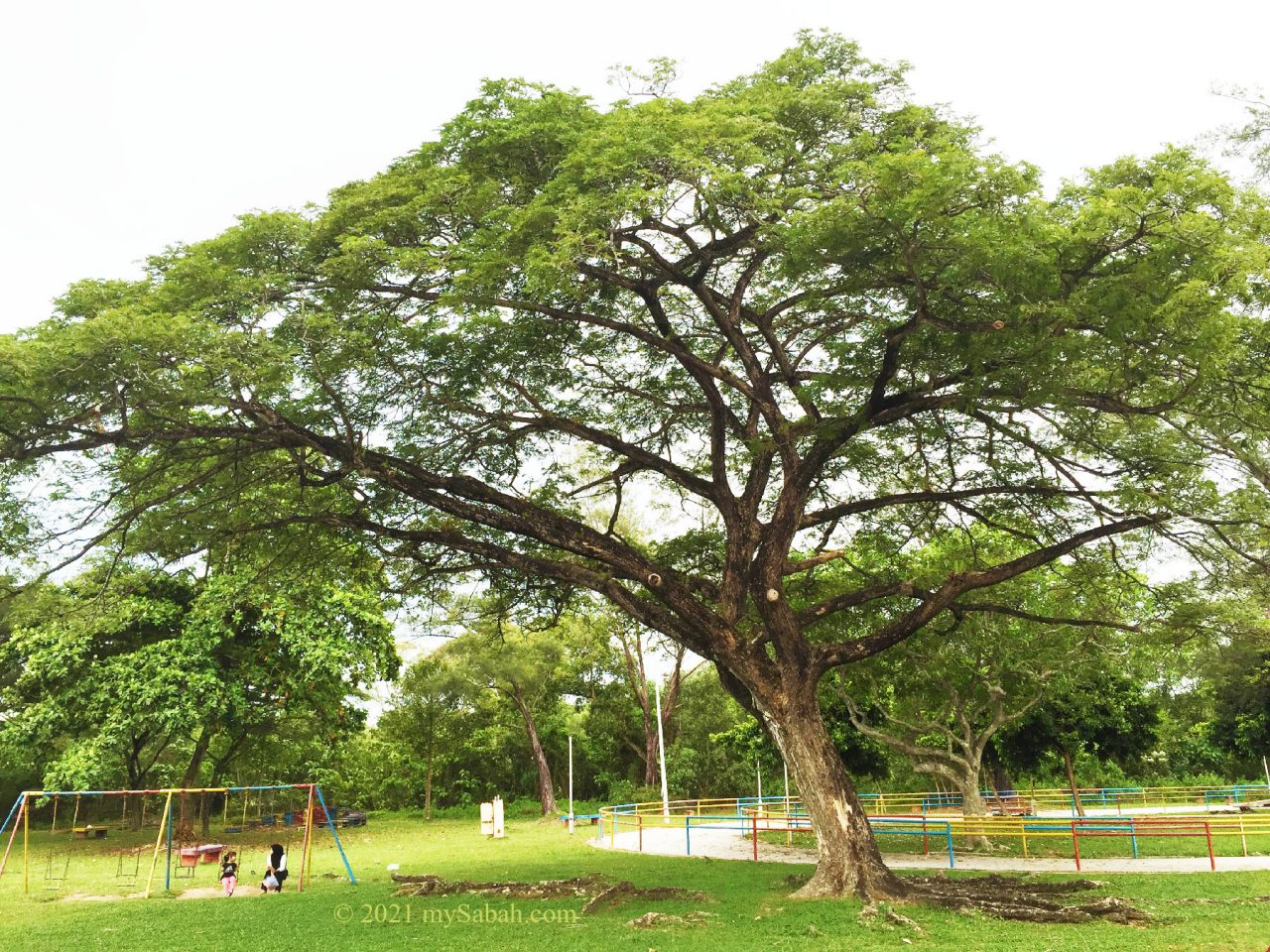 4. Birdwatching Site
You would be surprised to know that Tanjung Aru beach is a great bird watching site for beginners. The lush and dense beach forest there attracts a myriad of birds, especially in flowering and fruiting time. The best time for birding is in early morning.

The most noticeable bird are the noisy Blue-naped parrots (Species: Tanygnathus lucionensis), which make loud and harsh sounds when they see strangers, yes, you. Blue-naped parrots is a pretty green bird that kept by many as pet because of its ability to mimic and repeat common words. They are threatened in the Philippines but find a safe habitat in our beach. About a population of 20 to 30 Blue-naped parrots live in Tanjung Aru Beach, where they can nest in the tree holes of Casuarina trees.

Another special bird is Oriental Pied Hornbill. Actually they live in Gaya Island but attracted by the fruiting Ficus drupacea. Before the Second World War, Pied Hornbills were common at Tanjung Aru Beach. In migratory months (Sep to Jan), rare visitors such as Chinese egret and Honey Buzzard would land in Tanjung Aru Beach.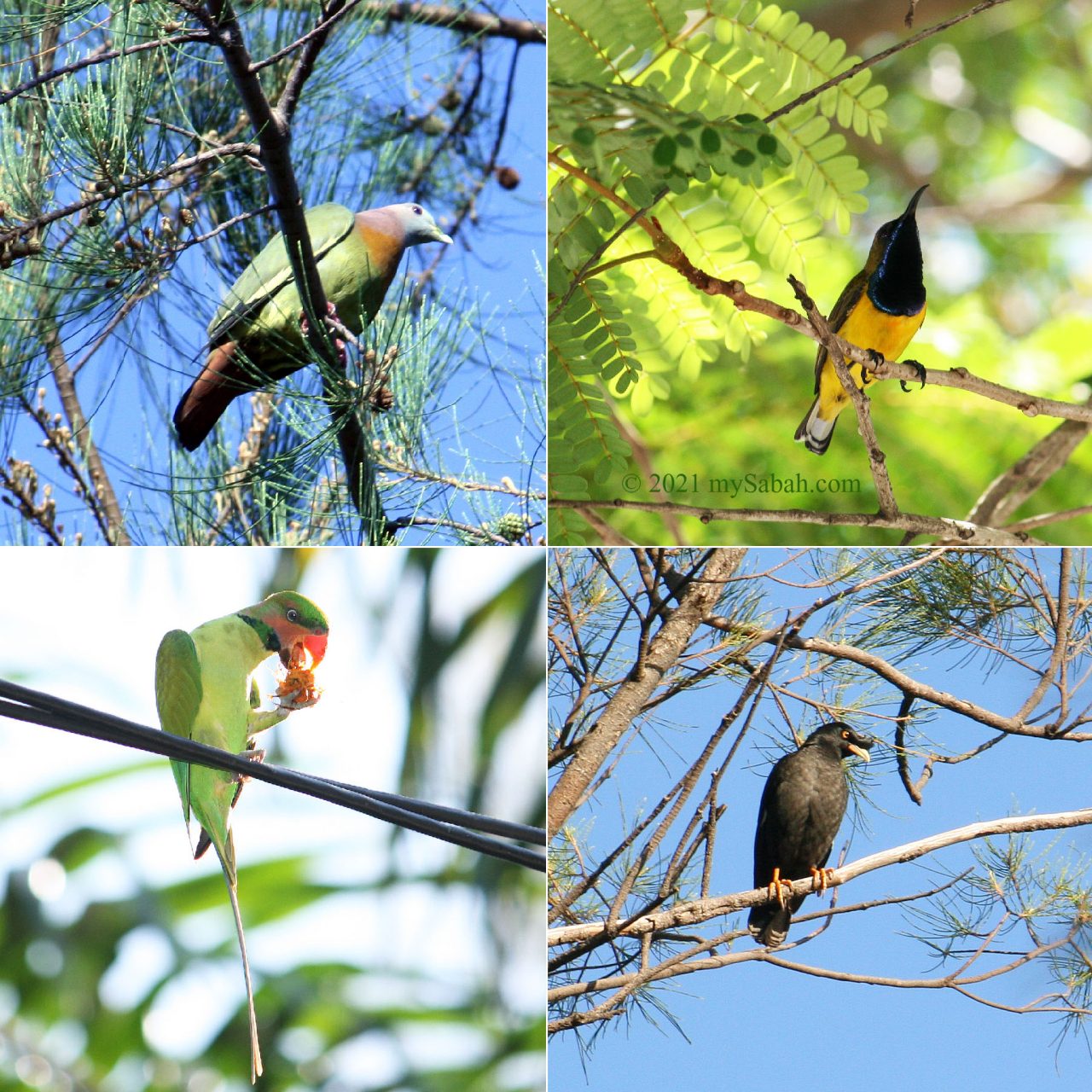 Other birds you could spot in Tanjung Aru Beach are Crested Myna, Dollarbird, Munia, Collared Kingfisher, White-breasted Woodswallow, Java Sparrow, Sunbird, Pink-necked Green Pigeon, Long-tailed Parakeet, Spotted Dove, Yellow-bellied Prinia, Green Imperial Pigeon, etc. Do bring a binocular to the beach for a National Geographic experience.
5. Residents on the Beach
Tanjung Aru Beach is part of wild nature, and parents always have problem to answer their kids what they see on the beach. For those who take a stroll on the beach, it's hard not to notice millions of tiny sand balls on the wet sand, and dozens of critters running into burrows whenever you approach. This is the work of tiny ball-shaped sand bubbler crab (Species: Scopimera globosa), which is only 1 to 1.5cm in size and commonly seen on sandy shores.

The sand bubbler crab feeds on the detritus and plankton in sand grains. They scoop the sand to their mouthparts with pincers, filter the edible particles and discard the sifted sand as pellets balls piled up on both side of its feeding path near the burrow.
Ok, you might not be so interested in sand bubbler crab because they are not food. Time to introduce a delicious seafood buried under the sand of Tanjung Aru Beach. It's locally known as sapak clam (沙白蚬 or 沙白螺 in Chinese), Kunau, or Dalus. Its scientific name is Meretrix meretrix (Common Name: Asiatic hard clam).

This clam has smooth and ceramic-like thick shells, mostly in white or brown colour. It is one of the favourite seafood for locals and tourists because of its tender meat and rich flavors. You can cook it in soup, or fry it with ginger and Chinese wine. Meretrix clam is easy to catch. However, it's a filter feeder, so the one harvested from the polluted shore would contain heavy metals (not recommended for pregnant women), it's also a banned seafood during red tide (toxic algae blooming).

During low tide in Tanjung Aru Beach, you would find marine lives such as octopus, starfish, sand dollar and jellyfish stranded in tide pools, besides anemone and corals.
6. Standup Paddleboarding (SUP)
The islands of Tunku Abdul Rahman Park shield the sea from strong waves so the water is relatively calm at Tanjung Aru Beach. I recommended you to try Standup Paddleboarding (SUP), a fun way to view the sunset. According to a SUP trainer, there is a sand bar out in the sea (near Shangri-La's Tanjung Aru Resort & Spa) where you can reach Tanjung Aru Reef, with many good quality corals growing around. Nemo also lives there.
The 2-hour sunset SUP session starts at 5pm and cost about RM120 (about USD30) per person. You can contact Borneo Paddle Monkeys to book the session. Below is their contact:
Website: www.borneopaddlemonkeys.com
Facebook: BorneoPaddleMonkeys
Location: Kinabalu Yacht Club, Tanjung Aru Beach, Kota Kinabalu
E-mail: borneopaddlemonkeys@gmail.com
Tel / WhatsApp: +60 17-8172001
WeChat and KakaoTalk ID: nickboura
7. Pokémon GO (Mobile AR Game)
Pokémon GO (mobile game) took the world by storm in 2016. From Aug 2016 to 2017, Tanjung Aru Beach was a hot spot to play Pokemon GO because it's the best hunting spot for rare Pokémon such as Pikachu, Lapras and Dratini. During peak time, hundreds of players flooded the beach every day until 2am morning. I was also one of the hardcore players. You have no idea how thrilled I was when I caught my first Lapras and shiny Magikarp there. My fingers were shaking when I threw Poké Balls to catch them.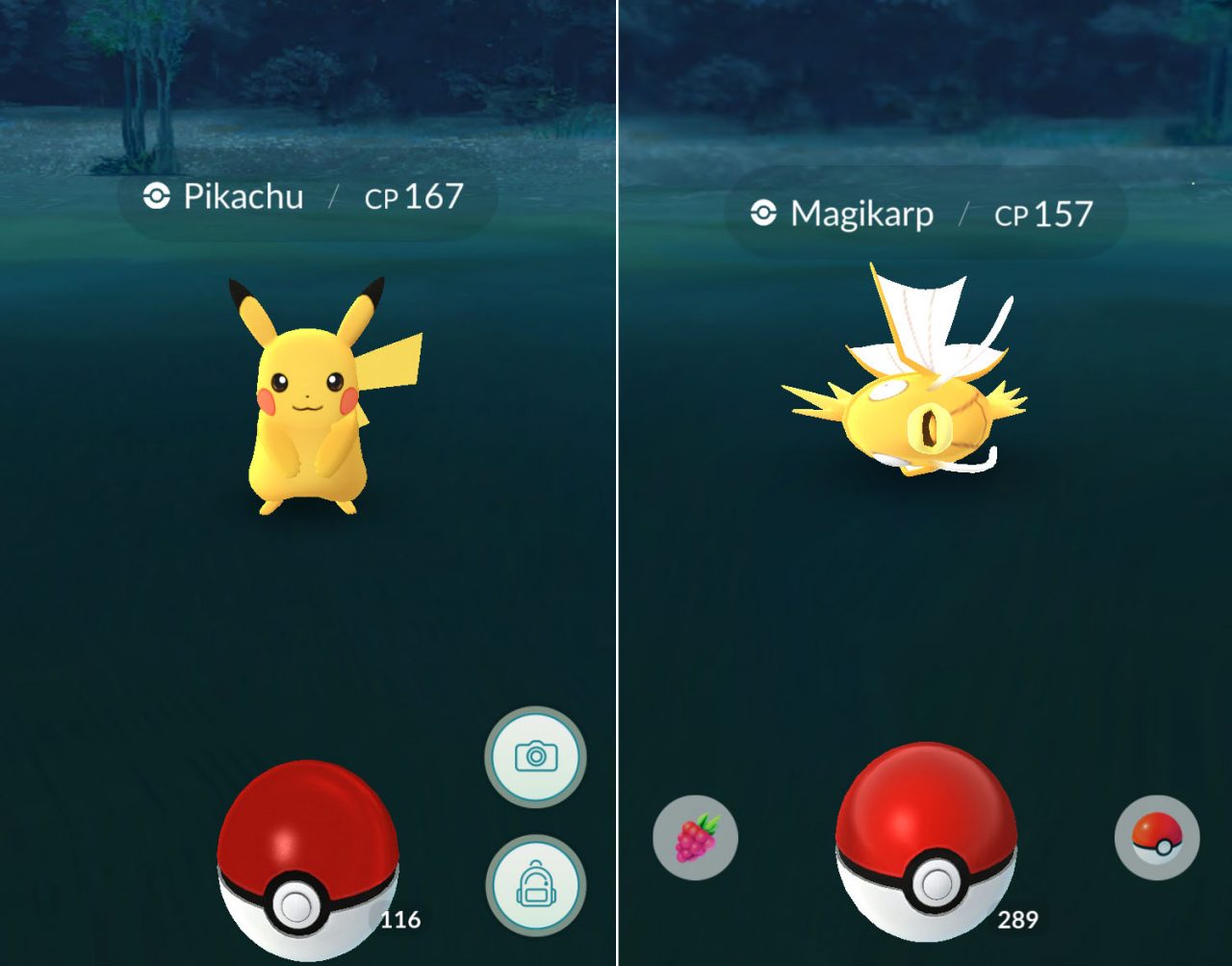 Though the Pokémon fever is fading, I still miss the good old time grinding at Tanjung Aru Beach. Now there are five EX Raid Gym within 500-Metre radius of Tanjung Aru Beach. This turns Tanjung Aru Beach into a war zone for players who want to get an invitation to fight and catch Mewtwo, one of the strongest Pokémon.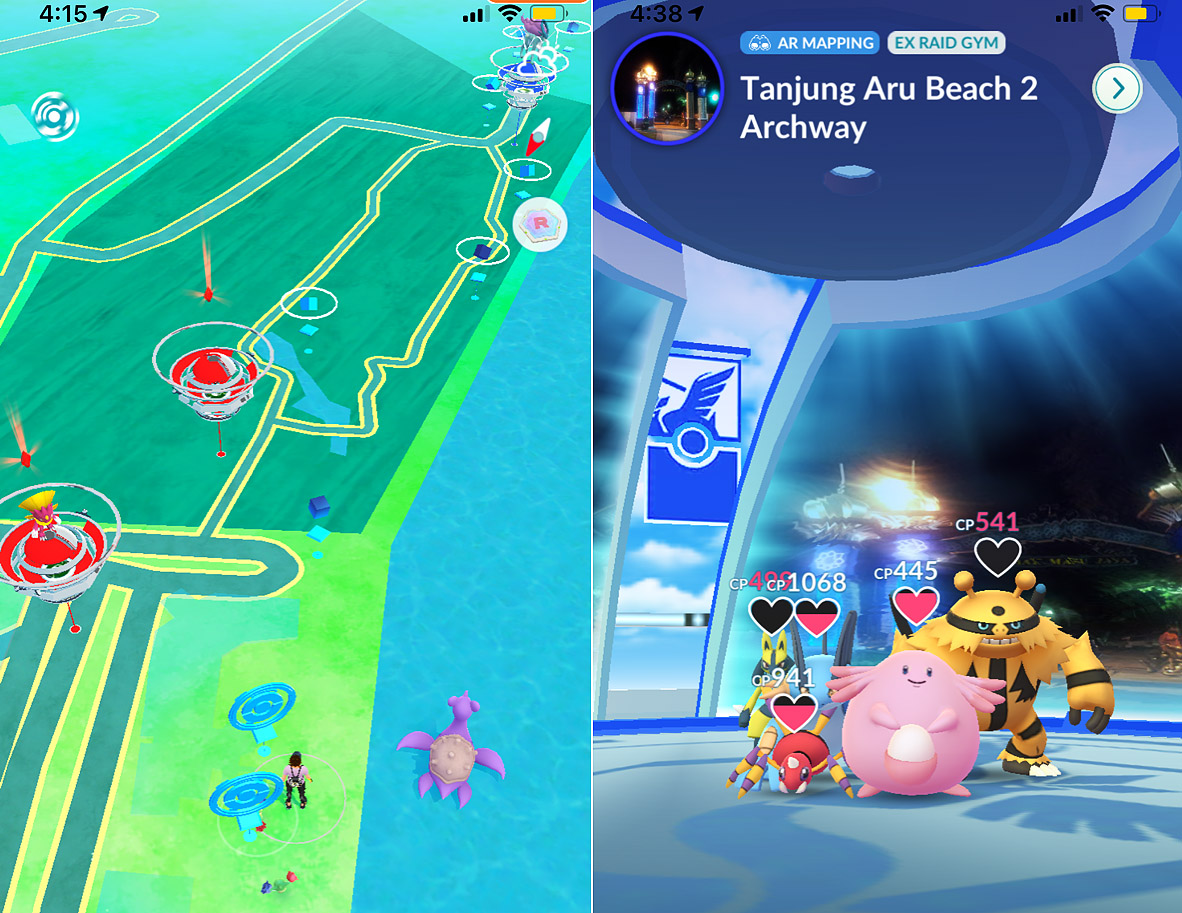 8. Food Stalls
In late afternoon, Tanjung Aru First Beach turns into a bustling places where people shop for local snacks and drink such as coconut juice, lekor crackers, steamed peanut, sweet corn, coconut juice, satay and chicken wing from the makeshift open market, as if they are buying popcorn before the movie, in this case, sunset.
How to get there
Tanjung Aru Beach is only 6 KM away from Kota Kinabalu city and highly accessible. The GPS location of the First Beach is 5.947860267578396, 116.0465472827347 (view Location Map or Street View). You can drive there with the aid of navigation mobile apps such as Waze and Google Map (set Where to as "Tanjung Aru First Beach"). You can hire a Grab driver with your smartphone too.
Tanjung Aru Eco Development (TAED)
Without any amenity, Tanjung Aru Beach looks like an abandoned site now. Sabah government is trying to push the controversial Tanjung Aru Eco Development (TAED), a mega urban tourism project that will reclaim the beach to build a marina, seven hotels, 5,000 commercial and residential rooms, etc. there. The landscape design of TAED won Gold Award at the Singapore Landscape Architecture Awards (SLAA) 2019.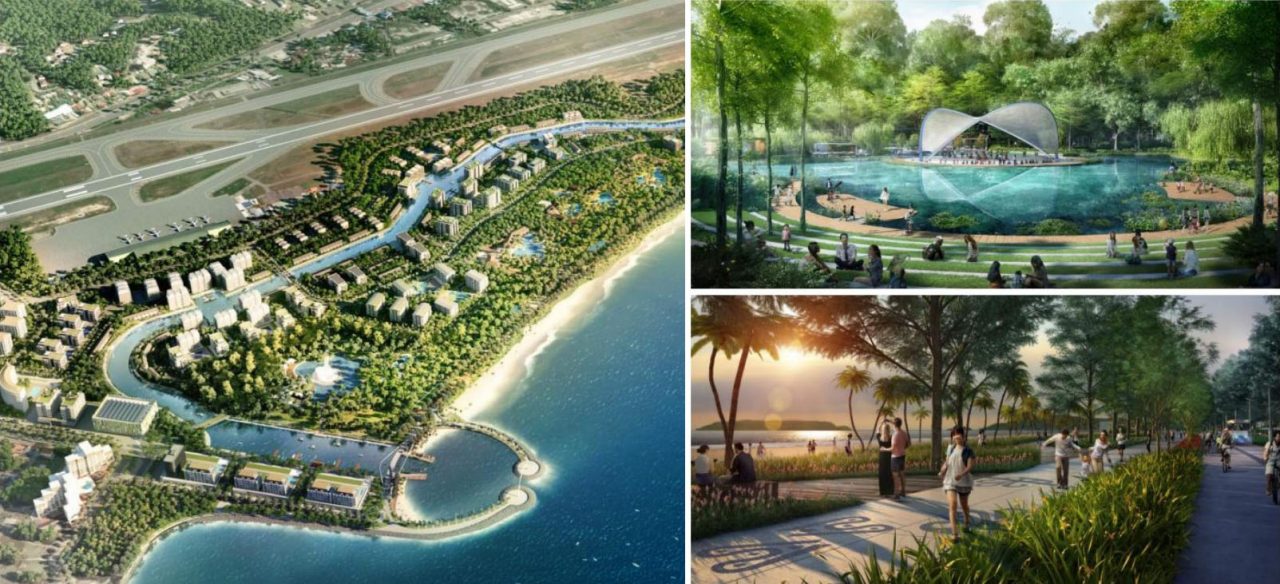 TAED promises that 25.5% of the total land area (348.14 hectares) will be allocated as free public space, where we can access or enjoy, to list a few, double-sized Prince Philip Park with rainforest theme, Prince Philip Wharf, a larger and rejuvenated beach, cycling track, beachfront park, canal boardwalk, and canal basin. Sound like a good deal. I only don't like the proposed 18-hole golf course, which has nothing to do with "eco".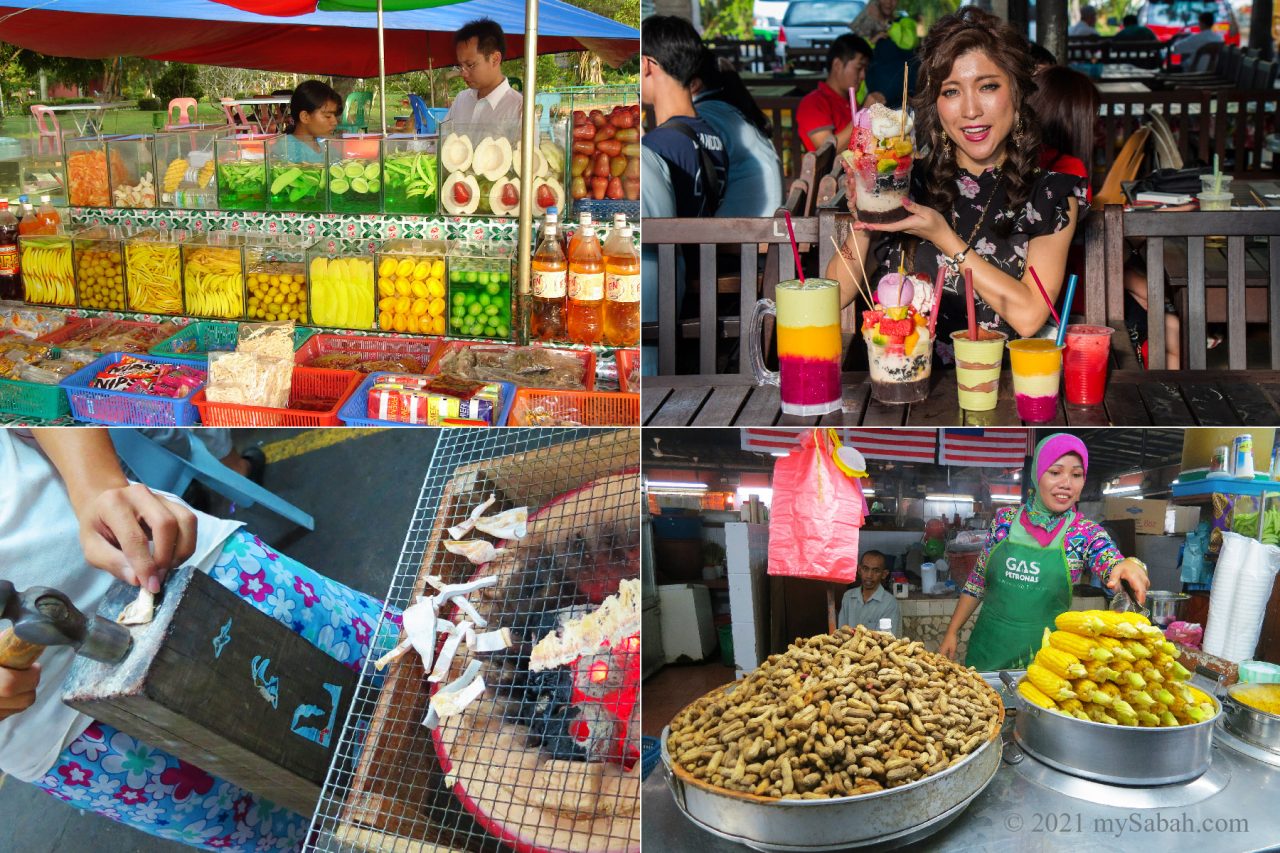 Tanjung Aru Beach belongs to everyone, personally I don't oppose any development that will benefit the locals and environment. Tanjung Aru Beach doesn't deserve to look like an underdeveloped beach of third world, consider it brings in so many international tourist$. Anyway, hope the facelift will make Tanjung Aru Beach the pride and joy of Sabahans.
Photos taken in Tanjung Aru, Kota Kinabalu, Sabah, Malaysia