Art Doesn't Sell, this is what most Malaysians think. That's why Malaysian parents want their children to become an engineer, doctor, accountant or other "money-making" careers. If we say we want to be an artist, our parents will worry that we would starve to death. Even in school, Malaysian students are somewhat being hint that art class is not an important subject. Creating art is the most intellectual ability that differentiate human from other animals. You won't find monkey drawing graffiti on your wall.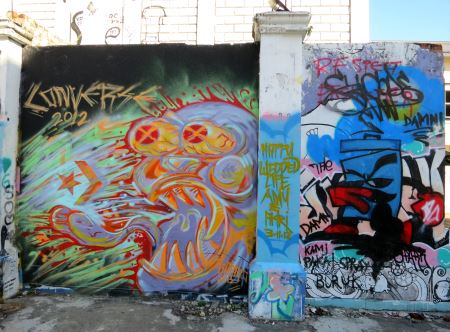 Pic: this is what your parents think you do if you study art. A nice piece of street art anyway.
Art does sell. For example, a digital artwork called Huminodun by Sabah-born artist Yee I-Lann was sold for USD38,000 at Christie's Auctions in Hong Kong in 2008. Sorry, I don't mean artwork should be valued by a price tag , but only monetary figure can get people's attention.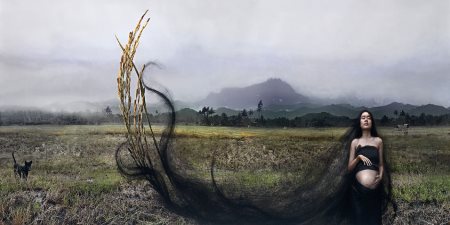 Another extraordinary Sabahan artist is Hong Yi, the artist who paints without a paintbrush. She becomes well-known when the video of her painting Yao Ming portrait with a basketball goes viral.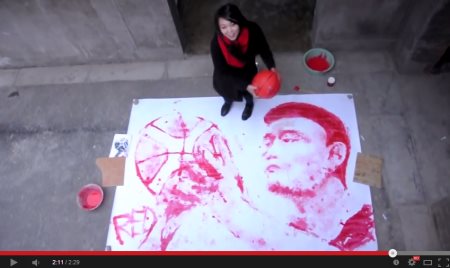 I believe there are many other local artists who make Sabahans proud too (I have to confess that I'm ignorant in this field), but they are lack of exposure and platform for their works. It's a great news that the new building of Sabah Art Gallery was completed in Aug 2012, so more people can appreciate the artwork of these talents.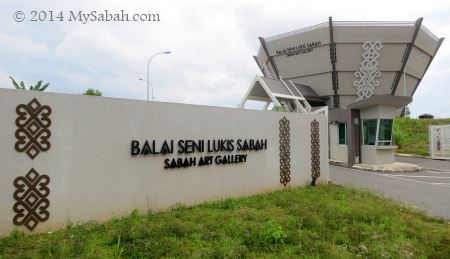 Pic: the entrance to Sabah Art Gallery (Local Name: Balai Seni Lukis Sabah)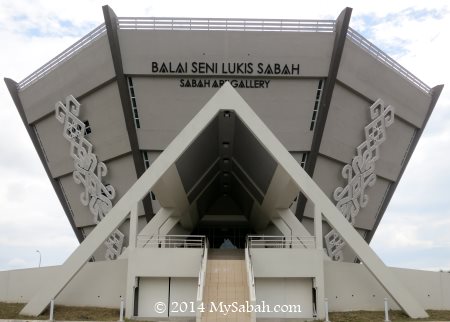 Pic: this 4-storey Sabah Art Gallery takes USD5 millions and 2 years to construct.
I love its unique architecture. You are right if you think it looks like a basket.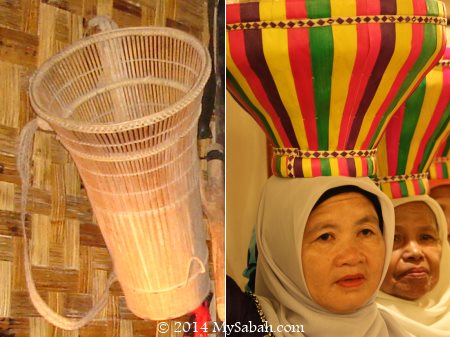 The design of the building is based on the concept of Sabah's traditional basket such as Wakid. The building itself is an art. From Feng Shui aspect, it is good because it'll store the fortune? If you have strong interest in knowing the design concept of this building, you may watch this 5-min video which tells you why it was built this way.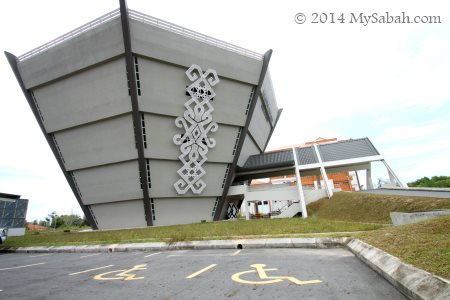 The walls of Sabah Art Gallery tapering outward from the base at an angle of 30 degrees, giving it a distinctive appearance. This "basket" is holding over 3,000 pieces of art works, painting, carving, sculptures and other art collections.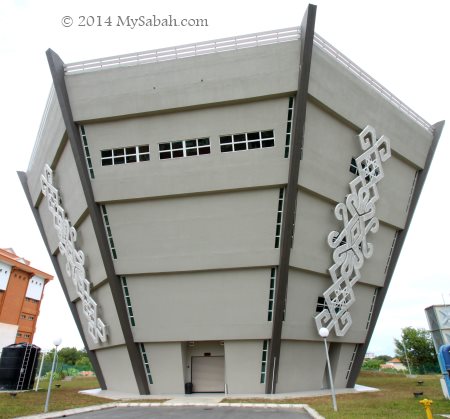 Pic: the back view of Sabah Art Gallery
If you look from the air, the building is octagonal shape. Malaysia government has been pushing Art Tourism, so this building is a welcome attraction.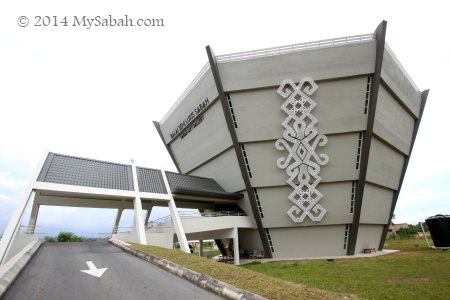 This building is also friendly to handicapped visitors (parking, toilet, ramp access, elevator).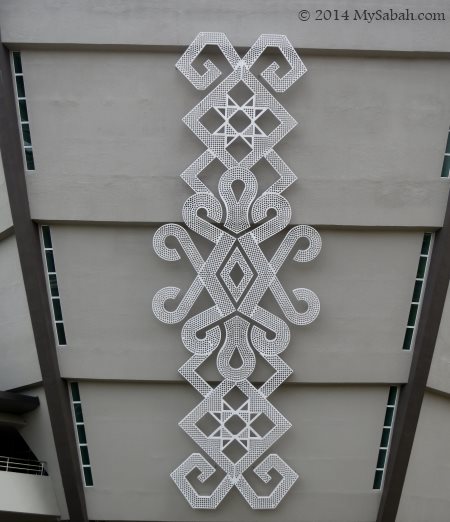 You can find Sabah cultural elements from exterior to interior of Sabah Art Gallery. Like the decorative motif panels on the wall, it's an integration of common patterns used by Dusun, Murut, Bajau, Irranun and Rungus, the indigenous people of Sabah.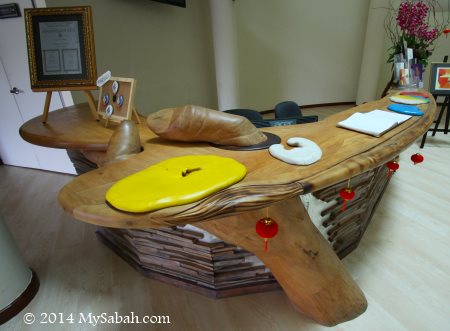 The reception desk is a design by Henry Ginibum, a local artist and sculptor. That day I was the only visitor, guess many don't know this place. Below is the entrance fee:
Malaysian
13 years & above: RM5.00
Student (Student Card): RM3.00
Child (7-12 years old): RM2.00
Non-Malaysian
13 years & above: RM15.00 (≈USD3.40)
7-12 years old: RM10.00 (≈USD2.30)
Free entrance for special needs and senior citizens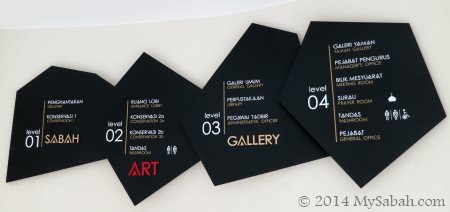 Signage in Malay and English languages, designed by Generator Creative Studio.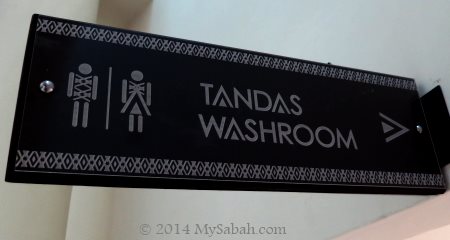 Even toilet sign also looks artistic. Hope my poop looks like a piece of art too (I admire my poop sometimes lol).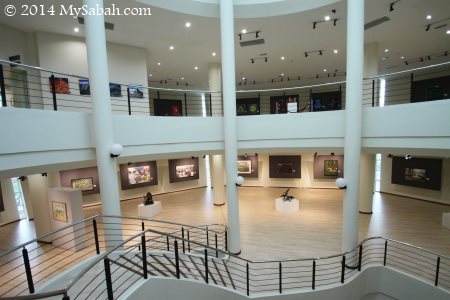 The building has 4 floors, the gallery is on 3rd and 4th floor. 3rd floor is called Public Gallery. 4th floor is known as Yaman Gallery, which is named after late Datuk Yaman, the founder of Sabah Art Gallery. He produced many art works and design (many are displayed at Yaman Gallery), including the Sabah State Crest and logo of KK City Hall (DBKK).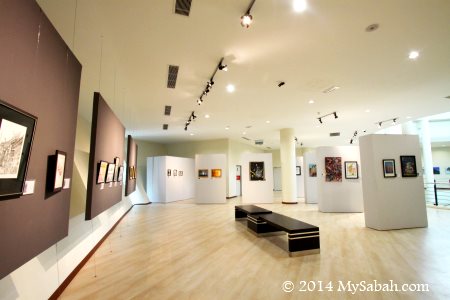 To save electricity, they use movement sensor light. The light will turn on when you approach the painting, but it will only last 5 or 6 seconds. It is quite strange that I have to move my body constantly to keep the light on, while checking out the painting. Hope they will make the light stays at least 1 minute.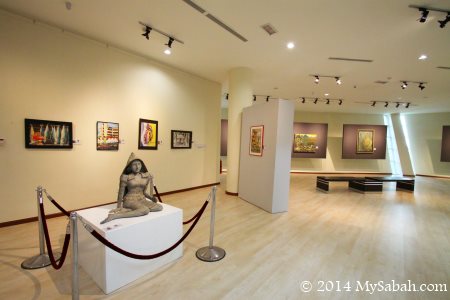 The gallery space is spacious. They hold different exhibition every month, so visitors can appreciate fresh collection throughout the year. They also welcome local and overseas artists to rent this area to hold a forum or exhibit their art works. FYI, the rent for top floor (Yaman Gallery) is more expensive.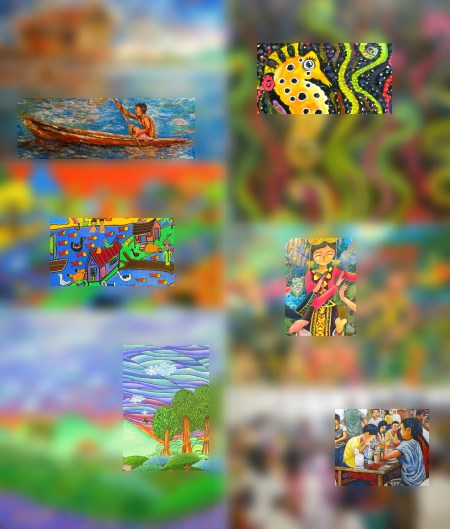 Note: Due to copyright, I have to blur the art works and show a small portion of them. You have to go there to see the whole piece, sorry..
There are variety of painting created by acrylic paint, Chinese ink, watercolor, pencil, intaglio (printmaking), mixed materials, etc. Sabah is a beautiful land full of natural wonders and colourful cultures, so the most common themes are flora & fauna, landscape, countryside / village life, culture, etc. Another reason is – tourists like to buy this sort of painting. Local artists love to use very bright and vibrant colors.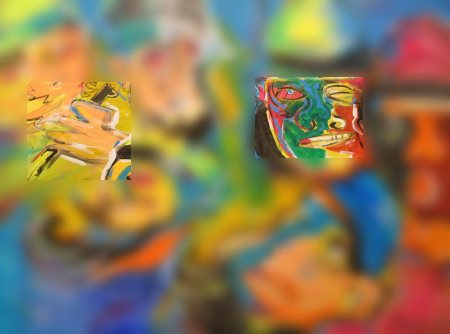 Sometimes bad incident can inspire artists too, like the painting above titled "The Black March Intruders".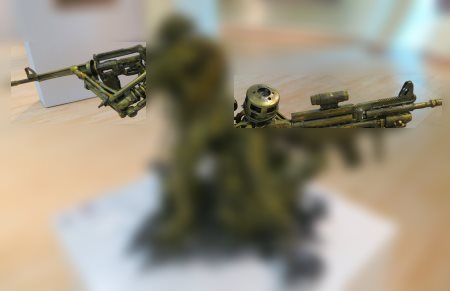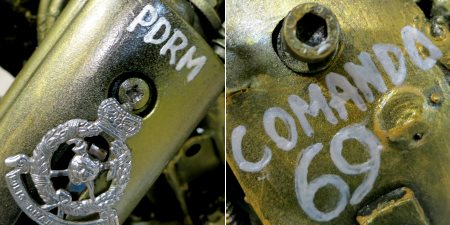 Pic: a cool iron sculpture called "OPS Daulat Tanduo Lahad Datu"
There are other nice clay, metal and wooden sculptures on display too in this gallery.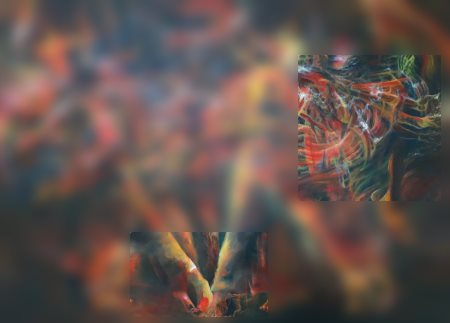 Pic: "Sumazau Dance" by Abdullah Ehlid Al Walid bin Luli
Some paintings are for sale, the prices range from 3 to 5 digits. I think the local art works are really undervalued, consider artists in other countries can sell each piece for a few thousands US dollars. Probably the local market is small, so they have to lower the price for a living.. FYI, Sabah Art Gallery accepts payment by cash and cheque only. If you plan to buy any painting, you have to come during government office hours (Mon-Fri: 8am-5pm), or there will be no staff to process your order.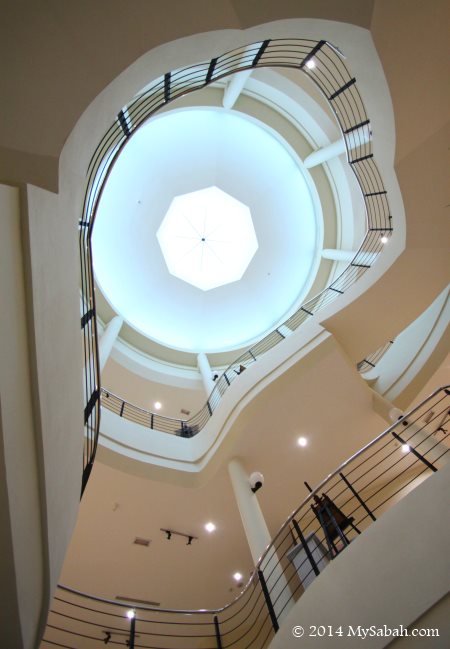 Sabah Art Gallery is the first Green Building in Sabah (and 1st green public gallery in Malaysia) because it uses various methods and technologies to save energy and water. e.g. solar panels, movement sensor light, rain water harvesting system, good heat insulation. The translucent roof also allows more sunlight to lit up the interior.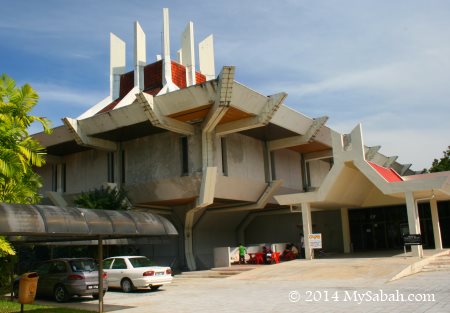 Pic: old location of Sabah Art Gallery
Just to let you know that some outdated websites would point Sabah Art Gallery to its old building next to Sabah State Museum (see photo above). The new Sabah Art Gallery is located near Malaysia Archive and JKKN Sabah Complex (see location map). Below is the latest contact and info of Sabah Art Gallery:
Opening Hours: 9am-4pm (Mon-Sun), closed on Monday
Tel: +60 88-268748, 268825, 268875, 268806
Email: art.gallery@gmail.com
Website: www.sabahartgallery.com
Facebook: Sabah Art Gallery
Address: Mile 2, Jalan Penampang, Kota Kinabalu, Sabah, Malaysia.
Fax: +60 88 210040
Have you visited this place? Please share your experience with me in comment section below.
Photos taken in Kota Kinabalu, Sabah, Malaysia Borneo