Besides robbery, I don't know what else Tanjung Lipat is famous for. Nobody would think it worths our time to explore it. I passby that beach very often. Whenever I saw that long stretch of rocky shore, which only exposed during low tide, I always wonder what I could find there.

Curiosity always wins. During a morning low tide last week, I parked my car at the roadside and climbed down to the beach. I stepped on a very wet and slippery rock, so I fell quite badly. My arm was so painful that it remained sour until evening. Well, I still carried on, carefully.
The first creature I noticed was the small bugs (about 1 cm) running away from the rock surface, when I came near. I don't know what they are. I guess there are millions of them along Tanjung Lipat. They got many legs and a pair of antenna, and they run very fast. Haha… they look like a hybrid of cockroach and millipede.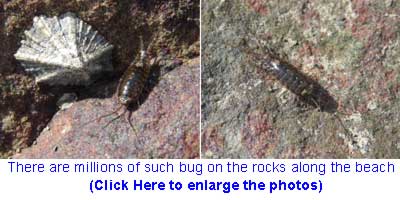 I walked on the beach slowly toward the rock field. The rocks occupy a big area, but just look small from the road. All the rocks and stones are covered with thick layer of algae and mossy stuffs. Their surfaces are very slippery that you would twist your ankle accidentally if you don't watch your steps.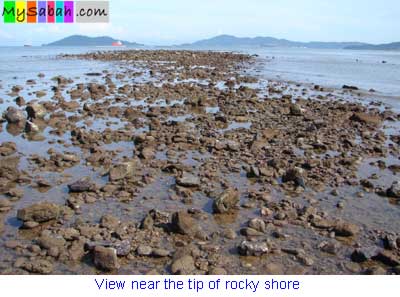 It took me about 30 minutes to walk to the end of the rock field. On the way, I saw some small fishes, shrimps and crabs moved in lightning speed among the rocks, to escape from my view. Hmmm… nothing interesting… But very soon I found something under the rock. Sea cucumbers! I didn't expect I can see them in a beach near KK city. They don't seem to have eyes, but they can sense the change of light. I took upclose pictures of them, so you can see their "tentacle mouths".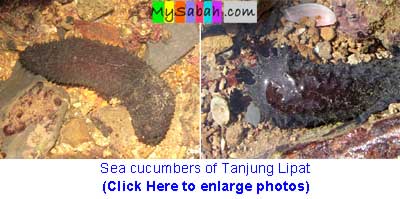 There were a few other people on the beach too. A fisherman happily let me took a picture of his harvest (see photo below). Most fishes are smaller than my palm. There was also a guy collecting some seashells to decorate his fish tank.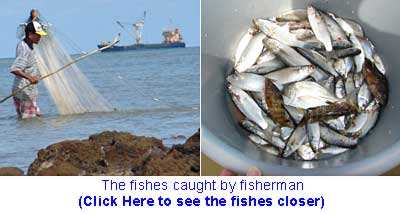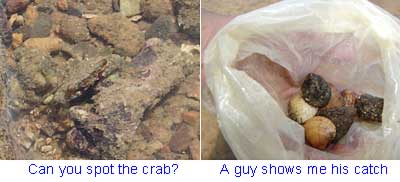 Before I concluded there was nothing special there, I found something what I could call the Discovery of the Day. I found a few small burrows in the water. At first I thought it was the burrow of the octopus, like the one I found in Sawangan Beach in Kuala Penyu. I will let you to guess again.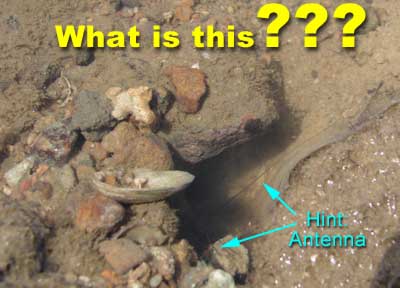 Let me give you 3 hints:
1) This animal got antenna.
2) It is rated as one of the Most Extreme animals by Discovery TV Channel.
3) Partners
Still can't get the answer? Click Here for answer, really cool and exciting. 🙂