Menara Tun Mustafa, the tallest building in Kota Kinabalu city, is the office for Yayasan Sabah, a government group which promotes the education and socio-economy of Sabah people. In fact, it is more commonly known as Yayasan Sabah building by the locals. If you are old enough, probably you could remember the free milk and school uniform from them in old days. Yayasan Sabah is one of the four building in the world that with outer layer mostly covered by glass. It is a must-go destination in city tour. Every day you can see buses of overseas tourists come and see it. Personally, I don't understand why they are so excited with this 30-floor mirror tower, even "Spiderman" (a world famous climber) wanted to conquer it. Finally last week I saw one good use of it. Yes, you guess it right, base jumping.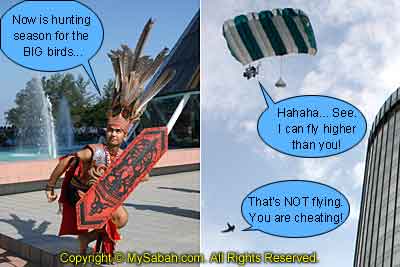 Click Here to see more photos of Parachute Jump >>
With a height of over 120 Metres, if you fall from top of it, it will turn you into dead meat within 5 seconds. On Aug 11-12, a group of ten international jumpers (from UK, USA, Canada, Australia, German, Belgium, Italy…) did a parachuting from 8.30am to 5pm. After this, they will challenge the highest tower in KL, Penang, Alor Star… This is part of the warm-up celebration for the approaching of our 50th Malaysia National Day (Hari Merdeka) on Aug 31st.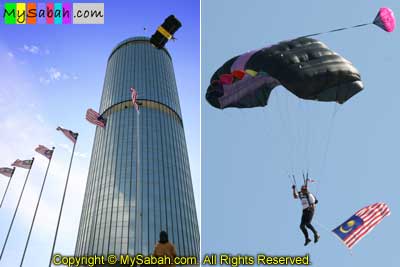 Click Here to see more photos of Parachute Jump >>
At first I thought only kids love this and I would leave after taking a few shots. I was wrong. It was so fun to watch. I couldn't stop taking photos. I came back on second day for more. Many visitors and students gathered for the launching, and the spirit was high. Everyone looked up to the sky, waiting enthusiastically for each show. My neck got cramp after hours of photo-shooting. If you were not there, rugi lah you.

The jumpers are very friendly and sporting. Amanda, from USA, was the one got the most attention coz she is the only female jumper in the group. Whenever she showed up, hundred of "fans" wanted to take photo with her, like ants seeing sugar. While parachuting, she looks like a beautiful and big butterfly in the sky, oh… how I wish she will land on my face, heheh..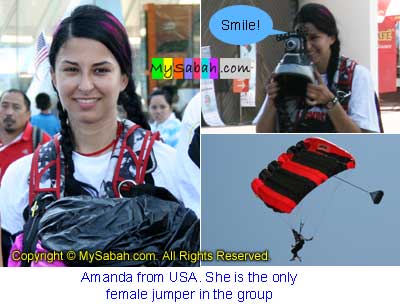 Click Here to see more photos of Parachute Jump >>
Jumping with such low height disallows any error margin and requires expert skill to maneuver the parachute. The wind direction can change in second, sometimes they end up landing out of the intended spot. Everything ran smoothly. I think only one case that the jumper did a "butt landing", so painful that he sat still for quite a while. Fortunately nobody got injured.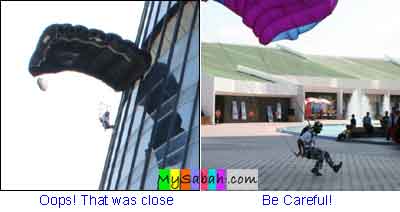 Click Here to see more photos of Parachute Jump >>
Talking about Yayasan Sabah, I recalled a joke told by my sister. Just to share with you…
One day, a tourist hired a taxi driver for a KK city tour. Being a patriot, the taxi driver tried to impress the tourist with nice landmark building of Sabah. He showed Wisma Merdeka to the tourist, "Here is our shopping mall." The tourist asked, "How many years did Sabah take to build this?" The taxi driver replied, "About 2 year." The tourist sneezed, "My country takes only 1 year to build this!" Later the taxi driver introduced Sutera Harbour to him, "This is our 5-star hotel." The tourist asked again, "How many years to build this?" Trying to impress again, the driver answered, "1 year." The proud tourist teased, "So slow ah? My country takes 6 months only!" The taxi driver has gotten angry already. When they arrived Yayasan Sabah, the tourist said, "Hey! That's a nice tower. How many years to build?" This time the taxi driver replied aloud, "I DON'T KNOW! I DIDN'T EVEN SEE IT THERE YESTERDAY!!!"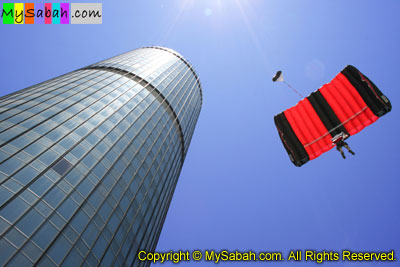 Click Here to see more photos of Parachute Jump >>
Funny? Don't forget to see my photo gallery for more colourful and interesting photos.
Related Post
"Base Jumping in Sabah" by Julian
Photos taken in Kota Kinabalu, Sabah, Malaysia Borneo