Batu Punggul means "Rock Tree Trunk" coz of the look of this 1,000+ feet (330 Meters) limestone pinnacle in the rainforest. It is located in the rainforest of Sepulot (Sapulut), a very remote area more than 100 KM away from Keningau town (200+ KM from Kota Kinabalu). Batu Punggul was the place I always wanted to go, but now I don't dare to come back again.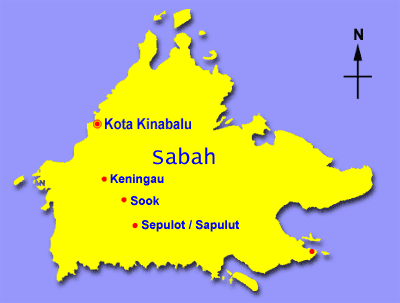 Click Here to see more photos of Batu Punggul >>
Sepulot was once the land of Murut headhunters, and the old legend makes Batu Punggul a very mysterious mountain. The locals believe there are spirits live in it. In the past, the adventurers needed to take 4 to 5 hours of boat ride to reach there. This area has become more accessible when the main road that connects Keningau, Nabawan and Tawau opened. In fact, my father came here many years ago, and he was complaining about the long hours of boat ride (that time the road was not ready) and staying in a haunted accommodation. He is physically fit and he also says the climb is so dangerous that he doesn't want to try again. If he says tough, it is very though then.


Click Here to see more photos of Batu Punggul >>
However, large part of the road to Sepulot is covered with gravel, so do expect a long time of bumpy ride, a 4-wheel is more advisable for the visit, though smaller car is still possible. 40 KM after Nabawan town and passing by a bridge, you will see Tataluan Village (Kampung Tataluan) at the left, the starting point of the trip.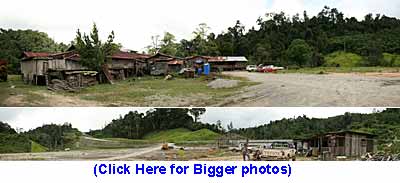 People in Tataluan Village is living a very primitive life, as there is no gas and power. Two shaky public toilets are probably the only facility they have here for travellers. I guess they don't understand why tourists are so interested in this cursed mountain. They told me that people will be hurt by black magic, if they climb Batu Punggul without permission.


Click Here to see more photos of Batu Punggul >>
FYI, the official name of this place is Sepulot (on road sign), but the media calls it Sepulut and locals call it Sapulut.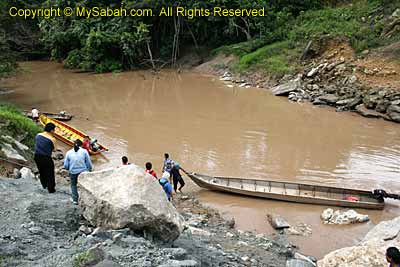 Click Here to see more photos of Batu Punggul >>
Well, there comes the legend of Batu Punggul (I cut short the long story). A long long time ago, there were two longhouses, namely, Punggul and Tinagas communities, living at each side of Sapulut River. One day the Bunggul community celebrated a wedding. Their fire was put off, and they needed fire to cook. Therefore, the Bunggul people asked Tinagas to tied the fire on the dog (poor dog!) and let it swam across the river. The dog was drowned and they laughed like mad. Then they tried the same thing on a cock and asked it to fly over the other side. The cock managed to cross but the fire was put off by water. Again, these crazy people laughed. Their sneering laughter angered the gods in the jungle, so the people, their longhouses and the cock were turned into stones. The longhouse of Bunggul community became Batu Bunggul.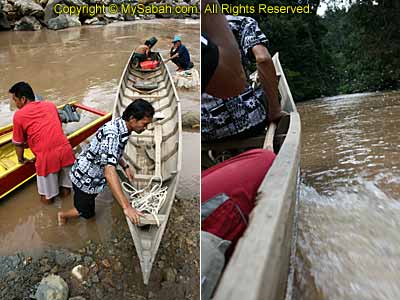 Click Here to see more photos of Batu Punggul >>
Batu Punggul is next to the Sapulut River, so we needed only 10 minutes of boat ride to reach its foothill. The boats we used were the wooden sampan boats equipped with engine. Hmmm… the boats look like some wooden slats loosely binded together and I could see holes between them. That reminded me of my terrifying first-time experience with sampan many years ago. The boat was only one inch over the surface and it was so unstable, a bit of force and movement would make it capsized.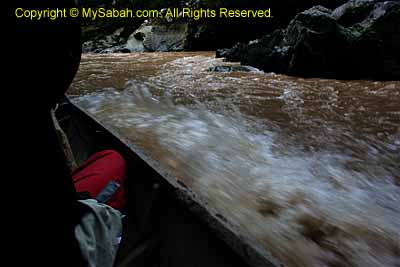 Click Here to see more photos of Batu Punggul >>
Luckily the river cruise was a smooth one. There were a few rapids but the boats were under good control. The splashes still made me felt uneasy anyway. I think I saw the "cock stone" (mentioned in legend) in the river. Do you see the big tree in the photo below? It grows on top of a very thin layer of rock and doesn't collapse. Within minutes, we saw Batu Punggul in front of us. This limestone pinnacle, discovered by two Japanese visitors in 1968, Eizo Yogawa and Tamio Yamamoto, is a lot taller and bigger than something that I think I can conquer. But it is so beautiful..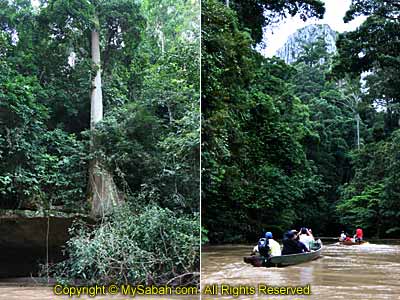 Click Here to see more photos of Batu Punggul >>
Yayasan Sabah building would look small standing next to it. If going up to the top of Yayasan Sabah by staircase is terrible, what if climbing to the top of this mountain by hand? I was speechless. On the way, I kept on struggling whether I should give up.

Photos taken in Sepulot, Sabah, Malaysia Borneo