Islam landed on Sabah in 1408, according to a manuscript of Idahan found in Lahad Datu. Borneo was ruled by Brunei and Sulu, the Islamic empires, so Islam plays an important part in Sabah history. Even today it also influences every aspects of our culture and living, as 61.4% or 1,062,280 of Sabah population are Muslims (Census 1991). Sabah Islamic Civilisation Museum (Local Name: Muzium Tamadun Islam Sabah) is only 15 minutes walk away from Sabah State Museum, and you can enter it for free on the same day, with the same ticket you visit Sabah Museum.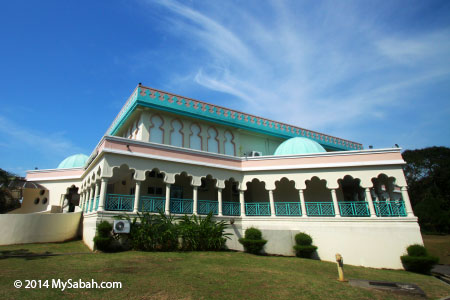 Pic: Sabah Islamic Civilisation Museum
Sabah Islamic Civilisation Museum is a 2-storey building that requires only 1 or 2 hours to tour around. The five domes of this museum represent Five Pillars of Islam, the five basic acts in Islam which form the foundation of Muslim life. This museum looks like a beautiful mosque by itself.
Islamic World Gallery
In ground floor, the first gallery you will see is about the past and present of Islamic world.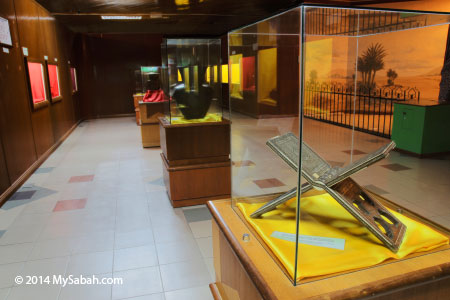 Most tourists skip this museum so it is very quiet. Though I'm a non-Muslim who can't read Jawi, I admire the elegant Jawi words engraved on the items. You can tell that the devotion to Allah is not only in the heart of Muslims, and also reflected in their daily lives.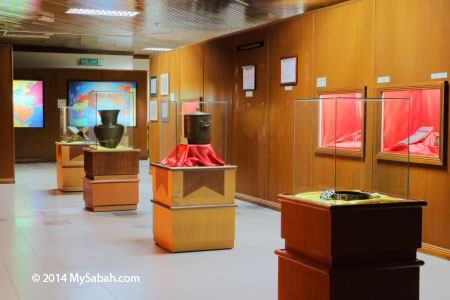 Many Islamic artefacts are being displayed there, most of them are hundreds-year old items from Middle East countries such as Turkey, Egypt, Persia, Morocco, Iran and India. I list some of them here.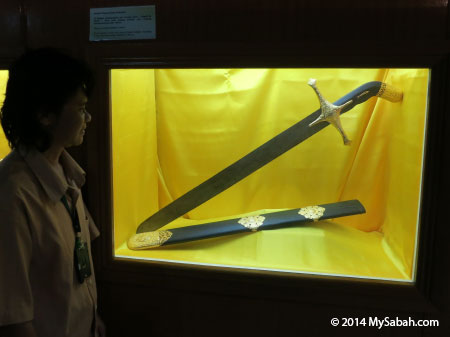 Pic: replica of Saidina Uthman bin Affan III sword. It's too big (and precious) as a weapon. It's for use in dance performance.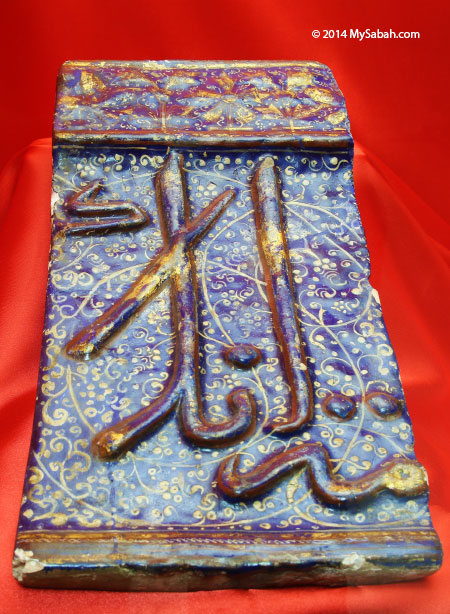 Pic: An Ilkanid pottery tile from late 13th or 14th century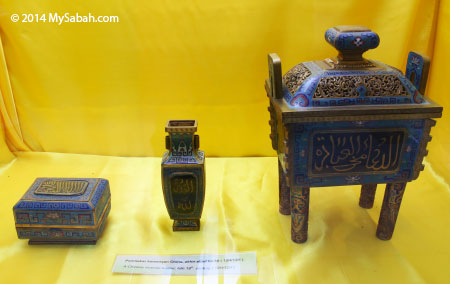 Pic: these are interesting Chinese incense burners from late 19th century, with Quran verses on them. FYI, there are more Chinese Muslims than Malaysian Muslims on earth. Islam is a religion for the world, not to any particular race.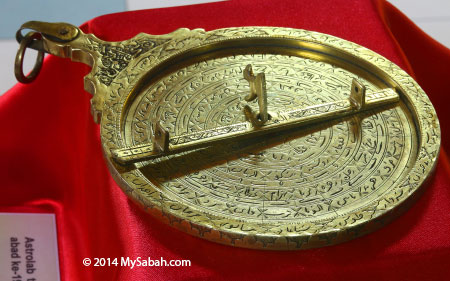 Pic: 19th century brass astrolabe from Persia. Muslims are already very advanced in astronomy during early civilisation.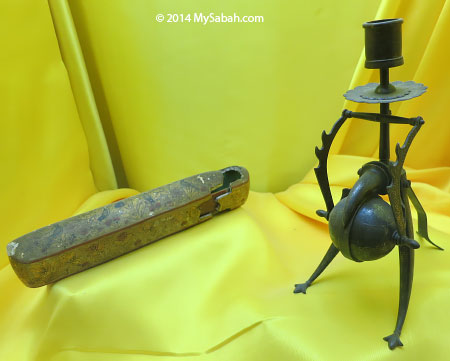 Pic: this thing is like "laptop computer" of 19th century. They are small pen box from Qalahdan Teheran Persia (left) and Indo-Persian damascened travelling scribe's set comprising an inkwell, pen holder and candle-stand (right).
Other artefacts that are on display are antique boxes, jars, Quran books, musical instruments, weapons, bowl, etc. The gallery also briefly introduces The Organisation of Islamic Countries (OIC) and its roles in today's world.
Betel Nut Containers
This gallery is the highlight of Sabah Islamic Civilisation Museum. Betel chewing can date back to 3,000 BC and its function is similar to chewing tobacco today (but with more kick). To prepare for the chewing, the chewers need to cut the areca nut, add it with sirih leaf, lime and sometimes gambier paste. They would store these ingredients and cutting tool in a container (known as Celapa locally) that they can carry around, to enjoy betel chewing anytime.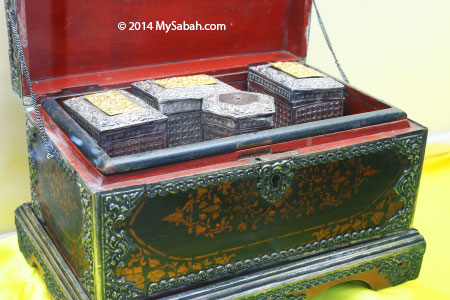 Pic: A wooden betel-nut box engraved with silver along with four silver made betel nut boxes. The cap is decorated with gold plated carving. Usually used by the royal family from Sambas, West Kalimantan, Indonesia.
Betel was used as a social denominator among royalty, and king was attended by "betel slave" to carry the set for preparation of betel chewing. Elaborate betel set owned by royalty is made of the finest materials available, often gold or silver and inlaid with precious stones, and it is also exchanged as gifts between foreign rulers.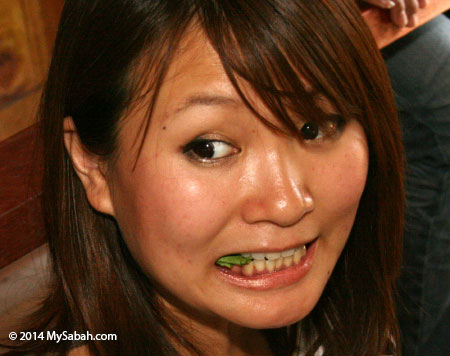 Many Sabah indigenous people still chew betel nut nowadays. They also like to encourage tourists to give it a try. To first-timers, betel nut tastes hot and bitter, so they would spit it out, giving our locals a good laugh.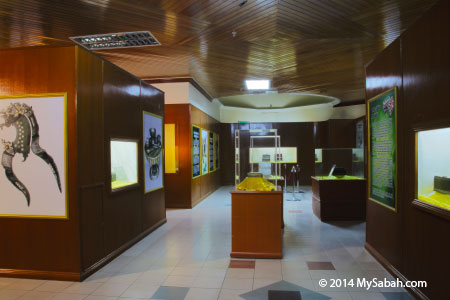 The gallery of Islamic Museum has very nice collection of betel nut containers from Sabah, Sarawak, Brunei, Kalimantan, Kelantan and Philippines in various materials (e.g. wood, brass, silver and gold), shapes, sizes and design.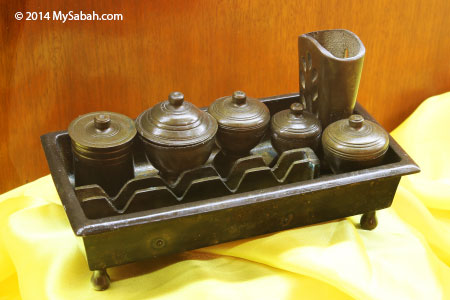 Pic: Copper Betel Nut set from Brunei, engraved with geometrical and flora vine motifs
A basic betel set includes a tray, individual containers (storage for items such as areca nut, betel leaf, lime and gambier), and a tool for cutting the nut. The material and workmanship of a set can vary from simple to complex.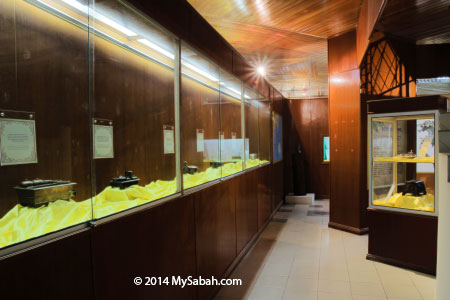 Betel nut is commonly included as part of the offering in animistic worship, to communicate with supernatural force or cure sickness. The Betel Nut container is also presented as a symbolic gift for dowry.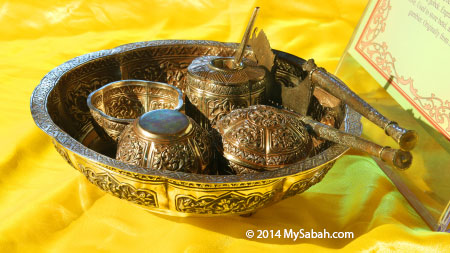 Pic: silver round-shaped betel nut set from Sarawak, engraved with floral vine motif, with four small boxes and a gobek.
Ornamental gold betel box is among of 7 articles that required in installation ceremony for Sultan of Terengganu. It has become an important cultural heritage.
Borneo Gallery
There are dozens of Islamic antique in "Sabah Gallery" on first floor. Besides items from Sabah, I also found a lot of artefacts from Brunei and Sarawak so I call it Borneo Gallery.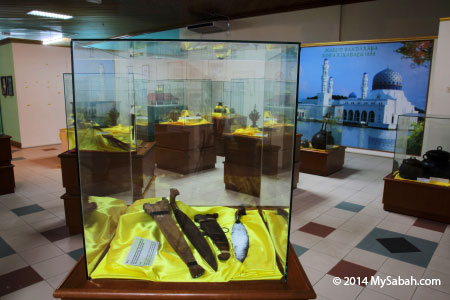 Pic: exhibition on 1st floor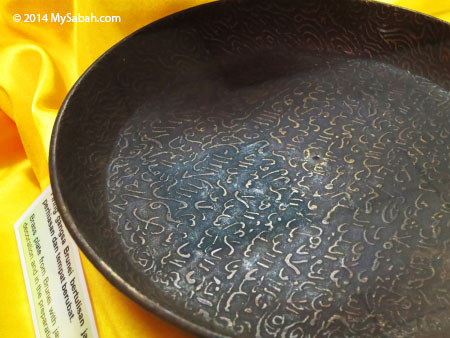 Pic: brass plate from Brunei with Jawi writing, for preparation of traditional medicine

Pic: English and Chinese plates decorated with Jawi writing. Most of them were imported to Sabah through trade during the 16th – 17th century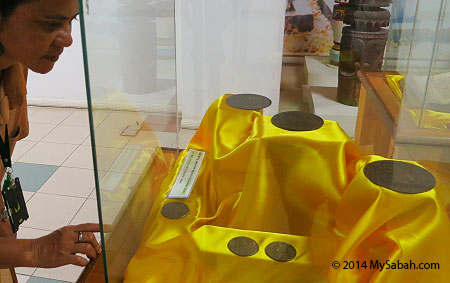 Pic: old coins used in Sandakan. Some are really big (I wonder how they put these inside their pockets)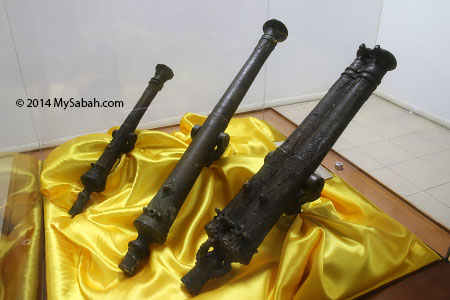 Pic: antique cannon used by Pengiran Shahbandar Hassan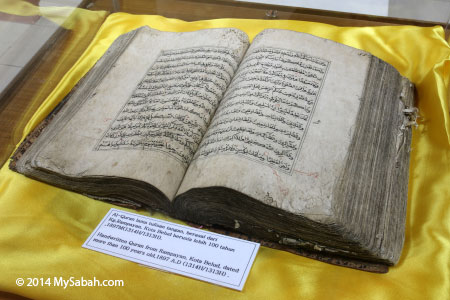 Pic: Handwritten Quran from Kota Belud dated more than 100 years old
Many more unique pieces are shown there. By looking at those old-day daily items such as kettle, measurement tools, containers, plates, swords, pots and vase, you could imagine how our Muslim ancestors lived.
Islamic Costumes
Muslim costumes are very commonly worn in Malaysia. However, very few non-Muslims understand the meaning behind the attires.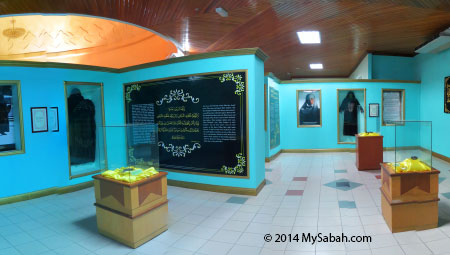 To know the culture, Islamic Costumes Gallery has very detail explanation of the Muslim's "dress code."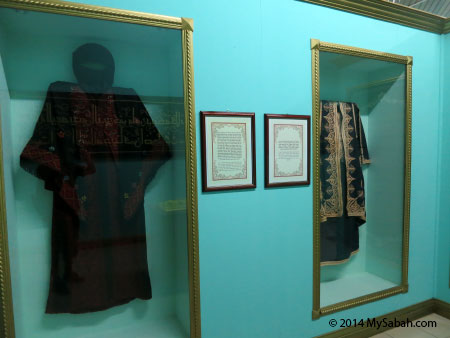 This gallery also displays many hand-embroidered cloth and robes from other Islam countries such as Jordan, Turkey, Iran, Arab and Dubai.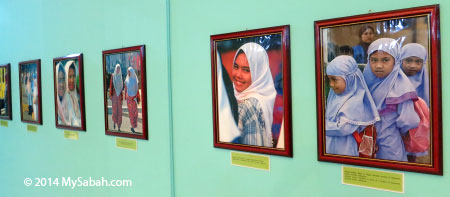 Pic: photographs of Muslims in different part of the world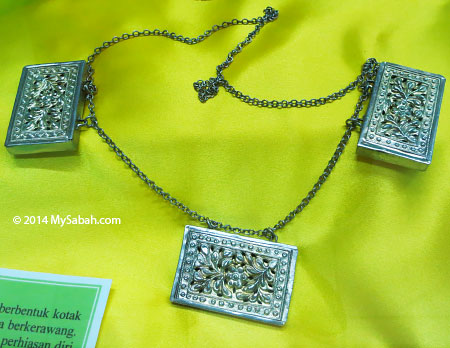 Pic: silver necklace craved with floral ornate motif, worn by Malay royal women when attending festivals
Besides clothing, you can see other adornments and accessories worn by Muslims such as belt, pin, necklace, pendant, buckle and bracelet.
Mosques and History of Islam in Sabah
There is a section that introduces the development of Muslim in Sabah in the past, with some info & photographs of Sabah mosques. It also talks about Islamic laws, important local Muslim figures and events, Zakat law (giving 2.5% of own savings to the poor and needy) and Ulama (Muslim legal scholar). But most of the information is in Malay language and not translated to English.
If you are interested in mosques of Sabah, you may visit Sabah State Mosque and KK City Mosque in Kota Kinabalu, both are famous attractions. But please don't visit on Friday (day of worship).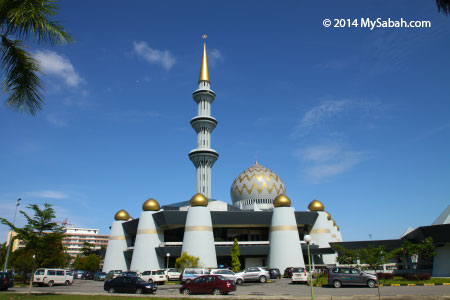 Pic: Sabah State Mosque
Built in 1977, the grand dome of Sabah State Mosque is one of the biggest domes in the world with a height of 132 feet and 70 feet in diameter. One of the most beautiful and unique features of this mosque is the high quality calligraphic writings found on every dome.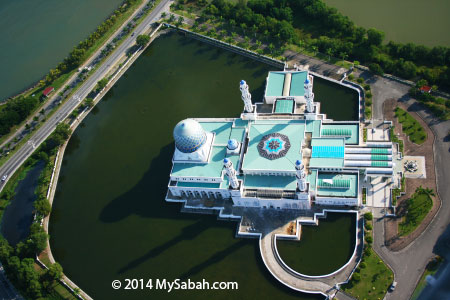 Pic: the "floating" City Mosque in Likas
Situated on a man-made lagoon, the architecture of City Mosque is inspired by Nabawi Mosque in Medina. It is the largest mosque in Kota Kinabalu and one of the most beautiful mosques of Malaysia.
Admission Fee
Note: If you have bought the ticket to visit Sabah State Museum, you can enter Sabah Islamic Museum with the same ticket on the same day for free (which means you don't need to buy another ticket).
Visitor Type
Fee
Non-Malaysian
RM15.00 (≈US$4.75)
Malaysian
RM2.00 (≈US$0.65)
(Malaysian Only)
Student in Uniform, Disabled Guest, Senior Citizen, Taxi Driver
Free
More Info
Location: Click for Google Location Map Here
Phone: +60 88-253 199
Website: www.museum.sabah.gov.my
Opening Hours: 9:00 am – 5:00 pm daily
E-mail: muzium.sabah@sabah.gov.my
Photos taken in Kota Kinabalu, Sabah, Malaysia Borneo