It's always nice to try some local food when you travel. If you visit Kinabalu Park of Sabah, there is a chance that you would drop by Kundasang town, which is 12 Kilometres away, to visit the War Memorial and Fruit & Vegetables stalls there.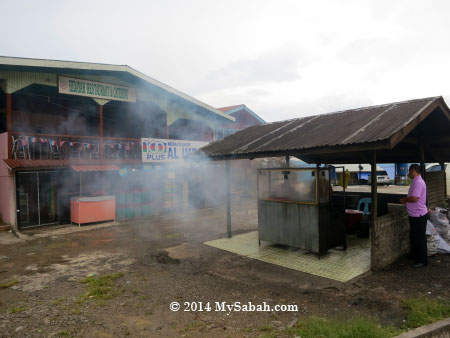 Sabah people who visit Kundasang would not leave without trying the famous Kundasang BBQ chicken wings, something that most tourists miss. You can find the stall easily, it's near the big roundabout of Kundasang and in front of Hidayah Restaurant & Catering (see Location Map), and it's hard not to notice the excessive CO2 emission (smoke) from this stall.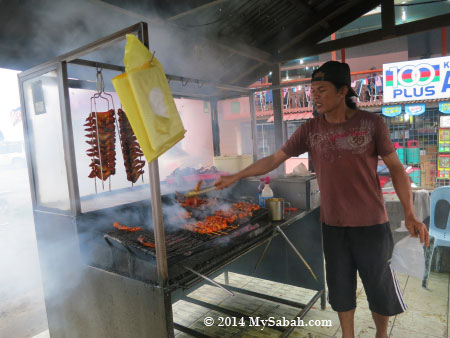 The face of Kundasang has changed a lot over the years, but this small stall remains the same and still serving one of the best BBQ chicken wings in Sabah. I don't know why his barbecue chicken tastes so good, probably it's already great to enjoy sizzling BBQ chicken wings in cool air of Kundasang highland.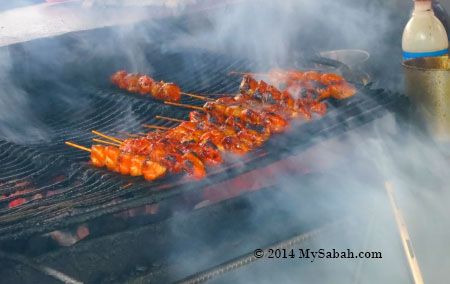 I believe this stall sells hundreds of BBQ chicken wings every day. Each piece is sold for RM2 (I'm not sure if this is correct). Though I visited during non-peak hour, the cook never stopped for a break. He himself would smell like chicken wing after long hours of barbecuing haha.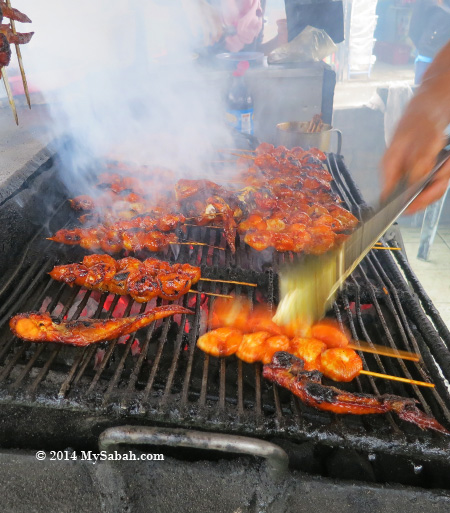 "Chicken wings only? What so special?" you might ask.
Look at the photo above carefully. Do you notice the round things? They are BBQ chicken tails, locally known as Satay Buntut (literally means BBQ chicken butt). Chicken tail is always unwanted part in other places, but it's a delicacy for Sabahans. After BBQ, the skin of chicken tail becomes crisp and slight burnt, with aroma of charcoal. It's soft, oily but juicy. Personally I love it. If you never try BBQ chicken tail, be open-minded and try it, before you decide you don't like it.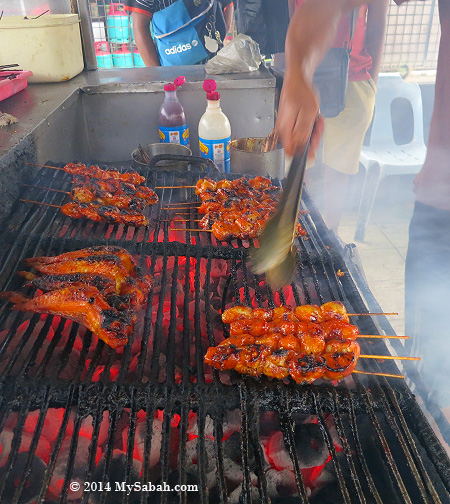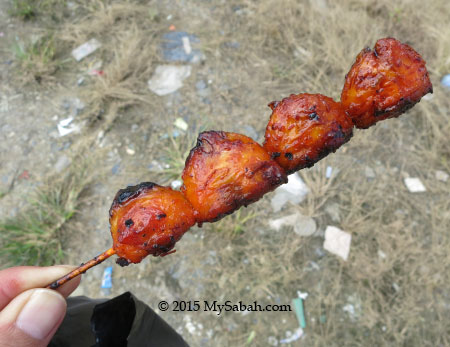 Someone says eating Satay Buntut can make you horny, rubbing it on your chest and hair will grow. I don't know if this is true and I'll let you to prove it. 😀
Photos taken in Kundasang, Sabah, Malaysia Borneo