It has been a long time I don't blog. When I looked at all my unpublished photos yesterday, I was surprised how weak my memory is. Even though I can't blog in regular basis, I think it is still a good idea to keep a record of what I photograph before I forget all the story behind. Another reason is that I still see many traffic generated from my old blog. If this site serves the online community well, probably I can spend minimal time to inject new content occassionally.
I went to the traditional Dance Carnival held on August 12 in Papar. The show was performed from 8PM to 11PM. Usually I am very reluctant to take pictures at night. The main reason is that the maximum light sensitivity of my camera is ISO400 (SLR can handle ISO800, 1600… with minimum noise). If the pictures are taken under low light and far distance, 70% will turn out blur, underexposed and grainy. Rather than disappointed by the outcome, might be better sleep at home. Well, I went anyway. You say "Buy a SLR lah"? Talk2 easy lah. Camera + len kits may cost around RM3,000. Don't forget the extra batteries, charger, memory cards, filter lens, flash, bag… easily another 2K already.
What excited me was that I got the photos of indigenous groups from East Coast (Sukau / Kinabatangan / Tawau districts), namely, Orang Sungai and Orang Tidung. I also watched the performance of KadazanDusun, Bajau, Murut, Dusun Segama, Bisaya, Dusun Tatana, Orang Brunei, Lundayeh… What impressed me was the headgear of Murut Nabai from Keningau, as the picture below: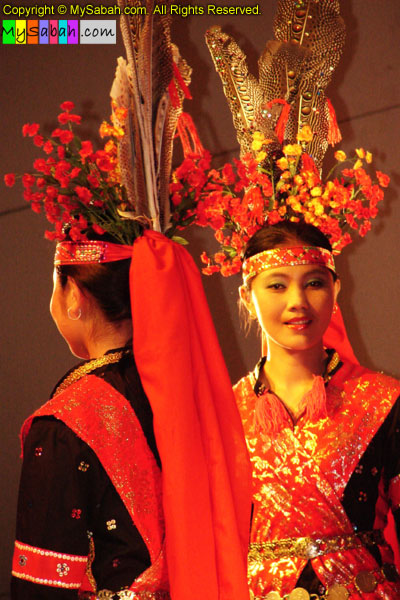 Click Here to see more photos of Dance Carnival >>
As expected, most of my photos were blur. Below is a OK picture, which shows part of the acting in a dance by Orang Brunei.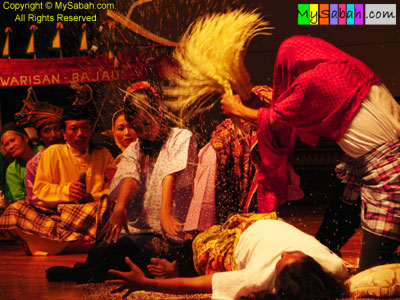 Click Here to see more photos of Dance Carnival >>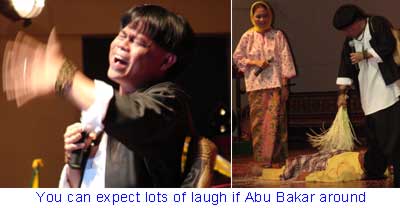 Click Here to see more photos of Dance Carnival >>
I will blog again if time permitted.