It is quite late to blog about it coz it has happened for more than 10 days (since May 5). Sabah Fest was started annually since 1988, but this was the first time I watched it. I would say it is the most colourful and best cultural show of Sabah. I will come again next year.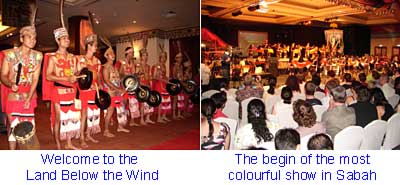 Click Here to see photos of Sabah Fest 2006 >>
Though the cultural show (8pm – 10pm) was only two hours, it gave you a very good overview of the traditional dances and colourful costumes of Sabah indigenous people such as Bisaya, Murut, Bajau, Idahan, Suluk, Kadazan, Lotud, Rungus, Orang Brunei, Dusun Tobilung. Tell you, I have seen all these costumes and dances, after I travelled almost a year to many places in Sabah like Kota Belud, Semporna, Lahad Datu, Kudat, Kota Marudu, Sipitang… Now you only need to pay RM10 (USD2.50) ticket to watch all these comfortably, in an air-cond ballroom. So lucky lah you.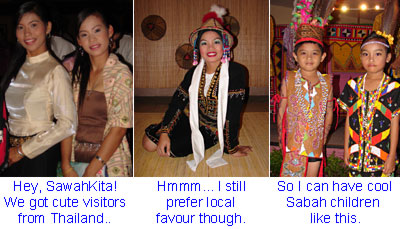 Click Here to see photos of Sabah Fest 2006 >>
As a Sabahan, if all you know about Sabah indigenous people is only Sumazau and KadazanDusun, your knowledge is really poor man. I have seen many locals who can't even differentiate the costumes of Bajau and Murut. If I am not mistaken, Sabah got over 30 ethnic groups, and each of them may have sub-ethnic that they may speak different language or wear different costume. For example, KadazanDusun got 16 sub-ethnics such as Dusun Tatana, Dusun Tindal, Bajau got 20 such as Suluk, Iranun, Murut got 14 such as Tagol, Paluan. If you sum up all these, it will be more than 100 groups. So far I don't see any book has complete text + photo documentation on all Sabah ethnic groups.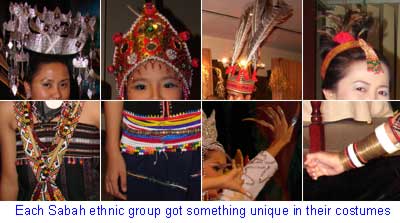 Click Here to see photos of Sabah Fest 2006 >>
In normal Sabah cultural show, one or more of the dances below are popular choices for performance:
1) Sumazau by Kadazan Penampang
2) Sazau by Kadazan papar
3) Magunatip (bamboo dance) by Murut
4) Limbai by Bajau
In Sabah Fest, you will see more: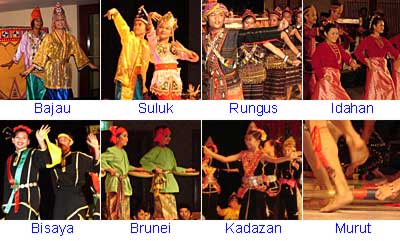 Click Here to see photos of Sabah Fest 2006 >>
Before the show began, all the dancers were lining up from the entrance to the hall, to welcome all the guests with friendly greeting, dances, and traditional musical instruments. I walked back and forth many times, to see if I could name their ethnic and took some photos of them. Many of them were really the village people so they could be a bit shy, but very willing to cooperate. I know coz I saw my Idahan wives from Lahad Datu (just kidding), haha… they still recognised me. So happy to see them again.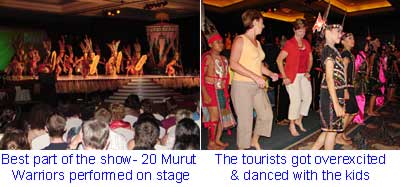 Click Here to see photos of Sabah Fest 2006 >>
If you miss Sabah Fest, don't worry. You can see more indigenous people dress in their beautiful costumes at Penampang KDCA from May 30 to 31. Last year I took a lot of photos and post them all here. According to my web report, it is always the TOP visited page every month. FYI, it is the first photo gallery of MySabah.com (posted in June 2005). My first blog was started in August 2005, so I didn't blog about it. One of the goals of MySabah.com is to provide the most photos of Sabah people (especially beauties). Hope you will continue to support me by introducing this site to your friends.