Is this a Tarantula (Common Name: Bird Spider)? I saw it many times on the TV, but this was the first time I spotted this big and famous spider. One day I was trekking in a forest on a hill. I decided to stay around after the sunset, coz I knew I would see very different world in the evening, the time most creepy animals came out for meal. The only price I need to pay is to be the free buffet for swarm of mosquitoes.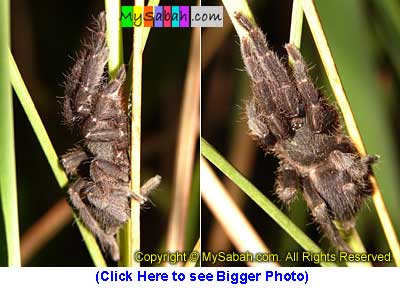 However, I was surprised to see this hairy spider stayed motionless on a grass. I quickly took a few pictures of it. To get different shooting angle, I carefully moved the grass where it rested. Even though I heard no Sabah people died of spider venomous bite, I didn't dare to touch it. Once threaten, Tarantula will detach its hair and launch it to the air, which will cause serious irritation if it gets into your nose (by breathing), eyes, or skin.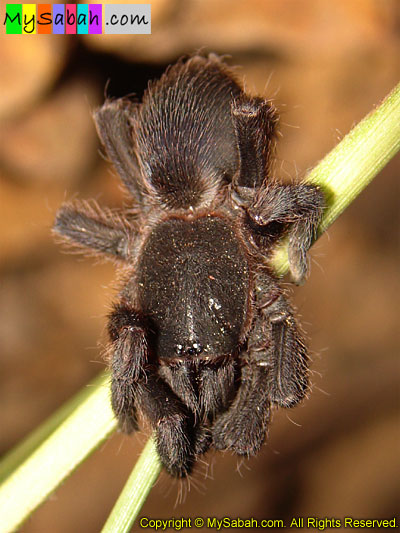 Luckily it was a shy predator. It tried to run away and hide from me. Soon the day was getting really dark and my camera had problem to focus (XYZ the ISO400 limit), so I used a mini-LED table lamp to light up the place.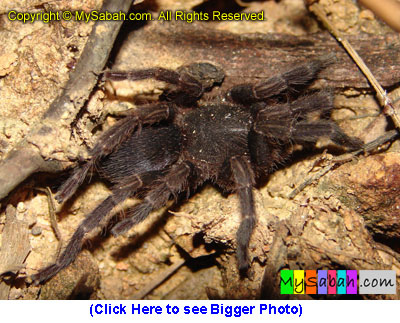 Does it look BIG in the photos? Haha… actually its body only an inch long (2.5 inches if include legs). But I am not sure if it will grow to a palm size, like its cousin in Americas. Anyway, I beat these are rare pictures coz I haven't seen the photo of "Borneo Tarantula" in other books and web sites.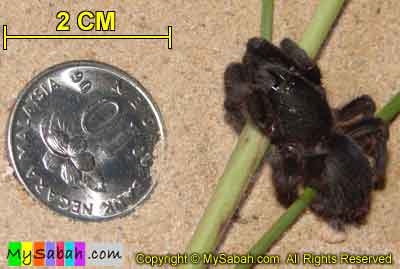 Update (Apr 14, 2007)
Last week I found a place where you can spot more than 50 Tarantula spider in less than an hour. Don't believe me? Let me show you how. Go to Kinabalu National Park around 8 PM or 9 PM. Look for the wooden fence next to the main road. Check out the holes in the wood. Very likely you will find Tarantula with its body partly exposed outside.

All of them are bigger than the one I found in KK. Their size ranges from 3 to 4 or 5 inches.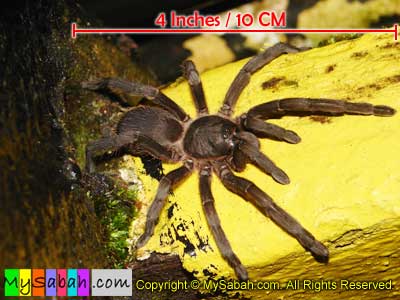 Photos taken in Kota Kinabalu, Sabah, Malaysia Borneo