If you ask the locals about their impression of Tambunan town, most will answer, "a hilly and tranquil place with beautiful rice fields and surrounded by lush forest." To me, Tambunan is like a pretty but introvert girl who is shy away from strangers. Only when you care to know her better, you will uncover her hidden gems and fall in love with her.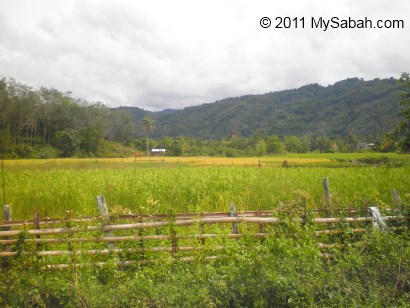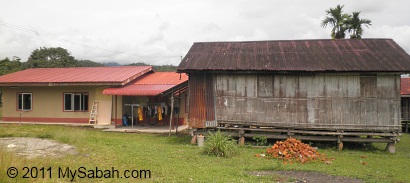 Above: traditional vs modern houses in Tambunan.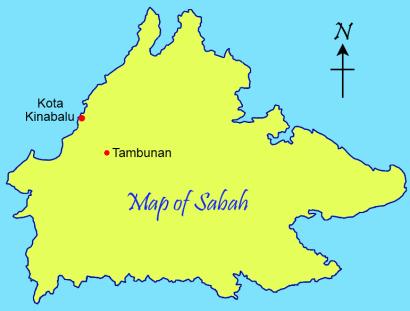 Indeed, Tambunan is so quiet that it gets the least attention from tourists. Tambunan is about 80 Kilometers from Kota Kinabalu city. I went there with a group of friends earlier this month, for a 1-day-1-night homestay program in Tambunan.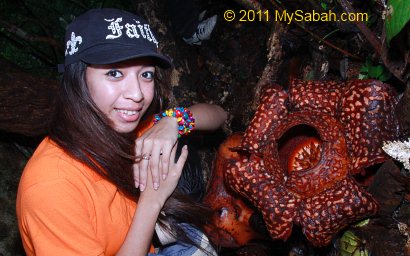 There was a twin blooming of rafflesia in Rafflesia Information Center so we dropped by to have a look. You need pure luck to see the blooming of rafflesia coz it has no predictable blooming period and its flower only lasts 6 days. Twin blooming is very rare.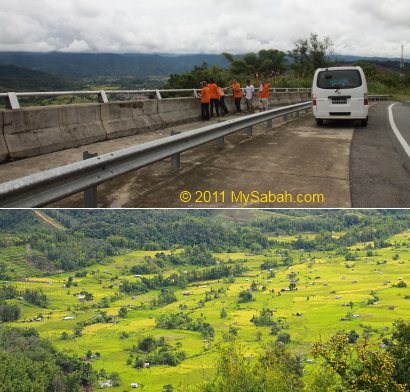 15 Kilometers before Tambunan town, you will see a balustrade at the left of the road, that's a nice view point of Tambunan Valley with lush paddy fields. By now, you should understand why some calls Tambunan as the "Switzerland of the East".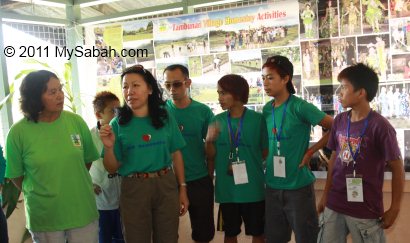 Then we come to Timbou Village (Kampung Timbou), which is a homestay venue a few Kilometers away from Tambunan. Datuk Joanna, the coordinator of Tambunan Homestay, introduces us to the guides and villagers of the local community.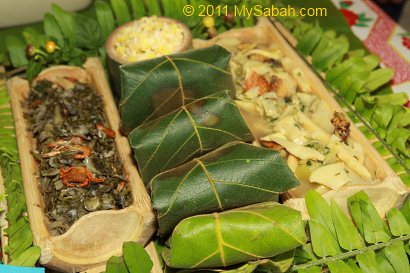 They are celebrating Rainforest Festival here, so there is a traditional food competition in their community hall.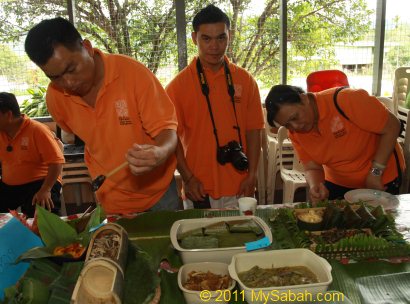 We are so lucky that we can sample all traditional dishes prepared by their local best cooks. Frankly, I didn't have high expectation about those indigenous food coz they are mainly vegetables. But I was wrong. The fresh vegetables taste so delicious that we finish them within 10 minutes and everyone is hungry for more!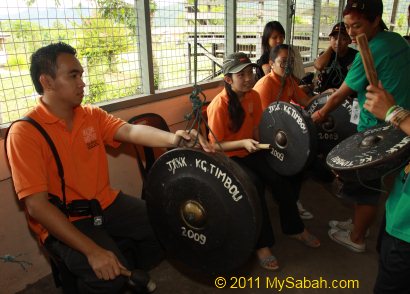 To appreciate the traditional music, we are also invited to learn to play gong. It is not as hard as it looks. In 5 minutes, we form a new gong team, haha. You may watch the video below to see our new band in action:
A grandpa and grandma also joined the fun by playing Sompoton (a traditional music instrument of Sabah). Look at the video below. They are so cute.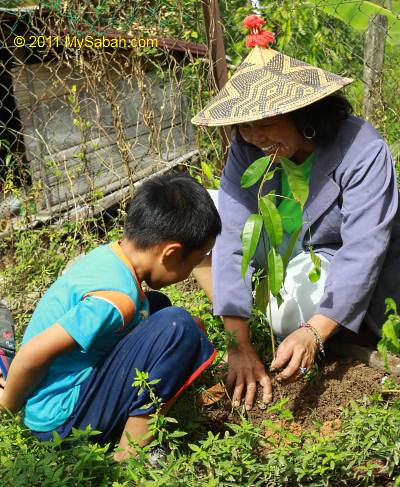 What I like most is the tree planting program with the community of homestay. Not only they learn the importance of trees, tourists are also welcome to participate in this environmental project, so they can leave something good behind after the visit.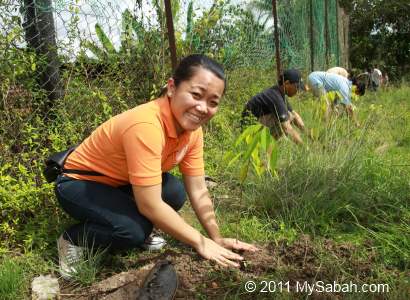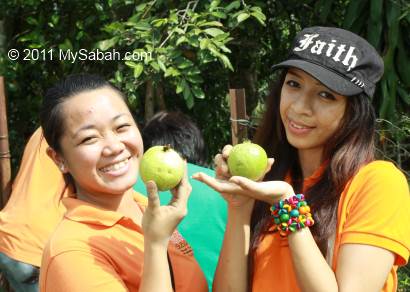 Above: we plant the trees then harvest their fruits in next minute. Just kidding..
Tambunan is also a land full of legend. Every village has its own stories. Like the "pregnant woman" stone (named as "Watu Monontian" in Dusun language) below in Timbou Village. Our guide (and local historian), Regina (right), says, according to local legend, the God turned a pregnant woman into a stone. More on this story later.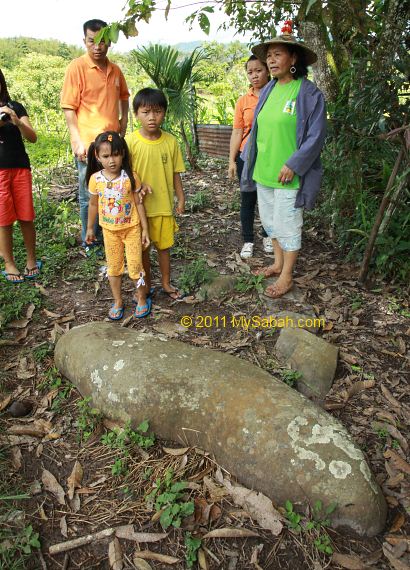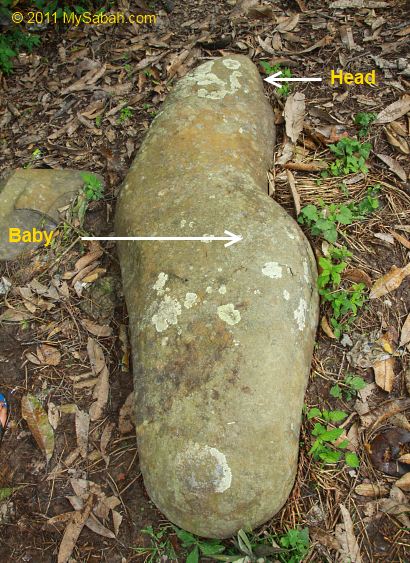 As you can see in photo above, the stone really looks like a pregnant woman. I believe this story coz my mom told me that I came from a stone. 😛 This stone was used to be in standing position. But the buffaloes rubbed their bodies on this stone to ease the itch, so it fell one day.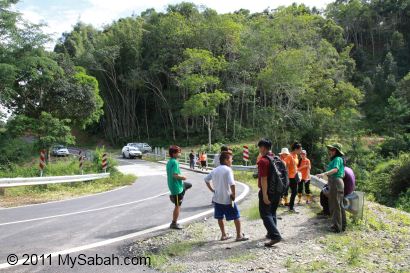 To explore more about the legend of pregnant woman stone, we visit the site where the curse of God started, Wasai Kiukad Waterfall.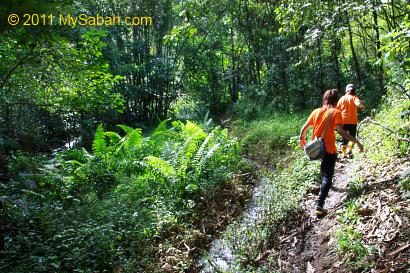 However, to reach Wasai Kiukad Waterfall, we need to walk more than 1 hour in a dense secondary forest in Timbou Village. Our destination is a sacred spot with spiritual power, so we are advised not to shout or litter during jungle trekking, or we will be penalized by flood, and only the Bobolian (local priest) can appease the spirits.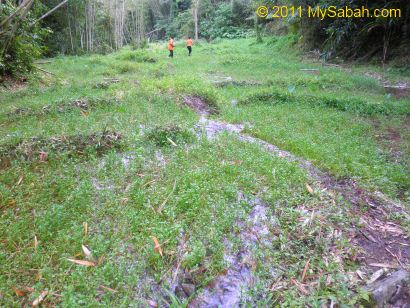 The jungle trail is not tourist-friendly. Due to rainy month, part of the trail is really muddy and we need to cross a few streams. Like the photo above, it looks like a grass land, but it has become a "marshland" after heavy rain. At first, I tried to avoid getting wet feet. After my feet sank into deep mud a few times, well, I just forget it. Nobody can stay clean and dry anyway.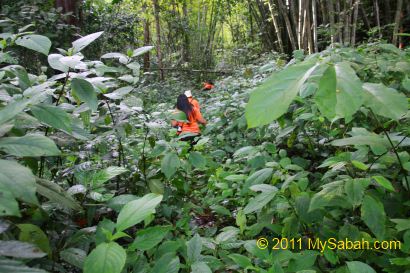 When we move deeper into the forest, we see more shrubs and bamboo. There are brown leeches around and some of us are bitten by these little blood suckers. The trail is not challenging but quite tiring. In my heart, I already say, "it's better to be something really good or I'll bash the guides."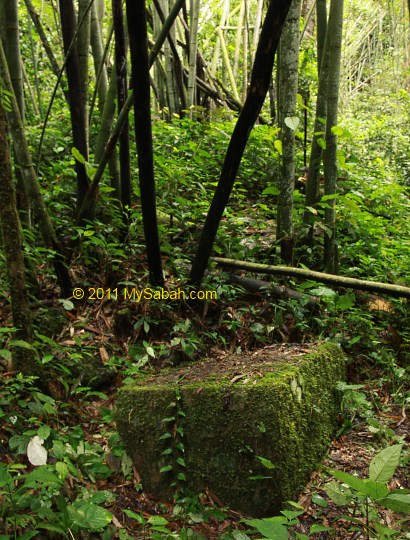 After 70 minutes, we reached the site. I didn't know I had arrived because nobody cheered after the end of long trekking. Everyone avoid making noise to anger the God, as if we are walking into a church. Then I saw a stone "table". In fact, we also see other stones that look like furniture around this area.
Ms. Kimoi Rugasa (you had seen her in Sompoton video above), a 76-year-old senior from Timbou Village, told me the story about this mysterious site. In the old headhunting era, there was a longhouse situated here. The villagers got really drunk during a festival, so they made fun of animals. They made their dogs and cats danced. Such action angered the God so he sent a heavy storm to flood the longhouse and turned everything into stone. Though a pregnant woman escaped and ran to Timbou Village, she was also turned into a stone, the one that I mention earlier.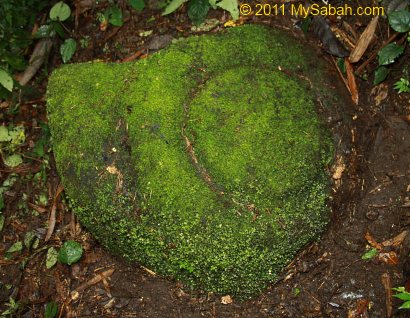 Above: a stone that looks like Gong (named Batu Gong). To me, it looks like the shell of a giant snail though. Don't beat it or do anything funny to it, or you will be penalized by flood, the locals say.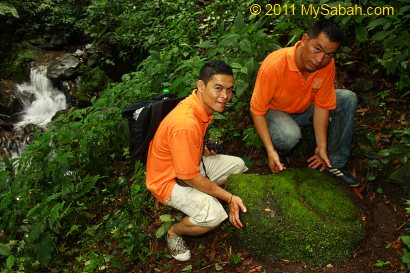 Behind them is the Wasai Kiukad Waterfall.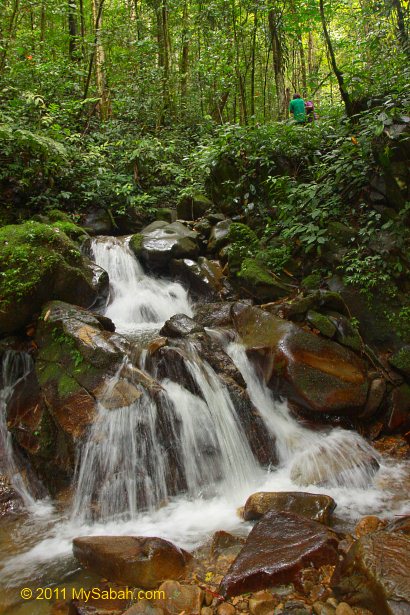 Above: Wasai Kiukad Waterfall. This place is considered sacred and nobody is allowed to swim here. The water is so clean that you can drink it.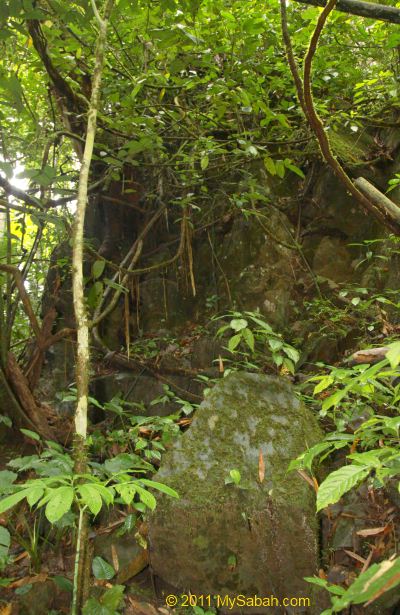 Above: a pile of boulders that locals believe was once a longhouse. That reminds me of Batu Punggul which shares the similar story.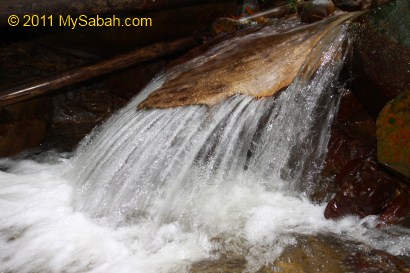 Above: a weird rock in the stream. Look like a snake head?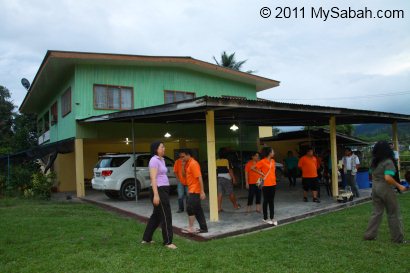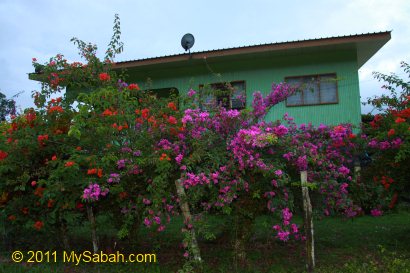 As it starts to rain, we didn't stay long, so we leave the forest ASAP. We are transferred to a local family in Keranan Village of Tambunan. Tonight we call it our home.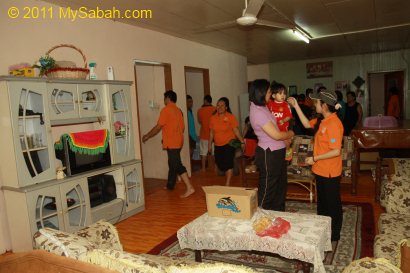 The "real" homestay of Malaysia is NOT a cheap accommodation with bed & breakfast only. You will stay with a local family house, which is certified by Tourism Malaysia to participate in homestay program. Tourists will live with the family like a friend, not a hotel guest, though the family provides food and bed. The family will make friend and interact with the tourists too, sometimes teaching them farming or making handicraft.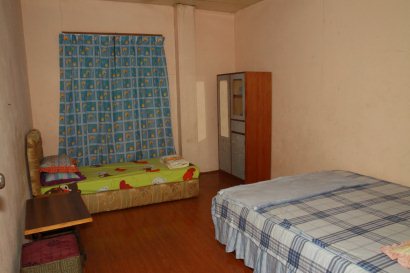 Giro and his sister Katherine are our host. They are really kind and make us feeling at home. Their house and room are very clean too. After having dinner and a couple of rice wine with them, we have a good sleep.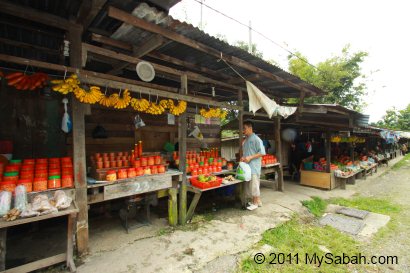 Next morning on our way back to Kota Kinabalu, we drop by a roadside stall (10 Kilometers from Tambunan) to buy some local fruits and fresh vegetables.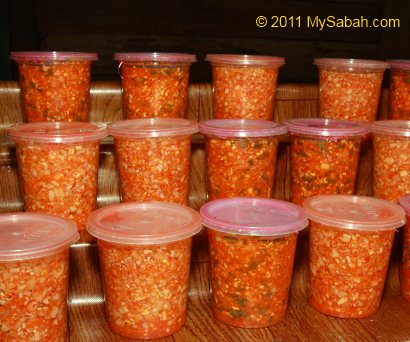 FYI, the famous product of Tambunan is Tuhau (pronounced Do-How), a type of sour appetizer made from plant of ginger family. You can find it everywhere in Tambunan.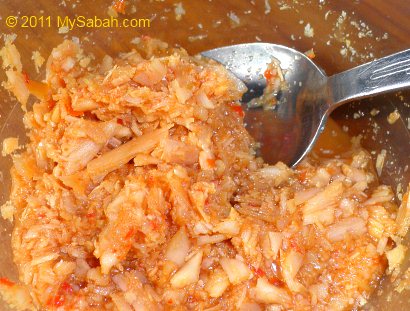 Tuhau is the favorite food of indigenous people. Actually I dislike it in first try coz it tastes like stink bug. After trying Tuhau a few more times, I can accept it. Well, you should try it at least once, who knows you will like it.
More Photos
You may check out my photo album if you want to see more nice pictures: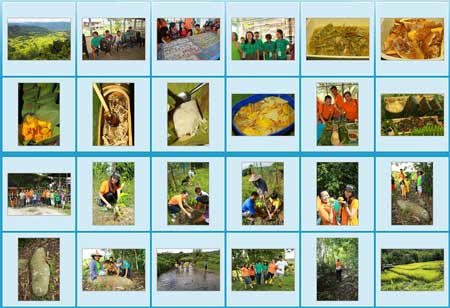 Related posts:
Rafflesia Information Center
Mount Trus Madi, the second highest mountain of Malaysia
Mahua Waterfall
Batu Gong (Music Rock)
Kipandi Buttrefly Park
Photos taken in Tambunan, Sabah, Malaysia Borneo