Based on the following clues, do you know where is the place? 🙂
1) Only 20 minutes away from the bustling Kota Kinabalu city;
2) Meeting point of coral reefs, lush rainforest & mangrove;
3) The only place where you can see all 7 Giant Clams species of Malaysia;
4) 5-star island resort.
Well, the title has given out the answer. Yes, it's Gayana Eco Resort on Gaya Island (Pulau Gaya), we have island resort so near to Kota Kinabalu (KK). That's why KK earns the fame as Nature Resort City of Malaysia.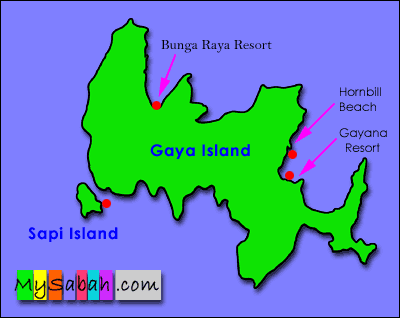 Below is the location of Gayana Eco Resort on Google map:

View My Sabah Map in a larger map
Over the years, Gayana Eco Resort has been improving on infrastructure and amenities. To me, their biggest achievement of all is not better accommodation, but their commitment on marine conservation. In my recent visit to Gayana, I'm happy to see their efforts bear fruit.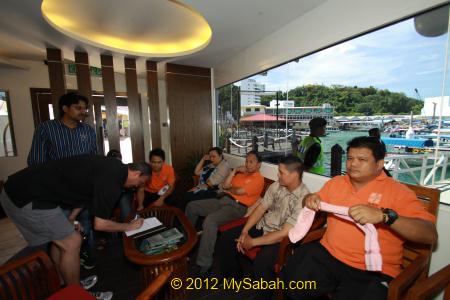 To go to Gayana Eco Resort is fast and easy, just drop by their office at Jesselton Point to register.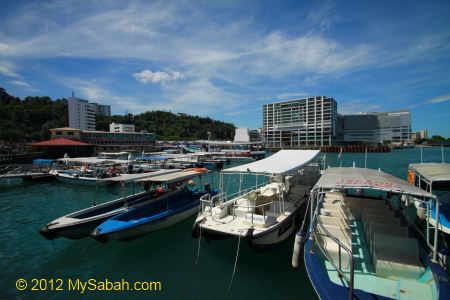 Above: Jesselton Point terminal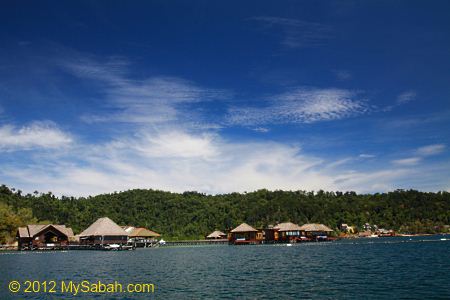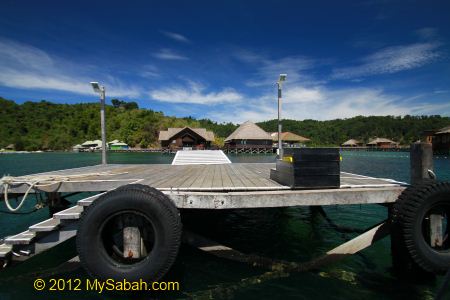 Then take a boat to the island and you will be on Gaya Island in 20 minutes.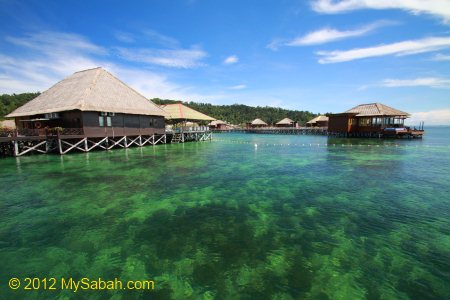 There is no tourist who is not crazy about our turquoise sea. What's more important are the "dark spots" under the water, which are easily mistaken by tourists as "rubbish". These are corals, the nursery of marine life.
Marine Ecology Research Center (MERC)
Marine Ecology Research Center (MERC) is managed by Gayana Eco Resort. Their Giant Clam Propagation Programme won them the Most Innovative Tourist Attraction Eco-Tourism Conservation Award 2008-2009 awarded by Ministry of Tourism Malaysia.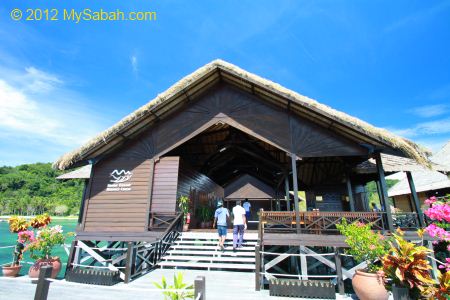 Above: the building of Marine Ecology Research Center (MERC). The old MERC was used to be a small and poorly-maintained exhibition hall at other side. After the new management took over a few years ago, they build a bigger and well-equipped marine building, which consists of high standard auditorium, display room, lab, etc.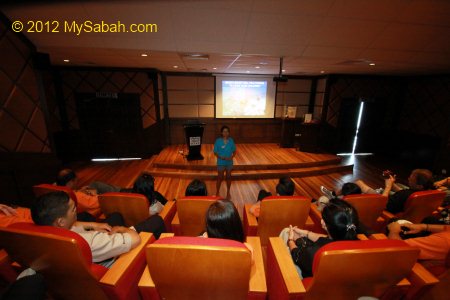 One of their staffs, Melissa, was giving us a short presentation of MERC conservation projects and environmental education in 30-seat auditorium. The most interesting information is the giant clam can grow more than 1-Meter wide, weight 200 Kg and live more than 100 years!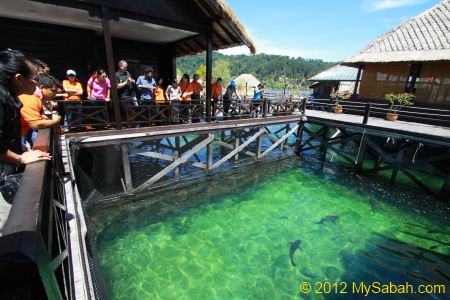 After the presentation, the staffs showed us the marine sanctuary outside the room. It's an enclosed sea area with endangered game fishes in it.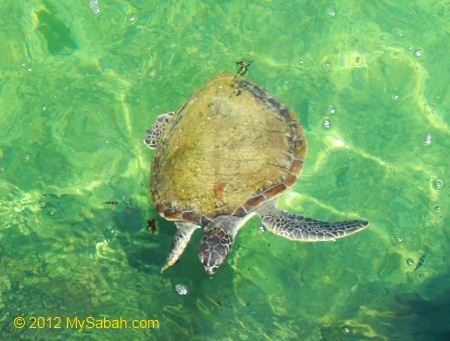 There is a sea turtle too. Sometimes the villagers sent the sick sea turtles here and MERC will treat them. The turtles will be released back to the ocean once they are fully recovered.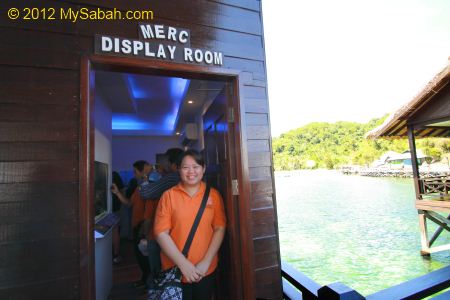 Next we visited their Display Room. No camera flash is allowed inside, so please pardon my dark & blur photos blow.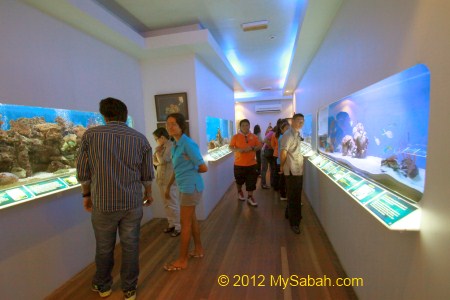 The Display Room houses some large and well-lit aquarium tanks that show different ecology (e.g. sea grass) and interesting marine life such as "nemo", seahorses and puffer fishes.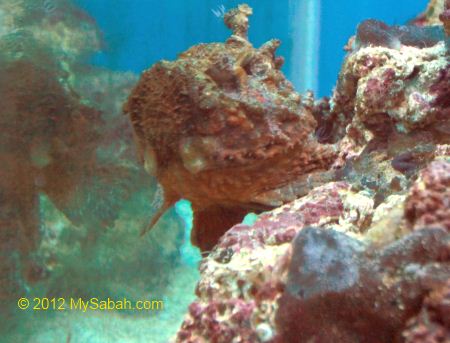 Above: can you spot the stone fish? Step on it and you will experience agonizing pain for a few days.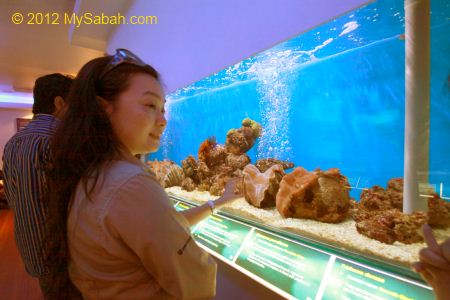 The aquarium allows you to look at the marine creatures up-close. Both kid and adult will love it.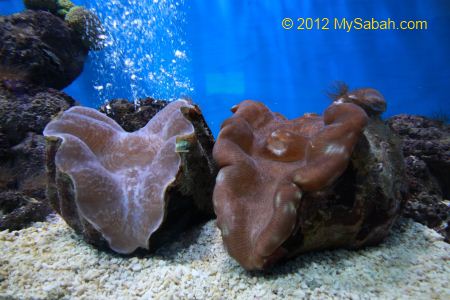 In Gayana, you can see all 7 giant clam species of Malaysia. Currently they have 2,000 giant clams in their nursery. Their Giant Clam Propagation Programme was started in year 2007. After 3 years of breeding and nurturing of giant clams in the protected nursery, MERC will release 500 baby giant clams into the ocean, that includes two locally extinct species, Tridacna gigas and Tridacna derasa!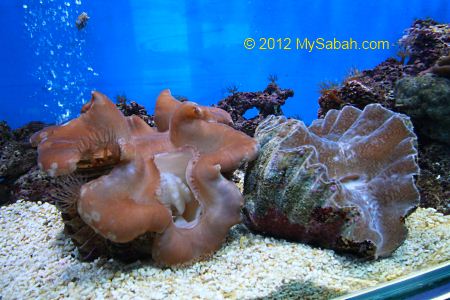 Under this Giant Clam programme, more than 10,000 giant clams larger than 1 CM have been transferred from the hatchery to the nursery area. Giant clam is important to marine ecology b'coz it filters harmful waste nutrients from the sea water, release clean water and produce oxygen for the environment. However, giant clams are highly-endangered due to overfishing.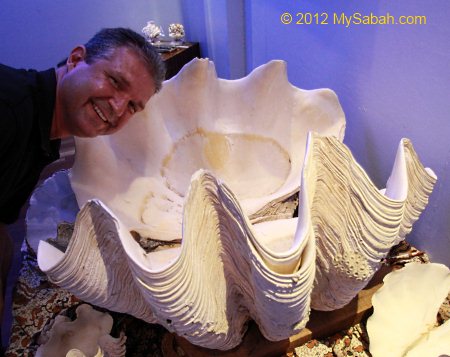 Above: the shell of the largest giant clam species, Tridacna gigas. In fact, it can grow larger than this (up to 4.6 feet).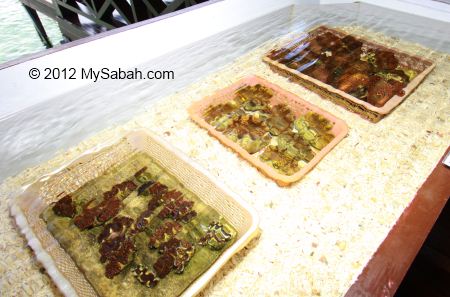 Above: the juvenile giant clams that are ready to be released into the sea.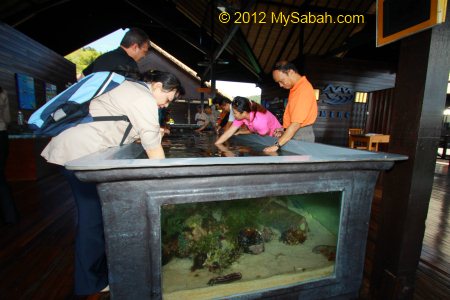 Above: the Touch Tank of MERC. You can touch anything in the tank.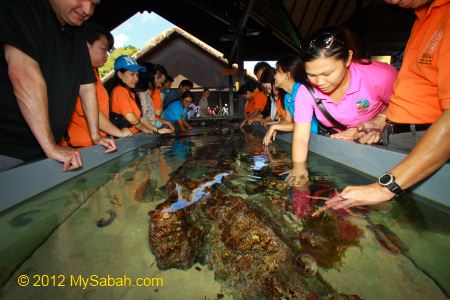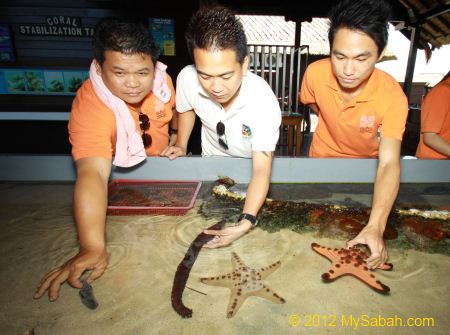 There are sea cucumbers, starfishes, etc. in the Touch Tank. A great way to learn sea creatures by touching.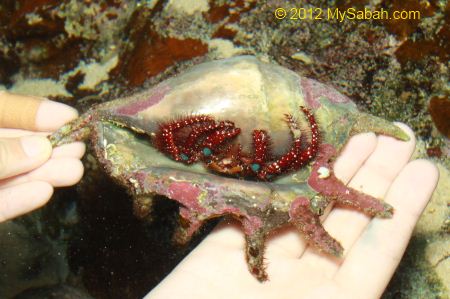 Above: a beautiful hermit crab in touch tank.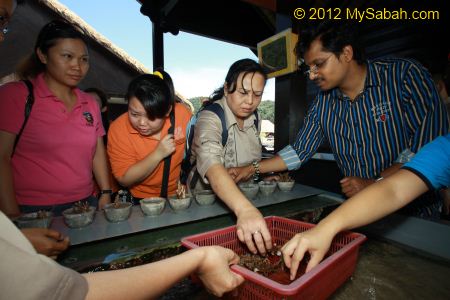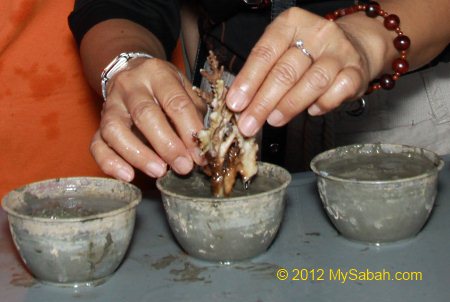 You also can participate in their Coral Reef Restoration Programme. If you "adopt" a coral, you will be given a broken coral fragment to plant it in cement-base plate. The fragments are from corals damaged by strong wave and human activities, and they can't survive on their own.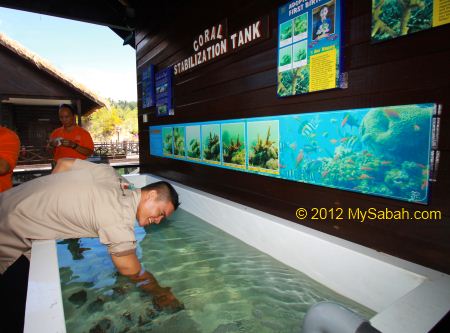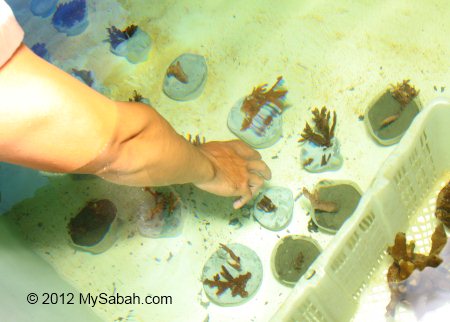 Then your coral will be labelled and placed into the Coral Stabilization Tank for at least 2 weeks. It'll be transferred to the reef nearby if it's healthy. The sponsors will also receive periodic update and photos of their "babies" corals. As of now, Gayana has planted over 2,500 corals with a survival rate of nearly 90%.
You can Click Here to learn more about the conservation projects of MERC.
Gayana Eco Resort
After the conservation activities, we took a tour around the island resort.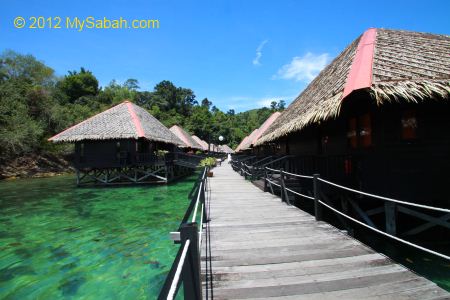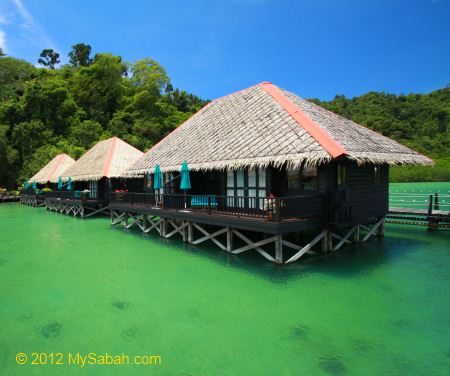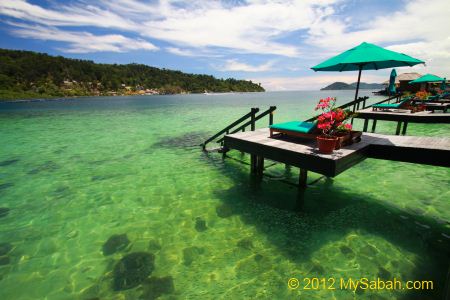 Gayana Eco Resort has over 20 water bungalows with beautiful sea view, great for honey moon trip.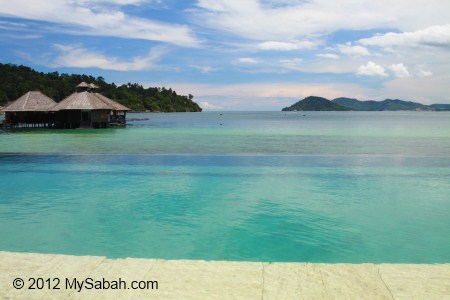 Above: The "infinite" swimming pool of Gayana Eco Resort.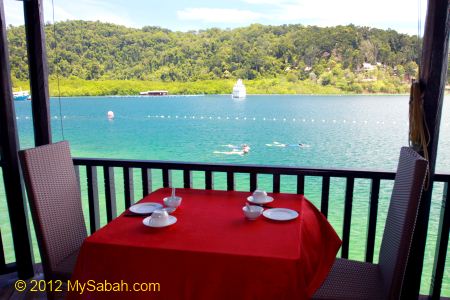 Above: Having lunch at Alu-Alu Seafood Restaurant of Gayana. It's the first restaurant to remove shark fin from its menu.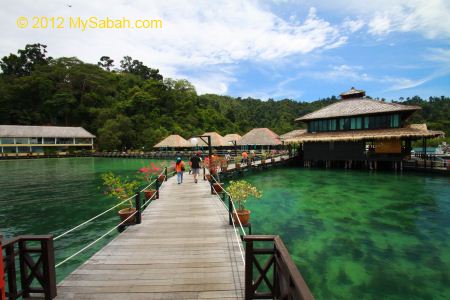 If you would like to visit Gayana Eco Resort, you may visit their web site at gayana-eco-resort.com for more info.
More Photos
You may check out my photo album if you want to see more nice pictures: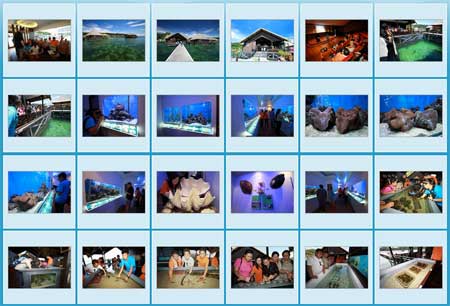 Photos taken in Kota Kinabalu, Sabah, Malaysia Borneo
Related post
Bunga Raya Resort of Gaya Island
Giant Clams of Sabah