To have a happy meal in Sabah kopitiam, there are a few things you need to know:
1) Finding a Seat
Do not sit next to a longkang, the active area of rats and cockroach. Unless you want to see them run under your table. When all the seats are taken, go to a table that is halfly done, stand next to them and stare at them, to pressure them to eat faster and leave.
2) Sitting Down
Before you sit down, check the chair and make sure it is clean. And make sure there is no hole around the legs of the chair. Next, push the edge of the table to check how stable it is. Many cheap tables can flip over easily if you place your elbow on it. If you bring a girl, make sure no small cockroach hidding under the table. It could spoil your date.
3) Ordering Meal
The lightest ink can beat the strongest memory. I don't understand why most of them don't use a pen to write down what people order. When the food comes, they always ask, "Your kah?" Sometimes they got it wrong and wanted to "force" you to accept it.
To avoid unhappiness, try to repeat saying what you order twice or more. Extra explanation could be helpful. e.g. if you order Coke, ask them not to give you Pepsi (I will be pissed off if they give me Pepsi).
4) Waiting
Use the waiting time to check your spoon and fork. Sometimes they are still wet or not totally clean. You may ask for another set. If the food still hasn't arrived after 10 minutes, check with them. They probably forget your order.
5) Paying the Bill
When you make payment, double check and make sure you have paid for both the meal and drink. 50% of the time, you will pay these separately to two parties. If you eat out with Chinese, when paying time, do not forget to play "I pay lah, I pay lah…" game with them, though he already says he will treat you. This is considered as good manner to pretend you want to pay.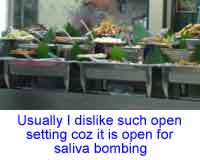 Overall, Sabah restaurants are doing ok. Tell you, when I ate out in KL, especially those located next to the street, I never dare to touch their chilli and sambal. It has been many times I found fly and cockroach leg in them.
One day I makan in a restaurant in Subang. I found a death fly in my meal, so I complained. The waitress apologised and got me a new plate of meal. Then his lady boss came. She purposely used her finger to pinch the fly into meat ball (destroy evidence?), and said, "This is not a fly lah." Then she pointed at the light bulb, and said, "See… so many flying ants this evening. Probably the one you saw was just one of them." I looked at her and didn't say a word. I didn't like that she treated me like an idiot. I was a bit mad and almost said, "You put that in your mouth then I would believe that is a fucking flying ant!". Probably she saw I didn't believe, so I got a free meal that evening.