"You are invited to the photo-shooting session of Unduk Ngadau at Hyatt Hotel on May 26, with other press," the organiser said, after they learnt that I wanted to marry a Unduk Ngadau (Miss Harvest Festival). OMG, my feeling was like winning a lottery. Isn't that the chance I have been wanting for? During the photography session, 45 Unduk Ngadau walked in randomly, anytime between 8AM to 1 PM. Quite a challenge to keep track all of them. Finally I got the free time to publish the photos online now. This is one of the best photo galleries of MySabah.com.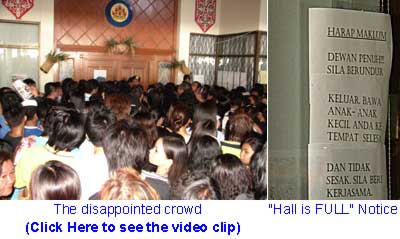 At last, it was May 31, another important day… coz it was the day of Sabah State-Level Unduk Ngadau final competition. This was the last and also my biggest photography mission in May. In fact it made me nervous. The competition started at 12:45 PM, so I went there at 12:30 PM. But the main door was locked and there was a lot of people waiting outside. We were waiting to get in until 1:30 PM, but the door still closed. It was getting really warm and a few were frustrated and knock the door hard. Then the organiser posted a notice saying that the hall was full. You can check out the video clip to see the disappointed crowd.


Click Here to see 200+ photos of Unduk Ngadau (State Level) >>
What to do? I have been waiting a year for this event, so I didn't want to give up easily. I walked to the side door. Luckily, there was a guard opened the door quietly and let only a few people got in, so I just followed. The hall was really full. The competition hasn't started so I didn't miss anything. However, TYT, VIPs and many press were around, so I could not move freely around to take picture.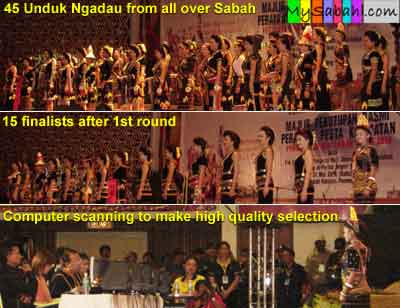 Click Here to see 200+ photos of Unduk Ngadau (State Level) >>
There were 3 rounds in the Unduk Ngadau Competition. Score is based on their look & presentation, costume and IQ.
Round 1) Self-Introduction and catwalk by 45 Unduk Ngadau finalists.
Round 2) 15 Unduk Ngadau were shortlisted for a oral test.
Those who made it: Usukan, Ranau, Kawang, Klias (Beaufort), Likas, Keningau, Inanam, Tongod, Petagas, Sembulan, Sulaman, Lahad Datu, Tawau, Penampang, and Kudat.
Round 3) 7 Unduk Ngadau were chosen as top 7.
Why "7"? Coz number 7 is the lucky number of KadazanDusun.
Final Result of Unduk Ngadau 2006 (Sabah State Level):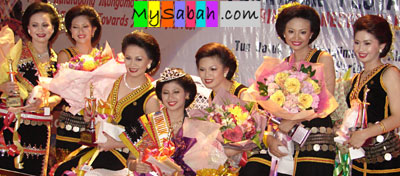 On the seat: Sabah State Unduk Ngadau 2006, Contestant No. 40, Devenna Jaikob from Sulaman
Left to the seat: 1st Runner-Up, Contestant No. 38, Edith Malis from Petagas
Right to the seat: 2nd Runner-Up, Contestant No. 36, Kay Maryly Madonna Josuie Laison from Inanam
2nd from left: 4th place, Contestant No. 39, Juliana Stephen from Sembulan
2nd from right: 5th place, Contestant No. 41, Dorithy Binti Misir from Lahad Datu
Left: 6th place, Contestant No. 27, Geraldine Grace Petrus Balandong from Kilas (Beaufort)
Right: 7th place, Contestant No. 43, Trinna Joyce Dison from Penampang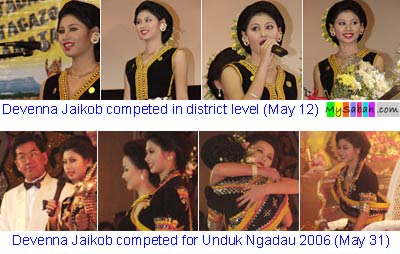 Click Here to see 200+ photos of Unduk Ngadau (State Level) >>
I must say I am very very lucky in this event, coz I have seen the top 3 winners competed in district level. You can look at my previous blog about Menggatal and Putatan Unduk Ngadau Competition. OK, I know you all don't know the location of most districts, so I create the map below for you. You also can click the map to see the Flash version of the Sabah map. Very interactive, just move the mouse pointer over the district, you will see the name and photo of the contestant from that area. You can learn a bit of geography about Sabah too. It is about 1MB so it will take minutes to load.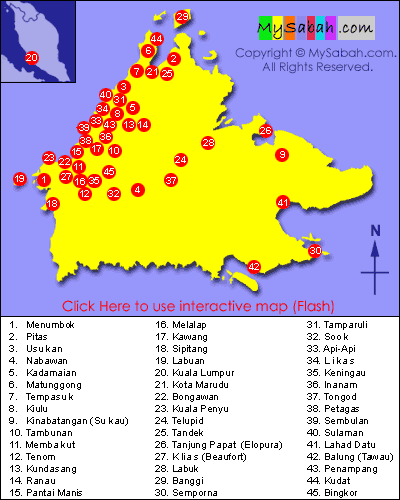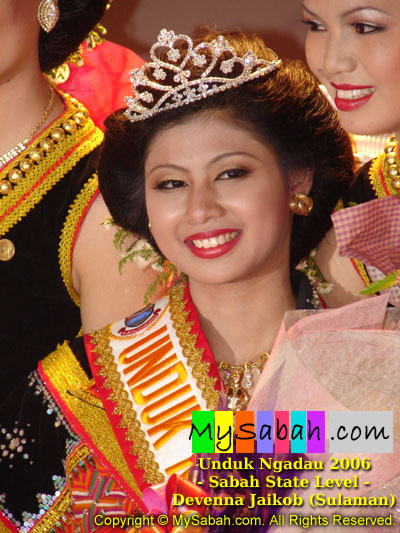 Related Blog:
Sodop Unduk Ngadau (Gala Night)