Sook is a small town near to Keningau, a interior district. I know Sook was once a lumbering town, and you can see along the way that there is not many dense forest left.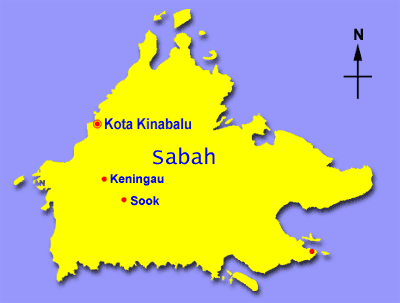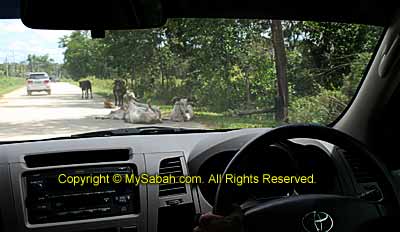 After all the forest was clear and all the timber companies left with billions of dollars, there is nothing much left for the people of Sook. The area remains remote and backward, looks like a 1950s countryside. 70% of houses are built from wood and the road is covered with gravel. We saw many students went to school with car 11 (on feet) and felt sorry about the cloud of dust stirred wild by our cars. The KK students are so lucky.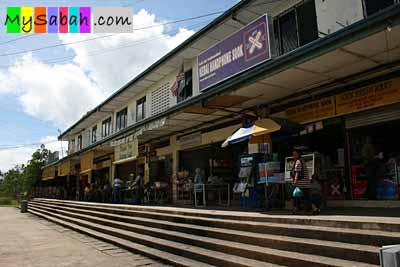 Without much resources, tourism would be the only mean to help this town to grow and develop. I saw some forest replantation programme scattered along the road. However, I also found that oil palm was replacing hill paddy. No doubt very soon the roadside in Sook will look like the feature-less roadside, which is full of oil palm other than replanted forest, like Tawau and Lahad Datu.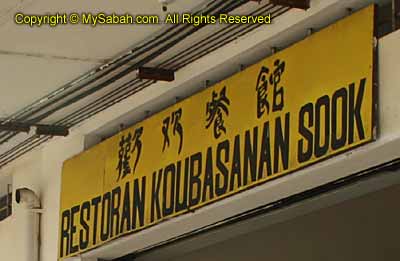 The old legend of a village can be an attraction. There is a rock named Loyang in Sinar Baru Village of Sook. Loyang means Male in Murut language.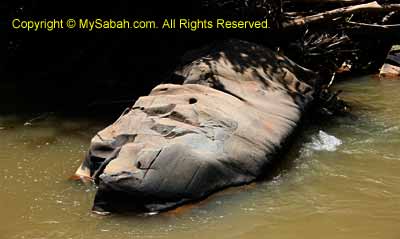 The locals believe that the rock was formed from a wild boar in the old day. Well, it doesn't look like boar anymore due to the water erosion. But it seems to be a foreigner object in the river.

They said in the past, there were two hunters got a wild boar. One of them cleaned it and removed its organs next to this river. It was a rainy day, so this guy went away to get his friend to help. When they both came, the wild boar was gone and there was a new big rock there, so they thought the boar was turned into this rock.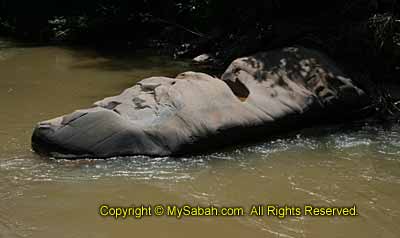 They also say its underside is hollow. You can find a hole when you swim under it. The people think whoever plays with this rock can get cursed. So next time you see a big rock in the river, don't pee on it then. An elder villager was interviewed about this story.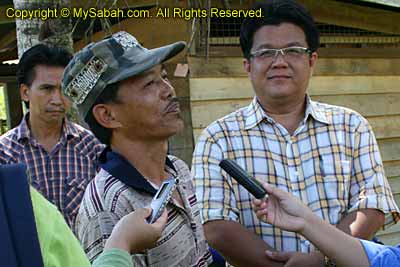 Along the road of Sook, I saw many small wooden huts near the road side. I was told that these were the graves of Murut. Some of them are hundred years old. They don't seem to have a centralized graveyard, so you could see a small group of graves for every few KMs. Some mixed with the Christian graves, probably belong to those converted Muruts.
Most of them are decorated with interesting color motive, with name and date of deceased written on it. If you see the photo below, you would see the soil piled up like a pyramid in the hut. I wonder what it means. I saw some huts got flowers hanging in it. The interior is just like another world to me.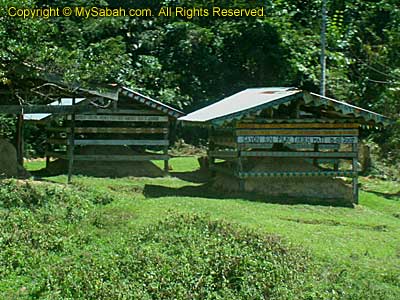 Imagine there is no street light and you walk along this road at night… creepy.
Photos taken in Keningau, Sabah, Malaysia Borneo