Finally I kena saman. I have been driving for over 10 years and never got fined. It was my fault so I can't blame anyone. From the recent newspaper, you would read that police and DBKK are very hardworking in giving out Christmas present, SAMAN. I am one of the lucky ones. Christmas is approaching so the traffic jam is getting worse, and it is very hard to find a parking space.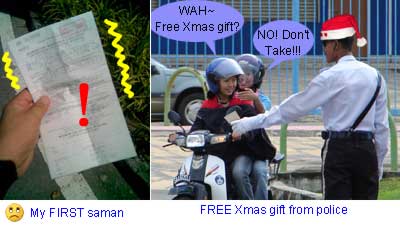 I parked my car at the wrong place at the wrong day. It was used to be very "safe" area. I knew I was screwed, when I saw the police motorbikes near to my car. The traffic policemen were still busy writing tickets for other cars next to mine (damn… I would escape if I came 5 minutes earlier…). I walked to him to asked how much I got fined. "RM70!" I felt my legs lost a bit of strength. Then I asked nicely if I could got fined less. Fortunately I met a nice one. He changed the offense item to minor one, which will cost me RM30. I moved away my car immediately, and prayed that he didn't see my malfunction rear light…
The first time I went to the police station to pay the fine, they said the line was down (huh?!) and they couldn't process it manually. So I came back the next day. The queue was not long but it was frustrating that every driver asked for a discount or dispute at the counter, each taking 5 to 10 minutes. When I paid my ticket, I also checked out the fine of other traffic offences (please note that the amount is subject to vary. Sometimes they even have "promotion" prices), FYI:
| | |
| --- | --- |
| Offence | Fine |
| Failing to park parallel to road side | RM30 |
| Parking on the wrong side of road | RM30 |
| Parking in contravention of a traffic sign | RM70 |
| Causing unnecessary obstruction of traffic | RM70 |
| Parking within 30 feet of corner | RM70 |
| Parking within 30 feet of bus stop sign | RM70 |
| Parking within 10 feet of fire hydrant stand pipe | RM70 |
| Parking too far from side of road | RM70 |
| Parking opposite double white lines | RM70 |
| Failing to exhibit front/rear/number plate lights | RM100+ |
| Failing to exhibit road tax license or unlicensed vehicle | RM100+ |
| Colour of paintwork changed | RM100+ |
| Using tyre without sufficient tread | RM100+ |
| Incorrect, indistinct or obscured number plate | RM100+ |
You may check out the promotion prices below. Such a DEEP DISCOUNT!!! No wonder nobody wants to pay the fine on time.