Mt. Kinabalu Climbathon is the craziest sport in Sabah. In fact, it is known as one of the toughest mountain race in the world. I was one of the volunteer photographers for the Mt. Kinabalu Climbathon 2008. Though taken by me, most of the photos below are now the property of Sabah Tourism Board. I asked their permission to post them in my blog.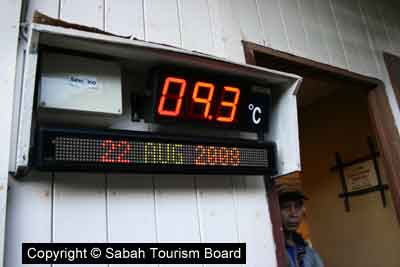 Taking photos in cold and humid places on Mount Kinabalu is challenging. Many photographers have warned me that condition would be very bad to my camera. They were right. My camera hanged twice and the auto-focus didn't work quite well sometimes. We got sunny day in the morning, but it rained in the afternoon and evening. The temperature was below 10 degree most of the time.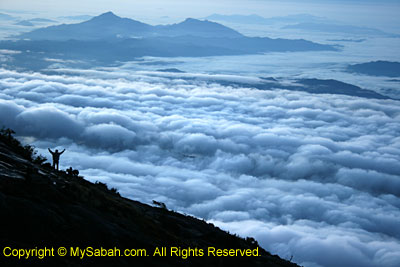 The photo above was taken at 7th KM of the summit trail at 6am. The athletes would arrive here after 8am, so there was plenty of time. The density and formation of cloud was so fascinating. I paid a few dollars to the porter, so he would stand there for some shots. You probably can't get this view anywhere else in Malaysia.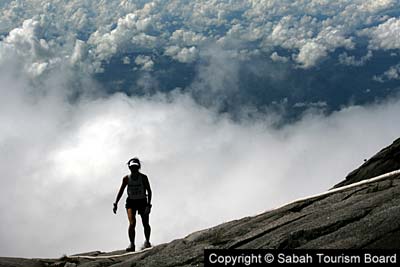 The peaks near the summit are quite feature-less and there were too many climbathon photos were taken there before. Therefore, I decided to explore for good photo shooting points near the Donkey Ear Peak and Tunku Abdul Rahman Peak, somewhere between 6.5 KM and 7.5 KM of the running trail.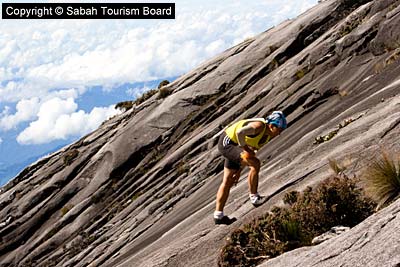 Slowly one by one, the athletes showed up. They were so tired that they were half-crawl half-walk, pressing their thigh, trying to push every bit of energy out of their feet.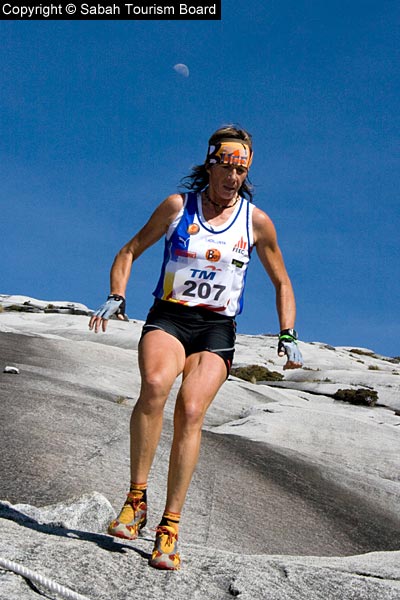 There was rain at night so the rock surface was slippery. These people are really monsters. It is hard to believe they can complete the 16KM, up and down the mountain, in less than 3 hours. On high altitude like this, the oxygen is 15% less. above is the Women's Open category champion, Corinne Favre from France, running down the mountain.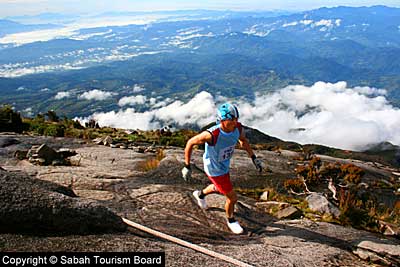 Personally I like the photo below. The background is Tunku Abdul Rahman Peak, named after the Father of Malaysia. I was lucky to get this coz the peak was covered by mist a few minutes later. I make some post processing photo enhancements to give it more punch. Take little time coz it was shot in RAW format.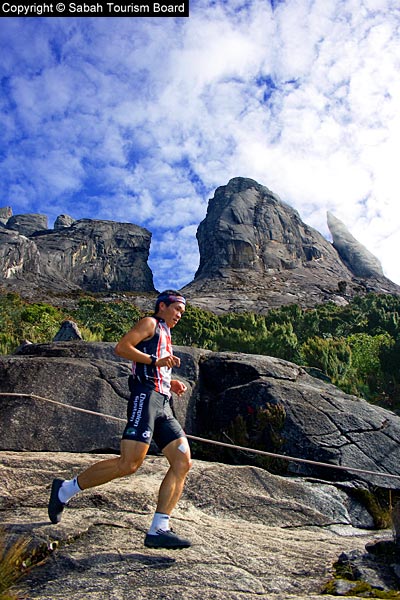 Last photo… at the end is the South Peak, not the summit (at a height of 4,095M, highest in Malaysia). This athlete still had 1.5 KM to go. Due to lack of experience, I didn't get a lot of good photos. Anyway, it was fun. at least I lost a few KG.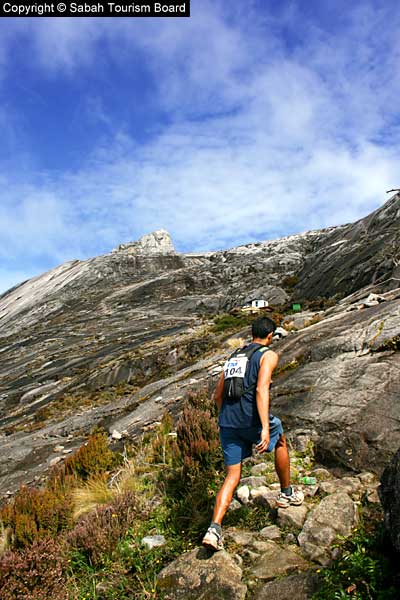 Photos taken on Mt Kinabalu, Sabah, Malaysia Borneo