You may have read a lot about the fish SPA thingy on the magazines and newspapers. Seems like it has become a trendy and fashion health care stuff. The Moroli River of Kg Luanti (Luanti Village) in Ranau has its own version of fish SPA. Before I tried it, I thought I would experience something like below. Hmm… I wish I were the fishes..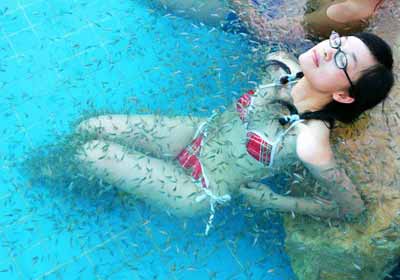 Compared to our version, the fish SPA above is like children playing sand. The Moroli River is near to the Sabah Tea Garden after Poring. You need to pay only a few dollars of entrance fee. There are thousands of fishes living in this small river. This "no fishing" zone is part of the sustainable fishing programme to prevent overfishing.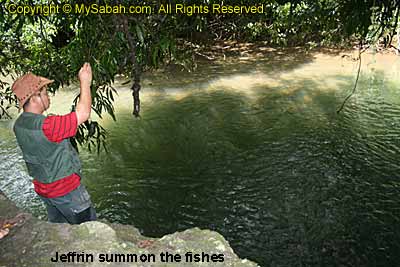 Jeffrin is the manager of the fishes. He doesn't hire Reddish Log Suckers, the tiny "Doctor Fish" commonly used in fish SPA, as the massangers. Pelian Fishes (Malaysian Masheer) are trained to massage bathers.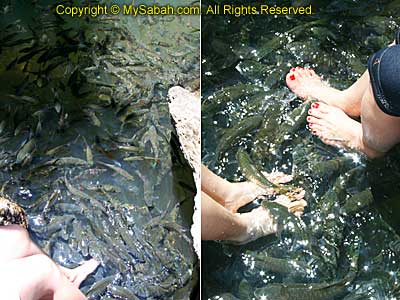 The fishes here live peacefully and not afriad of people. Just soak your feet in the water and all of them will come to suck your feet as if they haven't eaten for days. Seeing the fat fishes so busy "eating", making me hungry. Just wonder what a fish that fed on dead skin tastes like.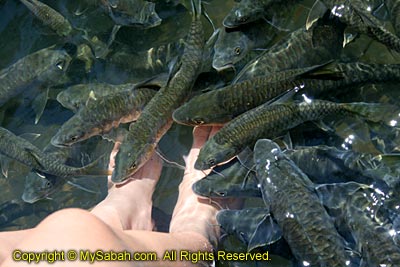 The fishes are about 5 to 8 inches long. Though big, their mouths are teethless and soft. It doesn't hurt when they nibble off your dead skin. They are so tame that you can catch them easily by hand (or feet).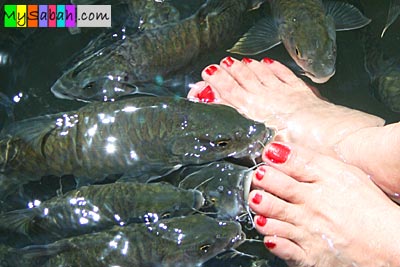 You also can have "river trekking". The river is shallow so it is safe to walk in it. If you go with bare foot, the stones under the water will give you a free foot reflexology, quite hurt for weak body like mine.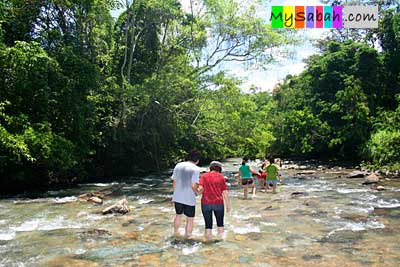 The water is clean and cooling. Such a pleasure to soak in it during hot day. We are lucky to have clean water to drink. Now the world is fighting with river pollution that got serious each day. Many beautiful and clean rivers in the past have turned into stinky toxic rivers. Many have no choice but continue drinking it. Clean water will become rare in future.

The best part is to enjoy the hardcore SPA, having hundreds of fishes sucking every inch of your skin. The guy below looks like in pain, actually he is enjoying it.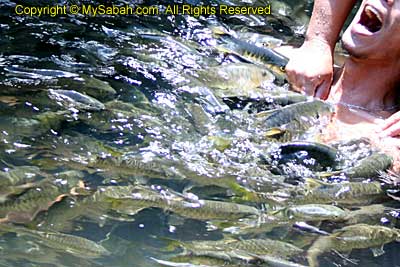 Then he asked for more…
For maximum enjoyment, you may take off your pant. I hope the fishes got deep throat then, haha…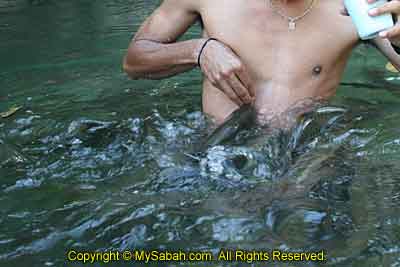 You can hold the fish food in your hand. The fishes will come to play with you when they smell it.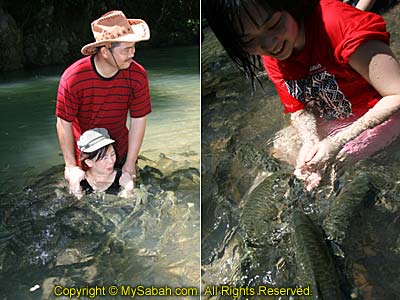 They also provide rooms for you to stay overnight. During school holiday, there are students come here to camp.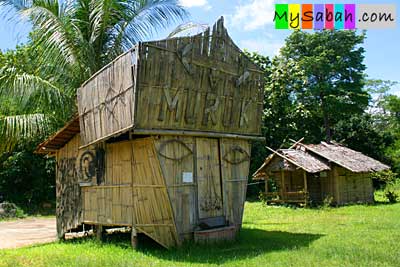 Photos taken in Ranau, Sabah, Malaysia Borneo